Abstract
Cyclin-dependent kinases 4 and 6 (CDK4/6) are fundamental drivers of the cell cycle and are required for the initiation and progression of various malignancies1,2. Pharmacological inhibitors of CDK4/6 have shown significant activity against several solid tumours3,4. Their primary mechanism of action is thought to be the inhibition of phosphorylation of the retinoblastoma tumour suppressor, inducing G1 cell cycle arrest in tumour cells5. Here we use mouse models of breast carcinoma and other solid tumours to show that selective CDK4/6 inhibitors not only induce tumour cell cycle arrest, but also promote anti-tumour immunity. We confirm this phenomenon through transcriptomic analysis of serial biopsies from a clinical trial of CDK4/6 inhibitor treatment for breast cancer. The enhanced anti-tumour immune response has two underpinnings. First, CDK4/6 inhibitors activate tumour cell expression of endogenous retroviral elements, thus increasing intracellular levels of double-stranded RNA. This in turn stimulates production of type III interferons and hence enhances tumour antigen presentation. Second, CDK4/6 inhibitors markedly suppress the proliferation of regulatory T cells. Mechanistically, the effects of CDK4/6 inhibitors both on tumour cells and on regulatory T cells are associated with reduced activity of the E2F target, DNA methyltransferase 1. Ultimately, these events promote cytotoxic T-cell-mediated clearance of tumour cells, which is further enhanced by the addition of immune checkpoint blockade. Our findings indicate that CDK4/6 inhibitors increase tumour immunogenicity and provide a rationale for new combination regimens comprising CDK4/6 inhibitors and immunotherapies as anti-cancer treatment.
Access options
Subscribe to Journal
Get full journal access for 1 year
$199.00
only $3.90 per issue
All prices are NET prices.
VAT will be added later in the checkout.
Rent or Buy article
Get time limited or full article access on ReadCube.
from$8.99
All prices are NET prices.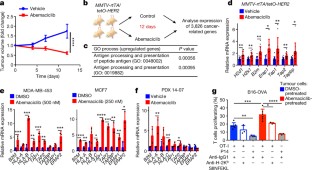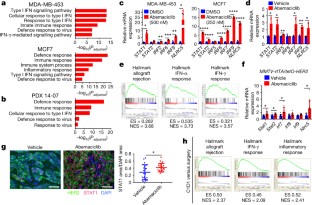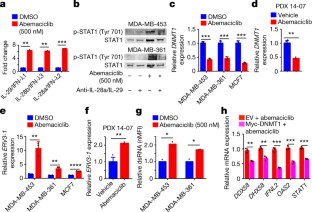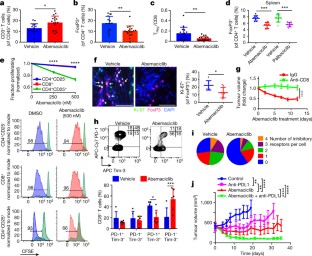 Accession codes
Primary accessions
Gene Expression Omnibus
References
1

Yu, Q. et al. Requirement for CDK4 kinase function in breast cancer. Cancer Cell 9, 23–32 (2006)

2

Choi, Y. J. et al. The requirement for cyclin D function in tumor maintenance. Cancer Cell 22, 438–451 (2012)

3

Patnaik, A. et al. Efficacy and safety of abemaciclib, an inhibitor of CDK4 and CDK6, for patients with breast cancer, non-small cell lung cancer, and other solid tumors. Cancer Discov. 6, 740–753 (2016)

4

Finn, R. S. et al. Palbociclib and letrozole in advanced breast cancer. N. Engl. J. Med. 375, 1925–1936 (2016)

5

Sherr, C. J. & Roberts, J. M. CDK inhibitors: positive and negative regulators of G1-phase progression. Genes Dev. 13, 1501–1512 (1999)

6

Goel, S. et al. Overcoming therapeutic resistance in HER2-positive breast cancers with CDK4/6 inhibitors. Cancer Cell 29, 255–269 (2016)

7

Cerami, E. et al. The cBio cancer genomics portal: an open platform for exploring multidimensional cancer genomics data. Cancer Discov. 2, 401–404 (2012)

8

Campisi, J. & d'Adda di Fagagna, F. Cellular senescence: when bad things happen to good cells. Nat. Rev. Mol. Cell Biol. 8, 729–740 (2007)

9

Ma, C. X . et al. NeoPalAna: neoadjuvant palbociclib, a cyclin-dependent kinase 4/6 inhibitor, and anastrozole for clinical stage 2 or 3 estrogen receptor-positive breast cancer. Clin. Cancer Res. (2017)

10

Roulois, D. et al. DNA-demethylating agents target colorectal cancer cells by inducing viral mimicry by endogenous transcripts. Cell 162, 961–973 (2015)

11

Kimura, H., Nakamura, T., Ogawa, T., Tanaka, S. & Shiota, K. Transcription of mouse DNA methyltransferase 1 (Dnmt1) is regulated by both E2F-Rb-HDAC-dependent and -independent pathways. Nucleic Acids Res. 31, 3101–3113 (2003)

12

Chiappinelli, K. B. et al. Inhibiting DNA methylation causes an interferon response in cancer via dsRNA including endogenous retroviruses. Cell 162, 974–986 (2015)

13

Coppé, J. P., Desprez, P. Y., Krtolica, A. & Campisi, J. The senescence-associated secretory phenotype: the dark side of tumor suppression. Annu. Rev. Pathol. 5, 99–118 (2010)

14

Malumbres, M. et al. Mammalian cells cycle without the D-type cyclin-dependent kinases Cdk4 and Cdk6. Cell 118, 493–504 (2004)

15

Obata, Y. et al. The epigenetic regulator Uhrf1 facilitates the proliferation and maturation of colonic regulatory T cells. Nat. Immunol. 15, 571–579 (2014)

16

Bauer, C. A. et al. Dynamic TReg interactions with intratumoral APCs promote local CTL dysfunction. J. Clin. Invest. 124, 2425–2440 (2014)

17

Sakuishi, K. et al. Targeting Tim-3 and PD-1 pathways to reverse T cell exhaustion and restore anti-tumor immunity. J. Exp. Med. 207, 2187–2194 (2010)

18

Finn, R. S. et al. PD 0332991, a selective cyclin D kinase 4/6 inhibitor, preferentially inhibits proliferation of luminal estrogen receptor-positive human breast cancer cell lines in vitro. Breast Cancer Res. 11, R77 (2009)

19

Heng, T. S. et al. The Immunological Genome Project: networks of gene expression in immune cells. Nat. Immunol. 9, 1091–1094 (2008)

20

Bates, G. J. et al. Quantification of regulatory T cells enables the identification of high-risk breast cancer patients and those at risk of late relapse. J. Clin. Oncol. 24, 5373–5380 (2006)

21

McAllister, S. S. et al. Systemic endocrine instigation of indolent tumor growth requires osteopontin. Cell 133, 994–1005 (2008)

22

Wong, C. S. et al. Vascular normalization by loss of Siah2 results in increased chemotherapeutic efficacy. Cancer Res. 72, 1694–1704 (2012)

23

Bellone, M. et al. Relevance of the tumor antigen in the validation of three vaccination strategies for melanoma. J. Immunol. 165, 2651–2656 (2000)

24

Ni, J. et al. Combination inhibition of PI3K and mTORC1 yields durable remissions in mice bearing orthotopic patient-derived xenografts of HER2-positive breast cancer brain metastases. Nat. Med. 22, 723–726 (2016)

25

Wang, Y. et al. CDK7-dependent transcriptional addiction in triple-negative breast cancer. Cell 163, 174–186 (2015)

26

Love, M. I., Huber, W. & Anders, S. Moderated estimation of fold change and dispersion for RNA-seq data with DESeq2. Genome Biol. 15, 550 (2014)

27

Subramanian, A. et al. Gene set enrichment analysis: a knowledge-based approach for interpreting genome-wide expression profiles. Proc. Natl Acad. Sci. USA 102, 15545–15550 (2005)

28

Mootha, V. K. et al. PGC-1α-responsive genes involved in oxidative phosphorylation are coordinately downregulated in human diabetes. Nat. Genet. 34, 267–273 (2003)

29

Gao, J. et al. Integrative analysis of complex cancer genomics and clinical profiles using the cBioPortal. Sci. Signal. 6, pl1 (2013)

30

Gimenez, J. et al. Comparative methylation of ERVWE1/syncytin-1 and other human endogenous retrovirus LTRs in placenta tissues. DNA Res. 16, 195–211 (2009)
Acknowledgements
This work was supported by a Career Development Award from the DF/HCC SPORE in Breast Cancer (National Institutes of Health (NIH) 2015 P50 CA, to S.G.), a Landry Cancer Biology Research Fellowship (to M.J.D.), a DOD Era of Hope award (W81XWH-14-1-0191 to S.S.M.), NIH (NCI) RO1 CA166284 (to S.S.M.), a Presidential Early Career Award for Scientists and Engineers (to S.S.M.), the Breast Cancer Research Foundation (to J.J.Z.), the DF/HCC SPORE in Breast Cancer (P50 CA168504, to I.E.K., E.P.W., T.M.R. and J.J.Z.), and NIH awards CA187918-02 (to T.M.R. and J.J.Z.), CA210057-01 (to J.J.Z.), and CA172461-04 (to J.J.Z.). We thank T. Laszewski, A. Molineaux, J. Almeida, the Nikon Imaging Center at Harvard Medical School, and Boston Children's Hospital Heme/Onc-HSCI Flow Cytometry facility for experimental assistance. We thank providers of reagents: pHAGE-deltaOVA-zsGreen plasmid (R. E. Tay, K. Wucherpfennig), LCMV-P14 transgenic mice (A. Cartwright, K. Wucherpfennig), CT-26 cell line (S. Elledge), and MMTV-PyMT-S2WTP3 cell line (A. Möller). We thank S. Stewart for advice.
Ethics declarations
Competing interests
S.G. has served as a paid scientific adviser to Eli Lilly, and conducts laboratory research funded by Eli Lilly. Eli Lilly did not fund the present study. M.J.E. has performed ad hoc consulting for Novartis, Pfizer, and AstraZeneca, receives royalties for PAM50-based diagnostics including Prosigna, and holds stock in Bioclassifier LLC for PAM50-based diagnostics. C.X.M. receives research funding from Pfizer and has served as a paid scientific adviser to Pfizer and Novartis.
Additional information
Reviewer Information Nature thanks J. Balko, C. Klebanoff and the other anonymous reviewer(s) for their contribution to the peer review of this work.
Publisher's note: Springer Nature remains neutral with regard to jurisdictional claims in published maps and institutional affiliations.
Extended data figures and tables
Supplementary information
About this article
Cite this article
Goel, S., DeCristo, M., Watt, A. et al. CDK4/6 inhibition triggers anti-tumour immunity. Nature 548, 471–475 (2017) doi:10.1038/nature23465
Received

Accepted

Published

Issue Date
Comments
By submitting a comment you agree to abide by our Terms and Community Guidelines. If you find something abusive or that does not comply with our terms or guidelines please flag it as inappropriate.