Abstract
Most animals show external bilateral symmetry, which hinders the observation of multiple internal left–right (L/R) asymmetries that are fundamental to organ packaging and function1,2. In vertebrates, left identity is mediated by the left-specific Nodal–Pitx2 axis that is repressed on the right-hand side by the epithelial–mesenchymal transition (EMT) inducer Snail1 (refs 3, 4). Despite some existing evidence3,5, it remains unclear whether an equivalent instructive pathway provides right-hand-specific information to the embryo. Here we show that, in zebrafish, BMP mediates the L/R asymmetric activation of another EMT inducer, Prrx1a, in the lateral plate mesoderm with higher levels on the right. Prrx1a drives L/R differential cell movements towards the midline, leading to a leftward displacement of the cardiac posterior pole through an actomyosin-dependent mechanism. Downregulation of Prrx1a prevents heart looping and leads to mesocardia. Two parallel and mutually repressed pathways, respectively driven by Nodal and BMP on the left and right lateral plate mesoderm, converge on the asymmetric activation of the transcription factors Pitx2 and Prrx1, which integrate left and right information to govern heart morphogenesis. This mechanism is conserved in the chicken embryo, and in the mouse SNAIL1 acts in a similar manner to Prrx1a in zebrafish and PRRX1 in the chick. Thus, a differential L/R EMT produces asymmetric cell movements and forces, more prominent from the right, that drive heart laterality in vertebrates.
Relevant articles
Open Access articles citing this article.
Isaac Esteban

,

Patrick Schmidt

…

Miguel Torres

Nature Cardiovascular Research Open Access 16 May 2022

Chaofan Xing

,

Rongrong Pan

…

Guang Li

BMC Biology Open Access 20 August 2021

Sanda Iacobas

,

Bogdan Amuzescu

&

Dumitru A. Iacobas

Scientific Reports Open Access 02 February 2021
Access options
Subscribe to Nature+
Get immediate online access to Nature and 55 other Nature journal
Subscribe to Journal
Get full journal access for 1 year
$199.00
only $3.90 per issue
All prices are NET prices.
VAT will be added later in the checkout.
Tax calculation will be finalised during checkout.
Buy article
Get time limited or full article access on ReadCube.
$32.00
All prices are NET prices.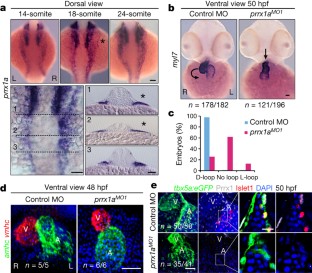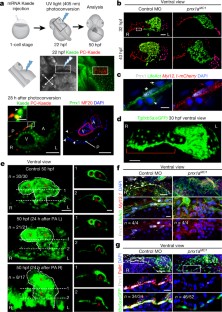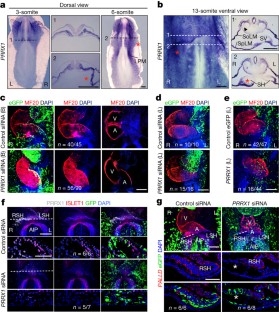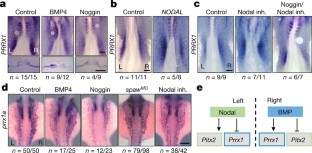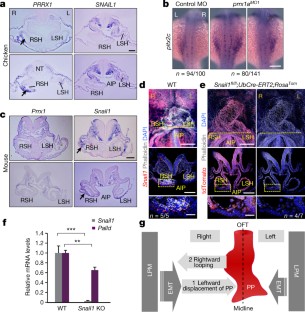 References
Raya, A. & Izpisúa Belmonte, J. C. Left–right asymmetry in the vertebrate embryo: from early information to higher-level integration. Nat. Rev. Genet. 7, 283–293 (2006)

López-Gracia, M. L. & Ros, M. A. Left–right asymmetry in vertebrate development. Adv. Anat. Embryol. Cell Biol. 188, 1–121 (2007)

Patel, K., Isaac, A. & Cooke, J. Nodal signalling and the roles of the transcription factors SnR and Pitx2 in vertebrate left–right asymmetry. Curr. Biol. 9, 609–612 (1999)

Murray, S. A. & Gridley, T. Snail family genes are required for left–right asymmetry determination, but not neural crest formation, in mice. Proc. Natl Acad. Sci. USA 103, 10300–10304 (2006)

Schlueter, J. & Brand, T. A right-sided pathway involving FGF8/Snai1 controls asymmetric development of the proepicardium in the chick embryo. Proc. Natl Acad. Sci. USA 106, 7485–7490 (2009)

Lin, A. E. et al. Laterality defects in the national birth defects prevention study (1998–2007): birth prevalence and descriptive epidemiology. Am. J. Med. Genet. A 164, 2581–2591 (2014)

Ramsdell, A. F. Left–right asymmetry and congenital cardiac defects: getting to the heart of the matter in vertebrate left–right axis determination. Dev. Biol. 288, 1–20 (2005)

Nieto, M. A., Huang, R. Y., Jackson, R. A. & Thiery, J. P. EMT: 2016. Cell 166, 21–45 (2016)

Acloque, H., Adams, M. S., Fishwick, K., Bronner-Fraser, M. & Nieto, M. A. Epithelial–mesenchymal transitions: the importance of changing cell state in development and disease. J. Clin. Invest. 119, 1438–1449 (2009)

Ocaña, O. H. et al. Metastatic colonization requires the repression of the epithelial–mesenchymal transition inducer Prrx1. Cancer Cell 22, 709–724 (2012)

Kelly, R. G., Buckingham, M. E. & Moorman, A. F. Heart fields and cardiac morphogenesis. Cold Spring Harb. Perspect. Med. 4, a015750 (2014)

Hami, D., Grimes, A. C., Tsai, H. J. & Kirby, M. L. Zebrafish cardiac development requires a conserved secondary heart field. Development 138, 2389–2398 (2011)

Tessadori, F. et al. Identification and functional characterization of cardiac pacemaker cells in zebrafish. PLoS ONE 7, e47644 (2012)

Ahn, D.-G., Kourakis, M. J., Rohde, L. A., Silver, L. M., & Ho, R. K. T-box gene tbx5 is essential for formation of the pectoral limb bud. Nature 417, 754–758 (2002)

Xie, L. et al. Tbx5–hedgehog molecular networks are essential in the second heart field for atrial septation. Dev. Cell 23, 280–291 (2012)

Bakkers, J., Verhoeven, M. C. & Abdelilah-Seyfried, S. Shaping the zebrafish heart: from left–right axis specification to epithelial tissue morphogenesis. Dev. Biol. 330, 213–220 (2009)

Veerkamp, J. et al. Unilateral dampening of Bmp activity by nodal generates cardiac left–right asymmetry. Dev. Cell 24, 660–667 (2013)

Noël, E. S. et al. A Nodal-independent and tissue-intrinsic mechanism controls heart-looping chirality. Nat. Commun. 4, 2754 (2013)

Taber, L. A., Voronov, D. A. & Ramasubramanian, A. The role of mechanical forces in the torsional component of cardiac looping. Ann. NY Acad. Sci. 1188, 103–110 (2010)

Domínguez, J. N., Meilhac, S. M., Bland, Y. S., Buckingham, M. E. & Brown, N. A. Asymmetric fate of the posterior part of the second heart field results in unexpected left/right contributions to both poles of the heart. Circ. Res. 111, 1323–1335 (2012)

Bayraktar, M. & Männer, J. Cardiac looping may be driven by compressive loads resulting from unequal growth of the heart and pericardial cavity. Observations on a physical simulation model. Front. Physiol. 5, 112 (2014)

Gurung, R. et al. Actin polymerization is stimulated by actin cross-linking protein palladin. Biochem. J. 473, 383–396 (2016)

Najm, P. & El-Sibai, M. Palladin regulation of the actin structures needed for cancer invasion. Cell Adh. Migr. 8, 29–35 (2014)

Behrndt, M. et al. Forces driving epithelial spreading in zebrafish gastrulation. Science 338, 257–260 (2012)

Naganathan, S. R., Middelkoop, T. C., Fürthauer, S. & Grill, S. W. Actomyosin-driven left–right asymmetry: from molecular torques to chiral self organization. Curr. Opin. Cell Biol. 38, 24–30 (2016)

Itasaki, N., Nakamura, H., Sumida, H. & Yasuda, M. Actin bundles on the right side in the caudal part of the heart tube play a role in dextro-looping in the embryonic chick heart. Anat. Embryol. (Berl). 183, 29–39 (1991)

Morales, A. V. et al. Snail genes at the crossroads of symmetric and asymmetric processes in the developing mesoderm. EMBO Rep. 8, 104–109 (2007)

Rana, M. S. et al. Tbx1 coordinates addition of posterior second heart field progenitor cells to the arterial and venous poles of the heart. Circ. Res. 115, 790–799 (2014)

Bressan, M., Liu, G. & Mikawa, T. Early mesodermal cues assign avian cardiac pacemaker fate potential in a tertiary heart field. Science 340, 744–748 (2013)

Pagán-Westphal, S. M. & Tabin, C. J. The transfer of left–right positional information during chick embryogenesis. Cell 93, 25–35 (1998)

Chang, H., Zwijsen, A., Vogel, H., Huylebroeck, D. & Matzuk, M. M. Smad5 is essential for left–right asymmetry in mice. Dev. Biol. 219, 71–78 (2000)

Barrallo-Gimeno, A. & Nieto, M. A. Evolutionary history of the Snail/Scratch superfamily. Trends Genet. 25, 248–252 (2009)

Martin, J. F., Bradley, A. & Olson, E. N. The paired-like homeo box gene MHox is required for early events of skeletogenesis in multiple lineages. Genes Dev. 9, 1237–1249 (1995)

Bergwerff, M. et al. Loss of function of the Prx1 and Prx2 homeobox genes alters architecture of the great elastic arteries and ductus arteriosus. Virchows Arch. 436, 12–19 (2000)

Locascio, A., Manzanares, M., Blanco, M. J. & Nieto, M. A. Modularity and reshuffling of Snail and Slug expression during vertebrate evolution. Proc. Natl Acad. Sci. USA 99, 16841–16846 (2002)

Spéder, P., Adám, G. & Noselli, S. Type ID unconventional myosin controls left–right asymmetry in Drosophila. Nature 440, 803–807 (2006)

Gros, J., Feistel, K., Viebahn, C., Blum, M. & Tabin, C. J. Cell movements at Hensen's node establish left/right asymmetric gene expression in the chick. Science 324, 941–944 (2009)

Maître, J. L. et al. Adhesion functions in cell sorting by mechanically coupling the cortices of adhering cells. Science 338, 253–256 (2012)

Kimmel, C. B., Ballard, W. W., Kimmel, S. R., Ullmann, B. & Schilling, T. F. Stages of embryonic development of the zebrafish. Dev. Dyn. 203, 253–310 (1995)

Hamburger, V. & Hamilton, H. L. A series of normal stages in the development of the chick embryo. J. Morphol. 88, 49–92 (1951)

Rowe, R. G. et al. Mesenchymal cells reactivate Snail1 expression to drive three-dimensional invasion programs. J. Cell Biol. 184, 399–408 (2009)

Ruzankina, Y. et al. Deletion of the developmentally essential gene ATR in adult mice leads to age-related phenotypes and stem cell loss. Cell Stem Cell 1, 113–126 (2007)

Madisen, L. et al. A robust and high-throughput Cre reporting and characterization system for the whole mouse brain. Nat. Neurosci. 13, 133–140 (2010)

Carver, E. A., Jiang, R., Lan, Y., Oram, K. F. & Gridley, T. The mouse snail gene encodes a key regulator of the epithelial–mesenchymal transition. Mol. Cell. Biol. 21, 8184–8188 (2001)

Sefton, M., Sánchez, S. & Nieto, M. A. Conserved and divergent roles for members of the Snail family of transcription factors in the chick and mouse embryo. Development 125, 3111–3121 (1998)

Lee, E. C. et al. A highly efficient Escherichia coli-based chromosome engineering system adapted for recombinogenic targeting and subcloning of BAC DNA. Genomics 73, 56–65 (2001)

Nasevicius, A. & Ekker, S. C. The zebrafish as a novel system for functional genomics and therapeutic development applications. Curr. Opin. Mol. Ther. 3, 224–228 (2001)

Riedl, J. et al. Lifeact: a versatile marker to visualize F-actin. Nat. Methods 5, 605–607 (2008)

Lombardo, V. A., Sporbert, A. & Abdelilah-Seyfried, S. Cell tracking using photoconvertible proteins during zebrafish development. J. Vis. Exp. 67, 4350 (2012)

Acloque, H., Ocaña, O. H., Abad, D., Stern, C. D. & Nieto, M. A. Snail2 and Zeb2 repress P-cadherin to define embryonic territories in the chick embryo. Development 144, 649–656 (2017)

Bertocchini, F. & Stern, C. D. The hypoblast of the chick embryo positions the primitive streak by antagonizing nodal signaling. Dev. Cell 3, 735–744 (2002)

Gagnon, J. A. et al. Efficient mutagenesis by Cas9 protein-mediated oligonucleotide insertion and large-scale assessment of single-guide RNAs. PLoS ONE 9, e98186 (2014)

Hwang, W. Y. et al. Efficient genome editing in zebrafish using a CRISPR–Cas system. Nat. Biotechnol. 31, 227–229 (2013)

Chapman, S. C., Collignon, J., Schoenwolf, G. C. & Lumsden, A. Improved method for chick whole-embryo culture using a filter paper carrier. Dev. Dyn. 220, 284–289 (2001)

Nieto, M. A., Patel, K. & Wilkinson, D. G. In situ hybridization analysis of chick embryos in whole mount and tissue sections. Methods Cell Biol. 51, 219–235 (1996)

Acloque, H., Wilkinson, D. G. & Nieto, M. A. In situ hybridization analysis of chick embryos in whole-mount and tissue sections. Methods Cell Biol. 87, 169–185 (2008)
Acknowledgements
We thank members of M.A.N. laboratory for continuous and helpful discussions, J. M. Mingot (IN) for the purification of Cas9 protein, B. Alsina (Universitat Pompeu Fabra) for the myl12.1-mCherry transgenic line (originally from C. P. Heisenberg's laboratory22), L. M. Gutiérrez (IN) for the LifeAct construct, J. Expósito (IN) for her technical advice with confocal microscopy, J. F. López Téllez (BIONAND) for the semithin histological sections and S. Ingham (IN) for his help with the graphics. This work was supported by the Spanish Ministry of Economy and Competitiveness (BFU2008-01042; BFU2014-53128-R co-financed by the European Regional Development Fund, ERDF), Generalitat Valenciana (PROMETEOII/2013/002) and European Research Council (ERC AdG 322694) to M.A.N., and BFU2014-52299-P, Instituto de Salud Carlos III-TERCEL network (RD12/0019-0022) and Junta de Andalucía (P11-CTS-07564) to R.M.-C. M.A.N. acknowledges financial support from the AEI, through the 'Severo Ochoa' Programme for Centres of Excellence in R&D (SEV-2013-0317) to Instituto de Neurociencias (IN).
Ethics declarations
Competing interests
The authors declare no competing financial interests.
Additional information
Reviewer Information Nature thanks M. Bronner and the other anonymous reviewer(s) for their contribution to the peer review of this work.
Publisher's note: Springer Nature remains neutral with regard to jurisdictional claims in published maps and institutional affiliations.
Extended data figures and tables
Supplementary information
About this article
Cite this article
Ocaña, O., Coskun, H., Minguillón, C. et al. A right-handed signalling pathway drives heart looping in vertebrates. Nature 549, 86–90 (2017). https://doi.org/10.1038/nature23454
Received:

Accepted:

Published:

Issue Date:

DOI: https://doi.org/10.1038/nature23454
Comments
By submitting a comment you agree to abide by our Terms and Community Guidelines. If you find something abusive or that does not comply with our terms or guidelines please flag it as inappropriate.