Abstract
Cells in healthy tissues acquire mutations with surprising frequency. Many of these mutations are associated with abnormal cellular behaviours such as differentiation defects and hyperproliferation, yet fail to produce macroscopically detectable phenotypes1,2,3. It is currently unclear how the tissue remains phenotypically normal, despite the presence of these mutant cells. Here we use intravital imaging to track the fate of mouse skin epithelium burdened with varying numbers of activated Wnt/β-catenin stem cells. We show that all resulting growths that deform the skin tissue architecture regress, irrespective of their size. Wild-type cells are required for the active elimination of mutant cells from the tissue, while utilizing both endogenous and ectopic cellular behaviours to dismantle the aberrant structures. After regression, the remaining structures are either completely eliminated or converted into functional skin appendages in a niche-dependent manner. Furthermore, tissue aberrancies generated from oncogenic Hras, and even mutation-independent deformations to the tissue, can also be corrected, indicating that this tolerance phenomenon reflects a conserved principle in the skin. This study reveals an unanticipated plasticity of the adult skin epithelium when faced with mutational and non-mutational insult, and elucidates the dynamic cellular behaviours used for its return to a homeostatic state.
Access options
Access Nature and 54 other Nature Portfolio journals
Get Nature+, our best-value online-access subscription
$29.99 per month
cancel any time
Subscribe to this journal
Receive 51 print issues and online access
$199.00 per year
only $3.90 per issue
Rent or buy this article
Get just this article for as long as you need it
$39.95
Prices may be subject to local taxes which are calculated during checkout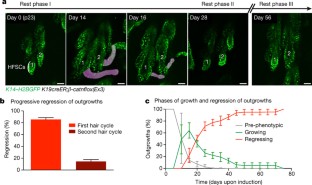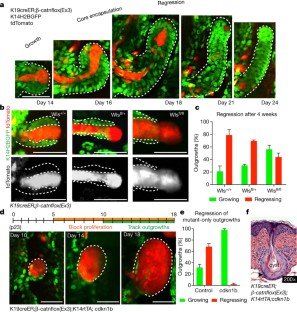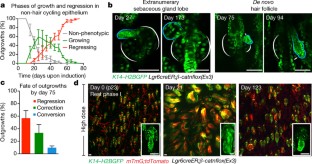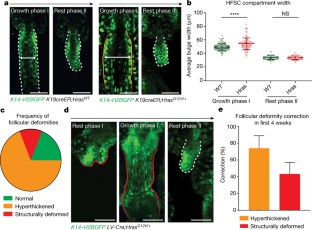 References
Ling, G. et al. Persistent p53 mutations in single cells from normal human skin. Am. J. Pathol. 159, 1247–1253 (2001)

Martincorena, I. et al. High burden and pervasive positive selection of somatic mutations in normal human skin. Science 348, 880–886 (2015)

Laurie, C. C. et al. Detectable clonal mosaicism from birth to old age and its relationship to cancer. Nat. Genet. 44, 642–650 (2012)

Pineda, C. M. et al. Intravital imaging of hair follicle regeneration in the mouse. Nat. Protocols 10, 1116–1130 (2015)

Rompolas, P. et al. Live imaging of stem cell and progeny behaviour in physiological hair-follicle regeneration. Nature 487, 496–499 (2012)

Clevers, H. Wnt/β-catenin signaling in development and disease. Cell 127, 469–480 (2006)

Liu, F. et al. β-Catenin initiates tooth neogenesis in adult rodent incisors. J. Dent. Res. 89, 909–914 (2010)

van Amerongen, R., Bowman, A. N. & Nusse, R. Developmental stage and time dictate the fate of Wnt/β-catenin-responsive stem cells in the mammary gland. Cell Stem Cell 11, 387–400 (2012)

Harada, N. et al. Intestinal polyposis in mice with a dominant stable mutation of the β-catenin gene. EMBO J. 18, 5931–5942 (1999)

Gat, U., DasGupta, R., Degenstein, L. & Fuchs, E. De novo hair follicle morphogenesis and hair tumors in mice expressing a truncated β-catenin in skin. Cell 95, 605–614 (1998)

Lo Celso, C., Prowse, D. M. & Watt, F. M. Transient activation of β-catenin signalling in adult mouse epidermis is sufficient to induce new hair follicles but continuous activation is required to maintain hair follicle tumours. Development 131, 1787–1799 (2004)

Kretzschmar, K., Weber, C., Driskell, R. R., Calonje, E. & Watt, F. M. Compartmentalized epidermal activation of β-catenin differentially affects lineage reprogramming and underlies tumor heterogeneity. Cell Rep. 14, 269–281 (2016)

MacDonald, B. T., Tamai, K. & He, X. Wnt/β-catenin signaling: components, mechanisms, and diseases. Dev. Cell 17, 9–26 (2009)

Chan, E. F., Gat, U., McNiff, J. M. & Fuchs, E. A common human skin tumour is caused by activating mutations in β-catenin. Nat. Genet. 21, 410–413 (1999)

Morin, P. J. et al. Activation of β-catenin-Tcf signaling in colon cancer by mutations in β-catenin or APC. Science 275, 1787–1790 (1997)

Deschene, E. R. et al. β-Catenin activation regulates tissue growth non-cell autonomously in the hair stem cell niche. Science 343, 1353–1356 (2014)

Madisen, L. et al. A robust and high-throughput Cre reporting and characterization system for the whole mouse brain. Nat. Neurosci. 13, 133–140 (2010)

Ferrer-Vaquer, A. et al. A sensitive and bright single-cell resolution live imaging reporter of Wnt/β-catenin signaling in the mouse. BMC Dev. Biol. 10, 121 (2010)

Augustin, I. et al. The Wnt secretion protein Evi/Gpr177 promotes glioma tumourigenesis. EMBO Mol. Med. 4, 38–51 (2012)

Carpenter, A. C., Rao, S., Wells, J. M., Campbell, K. & Lang, R. A. Generation of mice with a conditional null allele for Wntless. Genesis 48, 554–558 (2010)

Pruitt, S. C., Freeland, A., Rusiniak, M. E., Kunnev, D. & Cady, G. K. Cdkn1b overexpression in adult mice alters the balance between genome and tissue ageing. Nat. Commun. 4, 2626 (2013)

Xie, W., Chow, L. T., Paterson, A. J., Chin, E. & Kudlow, J. E. Conditional expression of the ErbB2 oncogene elicits reversible hyperplasia in stratified epithelia and up-regulation of TGFα expression in transgenic mice. Oncogene 18, 3593–3607 (1999)

Füllgrabe, A. et al. Dynamics of Lgr6+ progenitor cells in the hair follicle, sebaceous gland, and interfollicular epidermis. Stem Cell Rep. 5, 843–855 (2015)

Snippert, H. J. et al. Lgr6 marks stem cells in the hair follicle that generate all cell lineages of the skin. Science 327, 1385–1389 (2010)

Baker, C. M., Verstuyf, A., Jensen, K. B. & Watt, F. M. Differential sensitivity of epidermal cell subpopulations to β-catenin-induced ectopic hair follicle formation. Dev. Biol. 343, 40–50 (2010)

Chen, X. et al. Endogenous expression of HrasG12V induces developmental defects and neoplasms with copy number imbalances of the oncogene. Proc. Natl Acad. Sci. USA 106, 7979–7984 (2009)

Endo, M. et al. Efficient in vivo targeting of epidermal stem cells by early gestational intraamniotic injection of lentiviral vector driven by the keratin 5 promoter. Mol. Ther. 16, 131–137 (2008)

Beronja, S., Livshits, G., Williams, S. & Fuchs, E. Rapid functional dissection of genetic networks via tissue-specific transduction and RNAi in mouse embryos. Nat. Med. 16, 821–827 (2010)

Beronja, S. & Fuchs, E. RNAi-mediated gene function analysis in skin. Methods Mol. Biol. 961, 351–361 (2013)

Means, A. L., Xu, Y., Zhao, A., Ray, K. C. & Gu, G. A CK19(CreERT) knockin mouse line allows for conditional DNA recombination in epithelial cells in multiple endodermal organs. Genesis 46, 318–323 (2008)

Tumbar, T. et al. Defining the epithelial stem cell niche in skin. Science 303, 359–363 (2004)

Mesa, K. R. et al. Niche-induced cell death and epithelial phagocytosis regulate hair follicle stem cell pool. Nature 522, 94–97 (2015)

Fujiwara, H. et al. The basement membrane of hair follicle stem cells is a muscle cell niche. Cell 144, 577–589 (2011)

Fuchs, Y. et al. Sept4/ARTS regulates stem cell apoptosis and skin regeneration. Science 341, 286–289 (2013)

Kaufman, C. K. et al. GATA-3: an unexpected regulator of cell lineage determination in skin. Genes Dev. 17, 2108–2122 (2003)
Acknowledgements
We thank K. Cockburn, K. Mesa, and S. Guo for feedback on the manuscript. We thank G. Panse, P. Myung, and C. Ko for assistance with brightfield images and clinical assessment of haematoxylin and eosin sections. We thank G. Gu for K19creER and M. Taketo for β-catnflox(Ex3)/+ mice. This work was supported by The New York Stem Cell Foundation and grants to V.G. by the Edward Mallinckrodt, Jr. Foundation, a Howard Hughes Medical Institute Scholar award, and National Institute of Arthritis and Musculoskeletal and Skin Disease, National Institutes of Health (NIH), grant numbers 5R01AR063663-04 and 1R01AR067755-01A1. The content is the responsibility of the authors and does not necessarily represent the official views of the NIH. S.Br. was supported by the NIH Predoctoral Program in Cellular and Molecular Biology, grant number NIH T32GM007223. C.M.P. was supported by Human Genetics Training Grant NIH T32HD001749 and is currently supported by the National Cancer Institute of the NIH under Award Number F31CA206419. S.P. was supported by a James Hudson Brown - Alexander Brown Coxe Postdoctoral Fellowship and is currently supported by CT Stem Cell Grant 14-SCA-YALE-05. V.G. is a New York Stem Cell Foundation Robertson Investigator. β-catnflox(Ex3) mice are available from M. Taketo under a material transfer agreement with Banyu-Merck. We thank the Marine Biological Laboratory, Woods Hole, Massachusetts, for support while writing this manuscript.
Ethics declarations
Competing interests
The authors declare no competing financial interests.
Additional information
Reviewer Information Nature thanks J. Mills and the other anonymous reviewer(s) for their contribution to the peer review of this work.
Publisher's note: Springer Nature remains neutral with regard to jurisdictional claims in published maps and institutional affiliations.
Extended data figures and tables
Supplementary information
About this article
Cite this article
Brown, S., Pineda, C., Xin, T. et al. Correction of aberrant growth preserves tissue homeostasis. Nature 548, 334–337 (2017). https://doi.org/10.1038/nature23304
Received:

Accepted:

Published:

Issue Date:

DOI: https://doi.org/10.1038/nature23304
Comments
By submitting a comment you agree to abide by our Terms and Community Guidelines. If you find something abusive or that does not comply with our terms or guidelines please flag it as inappropriate.