Abstract
Sensors play an important part in many aspects of daily life such as infrared sensors in home security systems, particle sensors for environmental monitoring and motion sensors in mobile phones. High-quality optical microcavities are prime candidates for sensing applications because of their ability to enhance light–matter interactions in a very confined volume. Examples of such devices include mechanical transducers1, magnetometers2, single-particle absorption spectrometers3, and microcavity sensors for sizing single particles4 and detecting nanometre-scale objects such as single nanoparticles and atomic ions5,6,7. Traditionally, a very small perturbation near an optical microcavity introduces either a change in the linewidth or a frequency shift or splitting of a resonance that is proportional to the strength of the perturbation. Here we demonstrate an alternative sensing scheme, by which the sensitivity of microcavities can be enhanced when operated at non-Hermitian spectral degeneracies known as exceptional points8,9,10,11,12,13,14,15,16. In our experiments, we use two nanoscale scatterers to tune a whispering-gallery-mode micro-toroid cavity, in which light propagates along a concave surface by continuous total internal reflection, in a precise and controlled manner to exceptional points12,13. A target nanoscale object that subsequently enters the evanescent field of the cavity perturbs the system from its exceptional point, leading to frequency splitting. Owing to the complex-square-root topology near an exceptional point, this frequency splitting scales as the square root of the perturbation strength and is therefore larger (for sufficiently small perturbations) than the splitting observed in traditional non-exceptional-point sensing schemes. Our demonstration of exceptional-point-enhanced sensitivity paves the way for sensors with unprecedented sensitivity.
Relevant articles
Open Access articles citing this article.
Yumeng Yang

,

Xinrong Xie

…

Fei Gao

Nature Communications Open Access 12 December 2022

Tianji Liu

,

Cheng Guo

…

Shanhui Fan

eLight Open Access 02 December 2022

Yongsheng Wang

,

Yuhao Ren

…

Feng Li

Light: Science & Applications Open Access 25 October 2022
Access options
Subscribe to Nature+
Get immediate online access to Nature and 55 other Nature journal
Subscribe to Journal
Get full journal access for 1 year
$199.00
only $3.90 per issue
All prices are NET prices.
VAT will be added later in the checkout.
Tax calculation will be finalised during checkout.
Buy article
Get time limited or full article access on ReadCube.
$32.00
All prices are NET prices.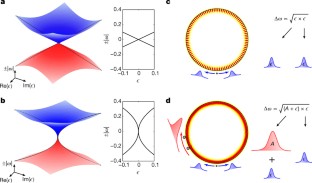 References
Gavartin, E., Verlot, P. & Kippenberg, T. J. A hybrid on-chip optomechanical transducer for ultrasensitive force measurements. Nat. Nanotechnol. 7, 509–514 (2012)

Forstner, S. et al. Cavity optomechanical magnetometer. Phys. Rev. Lett. 108, 120801 (2012)

Heylman, K. D. et al. Optical microresonators as single-particle absorption spectrometers. Nat. Photon. 10, 788–795 (2016)

Zhu, J. et al. On-chip single nanoparticle detection and sizing by mode splitting in an ultrahigh-Q microresonator. Nat. Photon. 4, 46–49 (2010)

He, L., Özdemir, Ş. K., Zhu, J., Kim, W. & Yang, L. Detecting single viruses and nanoparticles using whispering gallery microlasers. Nat. Nanotechnol. 6, 428–432 (2011)

Vollmer, F. & Yang, L. Label-free detection with high-Q microcavities: a review of biosensing mechanisms for integrated devices. Nanophotonics 1, 267–291 (2012)

Baaske, M. D. & Vollmer, F. Optical observation of single atomic ions interacting with plasmonic nanorods in aqueous solution. Nat. Photon. 10, 733–739 (2016)

Heiss, W. D. Repulsion of resonance states and exceptional points. Phys. Rev. E 61, 929–932 (2000)

Berry, M. V. Physics of non-Hermitian degeneracies. Czech. J. Phys. 54, 1039–1047 (2004)

Dembowski, C. et al. Experimental observation of the topological structure of exceptional points. Phys. Rev. Lett. 86, 787–790 (2001)

Lee, S.-B. et al. Observation of an exceptional point in a chaotic optical microcavity. Phys. Rev. Lett. 103, 134101 (2009)

Zhu, J., Özdemir, Ş. K., He, L. & Yang, L. Controlled manipulation of mode splitting in an optical microcavity by two Rayleigh scatterers. Opt. Express 18, 23535–23543 (2010)

Peng, B. et al. Chiral modes and directional lasing at exceptional points. Proc. Natl Acad. Sci. USA 113, 6845–6850 (2016)

Choi, Y. et al. Quasieigenstate coalescence in an atom-cavity quantum composite. Phys. Rev. Lett. 104, 153601 (2010)

Zhen, B. et al. Spawning rings of exceptional points out of Dirac cones. Nature 525, 354–358 (2015)

Gao, T. et al. Observation of non-Hermitian degeneracies in a chaotic exciton–polariton billiard. Nature 526, 554–558 (2015)

Rüter, C. E. et al. Observation of parity–time symmetry in optics. Nat. Phys. 6, 192–195 (2010)

Regensburger, A. et al. Parity–time synthetic photonic lattices. Nature 488, 167–171 (2012)

Peng, B. et al. Parity–time-symmetric whispering-gallery microcavities. Nat. Phys. 10, 394–398 (2014)

Ding, K., Ma, G., Xiao, M., Zhang, Z. Q. & Chan, C. T. Emergence, coalescence, and topological properties of multiple exceptional points and their experimental realization. Phys. Rev. X 6, 021007 (2016)

Brandstetter, M. et al. Reversing the pump dependence of a laser at an exceptional point. Nat. Commun. 5, 4034 (2014)

Peng, B. et al. Loss-induced suppression and revival of lasing. Science 346, 328–332 (2014)

Doppler, J. et al. Dynamically encircling an exceptional point for asymmetric mode switching. Nature 537, 76–79 (2016)

Xu, H., Mason, D., Jiang, L. & Harris, J. G. E. Topological energy transfer in an optomechanical system with exceptional points. Nature 537, 80–83 (2016)

Wiersig, J. Enhancing the sensitivity of frequency and energy splitting detection by using exceptional points: application to microcavity sensors for single-particle detection. Phys. Rev. Lett. 112, 203901 (2014)

Wiersig, J. Sensors operating at exceptional points: general theory. Phys. Rev. A 93, 033809 (2016)

Liu, Z.-P. et al. Metrology with PT-symmetric cavities: enhanced sensitivity near the PT-phase transition. Phys. Rev. Lett. 117, 110802 (2016)

Özdemir, Ş. K. et al. Highly sensitive detection of nanoparticles with a self-referenced and self-heterodyned whispering-gallery Raman microlaser. Proc. Natl Acad. Sci. USA 111, E3836–E3844 (2014)

Li, B.-B. et al. Single nanoparticle detection using split-mode microcavity Raman lasers. Proc. Natl Acad. Sci. USA 111, 14657–14662 (2014)

Lu, T., Yang, L., Carmon, T. & Min, B. A narrow-linewidth on-chip toroid Raman laser. IEEE J. Quantum Electron. 47, 320–326 (2011)

Armani, D. K., Kippenberg, T. J., Spillane, S. M. & Vahala, K. J. Ultra-high-Q toroid microcavity on a chip. Nature 421, 925–928 (2003)

He, L., Özdemir, Ş. K. & Yang, L. Whispering gallery microcavity lasers. Laser Photon. Rev. 7, 60–82 (2013)

Shao, L. et al. Detection of single nanoparticles and lentiviruses using microcavity resonance broadening. Adv. Mater. 25, 5616–5620 (2013)
Acknowledgements
This work was supported by the National Science Foundation (grant number EFMA1641109) and the Army Research Office (grant number s W911NF1210026, W911NF1710189 and W911NF1610339). J.W. acknowledges funding from the DFG (project number WI1986/6-1). We thank S. Rotter and X. F. Jiang for discussions.
Ethics declarations
Competing interests
The authors declare no competing financial interests.
Additional information
Reviewer Information Nature thanks K. Bliokh, M. Rechtsman and the other anonymous reviewer(s) for their contribution to the peer review of this work.
Publisher's note: Springer Nature remains neutral with regard to jurisdictional claims in published maps and institutional affiliations.
Extended data figures and tables
About this article
Cite this article
Chen, W., Kaya Özdemir, Ş., Zhao, G. et al. Exceptional points enhance sensing in an optical microcavity. Nature 548, 192–196 (2017). https://doi.org/10.1038/nature23281
Received:

Accepted:

Published:

Issue Date:

DOI: https://doi.org/10.1038/nature23281
Comments
By submitting a comment you agree to abide by our Terms and Community Guidelines. If you find something abusive or that does not comply with our terms or guidelines please flag it as inappropriate.