Abstract
Heterochromatic DNA domains have important roles in the regulation of gene expression and maintenance of genome stability by silencing repetitive DNA elements and transposons. From fission yeast to mammals, heterochromatin assembly at DNA repeats involves the activity of small noncoding RNAs (sRNAs) associated with the RNA interference (RNAi) pathway1,2,3,4,5,6,7,8,9. Typically, sRNAs, originating from long noncoding RNAs, guide Argonaute-containing effector complexes to complementary nascent RNAs to initiate histone H3 lysine 9 di- and trimethylation (H3K9me2 and H3K9me3, respectively) and the formation of heterochromatin10,11,12,13,14,15,16,17. H3K9me is in turn required for the recruitment of RNAi to chromatin to promote the amplification of sRNA11,15,18. Yet, how heterochromatin formation, which silences transcription, can proceed by a co-transcriptional mechanism that also promotes sRNA generation remains paradoxical. Here, using Clr4, the fission yeast Schizosaccharomyces pombe homologue of mammalian SUV39H H3K9 methyltransferases, we design active-site mutations that block H3K9me3, but allow H3K9me2 catalysis. We show that H3K9me2 defines a functionally distinct heterochromatin state that is sufficient for RNAi-dependent co-transcriptional gene silencing at pericentromeric DNA repeats. Unlike H3K9me3 domains, which are transcriptionally silent, H3K9me2 domains are transcriptionally active, contain modifications associated with euchromatic transcription, and couple RNAi-mediated transcript degradation to the establishment of H3K9me domains. The two H3K9me states recruit reader proteins with different efficiencies, explaining their different downstream silencing functions. Furthermore, the transition from H3K9me2 to H3K9me3 is required for RNAi-independent epigenetic inheritance of H3K9me domains. Our findings demonstrate that H3K9me2 and H3K9me3 define functionally distinct chromatin states and uncover a mechanism for the formation of transcriptionally permissive heterochromatin that is compatible with its broadly conserved role in sRNA-mediated genome defence.
Relevant articles
Open Access articles citing this article.
Caojie Liu

,

Qiuchan Xiong

…

Ning Kang

Nature Communications Open Access 13 April 2022

Fernando Rodriguez

,

Irina A. Yushenova

…

Irina R. Arkhipova

Nature Communications Open Access 28 February 2022

Junsoo Oh

,

Soojin Yeom

…

Jung-Shin Lee

Epigenetics & Chromatin Open Access 31 January 2022
Access options
Subscribe to Nature+
Get immediate online access to the entire Nature family of 50+ journals
Subscribe to Journal
Get full journal access for 1 year
$199.00
only $3.90 per issue
All prices are NET prices.
VAT will be added later in the checkout.
Tax calculation will be finalised during checkout.
Buy article
Get time limited or full article access on ReadCube.
$32.00
All prices are NET prices.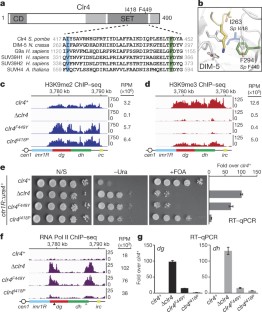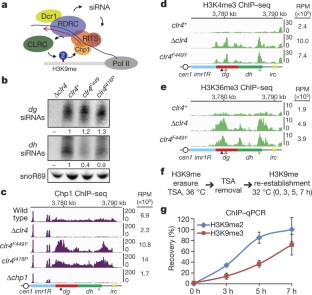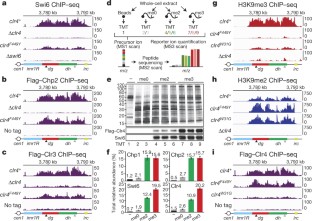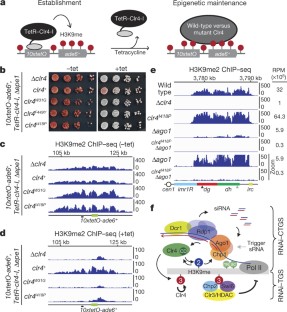 Accession codes
Primary accessions
Gene Expression Omnibus
References
Holoch, D. & Moazed, D. RNA-mediated epigenetic regulation of gene expression. Nat. Rev. Genet. 16, 71–84 (2015)

Castel, S. E. & Martienssen, R. A. RNA interference in the nucleus: roles for small RNAs in transcription, epigenetics and beyond. Nat. Rev. Genet. 14, 100–112 (2013)

Allshire, R. C. & Ekwall, K. Epigenetic regulation of chromatin states in Schizosaccharomyces pombe. Cold Spring Harb. Perspect. Biol. 7, a018770 (2015)

Volpe, T. A. et al. Regulation of heterochromatic silencing and histone H3 lysine-9 methylation by RNAi. Science 297, 1833–1837 (2002)

Chan, S. W. et al. RNA silencing genes control de novo DNA methylation. Science 303, 1336 (2004)

Shirayama, M. et al. piRNAs initiate an epigenetic memory of nonself RNA in the C. elegans germline. Cell 150, 65–77 (2012)

Buckley, B. A. et al. A nuclear Argonaute promotes multigenerational epigenetic inheritance and germline immortality. Nature 489, 447–451 (2012)

Aravin, A. A. et al. A piRNA pathway primed by individual transposons is linked to de novo DNA methylation in mice. Mol. Cell 31, 785–799 (2008)

Sienski, G., Dönertas, D. & Brennecke, J. Transcriptional silencing of transposons by Piwi and Maelstrom and its impact on chromatin state and gene expression. Cell 151, 964–980 (2012)

Verdel, A. et al. RNAi-mediated targeting of heterochromatin by the RITS complex. Science 303, 672–676 (2004)

Motamedi, M. R. et al. Two RNAi complexes, RITS and RDRC, physically interact and localize to noncoding centromeric RNAs. Cell 119, 789–802 (2004)

Bühler, M., Verdel, A. & Moazed, D. Tethering RITS to a nascent transcript initiates RNAi- and heterochromatin-dependent gene silencing. Cell 125, 873–886 (2006)

Zhang, K., Mosch, K., Fischle, W. & Grewal, S. I. Roles of the Clr4 methyltransferase complex in nucleation, spreading and maintenance of heterochromatin. Nat. Struct. Mol. Biol. 15, 381–388 (2008)

Bayne, E. H. et al. Stc1: a critical link between RNAi and chromatin modification required for heterochromatin integrity. Cell 140, 666–677 (2010)

Gerace, E. L., Halic, M. & Moazed, D. The methyltransferase activity of Clr4Suv39h triggers RNAi independently of histone H3K9 methylation. Mol. Cell 39, 360–372 (2010)

Yu, Y. et al. Panoramix enforces piRNA-dependent cotranscriptional silencing. Science 350, 339–342 (2015)

Sienski, G. et al. Silencio/CG9754 connects the Piwi–piRNA complex to the cellular heterochromatin machinery. Genes Dev. 29, 2258–2271 (2015)

Rangan, P. et al. piRNA production requires heterochromatin formation in Drosophila. Curr. Biol. 21, 1373–1379 (2011)

Collins, R. E. et al. In vitro and in vivo analyses of a Phe/Tyr switch controlling product specificity of histone lysine methyltransferases. J. Biol. Chem. 280, 5563–5570 (2005)

Xiao, B. et al. Structure and catalytic mechanism of the human histone methyltransferase SET7/9. Nature 421, 652–656 (2003)

Al-Sady, B., Madhani, H. D. & Narlikar, G. J. Division of labor between the chromodomains of HP1 and Suv39 methylase enables coordination of heterochromatin spread. Mol. Cell 51, 80–91 (2013)

Li, B., Carey, M. & Workman, J. L. The role of chromatin during transcription. Cell 128, 707–719 (2007)

Ekwall, K., Olsson, T., Turner, B. M., Cranston, G. & Allshire, R. C. Transient inhibition of histone deacetylation alters the structural and functional imprint at fission yeast centromeres. Cell 91, 1021–1032 (1997)

Motamedi, M. R. et al. HP1 proteins form distinct complexes and mediate heterochromatic gene silencing by nonoverlapping mechanisms. Mol. Cell 32, 778–790 (2008)

Sugiyama, T. et al. SHREC, an effector complex for heterochromatic transcriptional silencing. Cell 128, 491–504 (2007)

Schalch, T. et al. High-affinity binding of Chp1 chromodomain to K9 methylated histone H3 is required to establish centromeric heterochromatin. Mol. Cell 34, 36–46 (2009)

Ragunathan, K., Jih, G. & Moazed, D. Epigenetics. Epigenetic inheritance uncoupled from sequence-specific recruitment. Science 348, 1258699 (2015)

Audergon, P. N. et al. Epigenetics. Restricted epigenetic inheritance of H3K9 methylation. Science 348, 132–135 (2015)

Zhang, X. et al. Structural basis for the product specificity of histone lysine methyltransferases. Mol. Cell 12, 177–185 (2003)

Yu, R., Jih, G., Iglesias, N. & Moazed, D. Determinants of heterochromatic siRNA biogenesis and function. Mol. Cell 53, 262–276 (2014)

Zeng, P. Y., Vakoc, C. R., Chen, Z. C., Blobel, G. A. & Berger, S. L. In vivo dual cross-linking for identification of indirect DNA-associated proteins by chromatin immunoprecipitation. Biotechniques 41, 694–698, 696, 698 (2006)

Wong, K. H ., Jin, Y. & Moqtaderi, Z. Multiplex Illumina sequencing using DNA barcoding. Curr. Protoc. Mol. Biol. Chapter 7, Unit 7.11 (2013)

Holoch, D. & Moazed, D. Small-RNA loading licenses Argonaute for assembly into a transcriptional silencing complex. Nat. Struct. Mol. Biol. 22, 328–335 (2015)

Paulo, J. A., O'Connell, J. D. & Gygi, S. P. A triple knockout (TKO) proteomics standard for diagnosing ion interference in isobaric labeling experiments. J. Am. Soc. Mass Spectrom. 27, 1620–1625 (2016)

Huttlin, E. L. et al. A tissue-specific atlas of mouse protein phosphorylation and expression. Cell 143, 1174–1189 (2010)

Beausoleil, S. A., Villén, J., Gerber, S. A., Rush, J. & Gygi, S. P. A probability-based approach for high-throughput protein phosphorylation analysis and site localization. Nat. Biotechnol. 24, 1285–1292 (2006)

Elias, J. E. & Gygi, S. P. Target-decoy search strategy for increased confidence in large-scale protein identifications by mass spectrometry. Nat. Methods 4, 207–214 (2007)

Elias, J. E. & Gygi, S. P. Target-decoy search strategy for mass spectrometry-based proteomics. Methods Mol. Biol. 604, 55–71 (2010)

McAlister, G. C. et al. Increasing the multiplexing capacity of TMTs using reporter ion isotopologues with isobaric masses. Anal. Chem. 84, 7469–7478 (2012)

Sidoli, S. et al. Sequential window acquisition of all theoretical mass spectra (SWATH) analysis for characterization and quantification of histone post-translational modifications. Mol. Cell. Proteomics 14, 2420–2428 (2015)

Yuan, Z. F. et al. EpiProfile quantifies histone peptides with modifications by extracting retention time and intensity in high-resolution mass spectra. Mol. Cell. Proteomics 14, 1696–1707 (2015)

Recht, J. et al. Histone chaperone Asf1 is required for histone H3 lysine 56 acetylation, a modification associated with S phase in mitosis and meiosis. Proc. Natl Acad. Sci. USA 103, 6988–6993 (2006)

Sidoli, S., Bhanu, N. V., Karch, K. R., Wang, X. & Garcia, B. A. Complete workflow for analysis of histone post-translational modifications using bottom-up mass spectrometry: from histone extraction to data analysis. J. Vis. Exp. (111): (2016)

Oeffinger, M. et al. Comprehensive analysis of diverse ribonucleoprotein complexes. Nat. Methods 4, 951–956 (2007)
Acknowledgements
We thank M. Kalocsay for help with histone MS analysis, R. C. Kunz (Thermo Fisher Scientific Center for Multiplexed Proteomics, Harvard Medical School) for performing the initial TMT/MS, the Nikon Imaging Center at Harvard Medical School for access to confocal microscopes, K. Connolly for help with imaging, C. K. Wong and Z. Moqtaderi for help with Illumina library construction and data processing, R. Yu for Python scripts, D. Holoch for the Swi6 antibody, R. Behrouzi, D. Holoch and G. Shipkovenska for comments on the manuscript, and members of the Moazed laboratory for discussion. This work was supported by an NIH training grant (T32 GM007226) (G.J.), an EMBO long-term fellowship and a Swiss National Science Foundation postdoctoral fellowship (N.I.), NIH RO1 GM072805 (D.M.), K01 DK098285 (J.A.P.), and RO1 GM110174 (B.A.G.). D.M. is a Howard Hughes Medical Institute Investigator.
Ethics declarations
Competing interests
The authors declare no competing financial interests.
Additional information
Publisher's note: Springer Nature remains neutral with regard to jurisdictional claims in published maps and institutional affiliations.
Extended data figures and tables
Supplementary information
This file contains a Supplementary Discussion, Supplementary Tables 1-2, Supplementary References and Supplementary Figure 1, the uncropped gels and northern blot phosphorimager data. (PDF 342 kb)
About this article
Cite this article
Jih, G., Iglesias, N., Currie, M. et al. Unique roles for histone H3K9me states in RNAi and heritable silencing of transcription. Nature 547, 463–467 (2017). https://doi.org/10.1038/nature23267
Received:

Accepted:

Published:

Issue Date:

DOI: https://doi.org/10.1038/nature23267
Comments
By submitting a comment you agree to abide by our Terms and Community Guidelines. If you find something abusive or that does not comply with our terms or guidelines please flag it as inappropriate.