Abstract
The cortex represents information across widely varying timescales1,2,3,4,5. For instance, sensory cortex encodes stimuli that fluctuate over few tens of milliseconds6,7, whereas in association cortex behavioural choices can require the maintenance of information over seconds8,9. However, it remains poorly understood whether diverse timescales result mostly from features intrinsic to individual neurons or from neuronal population activity. This question remains unanswered, because the timescales of coding in populations of neurons have not been studied extensively, and population codes have not been compared systematically across cortical regions. Here we show that population codes can be essential to achieve long coding timescales. Furthermore, we find that the properties of population codes differ between sensory and association cortices. We compared coding for sensory stimuli and behavioural choices in auditory cortex and posterior parietal cortex as mice performed a sound localization task. Auditory stimulus information was stronger in auditory cortex than in posterior parietal cortex, and both regions contained choice information. Although auditory cortex and posterior parietal cortex coded information by tiling in time neurons that were transiently informative for approximately 200 milliseconds, the areas had major differences in functional coupling between neurons, measured as activity correlations that could not be explained by task events. Coupling among posterior parietal cortex neurons was strong and extended over long time lags, whereas coupling among auditory cortex neurons was weak and short-lived. Stronger coupling in posterior parietal cortex led to a population code with long timescales and a representation of choice that remained consistent for approximately 1 second. In contrast, auditory cortex had a code with rapid fluctuations in stimulus and choice information over hundreds of milliseconds. Our results reveal that population codes differ across cortex and that coupling is a variable property of cortical populations that affects the timescale of information coding and the accuracy of behaviour.
Relevant articles
Open Access articles citing this article.
Matthijs N. Oude Lohuis

,

Jean L. Pie

…

Umberto Olcese

Nature Communications Open Access 23 May 2022

Katherine C. Wood

,

Christopher F. Angeloni

…

Maria N. Geffen

Nature Communications Open Access 04 March 2022

Eugenio Piasini

,

Liviu Soltuzu

…

Davide Zoccolan

Nature Communications Open Access 21 July 2021
Access options
Subscribe to Nature+
Get immediate online access to the entire Nature family of 50+ journals
Subscribe to Journal
Get full journal access for 1 year
$199.00
only $3.90 per issue
All prices are NET prices.
VAT will be added later in the checkout.
Tax calculation will be finalised during checkout.
Buy article
Get time limited or full article access on ReadCube.
$32.00
All prices are NET prices.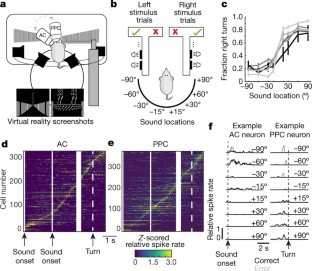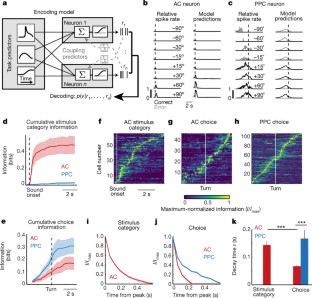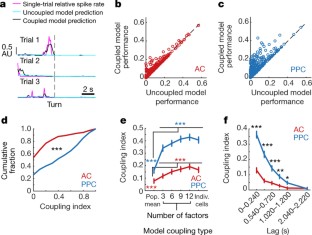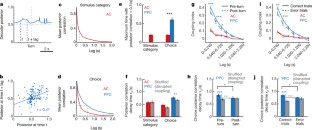 References
Hasson, U., Chen, J. & Honey, C. J. Hierarchical process memory: memory as an integral component of information processing. Trends Cogn. Sci. 19, 304–313 (2015)

Honey, C. J. et al. Slow cortical dynamics and the accumulation of information over long timescales. Neuron 76, 423–434 (2012)

Mauk, M. D. & Buonomano, D. V. The neural basis of temporal processing. Annu. Rev. Neurosci. 27, 307–340 (2004)

Murray, J. D. et al. A hierarchy of intrinsic timescales across primate cortex. Nat. Neurosci. 17, 1661–1663 (2014)

Yang, Y. & Zador, A. M. Differences in sensitivity to neural timing among cortical areas. J. Neurosci. 32, 15142–15147 (2012)

Burac˘as, G. T., Zador, A. M., DeWeese, M. R. & Albright, T. D. Efficient discrimination of temporal patterns by motion-sensitive neurons in primate visual cortex. Neuron 20, 959–969 (1998)

Yang, Y., DeWeese, M. R., Otazu, G. H. & Zador, A. M. Millisecond-scale differences in neural activity in auditory cortex can drive decisions. Nat. Neurosci. 11, 1262–1263 (2008)

Shadlen, M. N. & Newsome, W. T. Neural basis of a perceptual decision in the parietal cortex (area LIP) of the rhesus monkey. J. Neurophysiol. 86, 1916–1936 (2001)

Andersen, R. A. & Cui, H. Intention, action planning, and decision making in parietal–frontal circuits. Neuron 63, 568–583 (2009)

Harvey, C. D., Coen, P. & Tank, D. W. Choice-specific sequences in parietal cortex during a virtual-navigation decision task. Nature 484, 62–68 (2012)

Jenkins, W. M. & Merzenich, M. M. Role of cat primary auditory cortex for sound-localization behavior. J. Neurophysiol. 52, 819–847 (1984)

Nakamura, K. Auditory spatial discriminatory and mnemonic neurons in rat posterior parietal cortex. J. Neurophysiol. 82, 2503–2517 (1999)

McNaughton, B. L. et al. Cortical representation of motion during unrestrained spatial navigation in the rat. Cereb. Cortex 4, 27–39 (1994)

Nitz, D. A. Tracking route progression in the posterior parietal cortex. Neuron 49, 747–756 (2006)

Raposo, D., Kaufman, M. T. & Churchland, A. K. A category-free neural population supports evolving demands during decision-making. Nat. Neurosci. 17, 1784–1792 (2014)

Whitlock, J. R., Pfuhl, G., Dagslott, N., Moser, M.-B. & Moser, E. I. Functional split between parietal and entorhinal cortices in the rat. Neuron 73, 789–802 (2012)

Hanks, T. D. et al. Distinct relationships of parietal and prefrontal cortices to evidence accumulation. Nature 520, 220–223 (2015)

Graf, A. B. & Andersen, R. A. Predicting oculomotor behaviour from correlated populations of posterior parietal neurons. Nat. Commun. 6, 6024 (2015)

Park, I. M., Meister, M. L., Huk, A. C. & Pillow, J. W. Encoding and decoding in parietal cortex during sensorimotor decision-making. Nat. Neurosci. 17, 1395–1403 (2014)

Pillow, J. W. et al. Spatio-temporal correlations and visual signalling in a complete neuronal population. Nature 454, 995–999 (2008)

Panzeri, S., Harvey, C. D., Piasini, E., Latham, P. E. & Fellin, T. Cracking the neural code for sensory perception by combining statistics, intervention, and behavior. Neuron 93, 491–507 (2017)

Hromádka, T. & Zador, A. M. Representations in auditory cortex. Curr. Opin. Neurobiol. 19, 430–433 (2009)

Averbeck, B. B., Latham, P. E. & Pouget, A. Neural correlations, population coding and computation. Nat. Rev. Neurosci. 7, 358–366 (2006)

Carnevale, F., de Lafuente, V., Romo, R. & Parga, N. An optimal decision population code that accounts for correlated variability unambiguously predicts a subject's choice. Neuron 80, 1532–1543 (2013)

Harris, K. D. et al. How do neurons work together? Lessons from auditory cortex. Hear. Res. 271, 37–53 (2011)

Cohen, M. R. & Maunsell, J. H. R. Attention improves performance primarily by reducing interneuronal correlations. Nat. Neurosci. 12, 1594–1600 (2009)

Ecker, A. S. et al. Decorrelated neuronal firing in cortical microcircuits. Science 327, 584–587 (2010)

Okun, M. et al. Diverse coupling of neurons to populations in sensory cortex. Nature 521, 511–515 (2015)

Rabinowitz, N. C., Goris, R. L., Cohen, M. & Simoncelli, E. P. Attention stabilizes the shared gain of V4 populations. eLife 4, e08998 (2015)

Bathellier, B., Ushakova, L. & Rumpel, S. Discrete neocortical dynamics predict behavioral categorization of sounds. Neuron 76, 435–449 (2012)

Harvey, C. D., Collman, F., Dombeck, D. A. & Tank, D. W. Intracellular dynamics of hippocampal place cells during virtual navigation. Nature 461, 941–946 (2009)

Aronov, D. & Tank, D. W. Engagement of neural circuits underlying 2D spatial navigation in a rodent virtual reality system. Neuron 84, 442–456 (2014)

Elhilali, M., Fritz, J. B., Klein, D. J., Simon, J. Z. & Shamma, S. A. Dynamics of precise spike timing in primary auditory cortex. J. Neurosci. 24, 1159–1172 (2004)

Pulkki, V. Virtual sound source positioning using vector base amplitude panning. J. Audio Eng. Soc. 45, 10 (1997)

Creutzfeldt, O., Hellweg, F. C. & Schreiner, C. Thalamocortical transformation of responses to complex auditory stimuli. Exp. Brain Res. 39, 87–104 (1980)

Greenberg, D. S. & Kerr, J. N. Automated correction of fast motion artifacts for two-photon imaging of awake animals. J. Neurosci. Methods 176, 1–15 (2009)

Vogelstein, J. T. et al. Fast nonnegative deconvolution for spike train inference from population calcium imaging. J. Neurophysiol. 104, 3691–3704 (2010)

McCullagh, P. & Nelder, J. A. Generalized Linear Models 2nd edn, Ch. 4 (Chapman and Hall, 1989)

Agresti, A. Categorical Data Analysis 3rd edn (Wiley, 2013)

Lee, D. D. & Seung, H. S. Learning the parts of objects by non-negative matrix factorization. Nature 401, 788–791 (1999)

Friedman, J., Hastie, T. & Tibshirani, R. Regularization paths for generalized linear models via coordinate descent. J. Stat. Softw. 33, 1–22 (2010)

Quian Quiroga, R. & Panzeri, S. Extracting information from neuronal populations: information theory and decoding approaches. Nat. Rev. Neurosci. 10, 173–185 (2009)

Shannon, C. E. A mathematical theory of communication. ATT Bell Lab. Tech. J. 27, 379–423 (1948)

Panzeri, S. & Treves, A. Analytical estimates of limited sampling biases in different information measures. Network 7, 87–107 (1996)
Acknowledgements
We thank S. Chettih and M. Minderer for developing the cell selection software, and J. Assad, J. Drugowitsch, O. Mazor, and members of our laboratories for comments on the manuscript. We also thank the Research Instrumentation Core at Harvard Medical School. This work was supported by a Burroughs-Wellcome Fund Career Award at the Scientific Interface, the Searle Scholars Program, the New York Stem Cell Foundation, the Armenise-Harvard Foundation, the Alfred P. Sloan Research Foundation, a NARSAD Brain and Behavior Research Young Investigator Award, National Institutes of Health grants from the National Institute of Mental Health BRAINS program (R01-MH107620) and the National Institute of Neurological Disorders and Stroke (R01-NS089521), the Autonomous Province of Trento (Grandi Progetti ATTEND), and the Fondation Bertarelli. C.A.R. is a Life Sciences Research Foundation Simons Fellow. C.D.H. is a New York Stem Cell Foundation Robertson Neuroscience Investigator.
Ethics declarations
Competing interests
The authors declare no competing financial interests.
Additional information
Reviewer Information Nature thanks J. Pillow and the other anonymous reviewer(s) for their contribution to the peer review of this work.
Publisher's note: Springer Nature remains neutral with regard to jurisdictional claims in published maps and institutional affiliations.
Extended data figures and tables
Supplementary information
This file contains Supplementary Text and Supplementary References.
About this article
Cite this article
Runyan, C., Piasini, E., Panzeri, S. et al. Distinct timescales of population coding across cortex. Nature 548, 92–96 (2017). https://doi.org/10.1038/nature23020
Received:

Accepted:

Published:

Issue Date:

DOI: https://doi.org/10.1038/nature23020
Comments
By submitting a comment you agree to abide by our Terms and Community Guidelines. If you find something abusive or that does not comply with our terms or guidelines please flag it as inappropriate.