Abstract
In acute myeloid leukaemia, long-term survival is poor as most patients relapse despite achieving remission1. Historically, the failure of therapy has been thought to be due to mutations that produce drug resistance, possibly arising as a consequence of the mutagenic properties of chemotherapy drugs2. However, other lines of evidence have pointed to the pre-existence of drug-resistant cells3. For example, deep sequencing of paired diagnosis and relapse acute myeloid leukaemia samples has provided direct evidence that relapse in some cases is generated from minor genetic subclones present at diagnosis that survive chemotherapy3,4,5, suggesting that resistant cells are generated by evolutionary processes before treatment3 and are selected by therapy6,7,8. Nevertheless, the mechanisms of therapy failure and capacity for leukaemic regeneration remain obscure, as sequence analysis alone does not provide insight into the cell types that are fated to drive relapse. Although leukaemia stem cells9,10 have been linked to relapse owing to their dormancy and self-renewal properties11,12,13, and leukaemia stem cell gene expression signatures are highly predictive of therapy failure14,15, experimental studies have been primarily correlative7 and a role for leukaemia stem cells in acute myeloid leukaemia relapse has not been directly proved. Here, through combined genetic and functional analysis of purified subpopulations and xenografts from paired diagnosis/relapse samples, we identify therapy-resistant cells already present at diagnosis and two major patterns of relapse. In some cases, relapse originated from rare leukaemia stem cells with a haematopoietic stem/progenitor cell phenotype, while in other instances relapse developed from larger subclones of immunophenotypically committed leukaemia cells that retained strong stemness transcriptional signatures. The identification of distinct patterns of relapse should lead to improved methods for disease management and monitoring in acute myeloid leukaemia. Moreover, the shared functional and transcriptional stemness properties that underlie both cellular origins of relapse emphasize the importance of developing new therapeutic approaches that target stemness to prevent relapse.
Relevant articles
Open Access articles citing this article.
Héléna Boutzen

,

Seyed Ali Madani Tonekaboni

…

John E. Dick

Leukemia Open Access 21 September 2022

Mo Chen

,

Yingyu Qiao

…

Xue Ke

Journal of Nanobiotechnology Open Access 14 June 2022

Naomi Kawashima

,

Yuichi Ishikawa

…

Hitoshi Kiyoi

Nature Communications Open Access 25 March 2022
Access options
Subscribe to Nature+
Get immediate online access to Nature and 55 other Nature journal
Subscribe to Journal
Get full journal access for 1 year
$199.00
only $3.90 per issue
All prices are NET prices.
VAT will be added later in the checkout.
Tax calculation will be finalised during checkout.
Buy article
Get time limited or full article access on ReadCube.
$32.00
All prices are NET prices.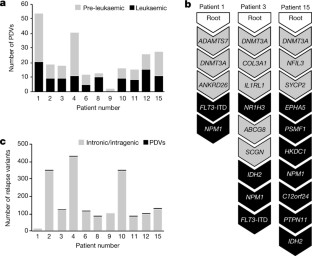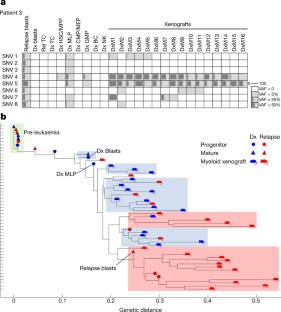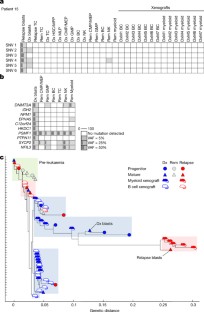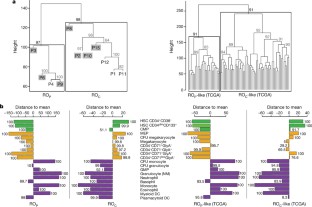 References
Sarkozy, C. et al. Outcome of older patients with acute myeloid leukemia in first relapse. Am. J. Hematol. 88, 758–764 (2013)

Goldie, J. H. & Coldman, A. J. The genetic origin of drug resistance in neoplasms: implications for systemic therapy. Cancer Res. 44, 3643–3653 (1984)

Ding, L. et al. Clonal evolution in relapsed acute myeloid leukaemia revealed by whole-genome sequencing. Nature 481, 506–510 (2012)

Krönke, J. et al. Clonal evolution in relapsed NPM1-mutated acute myeloid leukemia. Blood 122, 100–108 (2013)

Garg, M. et al. Profiling of somatic mutations in acute myeloid leukemia with FLT3-ITD at diagnosis and relapse. Blood 126, 2491–2501 (2015)

Parkin, B. et al. Clonal evolution and devolution after chemotherapy in adult acute myelogenous leukemia. Blood 121, 369–377 (2013)

Bachas, C. et al. The role of minor subpopulations within the leukemic blast compartment of AML patients at initial diagnosis in the development of relapse. Leukemia 26, 1313–1320 (2012)

Greaves, M. Evolutionary determinants of cancer. Cancer Discov. 5, 806–820 (2015)

Lapidot, T. et al. A cell initiating human acute myeloid leukaemia after transplantation into SCID mice. Nature 367, 645–648 (1994)

Hope, K. J., Jin, L. & Dick, J. E. Acute myeloid leukemia originates from a hierarchy of leukemic stem cell classes that differ in self-renewal capacity. Nat. Immunol. 5, 738–743 (2004)

Ishikawa, F. et al. Chemotherapy-resistant human AML stem cells home to and engraft within the bone-marrow endosteal region. Nat. Biotechnol. 25, 1315–1321 (2007)

Costello, R. T. et al. Human acute myeloid leukemia CD34+/CD38− progenitor cells have decreased sensitivity to chemotherapy and Fas-induced apoptosis, reduced immunogenicity, and impaired dendritic cell transformation capacities. Cancer Res. 60, 4403–4411 (2000)

Terpstra, W. et al. Fluorouracil selectively spares acute myeloid leukemia cells with long-term growth abilities in immunodeficient mice and in culture. Blood 88, 1944–1950 (1996)

Eppert, K. et al. Stem cell gene expression programs influence clinical outcome in human leukemia. Nat. Med. 17, 1086–1093 (2011)

Ng, S. W. et al. A 17-gene stemness score for rapid determination of risk in acute leukaemia. Nature 540, 433–437 (2016)

Shlush, L. I. et al. Identification of pre-leukaemic haematopoietic stem cells in acute leukaemia. Nature 506, 328–333 (2014)

Wunderlich, M. et al. AML xenograft efficiency is significantly improved in NOD/SCID-IL2RG mice constitutively expressing human SCF, GM-CSF and IL-3. Leukemia 24, 1785–1788 (2010)

Corces-Zimmerman, M. R., Hong, W. J., Weissman, I. L., Medeiros, B. C. & Majeti, R. Preleukemic mutations in human acute myeloid leukemia affect epigenetic regulators and persist in remission. Proc. Natl Acad. Sci. USA 111, 2548–2553 (2014)

The Cancer Genome Atlas Research Network. Genomic and epigenomic landscapes of adult de novo acute myeloid leukemia. N. Engl. J. Med. 368, 2059–2074 (2013)

Andersson, A. K. et al. The landscape of somatic mutations in infant MLL-rearranged acute lymphoblastic leukemias. Nat. Genet. 47, 330–337 (2015)

Klco, J. M. et al. Functional heterogeneity of genetically defined subclones in acute myeloid leukemia. Cancer Cell 25, 379–392 (2014)

Goardon, N. et al. Coexistence of LMPP-like and GMP-like leukemia stem cells in acute myeloid leukemia. Cancer Cell 19, 138–152 (2011)

Fong, C. Y. et al. BET inhibitor resistance emerges from leukaemia stem cells. Nature 525, 538–542 (2015)

Subramanian, A. et al. Gene set enrichment analysis: a knowledge-based approach for interpreting genome-wide expression profiles. Proc. Natl Acad. Sci. USA 102, 15545–15550 (2005)

Qiao, W. et al. PERT: a method for expression deconvolution of human blood samples from varied microenvironmental and developmental conditions. PLoS Comput. Biol. 8, e1002838 (2012)

Kreso, A. & Dick, J. E. Evolution of the cancer stem cell model. Cell Stem Cell 14, 275–291 (2014)

Notta, F., Doulatov, S. & Dick, J. E. Engraftment of human hematopoietic stem cells is more efficient in female NOD/SCID/IL-2Rgc-null recipients. Blood 115, 3704–3707 (2010)

Mazurier, F., Doedens, M., Gan, O. I. & Dick, J. E. Rapid myeloerythroid repopulation after intrafemoral transplantation of NOD-SCID mice reveals a new class of human stem cells. Nat. Med. 9, 959–963 (2003)

Hu, Y. & Smyth, G. K. ELDA: extreme limiting dilution analysis for comparing depleted and enriched populations in stem cell and other assays. J. Immunol. Methods 347, 70–78 (2009)

Bandelt, H. J., Forster, P. & Röhl, A. Median-joining networks for inferring intraspecific phylogenies. Mol. Biol. Evol. 16, 37–48 (1999)

Novershtern, N. et al. Densely interconnected transcriptional circuits control cell states in human hematopoiesis. Cell 144, 296–309 (2011)

Gamazon, E. R. et al. Comprehensive genetic analysis of cytarabine sensitivity in a cell-based model identifies polymorphisms associated with outcome in AML patients. Blood 121, 4366–4376 (2013)
Acknowledgements
This work was supported by grants from the Ontario Institute for Cancer Research with funds from the province of Ontario, the Cancer Stem Cell Consortium with funding from the Government of Canada through Genome Canada and the Ontario Genomics Institute (OGI-047), and the Canadian Institutes of Health Research (CSC-105367), the Canadian Cancer Society, the Terry Fox Foundation, a Canada Research Chair to J.E.D. L.I.S. was funded by the Benjamin Pearl fellowship from the McEwen Centre for Regenerative Medicine and an American Society of Hematology Scholar Award. This research was funded in part by the Ontario Ministry of Health and Long Term Care, whose views are not expressed here. We thank all the members of the Dick laboratory for comments and P. Zandstra for supporting this work.
Ethics declarations
Competing interests
The authors declare no competing financial interests.
Additional information
Reviewer Information Nature thanks M. Greaves, R. Levine and the other anonymous reviewer(s) for their contribution to the peer review of this work.
Publisher's note: Springer Nature remains neutral with regard to jurisdictional claims in published maps and institutional affiliations.
Extended data figures and tables
Supplementary information
About this article
Cite this article
Shlush, L., Mitchell, A., Heisler, L. et al. Tracing the origins of relapse in acute myeloid leukaemia to stem cells. Nature 547, 104–108 (2017). https://doi.org/10.1038/nature22993
Received:

Accepted:

Published:

Issue Date:

DOI: https://doi.org/10.1038/nature22993
Comments
By submitting a comment you agree to abide by our Terms and Community Guidelines. If you find something abusive or that does not comply with our terms or guidelines please flag it as inappropriate.