Abstract
Genomic analysis of tumours has led to the identification of hundreds of cancer genes on the basis of the presence of mutations in protein-coding regions. By contrast, much less is known about cancer-causing mutations in non-coding regions. Here we perform deep sequencing in 360 primary breast cancers and develop computational methods to identify significantly mutated promoters. Clear signals are found in the promoters of three genes. FOXA1, a known driver of hormone-receptor positive breast cancer, harbours a mutational hotspot in its promoter leading to overexpression through increased E2F binding. RMRP and NEAT1, two non-coding RNA genes, carry mutations that affect protein binding to their promoters and alter expression levels. Our study shows that promoter regions harbour recurrent mutations in cancer with functional consequences and that the mutations occur at similar frequencies as in coding regions. Power analyses indicate that more such regions remain to be discovered through deep sequencing of adequately sized cohorts of patients.
Relevant articles
Open Access articles citing this article.
Anne-Marie Lüchtenborg

,

Patrick Metzger

…

Peter Bronsert

Breast Cancer Research Open Access 03 October 2022

Alexander Martinez-Fundichely

,

Austin Dixon

&

Ekta Khurana

Nature Communications Open Access 26 September 2022

Jasmin Bartl

,

Marco Zanini

…

Marc Remke

Nature Communications Open Access 13 July 2022
Access options
Subscribe to Nature+
Get immediate online access to Nature and 55 other Nature journal
Subscribe to Journal
Get full journal access for 1 year
$199.00
only $3.90 per issue
All prices are NET prices.
VAT will be added later in the checkout.
Tax calculation will be finalised during checkout.
Buy article
Get time limited or full article access on ReadCube.
$32.00
All prices are NET prices.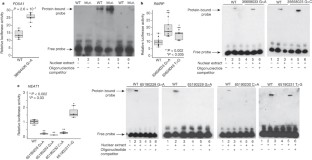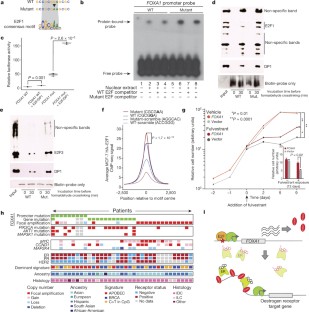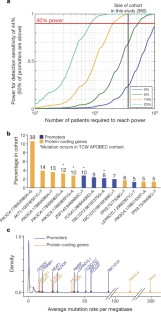 References
Fredriksson, N. J., Ny, L., Nilsson, J. A. & Larsson, E. Systematic analysis of noncoding somatic mutations and gene expression alterations across 14 tumor types. Nat. Genet. 46, 1258–1263 (2014)

Weinhold, N., Jacobsen, A., Schultz, N., Sander, C. & Lee, W. Genome-wide analysis of noncoding regulatory mutations in cancer. Nat. Genet. 46, 1160–1165 (2014)

Araya, C. L. et al. Identification of significantly mutated regions across cancer types highlights a rich landscape of functional molecular alterations. Nat. Genet. 48, 117–125 (2016)

Melton, C., Reuter, J. A., Spacek, D. V. & Snyder, M. Recurrent somatic mutations in regulatory regions of human cancer genomes. Nat. Genet. 47, 710–716 (2015)

Nik-Zainal, S. et al. Landscape of somatic mutations in 560 breast cancer whole-genome sequences. Nature 534, 47–54 (2016)

Lawrence, M. S. et al. Discovery and saturation analysis of cancer genes across 21 tumour types. Nature 505, 495–501 (2014)

Cibulskis, K. et al. Sensitive detection of somatic point mutations in impure and heterogeneous cancer samples. Nat. Biotechnol. 31, 213–219 (2013)

Lawrence, M. S. et al. Mutational heterogeneity in cancer and the search for new cancer-associated genes. Nature 499, 214–218 (2013)

Nik-Zainal, S. et al. Mutational processes molding the genomes of 21 breast cancers. Cell 149, 979–993 (2012)

Ciriello, G. et al. Comprehensive molecular portraits of invasive lobular breast cancer. Cell 163, 506–519 (2015)

The Cancer Genome Atlas Network. Comprehensive molecular portraits of human breast tumours. Nature 490, 61–70 (2012)

Ellis, M. J. et al. Whole-genome analysis informs breast cancer response to aromatase inhibition. Nature 486, 353–360 (2012)

Stephens, P. J. et al. The landscape of cancer genes and mutational processes in breast cancer. Nature 486, 400–404 (2012)

Banerji, S. et al. Sequence analysis of mutations and translocations across breast cancer subtypes. Nature 486, 405–409 (2012)

Getz, G. et al. Comment on "The consensus coding sequences of human breast and colorectal cancers". Science 317, 1500 (2007)

Alexandrov, L. B. et al. Signatures of mutational processes in human cancer. Nature 500, 415–421 (2013)

Roberts, S. A. et al. An APOBEC cytidine deaminase mutagenesis pattern is widespread in human cancers. Nat. Genet. 45, 970–976 (2013)

Kim, J. et al. Somatic ERCC2 mutations are associated with a distinct genomic signature in urothelial tumors. Nat. Genet. 48, 600–606 (2016)

Carter, S. L. et al. Absolute quantification of somatic DNA alterations in human cancer. Nat. Biotechnol. 30, 413–421 (2012)

Horn, S. et al. TERT promoter mutations in familial and sporadic melanoma. Science 339, 959–961 (2013)

Huang, F. W. et al. Highly recurrent TERT promoter mutations in human melanoma. Science 339, 957–959 (2013)

Huang, W. et al. DDX5 and its associated lncRNA Rmrp modulate TH17 cell effector functions. Nature 528, 517–522 (2015)

Standaert, L. et al. The long noncoding RNA Neat1 is required for mammary gland development and lactation. RNA 20, 1844–1849 (2014)

Carroll, J. S. et al. Chromosome-wide mapping of estrogen receptor binding reveals long-range regulation requiring the Forkhead protein FoxA1. Cell 122, 33–43 (2005)

Hurtado, A., Holmes, K. A., Ross-Innes, C. S., Schmidt, D. & Carroll, J. S. FOXA1 is a key determinant of estrogen receptor function and endocrine response. Nat. Genet. 43, 27–33 (2011)

Ross-Innes, C. S. et al. Differential oestrogen receptor binding is associated with clinical outcome in breast cancer. Nature 481, 389–393 (2012)

Badve, S. et al. FOXA1 expression in breast cancer–correlation with luminal subtype A and survival. Clin. Cancer Res. 13, 4415–4421 (2007)

Thorat, M. A. et al. Forkhead box A1 expression in breast cancer is associated with luminal subtype and good prognosis. J. Clin. Pathol. 61, 327–332 (2008)

Mehta, R. J. et al. FOXA1 is an independent prognostic marker for ER-positive breast cancer. Breast Cancer Res. Treat. 131, 881–890 (2012)

Fu, X. et al. FOXA1 overexpression mediates endocrine resistance by altering the ER transcriptome and IL-8 expression in ER-positive breast cancer. Proc. Natl Acad. Sci. USA 113, E6600–E6609 (2016)

Jeselsohn, R. et al. TransCONFIRM: identification of a genetic signature of response to fulvestrant in advanced hormone receptor-positive breast cancer. Clin. Cancer Res. 22, 5755 (2016)

Fisher, S. et al. A scalable, fully automated process for construction of sequence-ready human exome targeted capture libraries. Genome Biol. 12, R1 (2011)

Gnirke, A. et al. Solution hybrid selection with ultra-long oligonucleotides for massively parallel targeted sequencing. Nat. Biotechnol. 27, 182–189 (2009)

Pugh, T. J., Banerji, S. & Meyerson, M. Pugh et al. reply. Nature 520, E12–E14 (2015)

Li, H. & Durbin, R. Fast and accurate short read alignment with Burrows–Wheeler transform. Bioinformatics 25, 1754–1760 (2009)

Cibulskis, K . et al. ContEst: estimating cross-contamination of human samples in next-generation sequencing data. Bioinformatics 27, 2601–2602 (2011)

Costello, M. et al. Discovery and characterization of artifactual mutations in deep coverage targeted capture sequencing data due to oxidative DNA damage during sample preparation. Nucleic Acids Res. 41, e67 (2013)

Ramos, A. H. et al. Oncotator: cancer variant annotation tool. Hum. Mutat. 36, E2423–E2429 (2015)

Mermel, C. H. et al. GISTIC2.0 facilitates sensitive and confident localization of the targets of focal somatic copy-number alteration in human cancers. Genome Biol. 12, R41 (2011)

Landau, D. A. et al. Mutations driving CLL and their evolution in progression and relapse. Nature 526, 525–530 (2015)

Purcell, S. M. et al. A polygenic burden of rare disruptive mutations in schizophrenia. Nature 506, 185–190 (2014)

Price, A. L. et al. Principal components analysis corrects for stratification in genome-wide association studies. Nat. Genet. 38, 904–909 (2006)

Gonzalez-Perez, A. & Lopez-Bigas, N. Functional impact bias reveals cancer drivers. Nucleic Acids Res. 40, e169 (2012)

Lochovsky, L ., Zhang, J ., Fu, Y ., Khurana, E . & Gerstein, M. LARVA: an integrative framework for large-scale analysis of recurrent variants in noncoding annotations. Nucleic Acids Res. 43, 8123–8134 (2015)

Martincorena, I. et al. Tumor evolution. High burden and pervasive positive selection of somatic mutations in normal human skin. Science 348, 880–886 (2015)

Dees, N. D. et al. MuSiC: identifying mutational significance in cancer genomes. Genome Res. 22, 1589–1598 (2012)

Geyer, C. J. & Meeden, G. D. Fuzzy and randomized confidence intervals and P values. Stat. Sci. 20, 358–366 (2005)

Routledge, R. Practicing safe statistics with the mid-p. Can. J. Stat. 22, 103–110 (1994)

Kamburov, A. et al. Comprehensive assessment of cancer missense mutation clustering in protein structures. Proc. Natl Acad. Sci. USA 112, E5486–E5495 (2015)

Getz, G ., Gould, J . & Monti, S. Boosting permutation tests for marker selection. Broad Institute publications http://www.broadinstitute.org/mpr/publications/projects/Computational_Biology/GetzGouldMonti.pdf (2006)

Benjamini, Y. & Hochberg, Y. Controlling the false discovery rate: a practical and powerful approach to multiple testing. J. Roy. Stat. Soc. B 57, 289–300 (1995)

The ENCODE Project Consortium. An integrated encyclopedia of DNA elements in the human genome. Nature 489, 57–74 (2012)

Matys, V. et al. TRANSFAC: transcriptional regulation, from patterns to profiles. Nucleic Acids Res. 31, 374–378 (2003)

Sandelin, A., Alkema, W., Engström, P., Wasserman, W. W. & Lenhard, B. JASPAR: an open-access database for eukaryotic transcription factor binding profiles. Nucleic Acids Res. 32, D91–D94 (2004)

Hallikas, O. et al. Genome-wide prediction of mammalian enhancers based on analysis of transcription-factor binding affinity. Cell 124, 47–59 (2006)

Jolma, A. et al. Multiplexed massively parallel SELEX for characterization of human transcription factor binding specificities. Genome Res. 20, 861–873 (2010)

Jolma, A. et al. DNA-binding specificities of human transcription factors. Cell 152, 327–339 (2013)

Wei, G. H. et al. Genome-wide analysis of ETS-family DNA-binding in vitro and in vivo. EMBO J. 29, 2147–2160 (2010)

Touzet, H. & Varré, J. S. Efficient and accurate P value computation for position weight matrices. Algorithms Mol. Biol. 2, 15 (2007)

The Cancer Genome Atlas Research. Comprehensive, integrative genomic analysis of diffuse lower-grade gliomas. N. Engl. J. Med. 372, 2481–2498 (2015)

Li, H. et al. The Sequence Alignment/Map format and SAMtools. Bioinformatics 25, 2078–2079 (2009)

Cowper-Sal lari, R. et al. Breast cancer risk–associated SNPs modulate the affinity of chromatin for FOXA1 and alter gene expression. Nat. Genet. 44, 1191–1198 (2012)

Heinz, S. et al. Simple combinations of lineage-determining transcription factors prime cis-regulatory elements required for macrophage and B cell identities. Mol. Cell 38, 576–589 (2010)

Fuerer, C. & Nusse, R. Lentiviral vectors to probe and manipulate the Wnt signaling pathway. PLoS ONE 5, e9370 (2010)

Cao, L. et al. Independent binding of the retinoblastoma protein and p107 to the transcription factor E2F. Nature 355, 176–179 (1992)

Hallstrom, T. C. & Nevins, J. R. Specificity in the activation and control of transcription factor E2F-dependent apoptosis. Proc. Natl Acad. Sci. USA 100, 10848–10853 (2003)

Lazzerini Denchi, E. & Helin, K. E2F1 is crucial for E2F-dependent apoptosis. EMBO Rep. 6, 661–668 (2005)

Dick, F. A. & Dyson, N. pRB contains an E2F1-specific binding domain that allows E2F1-induced apoptosis to be regulated separately from other E2F activities. Mol. Cell 12, 639–649 (2003)

Coser, K. R. et al. Antiestrogen-resistant subclones of MCF-7 human breast cancer cells are derived from a common monoclonal drug-resistant progenitor. Proc. Natl Acad. Sci. USA 106, 14536–14541 (2009)

Robinson, J. T. et al. Integrative genomics viewer. Nat. Biotechnol. 29, 24–26 (2011)
Acknowledgements
We thank the patients who contributed samples to this study. This study was a collaboration of the Broad Institute in Cambridge, Massachusetts, USA, and the National Institute of Genomic Medicine (INMEGEN) in Mexico City, Mexico. The work was conducted as part of the Slim Initiative in Genomic Medicine for the Americas (SIGMA), a project funded by the Carlos Slim Foundation in Mexico. We are grateful to S. Romero-Cordoba, R. Rebollar, and L. Alfaro-Ruiz for sample collection and processing. We thank the Broad Institute Genomics Platform and Target Accelerator for assistance; N. Dyson for assistance with E2F experiments; A. Kamburov and D. Rosebrock for computational help; M. Snyder, J. Reuter, and C. Cenik for discussion on TBC1D12; and S. Nik-Zainal for data access guidance. E.R., M.R., A.T.W., C.S., M.C., and J.S.B. were partly funded by SIGMA. J.M.E. was supported by the Fannie and John Hertz Foundation. P.P. and A.B were partly funded by the Massachusetts General Hospital startup funds of G.G. G.G. was partly funded by the Paul C. Zamecnick, MD, Chair in Oncology at Massachusetts General Hospital.
Ethics declarations
Competing interests
Competing financial interests: A.J.I. holds equity in and receives royalties from ArcherDx.
Additional information
Reviewer Information Nature thanks J. Carroll and the other anonymous reviewer(s) for their contribution to the peer review of this work.
Publisher's note: Springer Nature remains neutral with regard to jurisdictional claims in published maps and institutional affiliations.
Extended data figures and tables
Supplementary information
This file contains a Supplementary Note, Supplementary References and Supplementary Figures 1 the uncropped blots. (PDF 3408 kb)
This file contains Supplementary Tables 1-8. (XLSX 1936 kb)
About this article
Cite this article
Rheinbay, E., Parasuraman, P., Grimsby, J. et al. Recurrent and functional regulatory mutations in breast cancer. Nature 547, 55–60 (2017). https://doi.org/10.1038/nature22992
Received:

Accepted:

Published:

Issue Date:

DOI: https://doi.org/10.1038/nature22992
Comments
By submitting a comment you agree to abide by our Terms and Community Guidelines. If you find something abusive or that does not comply with our terms or guidelines please flag it as inappropriate.