Abstract
Self-motion triggers complementary visual and vestibular reflexes supporting image-stabilization and balance. Translation through space produces one global pattern of retinal image motion (optic flow), rotation another. We examined the direction preferences of direction-sensitive ganglion cells (DSGCs) in flattened mouse retinas in vitro. Here we show that for each subtype of DSGC, direction preference varies topographically so as to align with specific translatory optic flow fields, creating a neural ensemble tuned for a specific direction of motion through space. Four cardinal translatory directions are represented, aligned with two axes of high adaptive relevance: the body and gravitational axes. One subtype maximizes its output when the mouse advances, others when it retreats, rises or falls. Two classes of DSGCs, namely, ON-DSGCs and ON-OFF-DSGCs, share the same spatial geometry but weight the four channels differently. Each subtype ensemble is also tuned for rotation. The relative activation of DSGC channels uniquely encodes every translation and rotation. Although retinal and vestibular systems both encode translatory and rotatory self-motion, their coordinate systems differ.
Relevant articles
Open Access articles citing this article.
Anna Y. M. Wang

,

Manoj M. Kulkarni

…

Teresa Puthussery

Nature Open Access 25 October 2023

Adam Mani

,

Xinzhu Yang

…

David M. Berson

Nature Communications Open Access 23 August 2023

Xavier Sánchez-Sáez

,

Isabel Ortuño-Lizarán

…

Nicolás Cuenca

Translational Neurodegeneration Open Access 03 April 2023
Access options
Access Nature and 54 other Nature Portfolio journals
Get Nature+, our best-value online-access subscription
$29.99 / 30 days
cancel any time
Subscribe to this journal
Receive 51 print issues and online access
$199.00 per year
only $3.90 per issue
Rent or buy this article
Prices vary by article type
from$1.95
to$39.95
Prices may be subject to local taxes which are calculated during checkout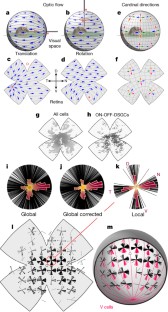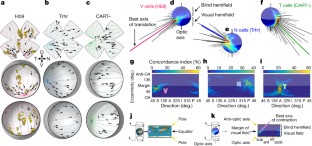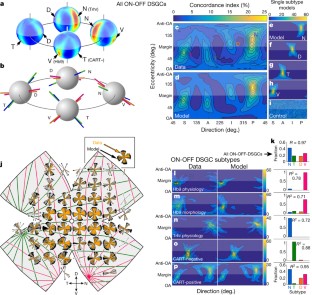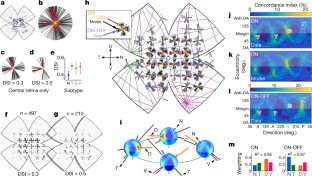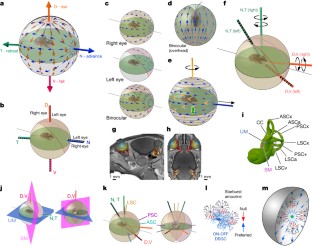 References
Vaney, D. I., He, S., Taylor, W. R. & Levick, W. R. in Motion Vision — Computational, Neural, and Ecological Constraints (eds Zanker, J. M . & Zeil, J. ) 13–56 (Springer, 2001)

Wei, W., Hamby, A. M., Zhou, K. & Feller, M. B. Development of asymmetric inhibition underlying direction selectivity in the retina. Nature 469, 402–406 (2011)

Taylor, W. R., He, S., Levick, W. R. & Vaney, D. I. Dendritic computation of direction selectivity by retinal ganglion cells. Science 289, 2347–2350 (2000)

Oesch, N., Euler, T. & Taylor, W. R. Direction-selective dendritic action potentials in rabbit retina. Neuron 47, 739–750 (2005)

Demb, J. B. Cellular mechanisms for direction selectivity in the retina. Neuron 55, 179–186 (2007)

Ding, H., Smith, R. G., Poleg-Polsky, A., Diamond, J. S. & Briggman, K. L. Species-specific wiring for direction selectivity in the mammalian retina. Nature 535, 105–110 (2016)

Kim, J. S. et al. Space-time wiring specificity supports direction selectivity in the retina. Nature 509, 331–336 (2014)

Briggman, K. L., Helmstaedter, M. & Denk, W. Wiring specificity in the direction-selectivity circuit of the retina. Nature 471, 183–188 (2011)

Park, S. J., Kim, I. J., Looger, L. L., Demb, J. B. & Borghuis, B. G. Excitatory synaptic inputs to mouse on-off direction-selective retinal ganglion cells lack direction tuning. J. Neurosci. 34, 3976–3981 (2014)

Angelaki, D. E. & Hess, B. J. Self-motion-induced eye movements: effects on visual acuity and navigation. Nat. Rev. Neurosci. 6, 966–976 (2005)

Angelaki, D. E. & Cullen, K. E. Vestibular system: the many facets of a multimodal sense. Annu. Rev. Neurosci. 31, 125–150 (2008)

Yang, G. & Masland, R. H. Receptive fields and dendritic structure of directionally selective retinal ganglion cells. J. Neurosci. 14, 5267–5280 (1994)

Cruz-Martín, A. et al. A dedicated circuit links direction-selective retinal ganglion cells to the primary visual cortex. Nature 507, 358–361 (2014)

Huberman, A. D. et al. Genetic identification of an on-off direction-selective retinal ganglion cell subtype reveals a layer-specific subcortical map of posterior motion. Neuron 62, 327–334 (2009)

Rivlin-Etzion, M. et al. Transgenic mice reveal unexpected diversity of on-off direction-selective retinal ganglion cell subtypes and brain structures involved in motion processing. J. Neurosci. 31, 8760–8769 (2011)

Chan, Y. C. & Chiao, C. C. The distribution of the preferred directions of the ON-OFF direction selective ganglion cells in the rabbit retina requires refinement after eye opening. Physiol. Rep. 1, e00013 (2013)

Oyster, C. W. Analysis of image motion by rabbit retina. J. Physiol. (Lond.) 199, 613–635 (1968)

Oyster, C. W. & Barlow, H. B. Direction-selective units in rabbit retina: distribution of preferred directions. Science 155, 841–842 (1967)

Kanjhan, R. & Sivyer, B. Two types of ON direction-selective ganglion cells in rabbit retina. Neurosci. Lett. 483, 105–109 (2010)

Kwong, J. M. K., Quan, A., Kyung, H., Piri, N. & Caprioli, J. Quantitative analysis of retinal ganglion cell survival with Rbpms immunolabeling in animal models of optic neuropathies. Invest. Ophthalmol. Vis. Sci. 52, 9694–9702 (2011)

Trenholm, S., Johnson, K., Li, X., Smith, R. G. & Awatramani, G. B. Parallel mechanisms encode direction in the retina. Neuron 71, 683–694 (2011)

Dhande, O. S. et al. Genetic dissection of retinal inputs to brainstem nuclei controlling image stabilization. J. Neurosci. 33, 17797–17813 (2013)

Kay, J. N. et al. Retinal ganglion cells with distinct directional preferences differ in molecular identity, structure, and central projections. J. Neurosci. 31, 7753–7762 (2011)

Simpson, J. I., Leonard, C. S. & Soodak, R. E. The accessory optic system of rabbit. II. Spatial organization of direction selectivity. J. Neurophysiol. 60, 2055–2072 (1988)

Simpson, J. I., Leonard, C. S. & Soodak, R. E. The accessory optic system — analyzer of self motion. Ann. NY Acad. Sci. 545, 170–179 (1988)

Wallace, D. J. et al. Rats maintain an overhead binocular field at the expense of constant fusion. Nature 498, 65–69 (2013)

Nilsson, D. E. The evolution of eyes and visually guided behaviour. Phil. Trans. R. Soc. Lond. B 364, 2833–2847 (2009)

Ivanova, E., Toychiev, A. H., Yee, C. W. & Sagdullaev, B. T. Optimized protocol for retinal wholemount preparation for imaging and immunohistochemistry. J. Vis. Exp. e51018, http://dx.doi.org/10.3791/51018 (2013)

Naarendorp, F. et al. Dark light, rod saturation, and the absolute and incremental sensitivity of mouse cone vision. J. Neurosci. 30, 12495–12507 (2010)

Govardovskii, V. I., Fyhrquist, N., Reuter, T., Kuzmin, D. G. & Donner, K. In search of the visual pigment template. Vis. Neurosci. 17, 509–528 (2000)

Szél, A. et al. Unique topographic separation of 2 spectral classes of cones in the mouse retina. J. Comp. Neurol. 325, 327–342 (1992)

Dai, X. et al. The frequency-response electroretinogram distinguishes cone and abnormal rod function in rd12 mice. PLoS One 10, e0117570 (2015)

Borghuis, B. G., Marvin, J. S., Looger, L. L. & Demb, J. B. Two-photon imaging of nonlinear glutamate release dynamics at bipolar cell synapses in the mouse retina. J. Neurosci. 33, 10972–10985 (2013)

Borghuis, B. G. et al. Imaging light responses of targeted neuron populations in the rodent retina. J. Neurosci. 31, 2855–2867 (2011)

Kim, I. J., Zhang, Y. F., Yamagata, M., Meister, M. & Sanes, J. R. Molecular identification of a retinal cell type that responds to upward motion. Nature 452, 478–483 (2008)

Chen, T. W. et al. Ultrasensitive fluorescent proteins for imaging neuronal activity. Nature 499, 295–300 (2013)

Kass, R. E. & Raftery, A. E. Bayes factors. J. Am. Statist. Assoc. 90, 773–795 (1995)

Venkataramani, S. & Taylor, W. R. Orientation selectivity in rabbit retinal ganglion cells is mediated by presynaptic inhibition. J. Neurosci. 30, 15664–15676 (2010)

Maloney, L. T. Evaluation of linear-models of surface spectral reflectance with small numbers of parameters. J. Opt. Soc. Am. A 3, 1673–1683 (1986)

Oommen, B. S. & Stahl, J. S. Eye orientation during static tilts and its relationship to spontaneous head pitch in the laboratory mouse. Brain Res. 1193, 57–66 (2008)

Oh, S. W. et al. A mesoscale connectome of the mouse brain. Nature 508, 207–214 (2014)

Yonehara, K. et al. Identification of retinal ganglion cells and their projections involved in central transmission of information about upward and downward image motion. PLoS One 4, e4320, http://dx.doi.org/10.1371/journal.pone.0004320 (2009)
Acknowledgements
We thank J. Demb and W. Wei for providing us with Trhr-GFP and Drd4-GFP mice. Countless colleagues provided theoretical, data-analytic and technical advice, including imaging, electronics and device synchronization, intracranial and intraocular injections, electrophysiological recordings and statistical analysis. They included J. McIlwain, B. Borghuis, G. Williams, C. Deister, J. Voigts, C. Moore, D. Sheinberg, K. Briggman, M. Fogerson, M. E. Stabio, J. Renna, S. Cruikshank, S. Crandall, B. Connors, S. Guan, J. Sanes, W. Truccolo and C. Aizenman. D. Boghossian maintained the mouse colony and genotyped experimental mice. K. Boghossian, C. Papendorp and P.-N. Chiang contributed to digital image analysis. J. Murphy constructed microscope stages and retinal mounts. We thank V. Jayaraman, D. S. Kim, L. L. Looger and K. Svoboda from the GENIE Project, Janelia Research Campus, Howard Hughes Medical Institute for sharing their GCaMP6f calcium indicator. This project was supported by the Banting Postdoctoral Fellowship of Canada (S.S.), The Sidney A. Fox and Dorothea Doctors Fox Postdoctoral Fellowship in Ophthalmology and Visual Sciences (S.S.), NSF-RTG grant DMS-1148284 (J.A.G.), and NIH grant R01 EY12793 and an Alcon Research Institute Award (D.M.B.).
Ethics declarations
Competing interests
The authors declare no competing financial interests.
Additional information
Reviewer Information Nature thanks J. Demb, A. Rosenberg, J. R. Sanes and the other anonymous reviewer(s) for their contribution to the peer review of this work.
Publisher's note: Springer Nature remains neutral with regard to jurisdictional claims in published maps and institutional affiliations.
Extended data figures and tables
Supplementary information
This file contains Supplementary Methods, Supplementary Notes 1-15, a Supplementary Discussion, Supplementary Equations, Supplementary Tables 1-2 and Supplementary References. (PDF 1455 kb)
About this article
Cite this article
Sabbah, S., Gemmer, J., Bhatia-Lin, A. et al. A retinal code for motion along the gravitational and body axes. Nature 546, 492–497 (2017). https://doi.org/10.1038/nature22818
Received:

Accepted:

Published:

Issue Date:

DOI: https://doi.org/10.1038/nature22818
Comments
By submitting a comment you agree to abide by our Terms and Community Guidelines. If you find something abusive or that does not comply with our terms or guidelines please flag it as inappropriate.