Abstract
Pyroptosis is a form of cell death that is critical for immunity. It can be induced by the canonical caspase-1 inflammasomes or by activation of caspase-4, -5 and -11 by cytosolic lipopolysaccharide1,2,3. The caspases cleave gasdermin D (GSDMD) in its middle linker to release autoinhibition on its gasdermin-N domain, which executes pyroptosis via its pore-forming activity4,5,6,7,8,9. GSDMD belongs to a gasdermin family that shares the pore-forming domain4,6,10. The functions and mechanisms of activation of other gasdermins are unknown. Here we show that GSDME, which was originally identified as DFNA5 (deafness, autosomal dominant 5)11, can switch caspase-3-mediated apoptosis induced by TNF or chemotherapy drugs to pyroptosis. GSDME was specifically cleaved by caspase-3 in its linker, generating a GSDME-N fragment that perforates membranes and thereby induces pyroptosis. After chemotherapy, cleavage of GSDME by caspase-3 induced pyroptosis in certain GSDME-expressing cancer cells. GSDME was silenced in most cancer cells but expressed in many normal tissues. Human primary cells exhibited GSDME-dependent pyroptosis upon activation of caspase-3 by chemotherapy drugs. Gsdme−/− (also known as Dfna5−/−) mice were protected from chemotherapy-induced tissue damage and weight loss. These findings suggest that caspase-3 activation can trigger necrosis by cleaving GSDME and offer new insights into cancer chemotherapy.
Relevant articles
Open Access articles citing this article.
Sheng Wang

,

Xinyang Liao

…

Qiang Wei

Discover Oncology Open Access 26 January 2023

Kei-ichiro Arimoto

,

Sayuri Miyauchi

…

Dong-Er Zhang

Nature Communications Open Access 17 January 2023

Jing Lin

,

Shihui Sun

…

Wenqi He

Nature Communications Open Access 14 January 2023
Access options
Subscribe to Nature+
Get immediate online access to Nature and 55 other Nature journal
Subscribe to Journal
Get full journal access for 1 year
$199.00
only $3.90 per issue
All prices are NET prices.
VAT will be added later in the checkout.
Tax calculation will be finalised during checkout.
Buy article
Get time limited or full article access on ReadCube.
$32.00
All prices are NET prices.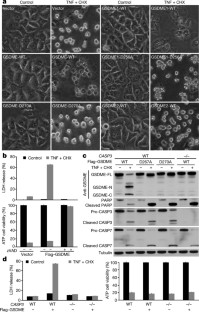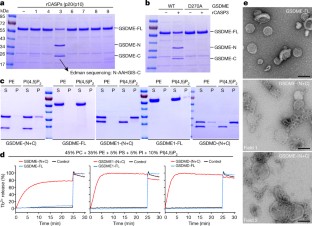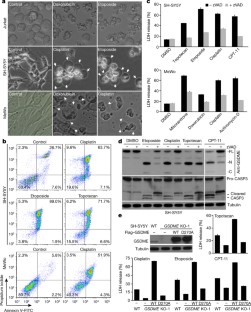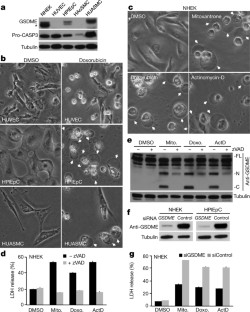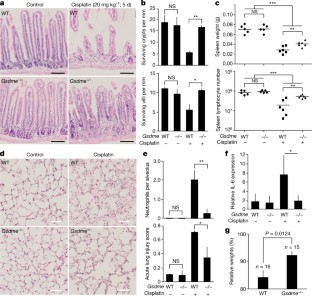 References
Guo, H., Callaway, J. B. & Ting, J. P. Inflammasomes: mechanism of action, role in disease, and therapeutics. Nat. Med. 21, 677–687 (2015)

Jorgensen, I. & Miao, E. A. Pyroptotic cell death defends against intracellular pathogens. Immunol. Rev. 265, 130–142 (2015)

Ding, J. & Shao, F. SnapShot: the noncanonical inflammasome. Cell 168, 544 (2017)

Shi, J. et al. Cleavage of GSDMD by inflammatory caspases determines pyroptotic cell death. Nature 526, 660–665 (2015)

Kayagaki, N. et al. Caspase-11 cleaves gasdermin D for non-canonical inflammasome signalling. Nature 526, 666–671 (2015)

Ding, J. et al. Pore-forming activity and structural autoinhibition of the gasdermin family. Nature 535, 111–116 (2016)

Liu, X. et al. Inflammasome-activated gasdermin D causes pyroptosis by forming membrane pores. Nature 535, 153–158 (2016)

Aglietti, R. A. et al. GsdmD p30 elicited by caspase-11 during pyroptosis forms pores in membranes. Proc. Natl Acad. Sci. USA 113, 7858–7863 (2016)

Sborgi, L. et al. GSDMD membrane pore formation constitutes the mechanism of pyroptotic cell death. EMBO J. 35, 1766–1778 (2016)

Shi, J., Gao, W. & Shao, F. Pyroptosis: gasdermin-mediated programmed necrotic cell death. Trends Biochem. Sci. 42, 245–254 (2017)

Van Laer, L. et al. Nonsyndromic hearing impairment is associated with a mutation in DFNA5. Nat. Genet. 20, 194–197 (1998)

Delmaghani, S. et al. Mutations in the gene encoding pejvakin, a newly identified protein of the afferent auditory pathway, cause DFNB59 auditory neuropathy. Nat. Genet. 38, 770–778 (2006)

Masuda, Y. et al. The potential role of DFNA5, a hearing impairment gene, in p53-mediated cellular response to DNA damage. J. Hum. Genet. 51, 652–664 (2006)

Akino, K. et al. Identification of DFNA5 as a target of epigenetic inactivation in gastric cancer. Cancer Sci. 98, 88–95 (2007)

Lage, H., Helmbach, H., Grottke, C., Dietel, M. & Schadendorf, D. DFNA5 (ICERE-1) contributes to acquired etoposide resistance in melanoma cells. FEBS Lett. 494, 54–59 (2001)

Rogers, C. et al. Cleavage of DFNA5 by caspase-3 during apoptosis mediates progression to secondary necrotic/pyroptotic cell death. Nat. Commun. 8, 14128 (2017)

de Beeck, K. O., Van Laer, L. & Van Camp, G .DFNA5, a gene involved in hearing loss and cancer: a review. Ann. Otol. Rhinol. Laryngol. 121, 197–207 (2012)

Van Laer, L. et al. Mice lacking Dfna5 show a diverging number of cochlear fourth row outer hair cells. Neurobiol. Dis. 19, 386–399 (2005)

Gregan, J., Van Laer, L., Lieto, L. D., Van Camp, G. & Kearsey, S. E. A yeast model for the study of human DFNA5, a gene mutated in nonsyndromic hearing impairment. Biochim. Biophys. Acta 1638, 179–186 (2003)

Kim, M. S. et al. Aberrant promoter methylation and tumor suppressive activity of the DFNA5 gene in colorectal carcinoma. Oncogene 27, 3624–3634 (2008)

Yokomizo, K. et al. Methylation of the DFNA5 gene is frequently detected in colorectal cancer. Anticancer Res. 32, 1319–1322 (2012)

Wang, C. J. et al. The expression and regulation of DFNA5 in human hepatocellular carcinoma DFNA5 in hepatocellular carcinoma. Mol. Biol. Rep. 40, 6525–6531 (2013)

Ball, B., Zeidan, A., Gore, S. D. & Prebet, T. Hypomethylating agent combination strategies in myelodysplastic syndromes: hopes and shortcomings. Leuk. Lymphoma 58, 1022–1036 (2017)

Shi, J. et al. Inflammatory caspases are innate immune receptors for intracellular LPS. Nature 514, 187–192 (2014)

Zhao, Y. et al. The NLRC4 inflammasome receptors for bacterial flagellin and type III secretion apparatus. Nature 477, 596–600 (2011)

Xu, H. et al. Innate immune sensing of bacterial modifications of Rho GTPases by the Pyrin inflammasome. Nature 513, 237–241 (2014)

Aubert, D. F. et al. A Burkholderia type VI effector deamidates Rho GTPases to activate the pyrin inflammasome and trigger inflammation. Cell Host Microbe 19, 664–674 (2016)

Matute-Bello, G. et al. An official American Thoracic Society workshop report: features and measurements of experimental acute lung injury in animals. Am. J. Respir. Cell Mol. Biol. 44, 725–738 (2011)
Acknowledgements
We thank F. Wang and the NIBS transgenic facility for generating Gsdme−/− mice, E. Zhang and J. Sui for reagents, and K. Jiang, Z. Liu and L. Sun for technical assistance. This work was supported by the National Key Research and Development Project on Protein Machinery and its Control and Regulation of Biological Processes (2016YFA0501500) and the Strategic Priority Research Program of the Chinese Academy of Sciences (XDB08020202).
Ethics declarations
Competing interests
The authors declare no competing financial interests.
Additional information
Reviewer Information Nature thanks M. Albert, V. Hornung and the other anonymous reviewer(s) for their contribution to the peer review of this work.
Publisher's note: Springer Nature remains neutral with regard to jurisdictional claims in published maps and institutional affiliations.
Extended data figures and tables
Supplementary information
About this article
Cite this article
Wang, Y., Gao, W., Shi, X. et al. Chemotherapy drugs induce pyroptosis through caspase-3 cleavage of a gasdermin. Nature 547, 99–103 (2017). https://doi.org/10.1038/nature22393
Received:

Accepted:

Published:

Issue Date:

DOI: https://doi.org/10.1038/nature22393
Comments
By submitting a comment you agree to abide by our Terms and Community Guidelines. If you find something abusive or that does not comply with our terms or guidelines please flag it as inappropriate.