Abstract
Expansions of short nucleotide repeats produce several neurological and neuromuscular disorders including Huntington disease, muscular dystrophy, and amyotrophic lateral sclerosis. A common pathological feature of these diseases is the accumulation of the repeat-containing transcripts into aberrant foci in the nucleus. RNA foci, as well as the disease symptoms, only manifest above a critical number of nucleotide repeats, but the molecular mechanism governing foci formation above this characteristic threshold remains unresolved. Here we show that repeat expansions create templates for multivalent base-pairing, which causes purified RNA to undergo a sol–gel transition in vitro at a similar critical repeat number as observed in the diseases. In human cells, RNA foci form by phase separation of the repeat-containing RNA and can be dissolved by agents that disrupt RNA gelation in vitro. Analogous to protein aggregation disorders, our results suggest that the sequence-specific gelation of RNAs could be a contributing factor to neurological disease.
Access options
Access Nature and 54 other Nature Portfolio journals
Get Nature+, our best-value online-access subscription
$29.99 / 30 days
cancel any time
Subscribe to this journal
Receive 51 print issues and online access
$199.00 per year
only $3.90 per issue
Rent or buy this article
Prices vary by article type
from$1.95
to$39.95
Prices may be subject to local taxes which are calculated during checkout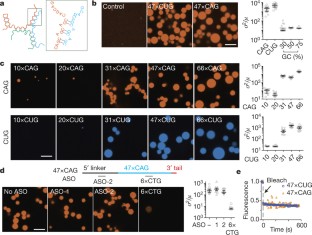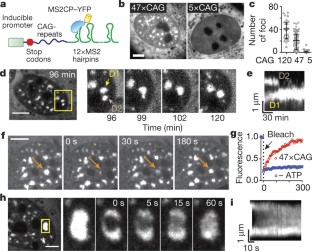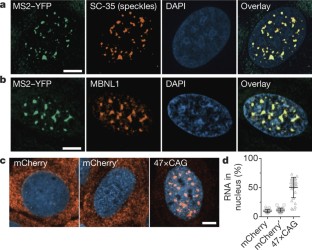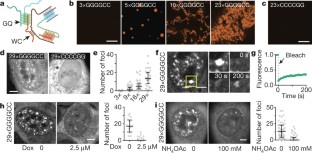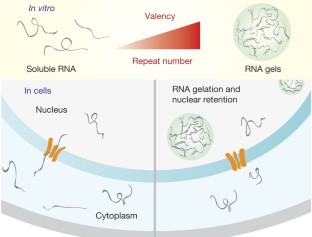 Similar content being viewed by others
References
Gatchel, J. R. & Zoghbi, H. Y. Diseases of unstable repeat expansion: mechanisms and common principles. Nat. Rev. Genet. 6, 743–755 (2005)

La Spada, A. R. & Taylor, J. P. Repeat expansion disease: progress and puzzles in disease pathogenesis. Nat. Rev. Genet. 11, 247–258 (2010)

Krzyzosiak, W. J. et al. Triplet repeat RNA structure and its role as pathogenic agent and therapeutic target. Nucleic Acids Res. 40, 11–26 (2012)

DeJesus-Hernandez, M. et al. Expanded GGGGCC hexanucleotide repeat in noncoding region of C9ORF72 causes chromosome 9p-linked FTD and ALS. Neuron 72, 245–256 (2011)

Renton, A. E. et al. A hexanucleotide repeat expansion in C9ORF72 is the cause of chromosome 9p21-linked ALS-FTD. Neuron 72, 257–268 (2011)

Lee, D.-Y. & McMurray, C. T. Trinucleotide expansion in disease: why is there a length threshold? Curr. Opin. Genet. Dev. 26, 131–140 (2014)

Chew, J. et al. Neurodegeneration. C9ORF72 repeat expansions in mice cause TDP-43 pathology, neuronal loss, and behavioral deficits. Science 348, 1151–1154 (2015)

Mankodi, A. et al. Myotonic dystrophy in transgenic mice expressing an expanded CUG repeat. Science 289, 1769–1773 (2000)

Jin, P. et al. RNA-mediated neurodegeneration caused by the fragile X premutation rCGG repeats in Drosophila. Neuron 39, 739–747 (2003)

Zu, T. et al. Non-ATG-initiated translation directed by microsatellite expansions. Proc. Natl Acad. Sci. USA 108, 260–265 (2011)

Cleary, J. D. & Ranum, L. P. W. Repeat-associated non-ATG (RAN) translation in neurological disease. Hum. Mol. Genet. 22 (R1), R45–R51 (2013)

Taneja, K. L., McCurrach, M., Schalling, M., Housman, D. & Singer, R. H. Foci of trinucleotide repeat transcripts in nuclei of myotonic dystrophy cells and tissues. J. Cell Biol. 128, 995–1002 (1995)

Wojciechowska, M. & Krzyzosiak, W. J. Cellular toxicity of expanded RNA repeats: focus on RNA foci. Hum. Mol. Genet. 20, 3811–3821 (2011)

Miller, J. W. et al. Recruitment of human muscleblind proteins to (CUG)n expansions associated with myotonic dystrophy. EMBO J. 19, 4439–4448 (2000)

Conlon, E. G. et al. The C9ORF72 GGGGCC expansion forms RNA G-quadruplex inclusions and sequesters hnRNP H to disrupt splicing in ALS brains. eLife 5, 345 (2016)

Timchenko, N. A. et al. RNA CUG repeats sequester CUGBP1 and alter protein levels and activity of CUGBP1. J. Biol. Chem. 276, 7820–7826 (2001)

Todd, P. K. & Paulson, H. L. RNA-mediated neurodegeneration in repeat expansion disorders. Ann. Neurol. 67, 291–300 (2010)

Belzil, V. V., Gendron, T. F. & Petrucelli, L. RNA-mediated toxicity in neurodegenerative disease. Mol. Cell. Neurosci. 56, 406–419 (2013)

Flory, P. J. Principles of Polymer Chemistry (Cornell Univ. Press, 1953)

Li, P. et al. Phase transitions in the assembly of multivalent signalling proteins. Nature 483, 336–340 (2012)

Stockmayer, W. H. Theory of molecular size distribution and gel formation in branched polymers II. General cross linking. J. Chem. Phys. 12, 125–131 (1944)

Semenov, A. N. & Rubinstein, M. Thermoreversible gelation in solutions of associative polymers. 1. Statics. Macromolecules 31, 1373–1385 (1998)

Falkenberg, C. V., Blinov, M. L. & Loew, L. M. Pleomorphic ensembles: formation of large clusters composed of weakly interacting multivalent molecules. Biophys. J. 105, 2451–2460 (2013)

Aumiller, W. M. Jr & Keating, C. D. Phosphorylation-mediated RNA/peptide complex coacervation as a model for intracellular liquid organelles. Nat. Chem. 8, 129–137 (2016)

Larson, R. G. The Structure and Rheology of Complex Fluids (Oxford Univ. Press, 1999)

Bertrand, E. et al. Localization of ASH1 mRNA particles in living yeast. Mol. Cell 2, 437–445 (1998)

Kearse, M. G. et al. CGG repeat-associated non-AUG translation utilizes a cap-dependent scanning mechanism of initiation to produce toxic proteins. Mol. Cell 62, 314–322 (2016)

Brangwynne, C. P. et al. Germline P granules are liquid droplets that localize by controlled dissolution/condensation. Science 324, 1729–1732 (2009)

Urbanek, M. O., Jazurek, M., Switonski, P. M., Figura, G. & Krzyzosiak, W. J. Nuclear speckles are detention centers for transcripts containing expanded CAG repeats. Biochim. Biophys. Acta 1862, 1513–1520 (2016)

Spector, D. L. & Lamond, A. I. Nuclear speckles. Cold Spring Harb. Perspect. Biol. 3, a000646 (2011)

Li, L.-B., Yu, Z., Teng, X. & Bonini, N. M. RNA toxicity is a component of ataxin-3 degeneration in Drosophila. Nature 453, 1107–1111 (2008)

Raj, A., van den Bogaard, P., Rifkin, S. A., van Oudenaarden, A. & Tyagi, S. Imaging individual mRNA molecules using multiple singly labeled probes. Nat. Methods 5, 877–879 (2008)

Hamaguchi, M. S., Watanabe, K. & Hamaguchi, Y. Regulation of intracellular pH in sea urchin eggs by medium containing both weak acid and base. Cell Struct. Funct. 22, 387–398 (1997)

Bennett, C. F. & Swayze, E. E. RNA targeting therapeutics: molecular mechanisms of antisense oligonucleotides as a therapeutic platform. Annu. Rev. Pharmacol. Toxicol. 50, 259–293 (2010)

Frederick, C. A. et al. Structural comparison of anticancer drug–DNA complexes: adriamycin and daunomycin. Biochemistry 29, 2538–2549 (1990)

Reddy, K., Zamiri, B., Stanley, S. Y. R., Macgregor, R. B. Jr & Pearson, C. E. The disease-associated r(GGGGCC)n repeat from the C9orf72 gene forms tract length-dependent uni- and multimolecular RNA G-quadruplex structures. J. Biol. Chem. 288, 9860–9866 (2013)

Guo, J. U. & Bartel, D. P. RNA G-quadruplexes are globally unfolded in eukaryotic cells and depleted in bacteria. Science 353, aaf5371 (2016)

Hyman, A. A., Weber, C. A. & Jülicher, F. Liquid–liquid phase separation in biology. Annu. Rev. Cell Dev. Biol. 30, 39–58 (2014)

Holmes, S. E. et al. A repeat expansion in the gene encoding junctophilin-3 is associated with Huntington disease-like 2. Nat. Genet. 29, 377–378 (2001)

Elden, A. C. et al. Ataxin-2 intermediate-length polyglutamine expansions are associated with increased risk for ALS. Nature 466, 1069–1075 (2010)

Tsoi, H., Lau, T. C.-K., Tsang, S.-Y., Lau, K.-F. & Chan, H. Y. E. CAG expansion induces nucleolar stress in polyglutamine diseases. Proc. Natl Acad. Sci. USA 109, 13428–13433 (2012)

Freibaum, B. D. et al. GGGGCC repeat expansion in C9orf72 compromises nucleocytoplasmic transport. Nature 525, 129–133 (2015)

Zhang, K. et al. The C9orf72 repeat expansion disrupts nucleocytoplasmic transport. Nature 525, 56–61 (2015)

Scior, A., Preissler, S., Koch, M. & Deuerling, E. Directed PCR-free engineering of highly repetitive DNA sequences. BMC Biotechnol. 11, 87 (2011)

Jain, A. et al. Probing cellular protein complexes using single-molecule pull-down. Nature 473, 484–488 (2011)

Shav-Tal, Y. et al. Dynamics of single mRNPs in nuclei of living cells. Science 304, 1797–1800 (2004)

Phair, R. D., Gorski, S. A. & Misteli, T. Measurement of dynamic protein binding to chromatin in vivo, using photobleaching microscopy. Methods Enzymol. 375, 393–414 (2004)
Acknowledgements
We thank M. K. Rosen, W. W. Seeley, and the members of the Vale laboratory for discussions. A.J. is a Damon Runyon Fellow supported by the Damon Runyon Cancer Research Foundation (DRG-2181-14).
Ethics declarations
Competing interests
The authors declare no competing financial interests.
Additional information
Reviewer Information Nature thanks C. P. Brangwynne, M. Carmo-Fonseca, J. Shorter and the other anonymous reviewer(s) for their contribution to the peer review of this work.
Publisher's note: Springer Nature remains neutral with regard to jurisdictional claims in published maps and institutional affiliations.
Extended data figures and tables
Supplementary information
About this article
Cite this article
Jain, A., Vale, R. RNA phase transitions in repeat expansion disorders. Nature 546, 243–247 (2017). https://doi.org/10.1038/nature22386
Received:

Accepted:

Published:

Issue Date:

DOI: https://doi.org/10.1038/nature22386
Comments
By submitting a comment you agree to abide by our Terms and Community Guidelines. If you find something abusive or that does not comply with our terms or guidelines please flag it as inappropriate.