Abstract
Adult pair bonding involves dramatic changes in the perception and valuation of another individual1. One key change is that partners come to reliably activate the brain's reward system2,3,4,5,6, although the precise neural mechanisms by which partners become rewarding during sociosexual interactions leading to a bond remain unclear. Here we show, using a prairie vole (Microtus ochrogaster) model of social bonding7, how a functional circuit from the medial prefrontal cortex to nucleus accumbens is dynamically modulated to enhance females' affiliative behaviour towards a partner. Individual variation in the strength of this functional connectivity, particularly after the first mating encounter, predicts how quickly animals begin affiliative huddling with their partner. Rhythmically activating this circuit in a social context without mating biases later preference towards a partner, indicating that this circuit's activity is not just correlated with how quickly animals become affiliative but causally accelerates it. These results provide the first dynamic view of corticostriatal activity during bond formation, revealing how social interactions can recruit brain reward systems to drive changes in affiliative behaviour.
This is a preview of subscription content
Access options
Subscribe to Nature+
Get immediate online access to the entire Nature family of 50+ journals
Subscribe to Journal
Get full journal access for 1 year
$199.00
only $3.90 per issue
All prices are NET prices.
VAT will be added later in the checkout.
Tax calculation will be finalised during checkout.
Buy article
Get time limited or full article access on ReadCube.
$32.00
All prices are NET prices.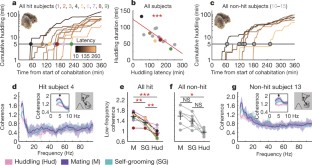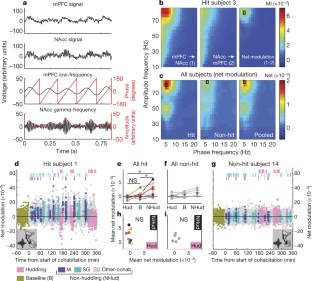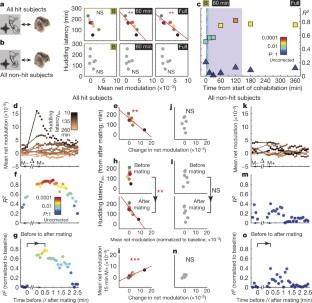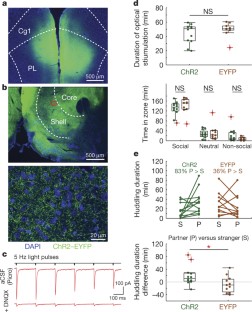 References
Hazan, C. & Shaver, P. Romantic love conceptualized as an attachment process. J. Pers. Soc. Psychol. 52, 511–524 (1987)

Bartels, A. & Zeki, S. The neural basis of romantic love. Neuroreport 11, 3829–3834 (2000)

Young, L. J., Lim, M. M., Gingrich, B. & Insel, T. R. Cellular mechanisms of social attachment. Horm. Behav. 40, 133–138 (2001)

Aragona, B. J. et al. Nucleus accumbens dopamine differentially mediates the formation and maintenance of monogamous pair bonds. Nat. Neurosci. 9, 133–139 (2006)

Ross, H. E. et al. Variation in oxytocin receptor density in the nucleus accumbens has differential effects on affiliative behaviors in monogamous and polygamous voles. J. Neurosci. 29, 1312–1318 (2009)

Johnson, Z. V. et al. Central oxytocin receptors mediate mating-induced partner preferences and enhance correlated activation across forebrain nuclei in male prairie voles. Horm. Behav. 79, 8–17 (2016)

Young, L. J. & Wang, Z. The neurobiology of pair bonding. Nat. Neurosci. 7, 1048–1054 (2004)

Kleiman, D. G. Monogamy in mammals. Q. Rev. Biol. 52, 39–69 (1977)

Christie, M. J., Summers, R. J., Stephenson, J. A., Cook, C. J. & Beart, P. M. Excitatory amino acid projections to the nucleus accumbens septi in the rat: a retrograde transport study utilizing d[3H]aspartate and [3H]GABA. Neuroscience 22, 425–439 (1987)

Ross, H. E. et al. Characterization of the oxytocin system regulating affiliative behavior in female prairie voles. Neuroscience 162, 892–903 (2009)

Nicola, S. M. The nucleus accumbens as part of a basal ganglia action selection circuit. Psychopharmacology (Berl.) 191, 521–550 (2007)

Floresco, S. B. The nucleus accumbens: an interface between cognition, emotion, and action. Annu. Rev. Psychol. 66, 25–52 (2015)

Block, A. E., Dhanji, H., Thompson-Tardif, S. F. & Floresco, S. B. Thalamic–prefrontal cortical–ventral striatal circuitry mediates dissociable components of strategy set shifting. Cereb. Cortex 17, 1625–1636 (2007)

Paxinos, G & Watson, C. The Rat Brain in Stereotaxic Coordinates compact 6th edn (Academic, 2009)

Williams, J. R., Catania, K. C. & Carter, C. S. Development of partner preferences in female prairie voles (Microtus ochrogaster): the role of social and sexual experience. Horm. Behav. 26, 339–349 (1992)

Ahern, T. H., Modi, M. E., Burkett, J. P. & Young, L. J. Evaluation of two automated metrics for analyzing partner preference tests. J. Neurosci. Methods 182, 180–188 (2009)

Lim, M. M. et al. Enhanced partner preference in a promiscuous species by manipulating the expression of a single gene. Nature 429, 754–757 (2004)

Bagot, R. C. et al. Ventral hippocampal afferents to the nucleus accumbens regulate susceptibility to depression. Nat. Commun. 6, 7062 (2015)

Britt, J. P. et al. Synaptic and behavioral profile of multiple glutamatergic inputs to the nucleus accumbens. Neuron 76, 790–803 (2012)

Buzsáki, G. & Wang, X.-J. Mechanisms of gamma oscillations. Annu. Rev. Neurosci. 35, 203–225 (2012)

Kalenscher, T., Lansink, C. S., Lankelma, J. V. & Pennartz, C. M. A. Reward-associated gamma oscillations in ventral striatum are regionally differentiated and modulate local firing activity. J. Neurophysiol. 103, 1658–1672 (2010)

van der Meer, M. A. & Redish, A. D. Low and high gamma oscillations in rat ventral striatum have distinct relationships to behavior, reward, and spiking activity on a learned spatial decision task. Front. Integr. Neurosci. 3, 9 (2009)

Berke, J. D. Fast oscillations in cortical–striatal networks switch frequency following rewarding events and stimulant drugs. Eur. J. Neurosci. 30, 848–859 (2009)

Lakatos, P. et al. An oscillatory hierarchy controlling neuronal excitability and stimulus processing in the auditory cortex. J. Neurophysiol. 94, 1904–1911 (2005)

Tort, A. B. et al. Dynamic cross-frequency couplings of local field potential oscillations in rat striatum and hippocampus during performance of a T-maze task. Proc. Natl Acad. Sci. USA 105, 20517–20522 (2008)

Ragozzino, M. E., Kim, J., Hassert, D., Minniti, N. & Kiang, C. The contribution of the rat prelimbic-infralimbic areas to different forms of task switching. Behav. Neurosci. 117, 1054–1065 (2003)

Jutras, M. J. & Buffalo, E. A. Synchronous neural activity and memory formation. Curr. Opin. Neurobiol. 20, 150–155 (2010)

Trimper, J. B., Stefanescu, R. A. & Manns, J. R. Recognition memory and theta–gamma interactions in the hippocampus. Hippocampus 24, 341–353 (2014)

Stuber, G. D. et al. Excitatory transmission from the amygdala to nucleus accumbens facilitates reward seeking. Nature 475, 377–380 (2011)

Okuyama, T., Kitamura, T., Roy, D. S., Itohara, S. & Tonegawa, S. Ventral CA1 neurons store social memory. Science 353, 1536–1541 (2016)

Gruber, A. J., Hussain, R. J. & O'Donnell, P. The nucleus accumbens: a switchboard for goal-directed behaviors. PLoS ONE 4, e5062 (2009)

Vertes, R. P. Differential projections of the infralimbic and prelimbic cortex in the rat. Synapse 51, 32–58 (2004)

Gutman, D. A. et al. A DTI tractography analysis of infralimbic and prelimbic connectivity in the mouse using high-throughput MRI. Neuroimage 63, 800–811 (2012)

Donaldson, Z. R., Spiegel, L. & Young, L. J. Central vasopressin V1a receptor activation is independently necessary for both partner preference formation and expression in socially monogamous male prairie voles. Behav. Neurosci. 124, 159–163 (2010)

Etholm, L., Arabadzisz, D., Lipp, H. P. & Heggelund, P. Seizure logging: a new approach to synchronized cable-free EEG and video recordings of seizure activity in mice. J. Neurosci. Methods 192, 254–260 (2010)

Ryan, S. J. et al. Spike-timing precision and neuronal synchrony are enhanced by an interaction between synaptic inhibition and membrane oscillations in the amygdala. PLoS ONE 7, e35320 (2012)

Mitra, P. P. & Pesaran, B. Analysis of dynamic brain imaging data. Biophys. J. 76, 691–708 (1999)

Mitra, P. & Bokil, H. Observed Brain Dynamics (Oxford Univ. Press, 2008)

Slepian, D. & Pollack, H. O. Prolate spheroidal wave functions, Fourier analysis and uncertainty – I. Bell Syst. Tech. J. 40, 43–63 (1961)

Jutras, M. J., Fries, P. & Buffalo, E. A. Gamma-band synchronization in the macaque hippocampus and memory formation. J. Neurosci. 29, 12521–12531 (2009)

Tort, A. B., Komorowski, R., Eichenbaum, H. & Kopell, N. Measuring phase-amplitude coupling between neuronal oscillations of different frequencies. J. Neurophysiol. 104, 1195–1210 (2010)

Delorme, A. & Makeig, S. EEGLAB: an open source toolbox for analysis of single-trial EEG dynamics including independent component analysis. J. Neurosci. Methods 134, 9–21 (2004)

Brovelli, A. et al. Beta oscillations in a large-scale sensorimotor cortical network: directional influences revealed by Granger causality. Proc. Natl Acad. Sci. USA 101, 9849–9854 (2004)

Dhamala, M. in Encyclopedia of Computational Neuroscience (eds. Jaeger, D. & Jung, R. ) 2789–2793 (Springer, 2014)

Granger, C. W. J. Investigating causal relations by econometric models and cross-spectral methods. Econometrica 37, 424–438 (1969)

Gregoriou, G. G., Gotts, S. J., Zhou, H. & Desimone, R. High-frequency, long-range coupling between prefrontal and visual cortex during attention. Science 324, 1207–1210 (2009)

de Waele, S. & Broersen, M. T. Order selection for vector autoregressive models. IEEE Trans. Signal Process. 51, 427–433 (2003)

Bokil, H., Purpura, K., Schoffelen, J.-M., Thomson, D. & Mitra, P. Comparing spectra and coherences for groups of unequal size. J. Neurosci. Methods 159, 337–345 (2007)

Cohen, J. A power primer. Psychol. Bull. 112, 155–159 (1992)
Acknowledgements
We thank H.-P. Lipp for Neurologgers; F. Lin for initial testing of Neurologgers; J. Manns, G. Berman, and T. Madsen for methodological feedback and discussions on the manuscript; G. Wong for behavioural scoring; M. Zhang, R. Tangutoori, and R. Stanford for assistance with implant design and construction; the members of the Liu, Young and Rainnie laboratories for training, manuscript feedback, and discussions; L. Matthews and the Yerkes animal care and veterinary staff for vole husbandry and care; G. Feldpausch for custom cage design and machining; and J. LaPrairie and L.-L. Shen for assistance. This work was funded by an Emory Neuroscience Initiative grant (R.C.L., L.J.Y.), National Institute of Mental Health (NIMH) R21MH97187 (R.C.L.), NIMH P50MH100023 (L.J.Y., R.C.L.), National Institute of Neurological Disorders and Stroke R90 DA033462 (V.S.), Emory University Biology Graduate Student Award (E.A.A.), and Office of Research Infrastructure Programs' Primate centers P51OD11132 (YNPRC).
Ethics declarations
Competing interests
The authors declare no competing financial interests.
Additional information
Reviewer Information Nature thanks R. Fernald and the other anonymous reviewer(s) for their contribution to the peer review of this work.
Publisher's note: Springer Nature remains neutral with regard to jurisdictional claims in published maps and institutional affiliations.
Extended data figures and tables
About this article
Cite this article
Amadei, E., Johnson, Z., Jun Kwon, Y. et al. Dynamic corticostriatal activity biases social bonding in monogamous female prairie voles. Nature 546, 297–301 (2017). https://doi.org/10.1038/nature22381
Received:

Accepted:

Published:

Issue Date:

DOI: https://doi.org/10.1038/nature22381
Comments
By submitting a comment you agree to abide by our Terms and Community Guidelines. If you find something abusive or that does not comply with our terms or guidelines please flag it as inappropriate.