Abstract
Physiological needs bias perception and attention to relevant sensory cues. This process is 'hijacked' by drug addiction, causing cue-induced cravings and relapse. Similarly, its dysregulation contributes to failed diets, obesity, and eating disorders. Neuroimaging studies in humans have implicated insular cortex in these phenomena. However, it remains unclear how 'cognitive' cortical representations of motivationally relevant cues are biased by subcortical circuits that drive specific motivational states. Here we develop a microprism-based cellular imaging approach to monitor visual cue responses in the insular cortex of behaving mice across hunger states. Insular cortex neurons demonstrate food-cue-biased responses that are abolished during satiety. Unexpectedly, while multiple satiety-related visceral signals converge in insular cortex, chemogenetic activation of hypothalamic 'hunger neurons' (expressing agouti-related peptide (AgRP)) bypasses these signals to restore hunger-like response patterns in insular cortex. Circuit mapping and pathway-specific manipulations uncover a pathway from AgRP neurons to insular cortex via the paraventricular thalamus and basolateral amygdala. These results reveal a neural basis for state-specific biased processing of motivationally relevant cues.
Relevant articles
Open Access articles citing this article.
Anna J. Bowen

,

Y. Waterlily Huang

…

Richard D. Palmiter

Nature Communications Open Access 13 January 2023

Hui Wu

,

Guochao Dai

…

Xiaoli Wu

BMC Psychiatry Open Access 11 October 2022

Qi Wang

,

Jia-Jie Zhu

…

Tian-Le Xu

Nature Communications Open Access 21 September 2022
Access options
Subscribe to Nature+
Get immediate online access to Nature and 55 other Nature journal
Subscribe to Journal
Get full journal access for 1 year
$199.00
only $3.90 per issue
All prices are NET prices.
VAT will be added later in the checkout.
Tax calculation will be finalised during checkout.
Buy article
Get time limited or full article access on ReadCube.
$32.00
All prices are NET prices.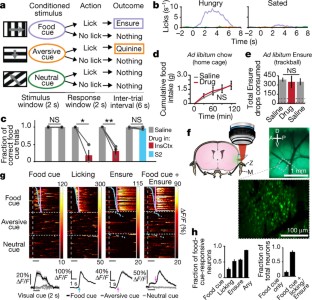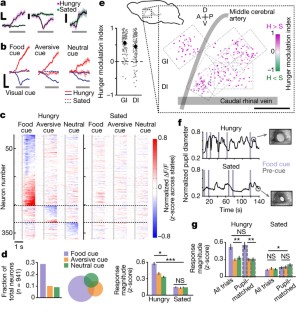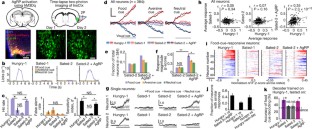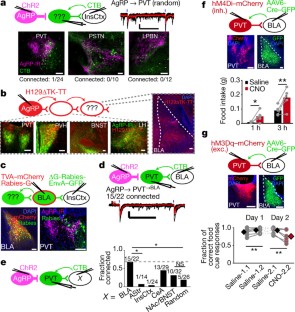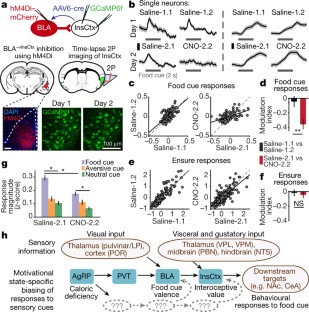 References
Frank, S., Kullmann, S. & Veit, R. Food related processes in the insular cortex. Front. Hum. Neurosci. 7, 499 (2013)

Naqvi, N. H., Gaznick, N., Tranel, D. & Bechara, A. The insula: a critical neural substrate for craving and drug seeking under conflict and risk. Ann. NY Acad. Sci. 1316, 53–70 (2014)

Cechetto, D. F. & Saper, C. B. Evidence for a viscerotopic sensory representation in the cortex and thalamus in the rat. J. Comp. Neurol. 262, 27–45 (1987)

de Araujo, I. E. et al. Neural ensemble coding of satiety states. Neuron 51, 483–494 (2006)

Hanamori, T., Kunitake, T., Kato, K. & Kannan, H. Responses of neurons in the insular cortex to gustatory, visceral, and nociceptive stimuli in rats. J. Neurophysiol. 79, 2535–2545 (1998)

Huerta, C. I., Sarkar, P. R., Duong, T. Q., Laird, A. R. & Fox, P. T. Neural bases of food perception: coordinate-based meta-analyses of neuroimaging studies in multiple modalities. Obesity (Silver Spring) 22, 1439–1446 (2014)

Cornier, M. A. et al. The effects of overfeeding on the neuronal response to visual food cues in thin and reduced-obese individuals. PLoS ONE 4, e6310 (2009)

Schienle, A., Schäfer, A., Hermann, A. & Vaitl, D. Binge-eating disorder: reward sensitivity and brain activation to images of food. Biol. Psychiatry 65, 654–661 (2009)

Gardner, M. P. & Fontanini, A. Encoding and tracking of outcome-specific expectancy in the gustatory cortex of alert rats. J. Neurosci. 34, 13000–13017 (2014)

Kusumoto-Yoshida, I., Liu, H., Chen, B. T., Fontanini, A. & Bonci, A. Central role for the insular cortex in mediating conditioned responses to anticipatory cues. Proc. Natl Acad. Sci. USA 112, 1190–1195 (2015)

Saddoris, M. P., Holland, P. C. & Gallagher, M. Associatively learned representations of taste outcomes activate taste-encoding neural ensembles in gustatory cortex. J. Neurosci. 29, 15386–15396 (2009)

Samuelsen, C. L., Gardner, M. P. & Fontanini, A. Effects of cue-triggered expectation on cortical processing of taste. Neuron 74, 410–422 (2012)

Parkes, S. L. & Balleine, B. W. Incentive memory: evidence the basolateral amygdala encodes and the insular cortex retrieves outcome values to guide choice between goal-directed actions. J. Neurosci. 33, 8753–8763 (2013)

Aponte, Y., Atasoy, D. & Sternson, S. M. AGRP neurons are sufficient to orchestrate feeding behavior rapidly and without training. Nat. Neurosci. 14, 351–355 (2011)

Krashes, M. J. et al. Rapid, reversible activation of AgRP neurons drives feeding behavior in mice. J. Clin. Invest. 121, 1424–1428 (2011)

Burgess, C. R. et al. Hunger-dependent enhancement of food cue responses in mouse postrhinal cortex and lateral amygdala. Neuron 91, 1154–1169 (2016)

Saper, C. B. The central autonomic nervous system: conscious visceral perception and autonomic pattern generation. Annu. Rev. Neurosci. 25, 433–469 (2002)

Accolla, R. & Carleton, A. Internal body state influences topographical plasticity of sensory representations in the rat gustatory cortex. Proc. Natl Acad. Sci. USA 105, 4010–4015 (2008)

Chen, X., Gabitto, M., Peng, Y., Ryba, N. J. & Zuker, C. S. A gustotopic map of taste qualities in the mammalian brain. Science 333, 1262–1266 (2011)

Andermann, M. L. et al. Chronic cellular imaging of entire cortical columns in awake mice using microprisms. Neuron 80, 900–913 (2013)

Katz, D. B., Simon, S. A. & Nicolelis, M. A. Dynamic and multimodal responses of gustatory cortical neurons in awake rats. J. Neurosci. 21, 4478–4489 (2001)

Reimer, J. et al. Pupil fluctuations track rapid changes in adrenergic and cholinergic activity in cortex. Nat. Commun. 7, 13289 (2016)

Betley, J. N. et al. Neurons for hunger and thirst transmit a negative-valence teaching signal. Nature 521, 180–185 (2015)

Chen, Y., Lin, Y. C., Kuo, T. W. & Knight, Z. A. Sensory detection of food rapidly modulates arcuate feeding circuits. Cell 160, 829–841 (2015)

Mandelblat-Cerf, Y. et al. Arcuate hypothalamic AgRP and putative POMC neurons show opposite changes in spiking across multiple timescales. eLife 4, e07122 (2015)

Huber, D. et al. Multiple dynamic representations in the motor cortex during sensorimotor learning. Nature 484, 473–478 (2012)

Oliveira-Maia, A. J. et al. The insular cortex controls food preferences independently of taste receptor signaling. Front. Syst. Neurosci. 6, 5 (2012)

Petreanu, L., Huber, D., Sobczyk, A. & Svoboda, K. Channelrhodopsin-2-assisted circuit mapping of long-range callosal projections. Nat. Neurosci. 10, 663–668 (2007)

Lo, L. & Anderson, D. J. A. A Cre-dependent, anterograde transsynaptic viral tracer for mapping output pathways of genetically marked neurons. Neuron 72, 938–950 (2011)

Baxter, M. G. & Murray, E. A. The amygdala and reward. Nat. Rev. Neurosci. 3, 563–573 (2002)

Morrison, S. E. & Salzman, C. D. Re-valuing the amygdala. Curr. Opin. Neurobiol. 20, 221–230 (2010)

Kim, J., Pignatelli, M., Xu, S., Itohara, S. & Tonegawa, S. Antagonistic negative and positive neurons of the basolateral amygdala. Nat. Neurosci. 19, 1636–1646 (2016)

Namburi, P. et al. A circuit mechanism for differentiating positive and negative associations. Nature 520, 675–678 (2015)

Stuber, G. D. et al. Excitatory transmission from the amygdala to nucleus accumbens facilitates reward seeking. Nature 475, 377–380 (2011)

Betley, J. N., Cao, Z. F., Ritola, K. D. & Sternson, S. M. Parallel, redundant circuit organization for homeostatic control of feeding behavior. Cell 155, 1337–1350 (2013)

Kirouac, G. J. Placing the paraventricular nucleus of the thalamus within the brain circuits that control behavior. Neurosci. Biobehav. Rev. 56, 315–329 (2015)

Labouèbe, G., Boutrel, B., Tarussio, D. & Thorens, B. Glucose-responsive neurons of the paraventricular thalamus control sucrose-seeking behavior. Nat. Neurosci. 19, 999–1002 (2016)

Stratford, T. R. & Wirtshafter, D. Injections of muscimol into the paraventricular thalamic nucleus, but not mediodorsal thalamic nuclei, induce feeding in rats. Brain Res. 1490, 128–133 (2013)

Zhu, Y., Wienecke, C. F., Nachtrab, G. & Chen, X. A thalamic input to the nucleus accumbens mediates opiate dependence. Nature 530, 219–222 (2016)

Do-Monte, F. H., Quiñones-Laracuente, K. & Quirk, G. J. A temporal shift in the circuits mediating retrieval of fear memory. Nature 519, 460–463 (2015)

Penzo, M. A. et al. The paraventricular thalamus controls a central amygdala fear circuit. Nature 519, 455–459 (2015)

Piette, C. E., Baez-Santiago, M. A., Reid, E. E., Katz, D. B. & Moran, A. Inactivation of basolateral amygdala specifically eliminates palatability-related information in cortical sensory responses. J. Neurosci. 32, 9981–9991 (2012)

Paxinos, G . & Franklin, K. B. J. The Mouse Brain in Stereotaxic Coordinates (Elsevier Academic Press, 2004)

Garfield, A. S. et al. Dynamic GABAergic afferent modulation of AgRP neurons. Nat. Neurosci. 19, 1628–1635 (2016)

Petreanu, L. et al. Activity in motor-sensory projections reveals distributed coding in somatosensation. Nature 489, 299–303 (2012)

Chen, T. W. et al. Ultrasensitive fluorescent proteins for imaging neuronal activity. Nature 499, 295–300 (2013)

Aronoff, R. et al. Long-range connectivity of mouse primary somatosensory barrel cortex. Eur. J. Neurosci. 31, 2221–2233 (2010)

Wickersham, I. R. et al. Monosynaptic restriction of transsynaptic tracing from single, genetically targeted neurons. Neuron 53, 639–647 (2007)

Atasoy, D. et al. A genetically specified connectomics approach applied to long-range feeding regulatory circuits. Nat. Neurosci. 17, 1830–1839 (2014)
Acknowledgements
We thank S. Subramanian, N. Patel, M. Gyetvan, G. Niyazov, D. Anderson, and M. Dello Russo (mouse training), and A. Sugden (electronics). We thank the Lowell laboratory, Andermann laboratory, D. Nachmani, T. Anthony, and J. Assad for discussions. We thank the GENIE Project, Howard Hughes Medical Institute, for GCaMP6. The HSV129∆TK-TT was provided by the Center for Neuroanatomy with Neurotropic Viruses (grant P40RR018604). Authors were supported by a European Molecular Biology Organization postdoctoral fellowship; Edmond and Lily Safra Center for Brain Sciences postdoctoral award (Y.L.); Davis Family Foundation postdoctoral fellowship (C.R.B.); National Science Foundation Graduate Research Fellowship Program and the Sackler Scholars Program (N.J.); National Institutes of Health (NIH), National Institute of Diabetes and Digestive and Kidney Diseases (NIDDK) NRSA F31 DK105678 (R.N.R.); F32 DK103387 (J.M.R.); an NIH New Innovator Award DP2 DK105570 and R01 DK109930, the Klarman Family Foundation, a McKnight Scholar Award, a Pew Scholar Award and a Smith Family Foundation Award (M.L.A.); NIH R01s DK075632, DK096010, DK089044, DK111401, and P30s DK046200 and DK057521 (B.B.L.).
Ethics declarations
Competing interests
The authors declare no competing financial interests.
Additional information
Reviewer Information Nature thanks I. de Araujo, R. Palmiter and the other anonymous reviewer(s) for their contribution to the peer review of this work.
Publisher's note: Springer Nature remains neutral with regard to jurisdictional claims in published maps and institutional affiliations.
Extended data figures and tables
Supplementary information
This file contains supplementary discussion and methods. (PDF 1698 kb)
A video of the ongoing activity (i.e., no cues presented) from mouse InsCtx, imaged through the microprism (x10 actual speed). (AVI 1553 kb)
About this article
Cite this article
Livneh, Y., Ramesh, R., Burgess, C. et al. Homeostatic circuits selectively gate food cue responses in insular cortex. Nature 546, 611–616 (2017). https://doi.org/10.1038/nature22375
Received:

Accepted:

Published:

Issue Date:

DOI: https://doi.org/10.1038/nature22375
Comments
By submitting a comment you agree to abide by our Terms and Community Guidelines. If you find something abusive or that does not comply with our terms or guidelines please flag it as inappropriate.