Abstract
Metabolic reprogramming by oncogenic signals promotes cancer initiation and progression. The oncogene KRAS and tumour suppressor STK11, which encodes the kinase LKB1, regulate metabolism and are frequently mutated in non-small-cell lung cancer (NSCLC). Concurrent occurrence of oncogenic KRAS and loss of LKB1 (KL) in cells specifies aggressive oncological behaviour1,2. Here we show that human KL cells and tumours share metabolomic signatures of perturbed nitrogen handling. KL cells express the urea cycle enzyme carbamoyl phosphate synthetase-1 (CPS1), which produces carbamoyl phosphate in the mitochondria from ammonia and bicarbonate, initiating nitrogen disposal. Transcription of CPS1 is suppressed by LKB1 through AMPK, and CPS1 expression correlates inversely with LKB1 in human NSCLC. Silencing CPS1 in KL cells induces cell death and reduces tumour growth. Notably, cell death results from pyrimidine depletion rather than ammonia toxicity, as CPS1 enables an unconventional pathway of nitrogen flow from ammonia into pyrimidines. CPS1 loss reduces the pyrimidine to purine ratio, compromises S-phase progression and induces DNA-polymerase stalling and DNA damage. Exogenous pyrimidines reverse DNA damage and rescue growth. The data indicate that the KL oncological genotype imposes a metabolic vulnerability related to a dependence on a cross-compartmental pathway of pyrimidine metabolism in an aggressive subset of NSCLC.
Your institute does not have access to this article
Relevant articles
Open Access articles citing this article.
Christopher W. Murray

,

Jennifer J. Brady

…

Monte M. Winslow

Nature Communications Open Access 28 February 2022

Yiyi Xi

,

Yuan Lin

…

Dongxin Lin

Signal Transduction and Targeted Therapy Open Access 25 February 2022

Tianyu Zheng

,

Jinrong Huang

…

Bin Liu

Cancer Cell International Open Access 12 October 2021
Access options
Subscribe to Nature+
Get immediate online access to the entire Nature family of 50+ journals
Subscribe to Journal
Get full journal access for 1 year
$199.00
only $3.90 per issue
All prices are NET prices.
VAT will be added later in the checkout.
Tax calculation will be finalised during checkout.
Buy article
Get time limited or full article access on ReadCube.
$32.00
All prices are NET prices.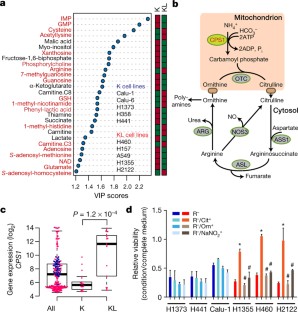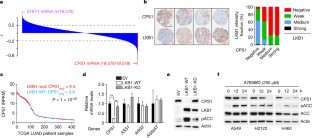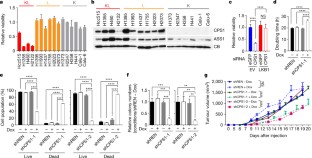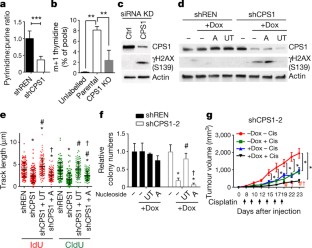 References
Calles, A. et al. Immunohistochemical loss of LKB1 is a biomarker for more aggressive biology in KRAS-mutant lung adenocarcinoma. Clin. Cancer Res. 21, 2851–2860 (2015)

Ji, H. et al. LKB1 modulates lung cancer differentiation and metastasis. Nature 448, 807–810 (2007)

Liu, Y. et al. Metabolic and functional genomic studies identify deoxythymidylate kinase as a target in LKB1-mutant lung cancer. Cancer Discov. 3, 870–879 (2013)

Kim, H. S. et al. Systematic identification of molecular subtype-selective vulnerabilities in non-small-cell lung cancer. Cell 155, 552–566 (2013)

Liu, H., Dong, H., Robertson, K. & Liu, C. DNA methylation suppresses expression of the urea cycle enzyme carbamoyl phosphate synthetase 1 (CPS1) in human hepatocellular carcinoma. Am. J. Pathol. 178, 652–661 (2011)

Rabinovich, S. et al. Diversion of aspartate in ASS1-deficient tumours fosters de novo pyrimidine synthesis. Nature 527, 379–383 (2015)

Celiktas, M. et al. Role of CPS1 in cell growth, metabolism, and prognosis in LKB1-inactivated lung adenocarcinoma. J. Natl. Cancer Inst. 109, 1–9 (2016)

Shackelford, D. B. & Shaw, R. J. The LKB1–AMPK pathway: metabolism and growth control in tumour suppression. Nat. Rev. Cancer 9, 563–575 (2009)

Hardie, D. G., Ross, F. A. & Hawley, S. A. AMPK: a nutrient and energy sensor that maintains energy homeostasis. Nat. Rev. Mol. Cell Biol. 13, 251–262 (2012)

Mo, J.-S. et al. Cellular energy stress induces AMPK-mediated regulation of YAP and the Hippo pathway. Nat. Cell Biol. 17, 500–510 (2015)

Sun, Y. et al. Metformin induces apoptosis of human hepatocellular carcinoma HepG2 cells by activating an AMPK/p53/miR-23a/FOXA1 pathway. Onco Targets Ther. 9, 2845–2853 (2016)

Kim, H. G. et al. Metformin inhibits P-glycoprotein expression via the NF-κB pathway and CRE transcriptional activity through AMPK activation. Br. J. Pharmacol. 162, 1096–1108 (2011)

Chen, K. C., Vannais, D. B., Jones, C., Patterson, D. & Davidson, J. N. Mapping of the gene encoding the multifunctional protein carrying out the first three steps of pyrimidine biosynthesis to human chromosome 2. Hum. Genet. 82, 40–44 (1989)

Simmer, J. P . et al. Mammalian dihydroorotase: nucleotide sequence, peptide sequences, and evolution of the dihydroorotase domain of the multifunctional protein CAD. Proc. Natl Acad. Sci. USA 87, 174–178 (1990)

Ben-Sahra, I., Howell, J. J., Asara, J. M. & Manning, B. D. Stimulation of de novo pyrimidine synthesis by growth signaling through mTOR and S6K1. Science 339, 1323–1328 (2013)

Wraith, J. E. Ornithine carbamoyltransferase deficiency. Arch. Dis. Child. 84, 84–88 (2001)

Poli, J. et al. dNTP pools determine fork progression and origin usage under replication stress. EMBO J. 31, 883–894 (2012)

Anglana, M., Apiou, F., Bensimon, A. & Debatisse, M. Dynamics of DNA replication in mammalian somatic cells: nucleotide pool modulates origin choice and interorigin spacing. Cell 114, 385–394 (2003)

Petermann, E., Orta, M. L., Issaeva, N., Schultz, N. & Helleday, T. Hydroxyurea-stalled replication forks become progressively inactivated and require two different RAD51-mediated pathways for restart and repair. Mol. Cell 37, 492–502 (2010)

Labib, K. & Hodgson, B. Replication fork barriers: pausing for a break or stalling for time? EMBO Rep. 8, 346–353 (2007)

Reichard, P. Interactions between deoxyribonucleotide and DNA synthesis. Annu. Rev. Biochem. 57, 349–374 (1988)

Shackelford, D. B. et al. LKB1 inactivation dictates therapeutic response of non-small cell lung cancer to the metabolism drug phenformin. Cancer Cell 23, 143–158 (2013)

Son, J. et al. Glutamine supports pancreatic cancer growth through a KRAS-regulated metabolic pathway. Nature 496, 101–105 (2013)

Mullen, A. R. et al. Oxidation of alpha-ketoglutarate is required for reductive carboxylation in cancer cells with mitochondrial defects. Cell Rep. 7, 1679–1690 (2014)

Yang, C. et al. Glioblastoma cells require glutamate dehydrogenase to survive impairments of glucose metabolism or Akt signaling. Cancer Res. 69, 7986–7993 (2009)

Jackson, D. A. & Pombo, A. Replicon clusters are stable units of chromosome structure: evidence that nuclear organization contributes to the efficient activation and propagation of S phase in human cells. J. Cell Biol. 140, 1285–1295 (1998)

Huang, J. et al. Dynamic control of enhancer repertoires drives lineage and stage-specific transcription during hematopoiesis. Dev. Cell 36, 9–23 (2016)

Ran, F. A. et al. Genome engineering using the CRISPR–Cas9 system. Nat. Protoc. 8, 2281–2308 (2013)

Shalem, O. et al. Genome-scale CRISPR–Cas9 knockout screening in human cells. Science 343, 84–87 (2014)

Cancer Genome Atlas Research Network. Comprehensive molecular profiling of lung adenocarcinoma. Nature 511, 543–550 (2014)
Acknowledgements
We thank A. Jaffe and members of the DeBerardinis laboratory for critiquing the manuscript and J. Kozlitina for statistical expertise. R.J.D. is supported by grants from the NIH (R01CA157996), Cancer Prevention and Research Institute of Texas (CPRIT RP130272), Robert A. Welch Foundation (I1733) and H.H.M.I. (Faculty Scholars Program). J.K. is supported by an American Lung Association Senior Research Training Fellowship (RT-306212). D.H.C. is supported by NIH grant (1R01CA196912). J.D.M., J.R.C., P.V. and I.W. are supported by the University of Texas Lung Specialized Programs of Research Excellence (SPORE) grant (P50CA70907). J.D.M. is also supported by NIH grant CA176284 and CPRIT grants RP120732 and RP110708.
Ethics declarations
Competing interests
R.J.D. is on the advisory board of Agios Pharmaceuticals.
Additional information
Publisher's note: Springer Nature remains neutral with regard to jurisdictional claims in published maps and institutional affiliations.
Extended data figures and tables
Supplementary information
This file contains the Supplementary Discussion, Supplementary References, the uncropped gels and full legends for Supplementary Tables 1-10. (PDF 4920 kb)
This file contains Supplementary Tables 1-10 – see Supplementary Information document for full legends. (XLSX 1213 kb)
About this article
Cite this article
Kim, J., Hu, Z., Cai, L. et al. CPS1 maintains pyrimidine pools and DNA synthesis in KRAS/LKB1-mutant lung cancer cells. Nature 546, 168–172 (2017). https://doi.org/10.1038/nature22359
Received:

Accepted:

Published:

Issue Date:

DOI: https://doi.org/10.1038/nature22359
Comments
By submitting a comment you agree to abide by our Terms and Community Guidelines. If you find something abusive or that does not comply with our terms or guidelines please flag it as inappropriate.