Abstract
Effective adaptive immune responses require a large repertoire of naive T cells that migrate throughout the body, rapidly identifying almost any foreign peptide1. Because the production of T cells declines with age, naive T cells must be long-lived2. However, it remains unclear how naive T cells survive for years while constantly travelling. The chemoattractant sphingosine 1-phosphate (S1P) guides T cell circulation among secondary lymphoid organs, including spleen, lymph nodes and Peyer's patches, where T cells search for antigens. The concentration of S1P is higher in circulatory fluids than in lymphoid organs, and the S1P1 receptor (S1P1R) directs the exit of T cells from the spleen into blood, and from lymph nodes and Peyer's patches into lymph3. Here we show that S1P is essential not only for the circulation of naive T cells, but also for their survival. Using transgenic mouse models, we demonstrate that lymphatic endothelial cells support the survival of T cells by secreting S1P via the transporter SPNS2, that this S1P signals through S1P1R on T cells, and that the requirement for S1P1R is independent of the established role of the receptor in guiding exit from lymph nodes. S1P signalling maintains the mitochondrial content of naive T cells, providing cells with the energy to continue their constant migration. The S1P signalling pathway is being targeted therapeutically to inhibit autoreactive T cell trafficking, and these findings suggest that it may be possible simultaneously to target autoreactive or malignant cell survival4.
Relevant articles
Open Access articles citing this article.
Wei-Chun Chou

,

Elena Rampanelli

…

Jenny P.-Y. Ting

Cellular & Molecular Immunology Open Access 25 October 2021

Wooseok Seo

,

Chandsultana Jerin

&

Hiroyoshi Nishikawa

Experimental & Molecular Medicine Open Access 24 February 2021

Michael Nicosia

,

Satoshi Miyairi

…

Anna Valujskikh

Scientific Reports Open Access 15 May 2019
Access options
Subscribe to Nature+
Get immediate online access to the entire Nature family of 50+ journals
Subscribe to Journal
Get full journal access for 1 year
$199.00
only $3.90 per issue
All prices are NET prices.
VAT will be added later in the checkout.
Tax calculation will be finalised during checkout.
Buy article
Get time limited or full article access on ReadCube.
$32.00
All prices are NET prices.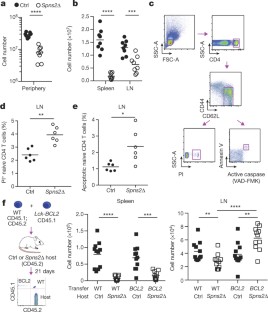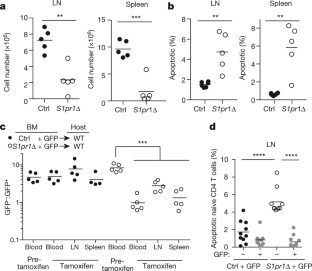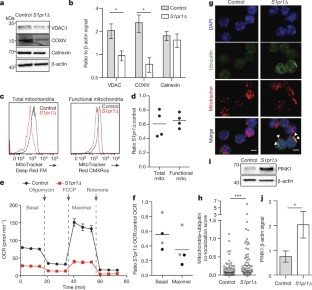 Accession codes
Primary accessions
Gene Expression Omnibus
References
Jenkins, M. K., Chu, H. H., McLachlan, J. B. & Moon, J. J. On the composition of the preimmune repertoire of T cells specific for peptide–major histocompatibility complex ligands. Annu. Rev. Immunol. 28, 275–294 (2010)

Boehm, T. & Swann, J. B. Thymus involution and regeneration: two sides of the same coin? Nat. Rev. Immunol. 13, 831–838 (2013)

Cyster, J. G. & Schwab, S. R. Sphingosine-1-phosphate and lymphocyte egress from lymphoid organs. Annu. Rev. Immunol. 30, 69–94 (2012)

Proia, R. L. & Hla, T. Emerging biology of sphingosine-1-phosphate: its role in pathogenesis and therapy. J. Clin. Invest. 125, 1379–1387 (2015)

Mendoza, A. et al. The transporter Spns2 is required for secretion of lymph but not plasma sphingosine-1-phosphate. Cell Rep. 2, 1104–1110 (2012)

Fukuhara, S. et al. The sphingosine-1-phosphate transporter Spns2 expressed on endothelial cells regulates lymphocyte trafficking in mice. J. Clin. Invest. 122, 1416–1426 (2012)

Hisano, Y., Kobayashi, N., Yamaguchi, A. & Nishi, T. Mouse SPNS2 functions as a sphingosine-1-phosphate transporter in vascular endothelial cells. PLoS One 7, e38941 (2012)

Nagahashi, M. et al. Spns2, a transporter of phosphorylated sphingoid bases, regulates their blood and lymph levels, and the lymphatic network. FASEB J. 27, 1001–1011 (2013)

Nijnik, A. et al. The role of sphingosine-1-phosphate transporter Spns2 in immune system function. J. Immunol. 189, 102–111 (2012)

Pham, T.H. M. et al. Lymphatic endothelial cell sphingosine kinase activity is required for lymphocyte egress and lymphatic patterning. J. Exp. Med. 207, 17–27 (2010)

Sentman, C. L., Shutter, J. R., Hockenbery, D., Kanagawa, O. & Korsmeyer, S. J. bcl-2 inhibits multiple forms of apoptosis but not negative selection in thymocytes. Cell 67, 879–888 (1991)

Fang, V. et al. Gradients of the signaling lipid S1P in lymph nodes position natural killer cells and regulate their interferon-γ response. Nat. Immunol. 18, 15–25 (2017)

Schwab, S. R. et al. Lymphocyte sequestration through S1P lyase inhibition and disruption of S1P gradients. Science 309, 1735–1739 (2005)

Liu, C. H. et al. Ligand-induced trafficking of the sphingosine-1-phosphate receptor EDG-1. Mol. Biol. Cell 10, 1179–1190 (1999)

Matloubian, M. et al. Lymphocyte egress from thymus and peripheral lymphoid organs is dependent on S1P receptor 1. Nature 427, 355–360 (2004)

Allende, M. L., Dreier, J. L., Mandala, S. & Proia, R. L. Expression of the sphingosine 1-phosphate receptor, S1P1, on T-cells controls thymic emigration. J. Biol. Chem. 279, 15396–15401 (2004)

Takada, K. & Jameson, S. C. Naive T cell homeostasis: from awareness of space to a sense of place. Nat. Rev. Immunol. 9, 823–832 (2009)

Chang, J. E. & Turley, S. J. Stromal infrastructure of the lymph node and coordination of immunity. Trends Immunol. 36, 30–39 (2015)

Surh, C. D. & Sprent, J. Homeostasis of naive and memory T cells. Immunity 29, 848–862 (2008)

Link, A. et al. Fibroblastic reticular cells in lymph nodes regulate the homeostasis of naive T cells. Nat. Immunol. 8, 1255–1265 (2007)

Milasta, S. et al. Apoptosis-inducing-factor-dependent mitochondrial function is required for T cell but not B cell function. Immunity 44, 88–102 (2016)

Chang, C. H. et al. Posttranscriptional control of T cell effector function by aerobic glycolysis. Cell 153, 1239–1251 (2013)

Pickrell, A. M. & Youle, R. J. The roles of PINK1, parkin, and mitochondrial fidelity in Parkinson's disease. Neuron 85, 257–273 (2015)

Liu, Y. et al. Edg-1, the G protein-coupled receptor for sphingosine-1-phosphate, is essential for vascular maturation. J. Clin. Invest. 106, 951–961 (2000)

Mizugishi, K. et al. Essential role for sphingosine kinases in neural and vascular development. Mol. Cell. Biol. 25, 11113–11121 (2005)

Liu, G. et al. The receptor S1P1 overrides regulatory T cell-mediated immune suppression through Akt-mTOR. Nat. Immunol. 10, 769–777 (2009)

Allende, M. L., Yamashita, T. & Proia, R. L. G-protein-coupled receptor S1P1 acts within endothelial cells to regulate vascular maturation. Blood 102, 3665–3667 (2003)

Allende, M. L. et al. Sphingosine-1-phosphate lyase deficiency produces a pro-inflammatory response while impairing neutrophil trafficking. J. Biol. Chem. 286, 7348–7358 (2011)

Ruzankina, Y. et al. Deletion of the developmentally essential gene ATR in adult mice leads to age-related phenotypes and stem cell loss. Cell Stem Cell 1, 113–126 (2007)

Schaefer, B. C., Schaefer, M. L., Kappler, J. W., Marrack, P. & Kedl, R. M. Observation of antigen-dependent CD8+ T-cell/ dendritic cell interactions in vivo. Cell. Immunol. 214, 110–122 (2001)

Madsen, L. et al. Mice lacking all conventional MHC class II genes. Proc. Natl Acad. Sci. USA 96, 10338–10343 (1999)

Sudo, T. et al. Expression and function of the interleukin 7 receptor in murine lymphocytes. Proc. Natl Acad. Sci. USA 90, 9125–9129 (1993)
Acknowledgements
We thank members of the Schwab and A. Sfeir laboratories for discussions, T. Trimarchi for help analysing RNA-seq data, R. Proia for S1pr4−/− mice, S. Milasta for advice on glucose/galactose activation, and A. Sfeir for critical reading of the manuscript. This work was supported by National Institutes of Health (NIH) grants R01 AI085166 and AI123308 to S.R.S.; NIH R01 CA206005, Tisch Cancer Institute Cancer Center Support Grant (P30 CA196521), an American Cancer Society Research Scholar Grant, and a Leukemia & Lymphoma Society Career Development Award to J.E.C.; US National Science Foundation CAREER grant 1054964 and NCI R01 CA194547 to O.E.; NIH R01 HL089934 to T.H.; NIH R37 AI43542 and Wellcome Trust and Kennedy Trust for Rheumatology Research PRF 100262Z/12/Z to J.M. and M.L.D.; and NIH T32 AI100853 to A.M., V.F. and C.C.
Ethics declarations
Competing interests
The authors declare no competing financial interests.
Additional information
Reviewer Information Nature thanks N. Chandel, Y. A. Hannun and R. L. Proia for their contribution to the peer review of this work.
Publisher's note: Springer Nature remains neutral with regard to jurisdictional claims in published maps and institutional affiliations.
Extended data figures and tables
Supplementary information
This file contains the ImageJ program to quantify co-localization between stains for mitochondria and ubiquitin and the uncropped blots. (PDF 288 kb)
About this article
Cite this article
Mendoza, A., Fang, V., Chen, C. et al. Lymphatic endothelial S1P promotes mitochondrial function and survival in naive T cells. Nature 546, 158–161 (2017). https://doi.org/10.1038/nature22352
Received:

Accepted:

Published:

Issue Date:

DOI: https://doi.org/10.1038/nature22352
Comments
By submitting a comment you agree to abide by our Terms and Community Guidelines. If you find something abusive or that does not comply with our terms or guidelines please flag it as inappropriate.