Abstract
Many animals keep track of their angular heading over time while navigating through their environment. However, a neural-circuit architecture for computing heading has not been experimentally defined in any species. Here we describe a set of clockwise- and anticlockwise-shifting neurons in the Drosophila central complex whose wiring and physiology provide a means to rotate an angular heading estimate based on the fly's angular velocity. We show that each class of shifting neurons exists in two subtypes, with spatiotemporal activity profiles that suggest different roles for each subtype at the start and end of tethered-walking turns. Shifting neurons are required for the heading system to properly track the fly's heading in the dark, and stimulation of these neurons induces predictable shifts in the heading signal. The central features of this biological circuit are analogous to those of computational models proposed for head-direction cells in rodents and may shed light on how neural systems, in general, perform integration.
Relevant articles
Open Access articles citing this article.
Richard J. Gardner

,

Erik Hermansen

…

Edvard I. Moser

Nature Open Access 12 January 2022
Access options
Subscribe to Nature+
Get immediate online access to the entire Nature family of 50+ journals
Subscribe to Journal
Get full journal access for 1 year
$199.00
only $3.90 per issue
All prices are NET prices.
VAT will be added later in the checkout.
Tax calculation will be finalised during checkout.
Buy article
Get time limited or full article access on ReadCube.
$32.00
All prices are NET prices.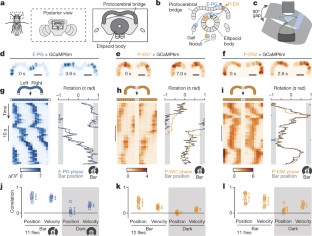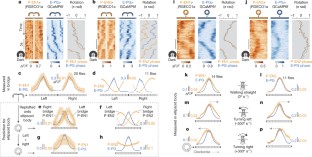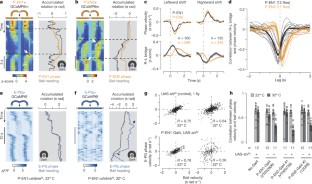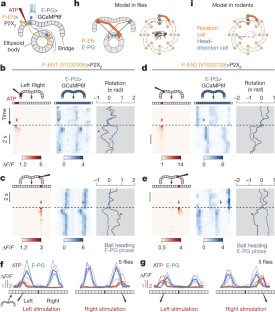 References
O'Keefe, J . & Nadel, L. The Hippocampus as a Cognitive Map (Clarendon, 1978)

Tolman, E. C., Ritchie, B. F. & Kalish, D. Studies in spatial learning: orientation and the short-cut. J. Exp. Psychol. Gen. 36, 13–24 (1946)

Etienne, A. S. & Jeffery, K. J. Path integration in mammals. Hippocampus 14, 180–192 (2004)

Mittelstaedt, M. L. & Mittelstaedt, H. Homing by path integration in a mammal. Naturwissenschaften 67, 566–567 (1980)

Collett, T. S. & Collett, M. Path integration in insects. Curr. Opin. Neurobiol. 10, 757–762 (2000)

Wehner, R. & Srinivasan, M. in The Neurobiology of Spatial Behaviour (ed. Jeffery, K. J. ) Ch. 1 (Oxford Univ. Press, 2003)

Von Frisch, K. The Dance Language and Orientation of Bees (Harvard Univ. Press, 1967)

Taube, J. S., Muller, R. U. & Ranck, J. B. Jr. Head-direction cells recorded from the postsubiculum in freely moving rats. I. Description and quantitative analysis. J. Neurosci. 10, 420–435 (1990)

Taube, J. S., Muller, R. U. & Ranck, J. B. Jr. Head-direction cells recorded from the postsubiculum in freely moving rats. II. Effects of environmental manipulations. J. Neurosci. 10, 436–447 (1990)

Varga, A. G. & Ritzmann, R. E. Cellular basis of head direction and contextual cues in the insect brain. Curr. Biol. 26, 1816–1828 (2016)

Heinze, S. & Homberg, U. Maplike representation of celestial E-vector orientations in the brain of an insect. Science 315, 995–997 (2007)

Finkelstein, A. et al. Three-dimensional head-direction coding in the bat brain. Nature 517, 159–164 (2015)

Robertson, R. G., Rolls, E. T., Georges-François, P. & Panzeri, S. Head direction cells in the primate pre-subiculum. Hippocampus 9, 206–219 (1999)

Seelig, J. D. & Jayaraman, V. Neural dynamics for landmark orientation and angular path integration. Nature 521, 186–191 (2015)

Skaggs, W. E., Knierim, J. J., Kudrimoti, H. S. & McNaughton, B. L. A model of the neural basis of the rat's sense of direction. Adv. Neural Inf. Process. Syst. 7, 173–180 (1995)

Zhang, K. Representation of spatial orientation by the intrinsic dynamics of the head-direction cell ensemble: a theory. J. Neurosci. 16, 2112–2126 (1996)

Redish, A. D., Elga, A. N. & Touretzky, D. S. A coupled attractor model of the rodent head direction system. Network 7, 671–685 (1996)

Sharp, P. E., Blair, H. T. & Brown, M. Neural network modeling of the hippocampal formation spatial signals and their possible role in navigation: a modular approach. Hippocampus 6, 720–734 (1996)

McNaughton, B. L., Battaglia, F. P., Jensen, O., Moser, E. I. & Moser, M.-B. Path integration and the neural basis of the 'cognitive map'. Nat. Rev. Neurosci. 7, 663–678 (2006)

Kakaria, K. S. & De Bivort, B. L. Ring attractor dynamics emerge from a spiking model of the entire protocerebral bridge. Front. Behav. Neurosci. 11, 6706–6713 (2017)

Wolff, T., Iyer, N. A. & Rubin, G. M. Neuroarchitecture and neuroanatomy of the Drosophila central complex: A GAL4-based dissection of protocerebral bridge neurons and circuits. J. Comp. Neurol. 523, 997–1037 (2015)

Lin, C.-Y. et al. A comprehensive wiring diagram of the protocerebral bridge for visual information processing in the Drosophila brain. Cell Reports 3, 1739–1753 (2013)

Chen, T.-W. et al. Ultrasensitive fluorescent proteins for imaging neuronal activity. Nature 499, 295–300 (2013)

Maimon, G., Straw, A. D. & Dickinson, M. H. Active flight increases the gain of visual motion processing in Drosophila. Nat. Neurosci. 13, 393–399 (2010)

Seelig, J. D. et al. Two-photon calcium imaging from head-fixed Drosophila during optomotor walking behavior. Nat. Methods 7, 535–540 (2010)

Moore, R. J. D. et al. FicTrac: a visual method for tracking spherical motion and generating fictive animal paths. J. Neurosci. Methods 225, 106–119 (2014)

Reiser, M. B. & Dickinson, M. H. A modular display system for insect behavioral neuroscience. J. Neurosci. Methods 167, 127–139 (2008)

Dana, H. et al. Sensitive red protein calcium indicators for imaging neural activity. eLife 5, 413 (2016)

Poodry, C. A. & Edgar, L. Reversible alteration in the neuromuscular junctions of Drosophila melanogaster bearing a temperature-sensitive mutation, shibire. J. Cell Biol. 81, 520–527 (1979)

Zemelman, B. V., Nesnas, N., Lee, G. A. & Miesenbock, G. Photochemical gating of heterologous ion channels: remote control over genetically designated populations of neurons. Proc. Natl Acad. Sci. USA 100, 1352–1357 (2003)

Turner-Evans, D. et al. Angular velocity integration in a fly heading circuit. eLife http://dx.doi.org/10.7554/eLife.23496 (2017)

Taube, J. S. The head direction signal: origins and sensory-motor integration. Annu. Rev. Neurosci. 30, 181–207 (2007)

Stackman, R. W. & Taube, J. S. Firing properties of rat lateral mammillary single units: head direction, head pitch, and angular head velocity. J. Neurosci. 18, 9020–9037 (1998)

Blair, H. T., Cho, J. & Sharp, P. E. Role of the lateral mammillary nucleus in the rat head direction circuit: a combined single unit recording and lesion study. Neuron 21, 1387–1397 (1998)

Hafting, T., Fyhn, M., Molden, S., Moser, M.-B. & Moser, E. I. Microstructure of a spatial map in the entorhinal cortex. Nature 436, 801–806 (2005)

Sargolini, F. et al. Conjunctive representation of position, direction, and velocity in entorhinal cortex. Science 312, 758–762 (2006)

Robinson, D. A. Integrating with neurons. Annu. Rev. Neurosci. 12, 33–45 (1989)

Major, G. & Tank, D. Persistent neural activity: prevalence and mechanisms. Curr. Opin. Neurobiol. 14, 675–684 (2004)

Pastor, A. M., De la Cruz, R. R. & Baker, R. Eye position and eye velocity integrators reside in separate brainstem nuclei. Proc. Natl Acad. Sci. USA 91, 807–811 (1994)

Aksay, E., Gamkrelidze, G., Seung, H. S., Baker, R. & Tank, D. W. In vivo intracellular recording and perturbation of persistent activity in a neural integrator. Nat. Neurosci. 4, 184–193 (2001)

Mizumori, S. J. & Williams, J. D. Directionally selective mnemonic properties of neurons in the lateral dorsal nucleus of the thalamus of rats. J. Neurosci. 13, 4015–4028 (1993)

McNaughton, B. L., Chen, L. L. & Markus, E. J. 'Dead reckoning,' landmark learning, and the sense of direction: a neurophysiological and computational hypothesis. J. Cog. Neurosci. 3, 190–202 (1991)

Nern, A., Pfeiffer, B. D. & Rubin, G. M. Optimized tools for multicolor stochastic labeling reveal diverse stereotyped cell arrangements in the fly visual system. Proc. Natl Acad. Sci. USA 112, E2967–E2976 (2015)

Schindelin, J. et al. Fiji: an open-source platform for biological-image analysis. Nat. Methods 9, 676–682 (2012)

Fisher, N. I. & Lee, A. J. A correlation coefficient for circular data. Biometrika 70, 327–332 (1983)
Acknowledgements
We thank the Ruta and Rubin laboratories for fly stocks, and C. Kirst, C. Lyu, V. Vijayan, L. Fenk, A. Katsov, C. Bargmann, V. Ruta, S. Simon and members of the Maimon laboratory for discussions. Stocks obtained from the Bloomington Drosophila Stock Center (NIH P40OD018537) were used in this study. Stocks obtained from the Vienna Drosophila Resource Center were used in this study. Research reported in this publication was supported by the New York Stem Cell Foundation (NYSCF-R-NI13), Searle Scholars Foundation (12-SSP-153), McKnight Foundation, and the National Institute on Drug Abuse of the NIH (DP2DA035148). The content is solely the responsibility of the authors and does not necessarily represent the official views of the National Institutes of Health.
Ethics declarations
Competing interests
The authors declare no competing financial interests.
Additional information
Reviewer Information Nature thanks A. Cheung, R. Ritzmann and the other anonymous reviewer(s) for their contribution to the peer review of this work.
Publisher's note: Springer Nature remains neutral with regard to jurisdictional claims in published maps and institutional affiliations
Extended data figures and tables
Supplementary information
About this article
Cite this article
Green, J., Adachi, A., Shah, K. et al. A neural circuit architecture for angular integration in Drosophila. Nature 546, 101–106 (2017). https://doi.org/10.1038/nature22343
Received:

Accepted:

Published:

Issue Date:

DOI: https://doi.org/10.1038/nature22343
Comments
By submitting a comment you agree to abide by our Terms and Community Guidelines. If you find something abusive or that does not comply with our terms or guidelines please flag it as inappropriate.