Abstract
Persistent neural activity maintains information that connects past and future events. Models of persistent activity often invoke reverberations within local cortical circuits, but long-range circuits could also contribute. Neurons in the mouse anterior lateral motor cortex (ALM) have been shown to have selective persistent activity that instructs future actions. The ALM is connected bidirectionally with parts of the thalamus, including the ventral medial and ventral anterior–lateral nuclei. We recorded spikes from the ALM and thalamus during tactile discrimination with a delayed directional response. Here we show that, similar to ALM neurons, thalamic neurons exhibited selective persistent delay activity that predicted movement direction. Unilateral photoinhibition of delay activity in the ALM or thalamus produced contralesional neglect. Photoinhibition of the thalamus caused a short-latency and near-complete collapse of ALM activity. Similarly, photoinhibition of the ALM diminished thalamic activity. Our results show that the thalamus is a circuit hub in motor preparation and suggest that persistent activity requires reciprocal excitation across multiple brain areas.
Relevant articles
Open Access articles citing this article.
Weiguo Yang

,

Sri Laasya Tipparaju

…

Nuo Li

Nature Neuroscience Open Access 28 September 2022

Koun Onodera

&

Hiroyuki K. Kato

Nature Communications Open Access 11 May 2022
Access options
Subscribe to Nature+
Get immediate online access to Nature and 55 other Nature journal
Subscribe to Journal
Get full journal access for 1 year
$199.00
only $3.90 per issue
All prices are NET prices.
VAT will be added later in the checkout.
Tax calculation will be finalised during checkout.
Buy article
Get time limited or full article access on ReadCube.
$32.00
All prices are NET prices.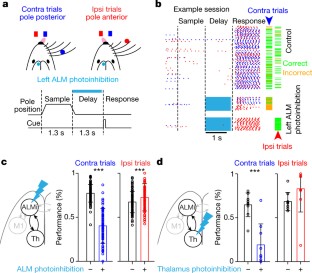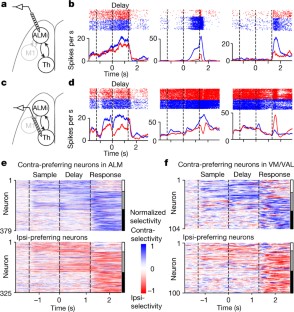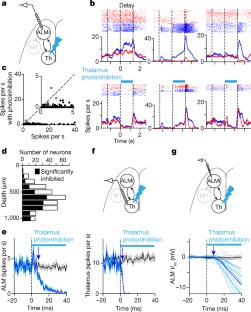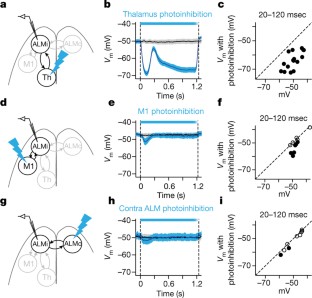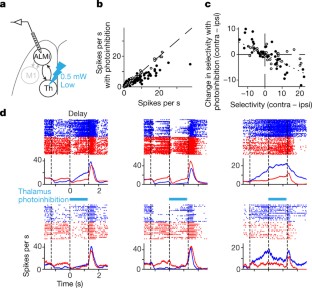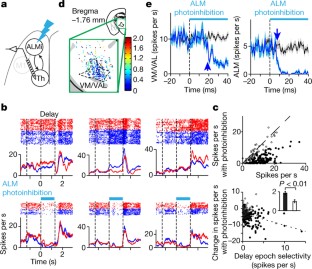 References
Tanji, J. & Evarts, E. V. Anticipatory activity of motor cortex neurons in relation to direction of an intended movement. J. Neurophysiol. 39, 1062–1068 (1976)

Churchland, M. M., Cunningham, J. P., Kaufman, M. T., Ryu, S. I. & Shenoy, K. V. Cortical preparatory activity: representation of movement or first cog in a dynamical machine? Neuron 68, 387–400 (2010)

Guo, Z. V. et al. Flow of cortical activity underlying a tactile decision in mice. Neuron 81, 179–194 (2014)

Erlich, J. C., Bialek, M. & Brody, C. D. A cortical substrate for memory-guided orienting in the rat. Neuron 72, 330–343 (2011)

Murakami, M., Vicente, M. I., Costa, G. M. & Mainen, Z. F. Neural antecedents of self-initiated actions in secondary motor cortex. Nat. Neurosci. 17, 1574–1582 (2014)

Fuster, J. M. & Alexander, G. E. Neuron activity related to short-term memory. Science 173, 652–654 (1971)

Funahashi, S., Bruce, C. J. & Goldman-Rakic, P. S. Mnemonic coding of visual space in the monkey's dorsolateral prefrontal cortex. J. Neurophysiol. 61, 331–349 (1989)

Romo, R., Brody, C. D., Hernández, A. & Lemus, L. Neuronal correlates of parametric working memory in the prefrontal cortex. Nature 399, 470–473 (1999)

Liu, D. et al. Medial prefrontal activity during delay period contributes to learning of a working memory task. Science 346, 458–463 (2014)

Wang, X. J. Decision making in recurrent neuronal circuits. Neuron 60, 215–234 (2008)

Maimon, G. & Assad, J. A. A cognitive signal for the proactive timing of action in macaque LIP. Nat. Neurosci. 9, 948–955 (2006)

Goldman-Rakic, P. S. Cellular basis of working memory. Neuron 14, 477–485 (1995)

Wang, X. J. Synaptic reverberation underlying mnemonic persistent activity. Trends Neurosci. 24, 455–463 (2001)

Zingg, B. et al. Neural networks of the mouse neocortex. Cell 156, 1096–1111 (2014)

Crutcher, M. D. & Alexander, G. E. Movement-related neuronal activity selectively coding either direction or muscle pattern in three motor areas of the monkey. J. Neurophysiol. 64, 151–163 (1990)

Gnadt, J. W. & Andersen, R. A. Memory related motor planning activity in posterior parietal cortex of macaque. Exp. Brain Res. 70, 216–220 (1988)

Bruce, C. J. & Goldberg, M. E. Primate frontal eye fields. I. Single neurons discharging before saccades. J. Neurophysiol. 53, 603–635 (1985)

Hernández, A. et al. Decoding a perceptual decision process across cortex. Neuron 66, 300–314 (2010)

Herkenham, M. The afferent and efferent connections of the ventromedial thalamic nucleus in the rat. J. Comp. Neurol. 183, 487–517 (1979)

Oh, S. W. et al. A mesoscale connectome of the mouse brain. Nature 508, 207–214 (2014)

Hunnicutt, B. J. et al. A comprehensive thalamocortical projection map at the mesoscopic level. Nat. Neurosci. 17, 1276–1285 (2014)

Kuramoto, E. et al. Ventral medial nucleus neurons send thalamocortical afferents more widely and more preferentially to layer 1 than neurons of the ventral anterior–ventral lateral nuclear complex in the rat. Cereb. Cortex 25, 221–235 (2015)

Tanaka, M. Cognitive signals in the primate motor thalamus predict saccade timing. J. Neurosci. 27, 12109–12118 (2007)

Li, N., Daie, K., Svoboda, K. & Druckmann, S. Robust neuronal dynamics in premotor cortex during motor planning. Nature 532, 459–464 (2016)

Shibasaki, H. & Hallett, M. What is the Bereitschaftspotential? Clin. Neurophysiol. 117, 2341–2356 (2006)

Fried, I., Mukamel, R. & Kreiman, G. Internally generated preactivation of single neurons in human medial frontal cortex predicts volition. Neuron 69, 548–562 (2011)

Li, N., Chen, T. W., Guo, Z. V., Gerfen, C. R. & Svoboda, K. A motor cortex circuit for motor planning and movement. Nature 519, 51–56 (2015)

Guo, Z. V. et al. Procedures for behavioral experiments in head-fixed mice. PLoS One 9, e88678 (2014)

Reinhold, K., Lien, A. D. & Scanziani, M. Distinct recurrent versus afferent dynamics in cortical visual processing. Nat. Neurosci. 18, 1789–1797 (2015)

Wimmer, R. D. et al. Thalamic control of sensory selection in divided attention. Nature 526, 705–709 (2015)

Krupa, D. J., Ghazanfar, A. A. & Nicolelis, M. A. Immediate thalamic sensory plasticity depends on corticothalamic feedback. Proc. Natl Acad. Sci. USA 96, 8200–8205 (1999)

Zhao, S. et al. Cell type-specific channelrhodopsin-2 transgenic mice for optogenetic dissection of neural circuitry function. Nat. Methods 8, 745–752 (2011)

Yu, J., Gutnisky, D. A., Hires, S. A. & Svoboda, K. Layer 4 fast-spiking interneurons filter thalamocortical signals during active somatosensation. Nat. Neurosci. 19, 1647–1657 (2016)

Yin, H. H. & Knowlton, B. J. The role of the basal ganglia in habit formation. Nat. Rev. Neurosci. 7, 464–476 (2006)

Mante, V., Sussillo, D., Shenoy, K. V. & Newsome, W. T. Context-dependent computation by recurrent dynamics in prefrontal cortex. Nature 503, 78–84 (2013)

Goldberg, J. H. & Fee, M. S. A cortical motor nucleus drives the basal ganglia-recipient thalamus in singing birds. Nat. Neurosci. 15, 620–627 (2012)

Goldberg, J. H., Farries, M. A. & Fee, M. S. Basal ganglia output to the thalamus: still a paradox. Trends Neurosci. 36, 695–705 (2013)

Sherman, S. M . & Guillery, R. W. Functional Connections of Cortical Areas: a New View from the Thalamus. (MIT Press, 2013)

Duan, C. A., Erlich, J. C. & Brody, C. D. Requirement of prefrontal and midbrain regions for rapid executive control of behavior in the rat. Neuron 86, 1491–1503 (2015)

Van der Werf, Y. D., Witter, M. P. & Groenewegen, H. J. The intralaminar and midline nuclei of the thalamus. Anatomical and functional evidence for participation in processes of arousal and awareness. Brain Res. Rev. 39, 107–140 (2002)

Saalmann, Y. B. Intralaminar and medial thalamic influence on cortical synchrony, information transmission and cognition. Front. Syst. Neurosci. 8, 83 (2014)

Giber, K. et al. A subcortical inhibitory signal for behavioral arrest in the thalamus. Nat. Neurosci. 18, 562–568 (2015)

Isseroff, A., Rosvold, H. E., Galkin, T. W. & Goldman-Rakic, P. S. Spatial memory impairments following damage to the mediodorsal nucleus of the thalamus in rhesus monkeys. Brain Res. 232, 97–113 (1982)

Parnaudeau, S. et al. Inhibition of mediodorsal thalamus disrupts thalamofrontal connectivity and cognition. Neuron 77, 1151–1162 (2013)

Hippenmeyer, S. et al. A developmental switch in the response of DRG neurons to ETS transcription factor signaling. PLoS Biol. 3, e159 (2005)

Madisen, L. et al. A toolbox of Cre-dependent optogenetic transgenic mice for light-induced activation and silencing. Nat. Neurosci. 15, 793–802 (2012)

Vue, T. Y. et al. Sonic hedgehog signaling controls thalamic progenitor identity and nuclei specification in mice. J. Neurosci. 29, 4484–4497 (2009)

Petreanu, L., Mao, T., Sternson, S. M. & Svoboda, K. The subcellular organization of neocortical excitatory connections. Nature 457, 1142–1145 (2009)

Viswanathan, S. et al. High-performance probes for light and electron microscopy. Nat. Methods 12, 568–576 (2015)

Tsuriel, S., Gudes, S., Draft, R. W., Binshtok, A. M. & Lichtman, J. W. Multispectral labeling technique to map many neighboring axonal projections in the same tissue. Nat. Methods 12, 547–552 (2015)

Gerfen, C. R., Paletzki, R. & Heintz, N. GENSAT BAC Cre-recombinase driver lines to study the functional organization of cerebral cortical and basal ganglia circuits. Neuron 80, 1368–1383 (2013)

Wan, Y., Otsuna, H., Chien, C. B. & Hansen, C. An interactive visualization tool for multi-channel confocal microscopy data in neurobiology research. IEEE Trans. Vis. Comput. Graph. 15, 1489–1496 (2009)

Di Chiara, G., Morelli, M., Porceddu, M. L. & Gessa, G. L. Role of thalamic gamma-aminobutyrate in motor functions: catalepsy and ipsiversive turning after intrathalamic muscimol. Neuroscience 4, 1453–1465 (1979)

Gulcebi, M. I. et al. Topographical connections of the substantia nigra pars reticulata to higher-order thalamic nuclei in the rat. Brain Res. Bull. 87, 312–318 (2012)

Margrie, T. W., Brecht, M. & Sakmann, B. In vivo, low-resistance, whole-cell recordings from neurons in the anaesthetized and awake mammalian brain. Pflugers Arch. 444, 491–498 (2002)

Barthó, P. et al. Ongoing network state controls the length of sleep spindles via inhibitory activity. Neuron 82, 1367–1379 (2014)

Rossi, M. A., Fan, D., Barter, J. W. & Yin, H. H. Bidirectional modulation of substantia nigra activity by motivational state. PLoS One 8, e71598 (2013)

Teeters, J. L. et al. Neurodata without borders: creating a common data format for neurophysiology. Neuron 88, 629–634 (2015)

Chen, J. & Kriegstein, A. R. A GABAergic projection from the zona incerta to cortex promotes cortical neuron development. Science 350, 554–558 (2015)

Shepherd, G. M. Corticostriatal connectivity and its role in disease. Nat. Rev. Neurosci. 14, 278–291 (2013)
Acknowledgements
We thank N. Li, J. Yu, J. Goldberg, X.-J. Wang, A. Hantman, J. Phillips, G. Shepherd and N. Yamawaki for comments on the manuscript, L. Walendy, T. Pluntke and M. Inagaki for animal training, T. Harris, B. Barbarits, J. J. Jun and W.-L. Sun for help with silicon probe recordings and spike sorting, M. Economo for help with image processing and A. Hu for help with histology. This work was funded by the Howard Hughes Medical Institute. H.K.I. and K.D. are Helen Hay Whitney Foundation postdoctoral fellows. K.D. is supported by the Simons Collaboration on the Global Brain.
Ethics declarations
Competing interests
The authors declare no competing financial interests.
Additional information
Reviewer Information Nature thanks D. J. Simons and the other anonymous reviewer(s) for their contribution to the peer review of this work.
Publisher's note: Springer Nature remains neutral with regard to jurisdictional claims in published maps and institutional affiliations.
Extended data figures and tables
Supplementary information
This file contains Supplementary Text and Data, Supplementary References and Supplementary Tables 1-2. (PDF 413 kb)
About this article
Cite this article
Guo, Z., Inagaki, H., Daie, K. et al. Maintenance of persistent activity in a frontal thalamocortical loop. Nature 545, 181–186 (2017). https://doi.org/10.1038/nature22324
Received:

Accepted:

Published:

Issue Date:

DOI: https://doi.org/10.1038/nature22324
Comments
By submitting a comment you agree to abide by our Terms and Community Guidelines. If you find something abusive or that does not comply with our terms or guidelines please flag it as inappropriate.