Abstract
Blood and lymphatic vasculatures are intimately involved in tissue oxygenation and fluid homeostasis maintenance. Assembly of these vascular networks involves sprouting, migration and proliferation of endothelial cells. Recent studies have suggested that changes in cellular metabolism are important to these processes1. Although much is known about vascular endothelial growth factor (VEGF)-dependent regulation of vascular development and metabolism2,3, little is understood about the role of fibroblast growth factors (FGFs) in this context4. Here we identify FGF receptor (FGFR) signalling as a critical regulator of vascular development. This is achieved by FGF-dependent control of c-MYC (MYC) expression that, in turn, regulates expression of the glycolytic enzyme hexokinase 2 (HK2). A decrease in HK2 levels in the absence of FGF signalling inputs results in decreased glycolysis, leading to impaired endothelial cell proliferation and migration. Pan-endothelial- and lymphatic-specific Hk2 knockouts phenocopy blood and/or lymphatic vascular defects seen in Fgfr1/Fgfr3 double mutant mice, while HK2 overexpression partly rescues the defects caused by suppression of FGF signalling. Thus, FGF-dependent regulation of endothelial glycolysis is a pivotal process in developmental and adult vascular growth and development.
This is a preview of subscription content
Access options
Subscribe to Journal
Get full journal access for 1 year
$199.00
only $3.90 per issue
All prices are NET prices.
VAT will be added later in the checkout.
Tax calculation will be finalised during checkout.
Rent or Buy article
Get time limited or full article access on ReadCube.
from$8.99
All prices are NET prices.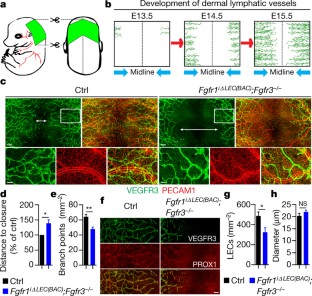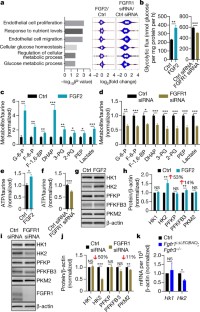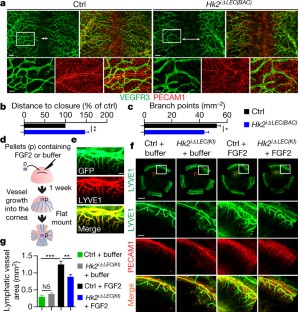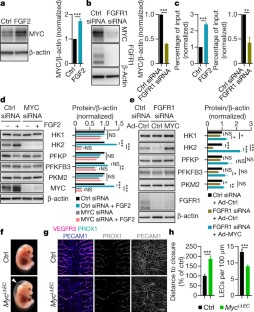 Accession codes
Primary accessions
Sequence Read Archive
References
1

Eelen, G., de Zeeuw, P., Simons, M. & Carmeliet, P. Endothelial cell metabolism in normal and diseased vasculature. Circ. Res. 116, 1231–1244 (2015)

2

Simons, M., Gordon, E. & Claesson-Welsh, L. Mechanisms and regulation of endothelial VEGF receptor signalling. Nat. Rev. Mol. Cell Biol. 17, 611–625 (2016)

3

De Bock, K., Georgiadou, M. & Carmeliet, P. Role of endothelial cell metabolism in vessel sprouting. Cell Metab. 18, 634–647 (2013)

4

Ornitz, D. M. & Itoh, N. The fibroblast growth factor signaling pathway. Wiley Interdiscip. Rev. Dev. Biol. 4, 215–266 (2015)

5

Wang, Y. et al. Ephrin-B2 controls VEGF-induced angiogenesis and lymphangiogenesis. Nature 465, 483–486 (2010)

6

Bazigou, E. et al. Genes regulating lymphangiogenesis control venous valve formation and maintenance in mice. J. Clin. Invest. 121, 2984–2992 (2011)

7

James, J. M., Nalbandian, A. & Mukouyama, Y. S. TGFβ signaling is required for sprouting lymphangiogenesis during lymphatic network development in the skin. Development 140, 3903–3914 (2013)

8

Herbert, C. et al. Molecular mechanism of SSR128129E, an extracellularly acting, small-molecule, allosteric inhibitor of FGF receptor signaling. Cancer Cell 23, 489–501 (2013)

9

De Bock, K. et al. Role of PFKFB3-driven glycolysis in vessel sprouting. Cell 154, 651–663 (2013)

10

Zheng, W., Aspelund, A. & Alitalo, K. Lymphangiogenic factors, mechanisms, and applications. J. Clin. Invest. 124, 878–887 (2014)

11

Patra, K. C. et al. Hexokinase 2 is required for tumor initiation and maintenance and its systemic deletion is therapeutic in mouse models of cancer. Cancer Cell 24, 213–228 (2013)

12

Srinivasan, R. S. et al. Lineage tracing demonstrates the venous origin of the mammalian lymphatic vasculature. Genes Dev. 21, 2422–2432 (2007)

13

Cao, R. et al. Mouse corneal lymphangiogenesis model. Nat. Protoc. 6, 817–826 (2011)

14

Kim, J. W., Gao, P., Liu, Y. C., Semenza, G. L. & Dang, C. V. Hypoxia-inducible factor 1 and dysregulated c-Myc cooperatively induce vascular endothelial growth factor and metabolic switches hexokinase 2 and pyruvate dehydrogenase kinase 1. Mol. Cell. Biol. 27, 7381–7393 (2007)

15

Wilhelm, K. et al. FOXO1 couples metabolic activity and growth state in the vascular endothelium. Nature 529, 216–220 (2016)

16

Ichise, T., Yoshida, N. & Ichise, H. FGF2-induced Ras–MAPK signalling maintains lymphatic endothelial cell identity by upregulating endothelial-cell-specific gene expression and suppressing TGFβ signalling through Smad2. J. Cell Sci. 127, 845–857 (2014)

17

Chen, P. Y. et al. FGF regulates TGF-β signaling and endothelial-to-mesenchymal transition via control of let-7 miRNA expression. Cell Reports 2, 1684–1696 (2012)

18

Oladipupo, S. S. et al. Endothelial cell FGF signaling is required for injury response but not for vascular homeostasis. Proc. Natl Acad. Sci. USA 111, 13379–13384 (2014)

19

Murakami, M. et al. The FGF system has a key role in regulating vascular integrity. J. Clin. Invest. 118, 3355–3366 (2008)

20

Rash, B. G., Lim, H. D., Breunig, J. J. & Vaccarino, F. M. FGF signaling expands embryonic cortical surface area by regulating Notch-dependent neurogenesis. J. Neurosci. 31, 15604–15617 (2011)

21

de Alboran, I. M. et al. Analysis of c-Myc function in normal cells via conditional gene-targeted mutation. Immunity 14, 45–55 (2001)

22

Muzumdar, M. D., Tasic, B., Miyamichi, K., Li, L. & Luo, L. A global double-fluorescent Cre reporter mouse. Genesis 45, 593–605 (2007)

23

Dobin, A. et al. STAR: ultrafast universal RNA-seq aligner. Bioinformatics 29, 15–21 (2013)

24

Li, B. & Dewey, C. N. RSEM: accurate transcript quantification from RNA-seq data with or without a reference genome. BMC Bioinformatics 12, 323 (2011)

25

Robinson, M. D., McCarthy, D. J. & Smyth, G. K. edgeR: a Bioconductor package for differential expression analysis of digital gene expression data. Bioinformatics 26, 139–140 (2010)

26

Young, M. D., Wakefield, M. J., Smyth, G. K. & Oshlack, A. Gene ontology analysis for RNA-seq: accounting for selection bias. Genome Biol. 11, R14 (2010)

27

Chittenden, T. W. et al. Therapeutic implications of GIPC1 silencing in cancer. PLoS ONE 5, e15581 (2010)

28

Chittenden, T. W. et al. nEASE: a method for gene ontology subclassification of high-throughput gene expression data. Bioinformatics 28, 726–728 (2012)

29

Alves, T. C. et al. Integrated, step-wise, mass-isotopomeric flux analysis of the tca cycle. Cell Metab. 22, 936–947 (2015)

30

Kibbey, R. G. et al. Mitochondrial GTP regulates glucose-stimulated insulin secretion. Cell Metab. 5, 253–264 (2007)

31

Wu, R. et al. Reduction in hexokinase II levels results in decreased cardiac function and altered remodeling after ischemia/reperfusion injury. Circ. Res. 108, 60–69 (2011)

32

Dubrac, A. et al. Targeting NCK-mediated endothelial cell front-rear polarity inhibits neovascularization. Circulation 133, 409–421 (2016)

33

Tang, Z. et al. A mouse model of the cornea pocket assay for angiogenesis study. J. Vis. Exp. (54) 3077 (2011)
Acknowledgements
We thank R. Adams for Cdh5-CreERT2, T. Makinen for Prox1-CreERT2(BAC), G. Oliver for Prox1-CreERT2(KI), as well as F. Vaccarino and S. Tomasi for Fgfr1flox/flox;Fgfr3+/− mice. We also thank H. Ardehali for providing HK2 adenovirus, B. G. Coon for generating CRISPR–Cas9 lentivirus, K. van den Dries for real-time imaging and analysis of cell motility, G. Eelen and A. Quaegebeur for metabolic analysis, T. Yarovinsky for instruction and assistance on the flow cytometry, A. Kuo for help with the Seahorse metabolic analyser and F. Zhuo for schematic illustrations. P.Y. is funded by an American Heart Association Postdoctoral Fellowship (15POST25830021). J.Z. was funded by the Brown-Coxe Fellowship from Yale University. F.D.S. was supported as a postdoctoral researcher by the Research Foundation Flanders (FWO). P.C. is funded by IUAP P7/03, long-term structural Methusalem funding by the Flemish Government, FWO G.0598.12, G.0532.10, G.0817.11, G.0834.13, 1.5.202.10.N Krediet aan navorsers, Leducq Transatlantic Network ARTEMIS, AXA Research Fund (1465) and Foundation against Cancer, European Research Council (ERC) Advanced Research Grant (EU-ERC269073, PC). M.P. is supported by the Max Planck Society, a ERC Starting Grant ANGIOMET (311546), the Deutsche Forschungsgemeinschaft (SFB 834), the Excellence Cluster Cardiopulmonary System (EXC 147/1), the LOEWE grant Ub-Net, the DZHK (German Center for Cardiovascular Research), and the European Molecular Biology Organization Young Investigator Programme. M.S. is supported by National Institutes of Health grants HL053793, HL084619 and ARTEMIS Leducq Transatlantic Network.
Ethics declarations
Competing interests
The authors declare no competing financial interests.
Additional information
Reviewer Information Nature thanks M. Kahn and the other anonymous reviewer(s) for their contribution to the peer review of this work.
Publisher's note: Springer Nature remains neutral with regard to jurisdictional claims in published maps and institutional affiliations.
Extended data figures and tables
Supplementary information
About this article
Cite this article
Yu, P., Wilhelm, K., Dubrac, A. et al. FGF-dependent metabolic control of vascular development. Nature 545, 224–228 (2017). https://doi.org/10.1038/nature22322
Received:

Accepted:

Published:

Issue Date:
Comments
By submitting a comment you agree to abide by our Terms and Community Guidelines. If you find something abusive or that does not comply with our terms or guidelines please flag it as inappropriate.