Abstract
The canonical Wnt/β-catenin signalling pathway governs diverse developmental, homeostatic and pathological processes. Palmitoylated Wnt ligands engage cell-surface frizzled (FZD) receptors and LRP5 and LRP6 co-receptors, enabling β-catenin nuclear translocation and TCF/LEF-dependent gene transactivation1,2,3. Mutations in Wnt downstream signalling components have revealed diverse functions thought to be carried out by Wnt ligands themselves. However, redundancy between the 19 mammalian Wnt proteins and 10 FZD receptors1 and Wnt hydrophobicity have made it difficult to attribute these functions directly to Wnt ligands2,3. For example, individual mutations in Wnt ligands have not revealed homeostatic phenotypes in the intestinal epithelium4—an archetypal canonical, Wnt pathway-dependent, rapidly self-renewing tissue, the regeneration of which is fueled by proliferative crypt Lgr5+ intestinal stem cells (ISCs)5,6,7,8,9. R-spondin ligands (RSPO1–RSPO4) engage distinct LGR4–LGR6, RNF43 and ZNRF3 receptor classes10,11,12,13, markedly potentiate canonical Wnt/β-catenin signalling, and induce intestinal organoid growth in vitro and Lgr5+ ISCs in vivo8,14,15,16,17. However, the interchangeability, functional cooperation and relative contributions of Wnt versus RSPO ligands to in vivo canonical Wnt signalling and ISC biology remain unknown. Here we identify the functional roles of Wnt and RSPO ligands in the intestinal crypt stem-cell niche. We show that the default fate of Lgr5+ ISCs is to differentiate, unless both RSPO and Wnt ligands are present. However, gain-of-function studies using RSPO ligands and a new non-lipidated Wnt analogue reveal that these ligands have qualitatively distinct, non-interchangeable roles in ISCs. Wnt proteins are unable to induce Lgr5+ ISC self-renewal, but instead confer a basal competency by maintaining RSPO receptor expression that enables RSPO ligands to actively drive and specify the extent of stem-cell expansion. This functionally non-equivalent yet cooperative interaction between Wnt and RSPO ligands establishes a molecular precedent for regulation of mammalian stem cells by distinct priming and self-renewal factors, with broad implications for precise control of tissue regeneration.
Relevant articles
Open Access articles citing this article.
Gabriele Colozza

,

So-Yeon Park

&

Bon-Kyoung Koo

Experimental & Molecular Medicine Open Access 18 September 2022

Elena Dellambra

,

Sonia Cordisco

…

Liliana Guerra

Orphanet Journal of Rare Diseases Open Access 19 July 2022

Daiwei Tang

,

Seyoung Park

&

Hongyu Zhao

Genome Biology Open Access 15 June 2022
Access options
Subscribe to Nature+
Get immediate online access to Nature and 55 other Nature journal
Subscribe to Journal
Get full journal access for 1 year
$199.00
only $3.90 per issue
All prices are NET prices.
VAT will be added later in the checkout.
Tax calculation will be finalised during checkout.
Buy article
Get time limited or full article access on ReadCube.
$32.00
All prices are NET prices.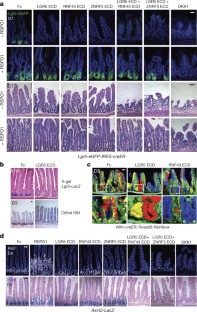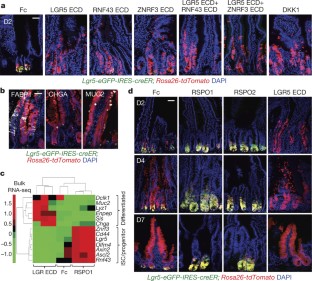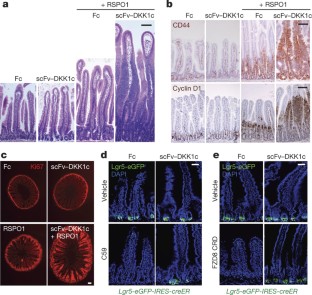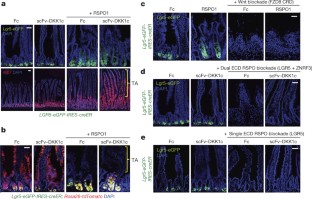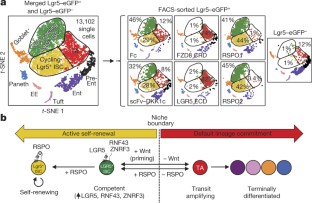 Accession codes
Primary accessions
Gene Expression Omnibus
References
Clevers, H., Loh, K. M. & Nusse, R. Stem cell signaling. An integral program for tissue renewal and regeneration: Wnt signaling and stem cell control. Science 346, 1248012 (2014)

Willert, K. et al. Wnt proteins are lipid-modified and can act as stem cell growth factors. Nature 423, 448–452 (2003)

Janda, C. Y., Waghray, D., Levin, A. M., Thomas, C. & Garcia, K. C. Structural basis of Wnt recognition by Frizzled. Science 337, 59–64 (2012)

Miyoshi, H., Ajima, R., Luo, C. T., Yamaguchi, T. P. & Stappenbeck, T. S. Wnt5a potentiates TGF-β signaling to promote colonic crypt regeneration after tissue injury. Science 338, 108–113 (2012)

Pinto, D., Gregorieff, A., Begthel, H. & Clevers, H. Canonical Wnt signals are essential for homeostasis of the intestinal epithelium. Genes Dev. 17, 1709–1713 (2003)

Kuhnert, F. et al. Essential requirement for Wnt signaling in proliferation of adult small intestine and colon revealed by adenoviral expression of Dickkopf-1. Proc. Natl Acad. Sci. USA 101, 266–271 (2004)

Barker, N. et al. Identification of stem cells in small intestine and colon by marker gene Lgr5. Nature 449, 1003–1007 (2007)

Yan, K. S. et al. The intestinal stem cell markers Bmi1 and Lgr5 identify two functionally distinct populations. Proc. Natl Acad. Sci. USA 109, 466–471 (2012)

Clevers, H. The intestinal crypt, a prototype stem cell compartment. Cell 154, 274–284 (2013)

Xie, Y. et al. Interaction with both ZNRF3 and LGR4 is required for the signalling activity of R-spondin. EMBO Rep. 14, 1120–1126 (2013)

de Lau, W. et al. Lgr5 homologues associate with Wnt receptors and mediate R-spondin signalling. Nature 476, 293–297 (2011)

Carmon, K. S., Gong, X., Lin, Q., Thomas, A. & Liu, Q. R-spondins function as ligands of the orphan receptors LGR4 and LGR5 to regulate Wnt/β-catenin signaling. Proc. Natl Acad. Sci. USA 108, 11452–11457 (2011)

Glinka, A. et al. LGR4 and LGR5 are R-spondin receptors mediating Wnt/β-catenin and Wnt/PCP signalling. EMBO Rep. 12, 1055–1061 (2011)

Kim, K. A. et al. Mitogenic influence of human R-spondin1 on the intestinal epithelium. Science 309, 1256–1259 (2005)

Sato, T. et al. Single Lgr5 stem cells build crypt-villus structures in vitro without a mesenchymal niche. Nature 459, 262–265 (2009)

Ootani, A. et al. Sustained in vitro intestinal epithelial culture within a Wnt-dependent stem cell niche. Nat. Med. 15, 701–706 (2009)

Schuijers, J. et al. Ascl2 acts as an R-spondin/Wnt-responsive switch to control stemness in intestinal crypts. Cell Stem Cell 16, 158–170 (2015)

Hao, H. X. et al. ZNRF3 promotes Wnt receptor turnover in an R-spondin-sensitive manner. Nature 485, 195–200 (2012)

van der Flier, L. G., Haegebarth, A., Stange, D. E., van de Wetering, M. & Clevers, H. OLFM4 is a robust marker for stem cells in human intestine and marks a subset of colorectal cancer cells. Gastroenterology 137, 15–17 (2009)

Tian, H. et al. A reserve stem cell population in small intestine renders Lgr5-positive cells dispensable. Nature 478, 255–259 (2011)

Lopez-Garcia, C., Klein, A. M., Simons, B. D. & Winton, D. J. Intestinal stem cell replacement follows a pattern of neutral drift. Science 330, 822–825 (2010)

Snippert, H. J. et al. Intestinal crypt homeostasis results from neutral competition between symmetrically dividing Lgr5 stem cells. Cell 143, 134–144 (2010)

Peng, W. C. et al. Structure of stem cell growth factor R-spondin 1 in complex with the ectodomain of its receptor LGR5. Cell Rep. 3, 1885–1892 (2013)

Zebisch, M. et al. Structural and molecular basis of ZNRF3/RNF43 transmembrane ubiquitin ligase inhibition by the Wnt agonist R-spondin. Nat. Commun. 4, 2787 (2013)

Janda, C. Y. et al. Surrogate Wnt agonists that phenocopy canonical Wnt and/β-catenin signalling. Nature http://dx.doi.org/10.1038/nature22306 (this issue)

Kabiri, Z. et al. Stroma provides an intestinal stem cell niche in the absence of epithelial Wnts. Development 141, 2206–2215 (2014)

Hsieh, J. C., Rattner, A., Smallwood, P. M. & Nathans, J. Biochemical characterization of Wnt-frizzled interactions using a soluble, biologically active vertebrate Wnt protein. Proc. Natl Acad. Sci. USA 96, 3546–3551 (1999)

Koo, B. K. et al. Tumour suppressor RNF43 is a stem-cell E3 ligase that induces endocytosis of Wnt receptors. Nature 488, 665–669 (2012)

Zheng, G. X. et al. Massively parallel digital transcriptional profiling of single cells. Nat. Commun. 8, 14049 (2017)

Macosko, E. Z. et al. Highly parallel genome-wide expression profiling of individual cells using nanoliter droplets. Cell 161, 1202–1214 (2015)

Grun, D. et al. Single-cell messenger RNA sequencing reveals rare intestinal cell types. Nature 525, 251–255 (2015)

Storm, E. E. et al. Targeting PTPRK–RSPO3 colon tumours promotes differentiation and loss of stem-cell function. Nature 529, 97–100 (2016)

Wei, K. et al. A liver Hif-2α-Irs2 pathway sensitizes hepatic insulin signaling and is modulated by Vegf inhibition. Nat. Med. 19, 1331–1337 (2013)

Levin, T. G. et al. Characterization of the intestinal cancer stem cell marker CD166 in the human and mouse gastrointestinal tract. Gastroenterology 139, 2072–2082 (2010)

Proffitt, K. D. et al. Pharmacological inhibition of the Wnt acyltransferase PORCN prevents growth of Wnt-driven mammary cancer. Cancer Res. 73, 502–507 (2013)

Chao, G. et al. Isolating and engineering human antibodies using yeast surface display. Nat. Protocols 1, 755–768 (2006)

Trapnell, C., Pachter, L. & Salzberg, S. L. TopHat: discovering splice junctions with RNA-Seq. Bioinformatics 25, 1105–1111 (2009)

Anders, S., Pyl, P. T. & Huber, W. HTSeq—a Python framework to work with high-throughput sequencing data. Bioinformatics 31, 166–169 (2015)

Love, M. I., Huber, W. & Anders, S. Moderated estimation of fold change and dispersion for RNA-seq data with DESeq2. Genome Biol. 15, 550 (2014)

Trapnell, C. et al. Transcript assembly and quantification by RNA-Seq reveals unannotated transcripts and isoform switching during cell differentiation. Nat. Biotechnol. 28, 511–515 (2010)

Huang, W., Sherman, B. T. & Lempicki, R. A. Systematic and integrative analysis of large gene lists using DAVID bioinformatics resources. Nat. Protocols 4, 44–57 (2009)

Yu, D., Huber, W. & Vitek, O. Shrinkage estimation of dispersion in Negative Binomial models for RNA-seq experiments with small sample size. Bioinformatics 29, 1275–1282 (2013)

McCarthy, D. J., Chen, Y. & Smyth, G. K. Differential expression analysis of multifactor RNA-Seq experiments with respect to biological variation. Nucleic Acids Res. 40, 4288–4297 (2012)
Acknowledgements
We are indebted to members of the Kuo laboratory, G. Struhl, R. Nusse, L. O'Brien, D. Bouley, J. Carrington and H. Clevers for discussions, R. Nusse for WNT3A-expressing cells and FZD8 CRD cDNA and S. Robine for Villin-creER mice. We thank the Stanford Histology, Functional Genomics, Confocal, Neuroscience Imaging and Stanford Shared FACS Facility Cores. This work was supported by CIRM MD Scholar Fellowships (K.S.Y. and A.O), an AHA Postdoctoral Fellowship (J.C.), a Cancer Research Institute Irvington Fellowship (V.S.L.), Burroughs Wellcome Fund CAMS (K.S.Y.), NIH K08DK096048 (K.S.Y.), NIH K08DK100739 (A.H.), NIH K99CA204738 (V.S.L.), and the Ludwig Fund for Cancer Research (C.J.K., K.C.G.). C.J.K., P.D., R.J.F., S.J.H. and M.W. were supported by the Intestinal Stem Cell Consortium (NIH U01DK085527, U01DK085547, U01DK085525), which was funded by the NIDDK and NIAID. K.C.G. was supported by HHMI, the Stinehart/Reed Foundation, and NIH R01GM097015 and C.J.K. by an AHA Innovative Science Award and NIH U01CA176299, U19AI116484 and U01CA151920.
Ethics declarations
Competing interests
C.Y.J., K.C.G. and C.J.K. are equity shareholders in Surrozen, Inc. G.X.Y.Z., J.M.T., P.B., S.B.Z., H.O. and T.S.M. are equity shareholders in 10x Genomics, Inc.
Additional information
Reviewer Information Nature thanks T. Sato and the other anonymous reviewer(s) for their contribution to the peer review of this work.
Extended data figures and tables
Supplementary information
This zipped file contains Supplementary Tables 1-8 and a Supplementary table guide. (ZIP 18819 kb)
About this article
Cite this article
Yan, K., Janda, C., Chang, J. et al. Non-equivalence of Wnt and R-spondin ligands during Lgr5+ intestinal stem-cell self-renewal. Nature 545, 238–242 (2017). https://doi.org/10.1038/nature22313
Received:

Accepted:

Published:

Issue Date:

DOI: https://doi.org/10.1038/nature22313
Comments
By submitting a comment you agree to abide by our Terms and Community Guidelines. If you find something abusive or that does not comply with our terms or guidelines please flag it as inappropriate.