Abstract
The relative contribution of the effector molecules produced by T cells to tumour rejection is unclear, but interferon-γ (IFNγ) is critical in most of the analysed models1. Although IFNγ can impede tumour growth by acting directly on cancer cells2,3, it must also act on the tumour stroma for effective rejection of large, established tumours4,5. However, which stroma cells respond to IFNγ and by which mechanism IFNγ contributes to tumour rejection through stromal targeting have remained unknown. Here we use a model of IFNγ induction and an IFNγ–GFP fusion protein in large, vascularized tumours growing in mice that express the IFNγ receptor exclusively in defined cell types. Responsiveness to IFNγ by myeloid cells and other haematopoietic cells, including T cells or fibroblasts, was not sufficient for IFNγ-induced tumour regression, whereas responsiveness of endothelial cells to IFNγ was necessary and sufficient. Intravital microscopy revealed IFNγ-induced regression of the tumour vasculature, resulting in arrest of blood flow and subsequent collapse of tumours, similar to non-haemorrhagic necrosis in ischaemia and unlike haemorrhagic necrosis induced by tumour necrosis factor. The early events of IFNγ-induced tumour ischaemia resemble non-apoptotic blood vessel regression during development, wound healing or IFNγ-mediated, pregnancy-induced remodelling of uterine arteries6,7,8. A better mechanistic understanding of how solid tumours are rejected may aid the design of more effective protocols for adoptive T-cell therapy.
Relevant articles
Open Access articles citing this article.
Michal Sobecki

,

Ewelina Krzywinska

…

Christian Stockmann

Nature Communications Open Access 04 August 2021

Wuzhen Chen

,

Lesang Shen

…

Zhigang Chen

Biomarker Research Open Access 22 July 2021

Qiubin Lin

,

Li Rong

…

Jian-Dong Huang

Nature Communications Open Access 05 May 2021
Access options
Subscribe to Nature+
Get immediate online access to Nature and 55 other Nature journal
Subscribe to Journal
Get full journal access for 1 year
$199.00
only $3.90 per issue
All prices are NET prices.
VAT will be added later in the checkout.
Tax calculation will be finalised during checkout.
Buy article
Get time limited or full article access on ReadCube.
$32.00
All prices are NET prices.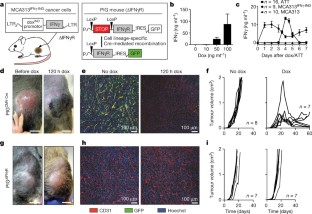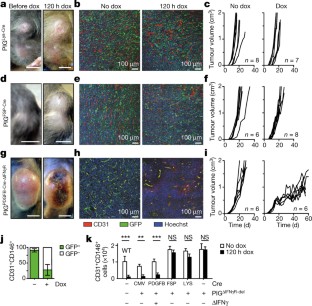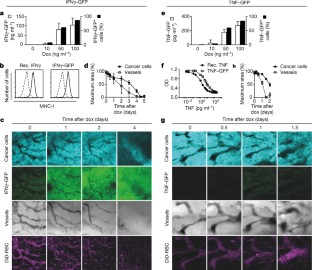 Accession codes
Primary accessions
Gene Expression Omnibus
References
Blankenstein, T. The role of tumor stroma in the interaction between tumor and immune system. Curr. Opin. Immunol. 17, 180–186 (2005)

Dighe, A. S., Richards, E., Old, L. J. & Schreiber, R. D. Enhanced in vivo growth and resistance to rejection of tumor cells expressing dominant negative IFNγ receptors. Immunity 1, 447–456 (1994)

Braumüller, H. et al. T-helper-1-cell cytokines drive cancer into senescence. Nature 494, 361–365 (2013)

Zhang, B., Karrison, T., Rowley, D. A. & Schreiber, H. IFN-γ - and TNF-dependent bystander eradication of antigen-loss variants in established mouse cancers. J. Clin. Invest. 118, 1398–1404 (2008)

Listopad, J. J. et al. Fas expression by tumor stroma is required for cancer eradication. Proc. Natl Acad. Sci. USA 110, 2276–2281 (2013)

Franco, C. A. et al. Dynamic endothelial cell rearrangements drive developmental vessel regression. PLoS Biol. 13, e1002125 (2015)

Bodnar, R. J., Yates, C. C., Rodgers, M. E., Du, X. & Wells, A. IP-10 induces dissociation of newly formed blood vessels. J. Cell Sci. 122, 2064–2077 (2009)

Ashkar, A. A., Di Santo, J. P. & Croy, B. A. Interferon γ contributes to initiation of uterine vascular modification, decidual integrity, and uterine natural killer cell maturation during normal murine pregnancy. J. Exp. Med. 192, 259–270 (2000)

Schreiber, K., Rowley, D. A., Riethmüller, G. & Schreiber, H. Cancer immunotherapy and preclinical studies: why we are not wasting our time with animal experiments. Hematol. Oncol. Clin. North Am. 20, 567–584 (2006)

Corthay, A. et al. Primary antitumor immune response mediated by CD4+ T cells. Immunity 22, 371–383 (2005)

Lu, Y. et al. Responsiveness of stromal fibroblasts to IFN-γ blocks tumor growth via angiostasis. J. Immunol. 183, 6413–6421 (2009)

Qin, Z. & Blankenstein, T. CD4+ T cell-mediated tumor rejection involves inhibition of angiogenesis that is dependent on IFNγ receptor expression by nonhematopoietic cells. Immunity 12, 677–686 (2000)

Qin, Z. et al. A critical requirement of interferon γ-mediated angiostasis for tumor rejection by CD8+ T cells. Cancer Res. 63, 4095–4100 (2003)

Coughlin, C. M. et al. Tumor cell responses to IFNγ affect tumorigenicity and response to IL-12 therapy and antiangiogenesis. Immunity 9, 25–34 (1998)

Luster, A. D., Unkeless, J. C. & Ravetch, J. V. γ-interferon transcriptionally regulates an early-response gene containing homology to platelet proteins. Nature 315, 672–676 (1985)

Sgadari, C. et al. Mig, the monokine induced by interferon-γ, promotes tumor necrosis in vivo. Blood 89, 2635–2643 (1997)

Deng, J. et al. IFNγ-responsiveness of endothelial cells leads to efficient angiostasis in tumours involving down-regulation of Dll4. J. Pathol. 233, 170–182 (2014)

Tellides, G. et al. Interferon-γ elicits arteriosclerosis in the absence of leukocytes. Nature 403, 207–211 (2000)

Briesemeister, D. et al. Tumor rejection by local interferon gamma induction in established tumors is associated with blood vessel destruction and necrosis. Int. J. Cancer 128, 371–378 (2011)

Anders, K. et al. Oncogene-targeting T cells reject large tumors while oncogene inactivation selects escape variants in mouse models of cancer. Cancer Cell 20, 755–767 (2011)

Mazzieri, R. et al. Targeting the ANG2/TIE2 axis inhibits tumor growth and metastasis by impairing angiogenesis and disabling rebounds of proangiogenic myeloid cells. Cancer Cell 19, 512–526 (2011)

Schietinger, A. et al. Longitudinal confocal microscopy imaging of solid tumor destruction following adoptive T cell transfer. OncoImmunology 2, e26677 (2013)

Hock, H. et al. Mechanisms of rejection induced by tumor cell-targeted gene transfer of interleukin 2, interleukin 4, interleukin 7, tumor necrosis factor, or interferon γ. Proc. Natl Acad. Sci. USA 90, 2774–2778 (1993)

Augustin, H. G., Braun, K., Telemenakis, I., Modlich, U. & Kuhn, W. Ovarian angiogenesis. Phenotypic characterization of endothelial cells in a physiological model of blood vessel growth and regression. Am. J. Pathol. 147, 339–351 (1995)

Modlich, U., Kaup, F. J. & Augustin, H. G. Cyclic angiogenesis and blood vessel regression in the ovary: blood vessel regression during luteolysis involves endothelial cell detachment and vessel occlusion. Lab. Invest. 74, 771–780 (1996)

Guo, S. et al. IRF4 is a novel mediator for neuronal survival in ischaemic stroke. Cell Death Differ. 21, 888–903 (2014)

Rothstein, J. L. & Schreiber, H. Synergy between tumor necrosis factor and bacterial products causes hemorrhagic necrosis and lethal shock in normal mice. Proc. Natl Acad. Sci. USA 85, 607–611 (1988)

Johansson, A., Hamzah, J., Payne, C. J. & Ganss, R. Tumor-targeted TNFα stabilizes tumor vessels and enhances active immunotherapy. Proc. Natl Acad. Sci. USA 109, 7841–7846 (2012)

Refaeli, Y., Van Parijs, L., Alexander, S. I. & Abbas, A. K. Interferon γ is required for activation-induced death of T lymphocytes. J. Exp. Med. 196, 999–1005 (2002)

Hemmi, S. et al. Cloning of murine interferon gamma receptor cDNA: expression in human cells mediates high-affinity binding but is not sufficient to confer sensitivity to murine interferon gamma. Proc. Natl Acad. Sci. USA 86, 9901–9905 (1989)

Sakai, K., Mitani, K. & Miyazaki, J. Efficient regulation of gene expression by adenovirus vector-mediated delivery of the CRE recombinase. Biochem. Biophys. Res. Commun. 217, 393–401 (1995)

Staveley-O'Carroll, K. et al. In vivo ligation of CD40 enhances priming against the endogenous tumor antigen and promotes CD8+ T cell effector function in SV40 T antigen transgenic mice. J. Immunol. 171, 697–707 (2003)

Bhowmick, N. A. et al. TGF-β signaling in fibroblasts modulates the oncogenic potential of adjacent epithelia. Science 303, 848–851 (2004)

Clausen, B. E., Burkhardt, C., Reith, W., Renkawitz, R. & Förster, I. Conditional gene targeting in macrophages and granulocytes using LysMcre mice. Transgenic Res. 8, 265–277 (1999)

Claxton, S. et al. Efficient, inducible Cre-recombinase activation in vascular endothelium. Genesis 46, 74–80 (2008)

Luche, H., Weber, O., Nageswara Rao, T., Blum, C. & Fehling, H. J. Faithful activation of an extra-bright red fluorescent protein in "knock-in" Cre-reporter mice ideally suited for lineage tracing studies. Eur. J. Immunol. 37, 43–53 (2007)

Mittrücker, H. W. et al. Requirement for the transcription factor LSIRF/IRF4 for mature B and T lymphocyte function. Science 275, 540–543 (1997)

Willimsky, G. & Blankenstein, T. Sporadic immunogenic tumours avoid destruction by inducing T-cell tolerance. Nature 437, 141–146 (2005)

Textor, A. et al. Preventing tumor escape by targeting a post-proteasomal trimming independent epitope. J. Exp. Med. 213, 2333–2348 (2016)

Li, L. P., Schlag, P. M. & Blankenstein, T. Transient expression of SV 40 large T antigen by Cre/LoxP-mediated site-specific deletion in primary human tumor cells. Hum. Gene Ther. 8, 1695–1700 (1997)

Schindelin, J. et al. Fiji: an open-source platform for biological-image analysis. Nat. Methods 9, 676–682 (2012)
Acknowledgements
We thank R. Naumann, S. Jähne, T. Schüler, A. Sporbert, M. Richter, M. Schreiber, I. Gavvovidis, B. Purfürst and S. Fillatreau for support. This work was supported by the DFG through SFB-TR36 (to T.K., W.U. and T.B.), the Einstein Stiftung Berlin (to H.S. and T.B.) and the NIH (RO1-CA37156 and RO1-CA22677 to H.S.). M.Lo. was supported by Rhön-Klinikum-AG.
Ethics declarations
Competing interests
The authors declare no competing financial interests.
Additional information
Reviewer Information Nature thanks T. Curiel, M. De Palma and S. Turley for their contribution to the peer review of this work.
Publisher's note: Springer Nature remains neutral with regard to jurisdictional claims in published maps and institutional affiliations.
Extended data figures and tables
Supplementary information
About this article
Cite this article
Kammertoens, T., Friese, C., Arina, A. et al. Tumour ischaemia by interferon-γ resembles physiological blood vessel regression. Nature 545, 98–102 (2017). https://doi.org/10.1038/nature22311
Received:

Accepted:

Published:

Issue Date:

DOI: https://doi.org/10.1038/nature22311
Comments
By submitting a comment you agree to abide by our Terms and Community Guidelines. If you find something abusive or that does not comply with our terms or guidelines please flag it as inappropriate.