Abstract
Quantum systems can be characterized by their correlations1,2. Higher-order (larger than second order) correlations, and the ways in which they can be decomposed into correlations of lower order, provide important information about the system, its structure, its interactions and its complexity3,4. The measurement of such correlation functions is therefore an essential tool for reading, verifying and characterizing quantum simulations5. Although higher-order correlation functions are frequently used in theoretical calculations, so far mainly correlations up to second order have been studied experimentally. Here we study a pair of tunnel-coupled one-dimensional atomic superfluids and characterize the corresponding quantum many-body problem by measuring correlation functions. We extract phase correlation functions up to tenth order from interference patterns and analyse whether, and under what conditions, these functions factorize into correlations of lower order. This analysis characterizes the essential features of our system, the relevant quasiparticles, their interactions and topologically distinct vacua. From our data we conclude that in thermal equilibrium our system can be seen as a quantum simulator of the sine-Gordon model6,7,8,9,10, relevant for diverse disciplines ranging from particle physics to condensed matter11,12. The measurement and evaluation of higher-order correlation functions can easily be generalized to other systems and to study correlations of any other observable such as density, spin and magnetization. It therefore represents a general method for analysing quantum many-body systems from experimental data.
Relevant articles
Open Access articles citing this article.
Jonas Meinel

,

Vadim Vorobyov

…

J. Wrachtrup

Nature Communications Open Access 09 September 2022

Rohit Prasad Bhatt

,

Jan Kilinc

…

Fred Jendrzejewski

Scientific Reports Open Access 14 February 2022

I. Kukuljan

,

S. Sotiriadis

&

G. Takács

Journal of High Energy Physics Open Access 30 July 2020
Access options
Subscribe to Nature+
Get immediate online access to the entire Nature family of 50+ journals
Subscribe to Journal
Get full journal access for 1 year
$199.00
only $3.90 per issue
All prices are NET prices.
VAT will be added later in the checkout.
Tax calculation will be finalised during checkout.
Buy article
Get time limited or full article access on ReadCube.
$32.00
All prices are NET prices.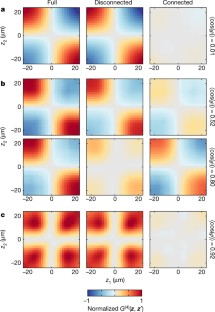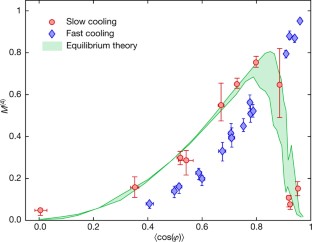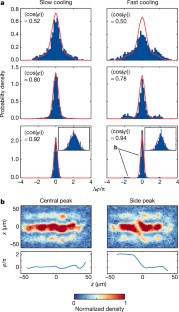 References
Schwinger, J. On the Green's functions of quantized fields. I. Proc. Natl Acad. Sci. USA 37, 452–455 (1951)

Schwinger, J. On the Green's functions of quantized fields. II. Proc. Natl Acad. Sci. USA 37, 455–459 (1951)

Zinn-Justin, J. Quantum Field Theory and Critical Phenomena (Oxford Univ. Press, 2002)

Peskin, M. E . & Schroeder, D. V. An Introduction to Quantum Field Theory (Westview, 1995)

Cirac, J. I. & Zoller, P. Goals and opportunities in quantum simulation. Nat. Phys. 8, 264–266 (2012)

Coleman, S. Quantum sine-Gordon equation as the massive Thirring model. Phys. Rev. D 11, 2088–2097 (1975)

Mandelstam, S. Soliton operators for the quantized sine-Gordon equation. Phys. Rev. D 11, 3026–3030 (1975)

Faddeev, L. D. & Korepin, V. E. Quantum theory of solitons. Phys. Rep. 42, 1–87 (1978)

Sklyanin, E. K., Takhtadzhyan, L. A. & Faddeev, L. D. Quantum inverse problem method. I. Theor. Math. Phys. 40, 688–706 (1979)

Gritsev, V., Polkovnikov, A. & Demler, E. Linear response theory for a pair of coupled one-dimensional condensates of interacting atoms. Phys. Rev. B 75, 174511 (2007)

Cuevas-Maraver, J., Kevrekidis, P. G. & Williams, F. (eds). The sine-Gordon Model and its Applications (Springer, 2014)

Fogel, M. B., Trullinger, S. E., Bishop, A. R. & Krumhansl, J. A. Dynamics of sine-Gordon solitons in the presence of perturbations. Phys. Rev. B 15, 1578–1592 (1977)

Bogoliubov, N. On the theory of superfluidity. J. Phys. 11, 23–32 (1947)

Landau, L. D. The theory of a Fermi liquid. Sov. Phys. JETP 3, 920–925 (1957)

Wick, G. C. The evaluation of the collision matrix. Phys. Rev. 80, 268–272 (1950)

Gardiner, C. Stochastic Methods: A Handbook for the Natural and Social Sciences Chs 2, 4, 5 (Springer, 2009)

Bloch, I., Dalibard, J. & Nascimbène, S. Quantum simulations with ultracold quantum gases. Nat. Phys. 8, 267–276 (2012)

Hodgman, S. S., Dall, R. G., Manning, A. G., Baldwin, K. G. H. & Truscott, A. G. Direct measurement of long-range third-order coherence in Bose–Einstein condensates. Science 331, 1046–1049 (2011)

Dall, R. G. et al. Ideal n-body correlations with massive particles. Nat. Phys. 9, 341–344 (2013)

Endres, M. et al. Single-site- and single-atom-resolved measurement of correlation functions. Appl. Phys. B 113, 27–39 (2013)

Langen, T. et al. Experimental observation of a generalized Gibbs ensemble. Science 348, 207–211 (2015)

Betz, T. et al. Two-point phase correlations of a one-dimensional Bosonic Josephson junction. Phys. Rev. Lett. 106, 020407 (2011)

Schumm, T. et al. Matter–wave interferometry in a double well on an atom chip. Nat. Phys. 1, 57–62 (2005)

Gring, M. et al. Relaxation and prethermalization in an isolated quantum system. Science 337, 1318–1322 (2012)

Langen, T., Geiger, R., Kuhnert, M., Rauer, B. & Schmiedmayer, J. Local emergence of thermal correlations in an isolated quantum many-body system. Nat. Phys. 9, 640–643 (2013)

Tomonaga, S. Remarks on Bloch's method of sound waves applied to many-fermion problems. Prog. Theor. Phys. 5, 544–569 (1950)

Luttinger, J. M. An exactly soluble model of a many-fermion system. J. Math. Phys. 4, 1154–1162 (1963)

Mattis, D. C. & Lieb, E. H. Exact solution of a many-fermion system and its associated boson field. J. Math. Phys. 6, 304–312 (1965)

Whitlock, N. K. & Bouchoule, I. Relative phase fluctuations of two coupled one-dimensional condensates. Phys. Rev. A 68, 053609 (2003)

Coleman, S. Fate of the false vacuum: semiclassical theory. Phys. Rev. D 15 , 2929–2936 (1977); erratum 16, 1248 (1977)

Adu Smith, D. et al. Prethermalization revealed by the relaxation dynamics of full distribution functions. New J. Phys. 15, 075011 (2013)

Shiryaev, A. N. Probability-1 3rd edn, 349 (Springer, 2016)

Efron, B. & Tibshirani, R. Bootstrap methods for standard errors, confidence intervals, and other measures of statistical accuracy. Stat. Sci. 1, 54–75 (1986)

Grišins, P. & Mazets, I. E. Coherence and Josephson oscillations between two tunnel-coupled one-dimensional atomic quasicondensates at finite temperature. Phys. Rev. A 87, 013629 (2013)

Manz, S. et al. Two-point density correlations of quasicondensates in free expansion. Phys. Rev. A 81, 031610 (2010)

Stimming, H.-P., Mauser, N. J., Schmiedmayer, J. & Mazets, I. E. Fluctuations and stochastic processes in one-dimensional many-body quantum systems. Phys. Rev. Lett. 105, 015301 (2010)
Acknowledgements
We acknowledge discussions with E. Demler and J. M. Pawlowski. This work was supported by the EU through the EU-FET Proactive grant AQuS, Project No. 640800 and the ERC advanced grant QuantumRelax, and by the Austrian Science Fund (FWF) through the doctoral programme CoQuS (W1210) (T.S., B.R. and F.C.) and the SFB-FoQuS. This work is in part supported by the SFB 1225 'ISOQUANT' financed by the German Research Foundation (DFG) and the FWF. V.K. acknowledges support from the Max Planck Society through the doctoral programme IMPRS-QD. T.L. acknowledges support by the Alexander von Humboldt Foundation through a Feodor Lynen Research Fellowship. T.G. and J.B. acknowledge support by the University of Heidelberg (Center for Quantum Dynamics) and the Helmholtz Association (HA216/EMMI).
Ethics declarations
Competing interests
The authors declare no competing financial interests.
Additional information
Reviewer Information Nature thanks I. Spielman and the other anonymous reviewer(s) for their contribution to the peer review of this work.
Publisher's note: Springer Nature remains neutral with regard to jurisdictional claims in published maps and institutional affiliations.
Extended data figures and tables
Supplementary information
This file contains a Supplementary discussion of the theoretical calculations and concepts used in the main text. (PDF 260 kb)
About this article
Cite this article
Schweigler, T., Kasper, V., Erne, S. et al. Experimental characterization of a quantum many-body system via higher-order correlations. Nature 545, 323–326 (2017). https://doi.org/10.1038/nature22310
Received:

Accepted:

Published:

Issue Date:

DOI: https://doi.org/10.1038/nature22310
Comments
By submitting a comment you agree to abide by our Terms and Community Guidelines. If you find something abusive or that does not comply with our terms or guidelines please flag it as inappropriate.