Abstract
Nine neurodegenerative diseases are caused by expanded polyglutamine (polyQ) tracts in different proteins, such as huntingtin in Huntington's disease and ataxin 3 in spinocerebellar ataxia type 3 (SCA3)1,2. Age at onset of disease decreases with increasing polyglutamine length in these proteins and the normal length also varies3. PolyQ expansions drive pathogenesis in these diseases, as isolated polyQ tracts are toxic, and an N-terminal huntingtin fragment comprising exon 1, which occurs in vivo as a result of alternative splicing4, causes toxicity. Although such mutant proteins are prone to aggregation5, toxicity is also associated with soluble forms of the proteins6. The function of the polyQ tracts in many normal cytoplasmic proteins is unclear. One such protein is the deubiquitinating enzyme ataxin 3 (refs 7, 8), which is widely expressed in the brain9,10. Here we show that the polyQ domain enables wild-type ataxin 3 to interact with beclin 1, a key initiator of autophagy11. This interaction allows the deubiquitinase activity of ataxin 3 to protect beclin 1 from proteasome-mediated degradation and thereby enables autophagy. Starvation-induced autophagy, which is regulated by beclin 1, was particularly inhibited in ataxin-3-depleted human cell lines and mouse primary neurons, and in vivo in mice. This activity of ataxin 3 and its polyQ-mediated interaction with beclin 1 was competed for by other soluble proteins with polyQ tracts in a length-dependent fashion. This competition resulted in impairment of starvation-induced autophagy in cells expressing mutant huntingtin exon 1, and this impairment was recapitulated in the brains of a mouse model of Huntington's disease and in cells from patients. A similar phenomenon was also seen with other polyQ disease proteins, including mutant ataxin 3 itself. Our data thus describe a specific function for a wild-type polyQ tract that is abrogated by a competing longer polyQ mutation in a disease protein, and identify a deleterious function of such mutations distinct from their propensity to aggregate.
Relevant articles
Open Access articles citing this article.
Joanne Watson

,

Harriet R. Ferguson

…

Chiara Francavilla

Nature Communications Open Access 03 November 2022

Na Liu

,

Miao-Miao Lin

&

Yan Wang

Molecular Neurobiology Open Access 19 October 2022

Jiahui Long

,

Xia Luo

…

Min Li

Cell & Bioscience Open Access 08 October 2022
Access options
Subscribe to Nature+
Get immediate online access to Nature and 55 other Nature journal
Subscribe to Journal
Get full journal access for 1 year
$199.00
only $3.90 per issue
All prices are NET prices.
VAT will be added later in the checkout.
Tax calculation will be finalised during checkout.
Buy article
Get time limited or full article access on ReadCube.
$32.00
All prices are NET prices.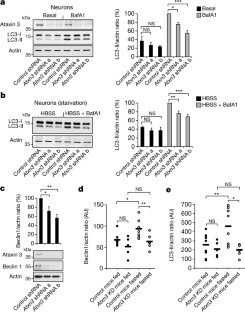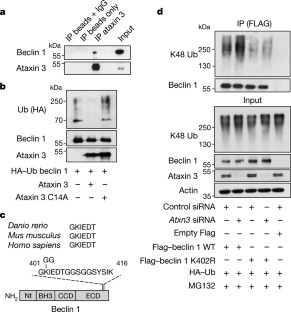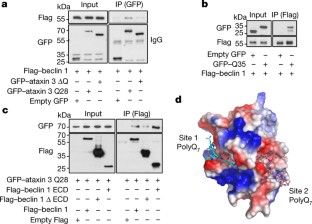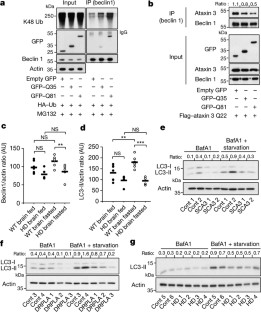 References
DiFiglia, M. et al. Aggregation of huntingtin in neuronal intranuclear inclusions and dystrophic neurites in brain. Science 277, 1990–1993 (1997)

Riess, O., Rüb, U., Pastore, A., Bauer, P. & Schöls, L. SCA3: neurological features, pathogenesis and animal models. Cerebellum 7, 125–137 (2008)

Imarisio, S. et al. Huntington's disease: from pathology and genetics to potential therapies. Biochem. J. 412, 191–209 (2008)

Sathasivam, K. et al. Aberrant splicing of HTT generates the pathogenic exon 1 protein in Huntington disease. Proc. Natl Acad. Sci. USA 110, 2366–2370 (2013)

Rubinsztein, D. C. The roles of intracellular protein-degradation pathways in neurodegeneration. Nature 443, 780–786 (2006)

Arrasate, M., Mitra, S., Schweitzer, E. S., Segal, M. R. & Finkbeiner, S. Inclusion body formation reduces levels of mutant huntingtin and the risk of neuronal death. Nature 431, 805–810 (2004)

Chai, Y., Berke, S. S., Cohen, R. E. & Paulson, H. L. Poly-ubiquitin binding by the polyglutamine disease protein ataxin-3 links its normal function to protein surveillance pathways. J. Biol. Chem. 279, 3605–3611 (2004)

Burnett, B., Li, F. & Pittman, R. N. The polyglutamine neurodegenerative protein ataxin-3 binds polyubiquitylated proteins and has ubiquitin protease activity. Hum. Mol. Genet. 12, 3195–3205 (2003)

Paulson, H. L. et al. Machado–Joseph disease gene product is a cytoplasmic protein widely expressed in brain. Ann. Neurol. 41, 453–462 (1997)

Trottier, Y. et al. Heterogeneous intracellular localization and expression of ataxin-3. Neurobiol. Dis. 5, 335–347 (1998)

Liang, X. H. et al. Induction of autophagy and inhibition of tumorigenesis by beclin 1. Nature 402, 672–676 (1999)

Ravikumar, B. et al. Inhibition of mTOR induces autophagy and reduces toxicity of polyglutamine expansions in fly and mouse models of Huntington disease. Nat. Genet. 36, 585–595 (2004)

Menzies, F. M. et al. Autophagy induction reduces mutant ataxin-3 levels and toxicity in a mouse model of spinocerebellar ataxia type 3. Brain 133, 93–104 (2010)

Kabeya, Y. et al. LC3, a mammalian homologue of yeast Apg8p, is localized in autophagosome membranes after processing. EMBO J . 19, 5720–5728 (2000)

Xie, Z. & Klionsky, D. J. Autophagosome formation: core machinery and adaptations. Nat. Cell Biol. 9, 1102–1109 (2007)

Weidberg, H., Shvets, E. & Elazar, Z. Biogenesis and cargo selectivity of autophagosomes. Annu. Rev. Biochem. 80, 125–156 (2011)

Tassa, A., Roux, M. P., Attaix, D. & Bechet, D. M. Class III phosphoinositide 3-kinase--Beclin1 complex mediates the amino acid-dependent regulation of autophagy in C2C12 myotubes. Biochem. J. 376, 577–586 (2003)

He, R., Peng, J., Yuan, P., Xu, F. & Wei, W. Divergent roles of BECN1 in LC3 lipidation and autophagosomal function. Autophagy 11, 740–747 (2015)

Dooley, H. C. et al. WIPI2 links LC3 conjugation with PI3P, autophagosome formation, and pathogen clearance by recruiting Atg12-5-16L1. Mol. Cell 55, 238–252 (2014)

Vicinanza, M. et al. PI(5)P regulates autophagosome biogenesis. Mol. Cell 57, 219–234 (2015)

Kim, W. et al. Systematic and quantitative assessment of the ubiquitin-modified proteome. Mol. Cell 44, 325–340 (2011)

Rui, Y. N. et al. Huntingtin functions as a scaffold for selective macroautophagy. Nat. Cell Biol. 17, 262–275 (2015)

Shibata, M. et al. Regulation of intracellular accumulation of mutant huntingtin by beclin 1. J. Biol. Chem. 281, 14474–14485 (2006)

Trettel, F. et al. Dominant phenotypes produced by the HD mutation in STHdh(Q111) striatal cells. Hum. Mol. Genet . 9, 2799–2809 (2000)

Nascimento-Ferreira, I. et al. Overexpression of the autophagic beclin-1 protein clears mutant ataxin-3 and alleviates Machado–Joseph disease. Brain 134, 1400–1415 (2011)

Levine, B., Liu, R., Dong, X. & Zhong, Q. Beclin orthologs: integrative hubs of cell signaling, membrane trafficking, and physiology. Trends Cell Biol . 25, 533–544 (2015)

Onodera, O. et al. Oligomerization of expanded-polyglutamine domain fluorescent fusion proteins in cultured mammalian cells. Biochem. Biophys. Res. Commun. 238, 599–605 (1997)

Chai, Y., Shao, J., Miller, V. M., Williams, A. & Paulson, H. L. Live-cell imaging reveals divergent intracellular dynamics of polyglutamine disease proteins and supports a sequestration model of pathogenesis. Proc. Natl Acad. Sci. USA 99, 9310–9315 (2002)

Sun, Q. et al. Identification of Barkor as a mammalian autophagy-specific factor for Beclin 1 and class III phosphatidylinositol 3-kinase. Proc. Natl Acad. Sci. USA 105, 19211–19216 (2008)

Luo, S. et al. Bim inhibits autophagy by recruiting Beclin 1 to microtubules. Mol. Cell 47, 359–370 (2012)

Eriguchi, M. et al. alpha Pix enhances mutant huntingtin aggregation. J. Neurol. Sci. 290, 80–85 (2010)

Jimenez-Sanchez, M. et al. siRNA screen identifies QPCT as a druggable target for Huntington's disease. Nat. Chem. Biol. 11, 347–354 (2015)

Zhou, C. et al. Monitoring autophagic flux by an improved tandem fluorescent-tagged LC3 (mTagRFP-mWasabi-LC3) reveals that high-dose rapamycin impairs autophagic flux in cancer cells. Autophagy 8, 1215–1226 (2012)

Schilling, G. et al. Intranuclear inclusions and neuritic aggregates in transgenic mice expressing a mutant N-terminal fragment of huntingtin. Hum. Mol. Genet. 8, 397–407 (1999)

Davies, S. W. et al. Detection of polyglutamine aggregation in mouse models. Methods Enzymol . 309, 687–701 (1999)

Sarbassov, D. D., Guertin, D. A., Ali, S. M. & Sabatini, D. M. Phosphorylation and regulation of Akt/PKB by the rictor–mTOR complex. Science 307, 1098–1101 (2005)

Liu, J. et al. Beclin1 controls the levels of p53 by regulating the deubiquitination activity of USP10 and USP13. Cell 147, 223–234 (2011)

Hammond, G. R., Schiavo, G. & Irvine, R. F. Immunocytochemical techniques reveal multiple, distinct cellular pools of PtdIns4P and PtdIns(4,5)P(2). Biochem. J. 422, 23–35 (2009)

Huang, W. et al. Crystal structure and biochemical analyses reveal Beclin 1 as a novel membrane binding protein. Cell Res. 22, 473–489 (2012)

Rostislavleva, K. et al. Structure and flexibility of the endosomal Vps34 complex reveals the basis of its function on membranes. Science 350, aac7365 (2015)
Acknowledgements
We thank the Wellcome Trust (Principal Research Fellowship to D.C.R. (095317/Z/11/Z), Wellcome Trust Strategic Grant to Cambridge Institute for Medical Research (100140/Z/12/Z)), National Institute for Health Research Biomedical Research Centre at Addenbrooke's Hospital, and Addenbrooke's Charitable Trust and Federation of European Biochemical Societies (FEBS Long-Term Fellowship to A.A.) for funding; R. Antrobus for mass spectrometry analysis; S. Luo for truncated HTT constructs; M. Jimenez-Sanchez and C. Karabiyik for assistance with the primary mouse cell cultures; and J. Lim and Z. Ignatova for reagents.
Ethics declarations
Competing interests
F.M.M. is currently an employee of Eli Lilly & Co. Ltd.
Additional information
Reviewer Information Nature thanks I. Dikic, J. Yuan and the other anonymous reviewer(s) for their contribution to the peer review of this work.
Publisher's note: Springer Nature remains neutral with regard to jurisdictional claims in published maps and institutional affiliations.
Extended data figures and tables
Supplementary information
This file contains Supplementary Figure 1, the uncropped blots and Supplementary Tables 1-2. (PDF 5415 kb)
About this article
Cite this article
Ashkenazi, A., Bento, C., Ricketts, T. et al. Polyglutamine tracts regulate beclin 1-dependent autophagy. Nature 545, 108–111 (2017). https://doi.org/10.1038/nature22078
Received:

Accepted:

Published:

Issue Date:

DOI: https://doi.org/10.1038/nature22078
Comments
By submitting a comment you agree to abide by our Terms and Community Guidelines. If you find something abusive or that does not comply with our terms or guidelines please flag it as inappropriate.