Abstract
Cancer cells elude anti-tumour immunity through multiple mechanisms, including upregulated expression of ligands for inhibitory immune checkpoint receptors1,2. Phagocytosis by macrophages plays a critical role in cancer control3,4,5,6. Therapeutic blockade of signal regulatory protein (SIRP)-α, an inhibitory receptor on macrophages, or of its ligand CD47 expressed on tumour cells, improves tumour cell elimination in vitro and in vivo7,8,9,10, suggesting that blockade of the SIRPα–CD47 checkpoint could be useful in treating human cancer11,12,13,14. However, the pro-phagocytic receptor(s) responsible for tumour cell phagocytosis is(are) largely unknown. Here we find that macrophages are much more efficient at phagocytosis of haematopoietic tumour cells, compared with non-haematopoietic tumour cells, in response to SIRPα–CD47 blockade. Using a mouse lacking the signalling lymphocytic activation molecule (SLAM) family of homotypic haematopoietic cell-specific receptors, we determined that phagocytosis of haematopoietic tumour cells during SIRPα–CD47 blockade was strictly dependent on SLAM family receptors in vitro and in vivo. In both mouse and human cells, this function required a single SLAM family member, SLAMF7 (also known as CRACC, CS1, CD319), expressed on macrophages and tumour cell targets. In contrast to most SLAM receptor functions15,16,17, SLAMF7-mediated phagocytosis was independent of signalling lymphocyte activation molecule-associated protein (SAP) adaptors. Instead, it depended on the ability of SLAMF7 to interact with integrin Mac-1 (refs 18, 19, 20) and utilize signals involving immunoreceptor tyrosine-based activation motifs21,22. These findings elucidate the mechanism by which macrophages engulf and destroy haematopoietic tumour cells. They also reveal a novel SAP adaptor-independent function for a SLAM receptor. Lastly, they suggest that patients with tumours expressing SLAMF7 are more likely to respond to SIRPα–CD47 blockade therapy.
Access options
Subscribe to Journal
Get full journal access for 1 year
$199.00
only $3.90 per issue
All prices are NET prices.
VAT will be added later in the checkout.
Rent or Buy article
Get time limited or full article access on ReadCube.
from$8.99
All prices are NET prices.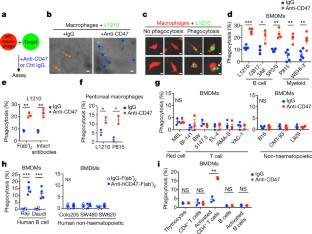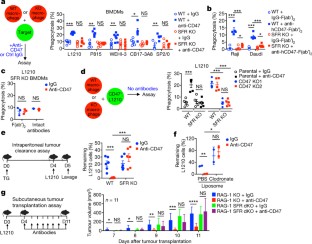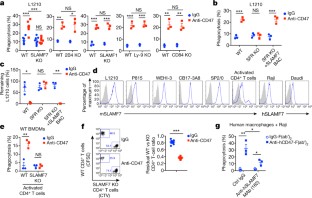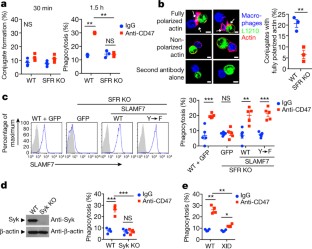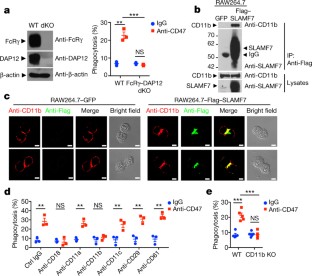 References
1

Korman, A. J., Peggs, K. S. & Allison, J. P. Checkpoint blockade in cancer immunotherapy. Adv. Immunol. 90, 297–339 (2006)

2

Sharma, P. & Allison, J. P. Immune checkpoint targeting in cancer therapy: toward combination strategies with curative potential. Cell 161, 205–214 (2015)

3

Arandjelovic, S. & Ravichandran, K. S. Phagocytosis of apoptotic cells in homeostasis. Nat. Immunol. 16, 907–917 (2015)

4

Gordon, S., Plüddemann, A. & Martinez Estrada, F. Macrophage heterogeneity in tissues: phenotypic diversity and functions. Immunol. Rev. 262, 36–55 (2014)

5

Schultze, J. L. & Schmidt, S. V. Molecular features of macrophage activation. Semin. Immunol. 27, 416–423 (2015)

6

Freeman, S. A. & Grinstein, S. Phagocytosis: receptors, signal integration, and the cytoskeleton. Immunol. Rev. 262, 193–215 (2014)

7

Chao, M. P. et al. Anti-CD47 antibody synergizes with rituximab to promote phagocytosis and eradicate non-Hodgkin lymphoma. Cell 142, 699–713 (2010)

8

Majeti, R. et al. CD47 is an adverse prognostic factor and therapeutic antibody target on human acute myeloid leukemia stem cells. Cell 138, 286–299 (2009)

9

Jaiswal, S. et al. CD47 is upregulated on circulating hematopoietic stem cells and leukemia cells to avoid phagocytosis. Cell 138, 271–285 (2009)

10

Theocharides, A. P. et al. Disruption of SIRPα signaling in macrophages eliminates human acute myeloid leukemia stem cells in xenografts. J. Exp. Med. 209, 1883–1899 (2012)

11

Murata, Y., Kotani, T., Ohnishi, H. & Matozaki, T. The CD47–SIRPα signalling system: its physiological roles and therapeutic application. J. Biochem. 155, 335–344 (2014)

12

Barclay, A. N. & Van den Berg, T. K. The interaction between signal regulatory protein alpha (SIRPα) and CD47: structure, function, and therapeutic target. Annu. Rev. Immunol. 32, 25–50 (2014)

13

Chao, M. P., Weissman, I. L. & Majeti, R. The CD47–SIRPα pathway in cancer immune evasion and potential therapeutic implications. Curr. Opin. Immunol. 24, 225–232 (2012)

14

Ho, J. M., Danska, J. S. & Wang, J. C. Targeting SIRPα in cancer. OncoImmunology 2, e23081 (2013)

15

Wu, N. & Veillette, A. SLAM family receptors in normal immunity and immune pathologies. Curr. Opin. Immunol. 38, 45–51 (2016)

16

Cannons, J. L., Tangye, S. G. & Schwartzberg, P. L. SLAM family receptors and SAP adaptors in immunity. Annu. Rev. Immunol. 29, 665–705 (2011)

17

Calpe, S. et al. The SLAM and SAP gene families control innate and adaptive immune responses. Adv. Immunol. 97, 177–250 (2008)

18

ffrench-Constant, C. & Colognato, H. Integrins: versatile integrators of extracellular signals. Trends Cell Biol. 14, 678–686 (2004)

19

Miranti, C. K. & Brugge, J. S. Sensing the environment: a historical perspective on integrin signal transduction. Nat. Cell Biol. 4, E83–E90 (2002)

20

Arnaout, M. A., Mahalingam, B. & Xiong, J. P. Integrin structure, allostery, and bidirectional signaling. Annu. Rev. Cell Dev. Biol. 21, 381–410 (2005)

21

Jakus, Z., Fodor, S., Abram, C. L., Lowell, C. A. & Mócsai, A. Immunoreceptor-like signaling by β2 and β3 integrins. Trends Cell Biol. 17, 493–501 (2007)

22

Hamerman, J. A., Ni, M., Killebrew, J. R., Chu, C. L. & Lowell, C. A. The expanding roles of ITAM adapters FcRγ and DAP12 in myeloid cells. Immunol. Rev. 232, 42–58 (2009)

23

Chao, M. P. et al. Calreticulin is the dominant pro-phagocytic signal on multiple human cancers and is counterbalanced by CD47. Sci. Transl. Med. 2, 63ra94 (2010)

24

Veillette, A. & Guo, H. CS1, a SLAM family receptor involved in immune regulation, is a therapeutic target in multiple myeloma. Crit. Rev. Oncol. Hematol. 88, 168–177 (2013)

25

Guo, H., Cruz-Munoz, M. E., Wu, N., Robbins, M. & Veillette, A. Immune cell inhibition by SLAMF7 is mediated by a mechanism requiring Src kinases, CD45, and SHIP-1 that is defective in multiple myeloma cells. Mol. Cell. Biol. 35, 41–51 (2015)

26

Rawlings, D. J. et al. Mutation of unique region of Bruton's tyrosine kinase in immunodeficient XID mice. Science 261, 358–361 (1993)

27

Takai, T., Li, M., Sylvestre, D., Clynes, R. & Ravetch, J. V. FcR γ chain deletion results in pleiotrophic effector cell defects. Cell 76, 519–529 (1994)

28

Todd, R. F. III . The continuing saga of complement receptor type 3 (CR3). J. Clin. Invest. 98, 1–2 (1996)

29

Guo, H. et al. Deletion of Slam locus in mice reveals inhibitory role of SLAM family in NK cell responses regulated by cytokines and LFA-1. J. Exp. Med. 213, 2187–2207 (2016)

30

Wu, N. et al. A hematopoietic cell-driven mechanism involving SLAMF6 receptor, SAP adaptors and SHP-1 phosphatase regulates NK cell education. Nat. Immunol. 17, 387–396 (2016)

31

Dong, Z. et al. The adaptor SAP controls NK cell activation by regulating the enzymes Vav-1 and SHIP-1 and by enhancing conjugates with target cells. Immunity 36, 974–985 (2012)

32

Elliott, E. R. et al. Deletion of Syk in neutrophils prevents immune complex arthritis. J. Immunol. 187, 4319–4330 (2011)

33

Kaifu, T. et al. Osteopetrosis and thalamic hypomyelinosis with synaptic degeneration in DAP12-deficient mice. J. Clin. Invest. 111, 323–332 (2003)

34

Mócsai, A. et al. Integrin signaling in neutrophils and macrophages uses adaptors containing immunoreceptor tyrosine-based activation motifs. Nat. Immunol. 7, 1326–1333 (2006)

35

Rhee, I., Davidson, D., Souza, C. M., Vacher, J. & Veillette, A. Macrophage fusion is controlled by the cytoplasmic protein tyrosine phosphatase PTP-PEST/PTPN12. Mol. Cell. Biol. 33, 2458–2469 (2013)

36

Dong, Z. et al. Essential function for SAP family adaptors in the surveillance of hematopoietic cells by natural killer cells. Nat. Immunol. 10, 973–980 (2009)

37

Chow, L. M. et al. Two distinct protein isoforms are encoded by ntk, a csk-related tyrosine protein kinase gene. Oncogene 9, 3437–3448 (1994)

38

Abraham, N., Miceli, M. C., Parnes, J. R. & Veillette, A. Enhancement of T-cell responsiveness by the lymphocyte-specific tyrosine protein kinase p56lck. Nature 350, 62–66 (1991)

39

Bouchon, A., Cella, M., Grierson, H. L., Cohen, J. I. & Colonna, M. Activation of NK cell-mediated cytotoxicity by a SAP-independent receptor of the CD2 family. J. Immunol. 167, 5517–5521 (2001)

40

Latour, S., Chow, L. M. & Veillette, A. Differential intrinsic enzymatic activity of Syk and Zap-70 protein-tyrosine kinases. J. Biol. Chem. 271, 22782–22790 (1996)

41

Cruz-Munoz, M. E., Dong, Z., Shi, X., Zhang, S. & Veillette, A. Influence of CRACC, a SLAM family receptor coupled to the adaptor EAT-2, on natural killer cell function. Nat. Immunol. 10, 297–305 (2009)

42

Heit, B. et al. Multimolecular signaling complexes enable Syk-mediated signaling of CD36 internalization. Dev. Cell 24, 372–383 (2013)

43

Cloutier, P., Lavallée-Adam, M., Faubert, D., Blanchette, M. & Coulombe, B. Methylation of the DNA/RNA-binding protein Kin17 by METTL22 affects its association with chromatin. J. Proteomics 100, 115–124 (2014)

44

Veillette, A., Bookman, M. A., Horak, E. M. & Bolen, J. B. The CD4 and CD8 T cell surface antigens are associated with the internal membrane tyrosine-protein kinase p56lck. Cell 55, 301–308 (1988)

45

Kohlmann, A. et al. An international standardization programme towards the application of gene expression profiling in routine leukaemia diagnostics: the Microarray Innovations in LEukemia study prephase. Br. J. Haematol. 142, 802–807 (2008)

46

Bagger, F. O. et al. BloodSpot: a database of gene expression profiles and transcriptional programs for healthy and malignant haematopoiesis. Nucleic Acids Res. 44 (D1), D917–D924 (2016)

47

Chapman, M. A. et al. Initial genome sequencing and analysis of multiple myeloma. Nature 471, 467–472 (2011)
Acknowledgements
This work was supported by grants from the Canadian Institutes of Health Research (CIHR; MT-14429, MOP-82906, FDN-143338) and the Canadian Cancer Society Research Institute (CCSRI; grant 018114) to A.V., RO1AI65495, RO1AI68150 and RO1AI113272 from the National Institutes of Health to C.A.L., and the Natural Sciences and Engineering Research Council (NSERC 1050319) to J.S.D. J.C. is recipient of a Fellowship from the Cole Foundation, while S.M. is a fellowship recipient of the RDV Foundation and N.W. was recipient of a Fellowship from Fonds de la recherche du Québec – Santé (FRQ-S). D.C.V. is a Chercheur-clinicien boursier of FRQ-S. J.S.D. holds the Anne and Max Tanenbaum Chair in Molecular Medicine, University of Toronto. A.V. holds the Canada Research Chair in Signaling in the Immune System.
Ethics declarations
Competing interests
Part of A.V.'s work (distinct from the work reported herein) is supported by a grant from Bristol-Myers Squibb to study the mechanism of action of elotuzumab, which targets SLAMF7, in multiple myeloma. A.V. and J.C. have filed a patent on SLAMF7 in SIRPα–CD47 checkpoint blockade therapy. J.S.D. is an inventor on filed and awarded patents using SIRPα-protein therapeutics for treatment of haematological malignancy.
Additional information
Reviewer Information Nature thanks C. Miller and the other anonymous reviewer(s) for their contribution to the peer review of this work.
Publisher's note: Springer Nature remains neutral with regard to jurisdictional claims in published maps and institutional affiliations.
Extended data figures and tables
Supplementary information
About this article
Cite this article
Chen, J., Zhong, M., Guo, H. et al. SLAMF7 is critical for phagocytosis of haematopoietic tumour cells via Mac-1 integrin. Nature 544, 493–497 (2017). https://doi.org/10.1038/nature22076
Received:

Accepted:

Published:

Issue Date:
Comments
By submitting a comment you agree to abide by our Terms and Community Guidelines. If you find something abusive or that does not comply with our terms or guidelines please flag it as inappropriate.