Abstract
Although interactions between the thalamus and cortex are critical for cognitive function1,2,3, the exact contribution of the thalamus to these interactions remains unclear. Recent studies have shown diverse connectivity patterns across the thalamus4,5, but whether this diversity translates to thalamic functions beyond relaying information to or between cortical regions6 is unknown. Here we show, by investigating the representation of two rules used to guide attention in the mouse prefrontal cortex (PFC), that the mediodorsal thalamus sustains these representations without relaying categorical information. Specifically, mediodorsal input amplifies local PFC connectivity, enabling rule-specific neural sequences to emerge and thereby maintain rule representations. Consistent with this notion, broadly enhancing PFC excitability diminishes rule specificity and behavioural performance, whereas enhancing mediodorsal excitability improves both. Overall, our results define a previously unknown principle in neuroscience; thalamic control of functional cortical connectivity. This function, which is dissociable from categorical information relay, indicates that the thalamus has a much broader role in cognition than previously thought.
Relevant articles
Open Access articles citing this article.
Vinod Jangir Kumar

,

Christian F. Beckmann

…

Wolfgang Grodd

Communications Biology Open Access 04 November 2022

Sophia Vinogradov

,

Matthew V. Chafee

…

Hirofumi Morishita

Neuropsychopharmacology Open Access 30 September 2022

Weiguo Yang

,

Sri Laasya Tipparaju

…

Nuo Li

Nature Neuroscience Open Access 28 September 2022
Access options
Subscribe to Nature+
Get immediate online access to Nature and 55 other Nature journal
Subscribe to Journal
Get full journal access for 1 year
$199.00
only $3.90 per issue
All prices are NET prices.
VAT will be added later in the checkout.
Tax calculation will be finalised during checkout.
Buy article
Get time limited or full article access on ReadCube.
$32.00
All prices are NET prices.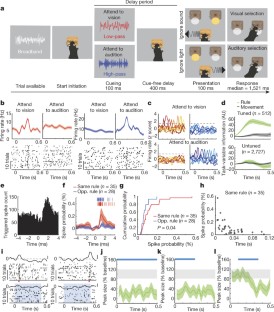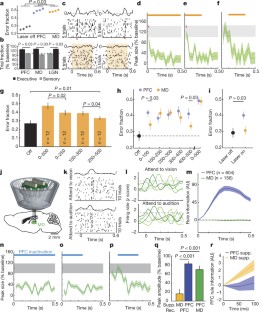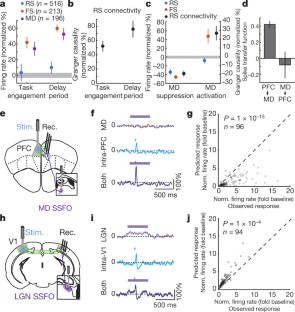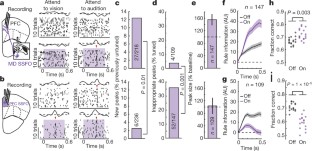 References
Ito, H. T., Zhang, S. J., Witter, M. P., Moser, E. I. & Moser, M. B. A prefrontal–thalamo–hippocampal circuit for goal-directed spatial navigation. Nature 522, 50–55 (2015)

Parnaudeau, S. et al. Inhibition of mediodorsal thalamus disrupts thalamofrontal connectivity and cognition. Neuron 77, 1151–1162 (2013)

Xu, W. & Südhof, T. C. A neural circuit for memory specificity and generalization. Science 339, 1290–1295 (2013)

Kuramoto, E. et al. Individual mediodorsal thalamic neurons project to multiple areas of the rat prefrontal cortex: a single neuron-tracing study using virus vectors. J. Comp. Neurol. 525, 166–185 (2016)

Rubio-Garrido, P., Pérez-de-Manzo, F., Porrero, C., Galazo, M. J. & Clascá, F. Thalamic input to distal apical dendrites in neocortical layer 1 is massive and highly convergent. Cereb. Cortex 19, 2380–2395 (2009)

Sherman, S. M. Thalamus plays a central role in ongoing cortical functioning. Nat. Neurosci. 19, 533–541 (2016)

Hoover, W. B. & Vertes, R. P. Anatomical analysis of afferent projections to the medial prefrontal cortex in the rat. Brain Struct. Funct. 212, 149–179 (2007)

Wimmer, R. D. et al. Thalamic control of sensory selection in divided attention. Nature 526, 705–709 (2015)

Lundqvist, M. et al. Gamma and beta bursts underlie working memory. Neuron 90, 152–164 (2016)

Mante, V., Sussillo, D., Shenoy, K. V. & Newsome, W. T. Context-dependent computation by recurrent dynamics in prefrontal cortex. Nature 503, 78–84 (2013)

Goldman, M. S. Memory without feedback in a neural network. Neuron 61, 621–634 (2009)

Harvey, C. D., Coen, P. & Tank, D. W. Choice-specific sequences in parietal cortex during a virtual-navigation decision task. Nature 484, 62–68 (2012)

Ikegaya, Y. et al. Synfire chains and cortical songs: temporal modules of cortical activity. Science 304, 559–564 (2004)

Long, M. A., Jin, D. Z. & Fee, M. S. Support for a synaptic chain model of neuronal sequence generation. Nature 468, 394–399 (2010)

Rajan, K., Harvey, C. D. & Tank, D. W. Recurrent network models of sequence generation and memory. Neuron 90, 128–142 (2016)

Barthó, P. et al. Characterization of neocortical principal cells and interneurons by network interactions and extracellular features. J. Neurophysiol. 92, 600–608 (2004)

Csicsvari, J., Hirase, H., Czurko, A. & Buzsáki, G. Reliability and state dependence of pyramidal cell–interneuron synapses in the hippocampus: an ensemble approach in the behaving rat. Neuron 21, 179–189 (1998)

Hatsopoulos, N. G., Ojakangas, C. L., Paninski, L. & Donoghue, J. P. Information about movement direction obtained from synchronous activity of motor cortical neurons. Proc. Natl Acad. Sci. USA 95, 15706–15711 (1998)

Young, E. D. & Sachs, M. B. Auditory nerve inputs to cochlear nucleus neurons studied with cross-correlation. Neuroscience 154, 127–138 (2008)

Cossell, L. et al. Functional organization of excitatory synaptic strength in primary visual cortex. Nature 518, 399–403 (2015)

Halassa, M. M . et al. State-dependent architecture of thalamic reticular subnetworks. Cell 158, 808–821 (2014)

Browning, P. G., Chakraborty, S. & Mitchell, A. S. Evidence for mediodorsal thalamus and prefrontal cortex interactions during cognition in macaques. Cereb. Cortex 25, 4519–4534 (2015)

Preuss, T. M. & Goldman-Rakic, P. S. Crossed corticothalamic and thalamocortical connections of macaque prefrontal cortex. J. Comp. Neurol. 257, 269–281 (1987)

Alcaraz, F., Marchand, A. R., Courtand, G., Coutureau, E. & Wolff, M. Parallel inputs from the mediodorsal thalamus to the prefrontal cortex in the rat. Eur. J. Neurosci. 44, 1972–1986 (2016)

Barnett, L. & Seth, A. K. The MVGC multivariate Granger causality toolbox: a new approach to Granger-causal inference. J. Neurosci. Methods 223, 50–68 (2014)

Kim, S., Putrino, D., Ghosh, S. & Brown, E. N. A Granger causality measure for point process models of ensemble neural spiking activity. PLOS Comput. Biol. 7, e1001110 (2011)

Yizhar, O. et al. Neocortical excitation/inhibition balance in information processing and social dysfunction. Nature 477, 171–178 (2011)

Crick, F. & Koch, C. Constraints on cortical and thalamic projections: the no-strong-loops hypothesis. Nature 391, 245–250 (1998)

Saalmann, Y. B., Pinsk, M. A., Wang, L., Li, X. & Kastner, S. The pulvinar regulates information transmission between cortical areas based on attention demands. Science 337, 753–756 (2012)

Zhou, H., Schafer, R. J. & Desimone, R. Pulvinar–cortex interactions in vision and attention. Neuron 89, 209–220 (2016)

Fries, P., Neuenschwander, S., Engel, A. K., Goebel, R. & Singer, W. Rapid feature selective neuronal synchronization through correlated latency shifting. Nat. Neurosci. 4, 194–200 (2001)

Szu˝cs, A. Applications of the spike density function in analysis of neuronal firing patterns. J. Neurosci. Methods 81, 159–167 (1998)

Wimmer, K., Nykamp, D. Q., Constantinidis, C. & Compte, A. Bump attractor dynamics in prefrontal cortex explains behavioral precision in spatial working memory. Nat. Neurosci. 17, 431–439 (2014)

Wu, W. & Srivastava, A. Towards statistical summaries of spike train data. J. Neurosci. Methods 195, 107–110 (2011)

Golomb, D. & Rinzel, J. Dynamics of globally coupled inhibitory neurons with heterogeneity. Phys. Rev. E Stat. Phys. Plasmas Fluids Relat. Interdiscip. Topics 48, 4810–4814 (1993)

Meyers, E. M. The neural decoding toolbox. Front. Neuroinform. 7, 8 (2013)

Zhang, Y. et al. Object decoding with attention in inferior temporal cortex. Proc. Natl Acad. Sci. USA 108, 8850–8855 (2011)

Duda, R. O ., Hart, P. E. & Stork, D. G. Pattern Classification Vol. 18 (Wiley, 2001)

Cadotte, A. J., DeMarse, T. B., He, P. & Ding, M. Causal measures of structure and plasticity in simulated and living neural networks. PLoS One 3, e3355 (2008)

Zagha, E., Ge, X. & McCormick, D. A. Competing neural ensembles in motor cortex gate goal-directed motor output. Neuron 88, 565–577 (2015)

Ding, M., Bressler, S. L., Yang, W. & Liang, H. Short-window spectral analysis of cortical event-related potentials by adaptive multivariate autoregressive modeling: data preprocessing, model validation, and variability assessment. Biol. Cybern. 83, 35–45 (2000)

Dejean, C. et al. Prefrontal neuronal assemblies temporally control fear behaviour. Nature 535, 420–424 (2016)

Gardner, R. J., Hughes, S. W. & Jones, M. W. Differential spike timing and phase dynamics of reticular thalamic and prefrontal cortical neuronal populations during sleep spindles. J. Neurosci. 33, 18469–18480 (2013)
Acknowledgements
We thank J. A. Movshon, D. J. Heeger, X.-J. Wang, M. A. Wilson, C. D. Brody and E. K. Miller for helpful discussions. L.I.S. is supported by a NARSAD Young Investigator award and R.D.W. by a fellowship from the Swiss National Science Foundation. M.N. is supported by a JSPS fellowship. M.M.H. is supported by grants from NIMH, NINDS, Brain and Behavior, Sloan and Klingenstein Foundations as well as the Human Frontiers Science Program.
Ethics declarations
Competing interests
The authors declare no competing financial interests.
Extended data figures and tables
Supplementary information
This file contains Supplementary Table 1, Supplementary Discussions 1-5, Supplementary Notes 1-2 and Supplementary References. (PDF 259 kb)
About this article
Cite this article
Schmitt, L., Wimmer, R., Nakajima, M. et al. Thalamic amplification of cortical connectivity sustains attentional control. Nature 545, 219–223 (2017). https://doi.org/10.1038/nature22073
Received:

Accepted:

Published:

Issue Date:

DOI: https://doi.org/10.1038/nature22073
Comments
By submitting a comment you agree to abide by our Terms and Community Guidelines. If you find something abusive or that does not comply with our terms or guidelines please flag it as inappropriate.