Abstract
The selective coupling of G-protein-coupled receptors (GPCRs) to specific G proteins is critical to trigger the appropriate physiological response. However, the determinants of selective binding have remained elusive. Here we reveal the existence of a selectivity barcode (that is, patterns of amino acids) on each of the 16 human G proteins that is recognized by distinct regions on the approximately 800 human receptors. Although universally conserved positions in the barcode allow the receptors to bind and activate G proteins in a similar manner, different receptors recognize the unique positions of the G-protein barcode through distinct residues, like multiple keys (receptors) opening the same lock (G protein) using non-identical cuts. Considering the evolutionary history of GPCRs allows the identification of these selectivity-determining residues. These findings lay the foundation for understanding the molecular basis of coupling selectivity within individual receptors and G proteins.
Relevant articles
Open Access articles citing this article.
Wen-jing Yun

,

Jun Li

…

Hua-chuan Zheng

Journal of Cancer Research and Clinical Oncology Open Access 16 August 2023

Marin Matic

,

Pasquale Miglionico

…

Francesco Raimondi

Nature Communications Open Access 19 July 2023

Jianming Han

,

Jingying Zhang

…

Tao Che

Nature Open Access 03 May 2023
Access options
Access Nature and 54 other Nature Portfolio journals
Get Nature+, our best-value online-access subscription
$29.99 / 30 days
cancel any time
Subscribe to this journal
Receive 51 print issues and online access
$199.00 per year
only $3.90 per issue
Rent or buy this article
Prices vary by article type
from$1.95
to$39.95
Prices may be subject to local taxes which are calculated during checkout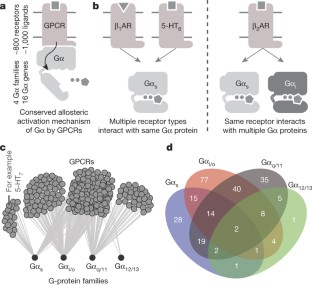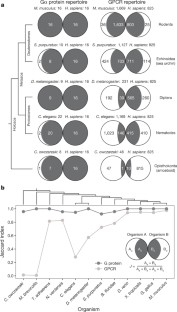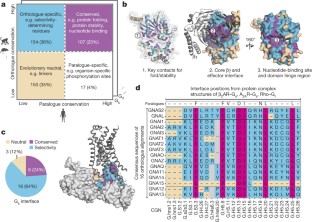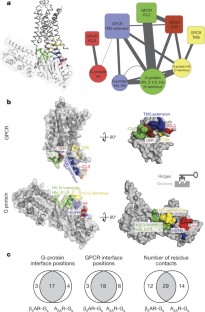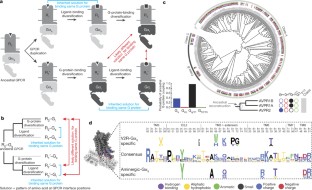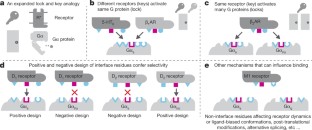 References
Bjarnadóttir, T. K. et al. Comprehensive repertoire and phylogenetic analysis of the G protein-coupled receptors in human and mouse. Genomics 88, 263–273 (2006)

Anantharaman, V., Abhiman, S., de Souza, R. F. & Aravind, L. Comparative genomics uncovers novel structural and functional features of the heterotrimeric GTPase signaling system. Gene 475, 63–78 (2011)

Southan, C. et al. The IUPHAR/BPS Guide to PHARMACOLOGY in 2016: towards curated quantitative interactions between 1300 protein targets and 6000 ligands. Nucleic Acids Res. 44 (D1), D1054–D1068 (2016)

Isberg, V. et al. Generic GPCR residue numbers—aligning topology maps while minding the gaps. Trends Pharmacol. Sci. 36, 22–31 (2015)

Neves, S. R., Ram, P. T. & Iyengar, R. G protein pathways. Science 296, 1636–1639 (2002)

Marinissen, M. J. & Gutkind, J. S. G-protein-coupled receptors and signaling networks: emerging paradigms. Trends Pharmacol. Sci. 22, 368–376 (2001)

Oldham, W. M. & Hamm, H. E. Heterotrimeric G protein activation by G-protein-coupled receptors. Nature Rev. Mol. Cell Biol. 9, 60–71 (2008)

Frielle, T. et al. Cloning of the cDNA for the human β1-adrenergic receptor. Proc. Natl Acad. Sci. USA 84, 7920–7924 (1987)

Ruat, M. et al. A novel rat serotonin (5-HT6) receptor: molecular cloning, localization and stimulation of cAMP accumulation. Biochem. Biophys. Res. Commun. 193, 268–276 (1993)

Li, F., De Godoy, M. & Rattan, S. Role of adenylate and guanylate cyclases in β1-, β2-, and β3-adrenoceptor-mediated relaxation of internal anal sphincter smooth muscle. J. Pharmacol. Exp. Ther. 308, 1111–1120 (2004)

Wess, J. Molecular basis of receptor/G-protein-coupling selectivity. Pharmacol. Ther. 80, 231–264 (1998)

Horn, F., van der Wenden, E. M., Oliveira, L., IJzerman, A. P. & Vriend, G. Receptors coupling to G proteins: is there a signal behind the sequence? Proteins 41, 448–459 (2000)

Wong, S. K. G protein selectivity is regulated by multiple intracellular regions of GPCRs. Neurosignals 12, 1–12 (2003)

Kruse, A. C. et al. Structure and dynamics of the M3 muscarinic acetylcholine receptor. Nature 482, 552–556 (2012)

Rasmussen, S. G. et al. Crystal structure of the β2 adrenergic receptor–Gs protein complex. Nature 477, 549–555 (2011)

Carpenter, B., Nehmé, R., Warne, T., Leslie, A. G. & Tate, C. G. Structure of the adenosine A2A receptor bound to an engineered G protein. Nature 536, 104–107 (2016)

Masuho I. et al. Distinct profiles of functional discrimination among G proteins determine the actions of G protein-coupled receptors. Sci. Signal. 8, ra123 (2015)

Krishnan, A. et al. Evolutionary hierarchy of vertebrate-like heterotrimeric G protein families. Mol. Phylogenet. Evol. 91, 27–40 (2015)

de Mendoza, A., Sebé-Pedrós, A. & Ruiz-Trillo, I. The evolution of the GPCR signaling system in eukaryotes: modularity, conservation, and the transition to metazoan multicellularity. Genome Biol. Evol. 6, 606–619 (2014)

Krishnan, A., Almén, M. S., Fredriksson, R. & Schiöth, H. B. The origin of GPCRs: identification of mammalian like Rhodopsin, Adhesion, Glutamate and Frizzled GPCRs in fungi. PLoS ONE 7, e29817 (2012)

Mirny, L. A. & Gelfand, M. S. Using orthologous and paralogous proteins to identify specificity determining residues. Genome Biol. 3, http://dx.doi.org/10.1186/gb-2002-3-3-preprint0002 (2002)

Flock, T. et al. Universal allosteric mechanism for Gα activation by GPCRs. Nature 524, 173–179 (2015)

Sun, D. et al. Probing Gαi1 protein activation at single-amino acid resolution. Nature Struct. Mol. Biol. 22, 686–694 (2015)

Conklin, B. R., Farfel, Z., Lustig, K. D., Julius, D. & Bourne, H. R. Substitution of three amino acids switches receptor specificity of Gqα to that of Giα. Nature 363, 274–276 (1993)

Komatsuzaki, K. et al. A novel system that reports the G-proteins linked to a given receptor: a study of type 3 somatostatin receptor. FEBS Lett. 406, 165–170 (1997)

Sasamura, H. et al. Analysis of Gα protein recognition profiles of angiotensin II receptors using chimeric Gα proteins. Mol. Cell. Endocrinol. 170, 113–121 (2000)

Janin, J. & Chothia, C. The structure of protein-protein recognition sites. J. Biol. Chem. 265, 16027–16030 (1990)

Venkatakrishnan, A. J. et al. Molecular signatures of G-protein-coupled receptors. Nature 494, 185–194 (2013)

Reichmann, D. et al. The modular architecture of protein-protein binding interfaces. Proc. Natl Acad. Sci. USA 102, 57–62 (2005)

Kleinau, G. et al. Principles and determinants of G-protein coupling by the rhodopsin-like thyrotropin receptor. PLoS ONE 5, e9745 (2010)

Isberg, V. et al. GPCRdb: an information system for G protein-coupled receptors. Nucleic Acids Res. 44 (D1), D356–D364 (2016)

Furness, S. G. et al. Ligand-dependent modulation of G protein conformation alters drug efficacy. Cell 167, 739–749 (2016)

Rose, A. S. et al. Position of transmembrane helix 6 determines receptor G protein coupling specificity. J. Am. Chem. Soc. 136, 11244–11247 (2014)

Wichard, J. D. et al. Chemogenomic analysis of G-protein coupled receptors and their ligands deciphers locks and keys governing diverse aspects of signalling. PLoS ONE 6, e16811 (2011)

Pawson, A. J. et al. The IUPHAR/BPS Guide to PHARMACOLOGY: an expert-driven knowledgebase of drug targets and their ligands. Nucleic Acids Res. 42, D1098–D1106 (2014)

Finn, R. D. et al. The Pfam protein families database: towards a more sustainable future. Nucleic Acids Res. 44 (D1), D279–D285 (2016)

UniProt Consortium. UniProt: a hub for protein information. Nucleic Acids Res. 43, D204–D212 (2015)

Wuster, A., Venkatakrishnan, A. J., Schertler, G. F. & Babu, M. M. Spial: analysis of subtype-specific features in multiple sequence alignments of proteins. Bioinformatics 26, 2906–2907 (2010)

Fredriksson, R. & Schiöth, H. B. The repertoire of G-protein-coupled receptors in fully sequenced genomes. Mol. Pharmacol. 67, 1414–1425 (2005)

Altenhoff, A. M., Schneider, A., Gonnet, G. H. & Dessimoz, C. OMA 2011: orthology inference among 1000 complete genomes. Nucleic Acids Res. 39, D289–D294 (2011)

Vilella, A. J. et al. EnsemblCompara GeneTrees: Complete, duplication-aware phylogenetic trees in vertebrates. Genome Res. 19, 327–335 (2009)

Finn, R. D. et al. HMMER web server: 2015 update. Nucleic Acids Res. 43 (W1), W30–W38 (2015)

Putnam, N. H. et al. Sea anemone genome reveals ancestral eumetazoan gene repertoire and genomic organization. Science 317, 86–94 (2007)

Srivastava, M. et al. The Trichoplax genome and the nature of placozoans. Nature 454, 955–960 (2008)

Paradis, E ., Claude, J . & Strimmer, K. APE: Analyses of Phylogenetics and Evolution in R language. Bioinformatics 20, 289–290 (2004)

Ruan, J. et al. TreeFam: 2008 Update. Nucleic Acids Res. 36, D735–D740 (2008)

Pei, J., Sadreyev, R. & Grishin, N. V. PCMA: fast and accurate multiple sequence alignment based on profile consistency. Bioinformatics 19, 427–428 (2003)

Krissinel, E. & Henrick, K. Inference of macromolecular assemblies from crystalline state. J. Mol. Biol. 372, 774–797 (2007)

Rost, B. & Sander, C. Conservation and prediction of solvent accessibility in protein families. Proteins 20, 216–226 (1994)

Shannon, P. et al. Cytoscape: a software environment for integrated models of biomolecular interaction networks. Genome Res. 13, 2498–2504 (2003)

Shannon, P. T., Grimes, M., Kutlu, B., Bot, J. J. & Galas, D. J. RCytoscape: tools for exploratory network analysis. BMC Bioinformatics 14, 217 (2013)

Su, G ., Kuchinsky, A ., Morris, J. H ., States, D. J . & Meng, F. GLay: community structure analysis of biological networks. Bioinformatics 26, 3135–3137 (2010)

Morris, J. H. et al. clusterMaker: a multi-algorithm clustering plugin for Cytoscape. BMC Bioinformatics 12, 436 (2011)

Doncheva, N. T., Assenov, Y., Domingues, F. S. & Albrecht, M. Topological analysis and interactive visualization of biological networks and protein structures. Nature Protocols 7, 670–685 (2012)

Liu, Y., Schmidt, B. & Maskell, D. L. MSAProbs: multiple sequence alignment based on pair hidden Markov models and partition function posterior probabilities. Bioinformatics 26, 1958–1964 (2010)

Konagurthu, A. S ., Whisstock, J. C ., Stuckey, P. J . & Lesk, A. M. MUSTANG: a multiple structural alignment algorithm. Proteins 64, 559–574 (2006)

Price, M. N., Dehal, P. S. & Arkin, A. P. FastTree 2 – approximately maximum-likelihood trees for large alignments. PLoS ONE 5, e9490 (2010)

Kumar, S., Stecher, G. & Tamura, K. MEGA7: Molecular Evolutionary Genetics Analysis version 7.0 for bigger datasets. Mol. Biol. Evol. 33, 1870–1874 (2016)

Crooks, G. E., Hon, G., Chandonia, J. M. & Brenner, S. E. WebLogo: a sequence logo generator. Genome Res. 14, 1188–1190 (2004)

Letunic, I. & Bork, P. Interactive tree of life (iTOL) v3: an online tool for the display and annotation of phylogenetic and other trees. Nucleic Acids Res. 44 (W1), W242–W245 (2016)

Grant, B. J., Rodrigues, A. P., ElSawy, K. M., McCammon, J. A. & Caves, L. S. Bio3d: an R package for the comparative analysis of protein structures. Bioinformatics 22, 2695–2696 (2006)
Acknowledgements
We thank U. F. Lang, D. Veprintsev, C. Ravarani, H. Harbrecht, G. De Baets, D. Prado, X. Deupi, C. G. Tate and N. S. Latysheva for their comments on this work, and J. Westmoreland for assistance with Fig. 6. We thank S. Chavali and B. Lang for help with compiling mutation and expression data. We thank M. Mounir and C. Munk for help with the GPCRdb web service. This work was supported by the Medical Research Council (MC_U105185859; M.M.B., T.F., S.B.), the Boehringer Ingelheim Fond (T.F.), European Research Council (DE-ORPHAN 639125; D.E.G., A.S.H., N.L.) and the Lundbeck Foundation (R163-2013-16327; D.E.G.). T.F. is a Research Fellow of Fitzwilliam College, University of Cambridge, UK. M.M.B. is a Lister Institute Research Prize Fellow and is supported by a European Research Council Consolidator Grant.
Ethics declarations
Competing interests
The authors declare no competing financial interests.
Additional information
Reviewer Information Nature thanks M. Lassig, A. B. Tobin and the other anonymous reviewer(s) for their contribution to the peer review of this work.
Publisher's note: Springer Nature remains neutral with regard to jurisdictional claims in published maps and institutional affiliations.
Extended data figures and tables
Supplementary information
This zipped file contains Supplementary Table 1, Supplementary Data files 1-2, Supplementary Figure 1 and 2 additional Supplementary Data files – see the Supplementary Guide file within the zipped folder for more details. (ZIP 1207 kb)
About this article
Cite this article
Flock, T., Hauser, A., Lund, N. et al. Selectivity determinants of GPCR–G-protein binding. Nature 545, 317–322 (2017). https://doi.org/10.1038/nature22070
Received:

Accepted:

Published:

Issue Date:

DOI: https://doi.org/10.1038/nature22070
Comments
By submitting a comment you agree to abide by our Terms and Community Guidelines. If you find something abusive or that does not comply with our terms or guidelines please flag it as inappropriate.