Abstract
The ability to visualize directly a large number of distinct molecular species inside cells is increasingly essential for understanding complex systems and processes. Even though existing methods have successfully been used to explore structure–function relationships in nervous systems, to profile RNA in situ, to reveal the heterogeneity of tumour microenvironments and to study dynamic macromolecular assembly1,2,3,4, it remains challenging to image many species with high selectivity and sensitivity under biological conditions. For instance, fluorescence microscopy faces a 'colour barrier', owing to the intrinsically broad (about 1,500 inverse centimetres) and featureless nature of fluorescence spectra5 that limits the number of resolvable colours to two to five (or seven to nine if using complicated instrumentation and analysis)6,7,8. Spontaneous Raman microscopy probes vibrational transitions with much narrower resonances (peak width of about 10 inverse centimetres) and so does not suffer from this problem, but weak signals make many bio-imaging applications impossible. Although surface-enhanced Raman scattering offers high sensitivity and multiplicity, it cannot be readily used to image specific molecular targets quantitatively inside live cells9. Here we use stimulated Raman scattering under electronic pre-resonance conditions to image target molecules inside living cells with very high vibrational selectivity and sensitivity (down to 250 nanomolar with a time constant of 1 millisecond). We create a palette of triple-bond-conjugated near-infrared dyes that each displays a single peak in the cell-silent Raman spectral window; when combined with available fluorescent probes, this palette provides 24 resolvable colours, with the potential for further expansion. Proof-of-principle experiments on neuronal co-cultures and brain tissues reveal cell-type-dependent heterogeneities in DNA and protein metabolism under physiological and pathological conditions, underscoring the potential of this 24-colour (super-multiplex) optical imaging approach for elucidating intricate interactions in complex biological systems.
Access options
Subscribe to Journal
Get full journal access for 1 year
$199.00
only $3.90 per issue
All prices are NET prices.
VAT will be added later in the checkout.
Tax calculation will be finalised during checkout.
Rent or Buy article
Get time limited or full article access on ReadCube.
from$8.99
All prices are NET prices.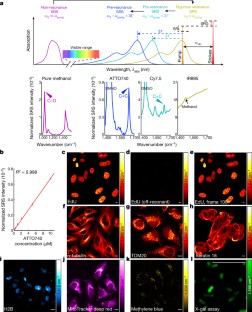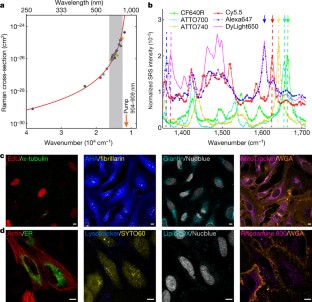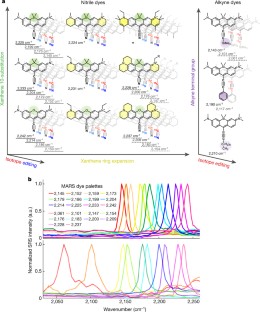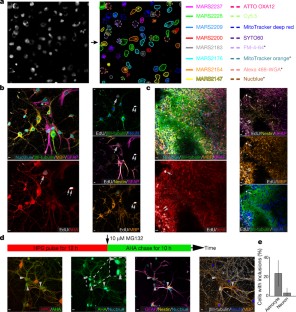 References
1

Lichtman, J. W. & Denk, W. The big and the small: challenges of imaging the brain's circuits. Science 334, 618–623 (2011)

2

Chen, K. H ., Boettiger, A. N ., Moffitt, J. R ., Wang, S . & Zhuang, X. RNA imaging. Spatially resolved, highly multiplexed RNA profiling in single cells. Science 348, aaa6090 (2015)

3

Giesen, C. et al. Highly multiplexed imaging of tumour tissues with subcellular resolution by mass cytometry. Nat. Methods 11, 417–422 (2014)

4

Shroff, H. et al. Dual-color superresolution imaging of genetically expressed probes within individual adhesion complexes. Proc. Natl Acad. Sci. USA 104, 20308–20313 (2007)

5

Lakowicz, J. R. Principles of Fluorescence Spectroscopy 3rd edn (Springer, 2011)

6

Dean, K. M. & Palmer, A. E. Advances in fluorescence labelling strategies for dynamic cellular imaging. Nat. Chem. Biol. 10, 512–523 (2014)

7

Tsurui, H. et al. Seven-color fluorescence imaging of tissue samples based on Fourier spectroscopy and singular value decomposition. J. Histochem. Cytochem. 48, 653–662 (2000)

8

Niehörster, T. et al. Multi-target spectrally resolved fluorescence lifetime imaging microscopy. Nat. Methods 13, 257–262 (2016)

9

Lane, L. A., Qian, X. & Nie, S. SERS nanoparticles in medicine: from label-free detection to spectroscopic tagging. Chem. Rev. 115, 10489–10529 (2015)

10

Min, W., Freudiger, C. W., Lu, S. & Xie, X. S. Coherent nonlinear optical imaging: beyond fluorescence microscopy. Annu. Rev. Phys. Chem. 62, 507–530 (2011)

11

Cheng, J.-X. & Xie, X. S. Vibrational spectroscopic imaging of living systems: an emerging platform for biology and medicine. Science 350, aaa8870 (2015)

12

Wei, L. et al. Live-cell imaging of alkyne-tagged small biomolecules by stimulated Raman scattering. Nat. Methods 11, 410–412 (2014)

13

Hong, S. et al. Live-cell stimulated Raman scattering imaging of alkyne-tagged biomolecules. Angew. Chem. Int. Ed. 53, 5827–5831 (2014)

14

Yamakoshi, H. et al. Imaging of EdU, an alkyne-tagged cell proliferation probe, by Raman microscopy. J. Am. Chem. Soc. 133, 6102–6105 (2011)

15

Weeks, T., Wachsmann-Hogiu, S. & Huser, T. Raman microscopy based on doubly-resonant four-wave mixing (DR-FWM). Opt. Express 17, 17044–17051 (2009)

16

Asher, S. A. UV resonance Raman studies of molecular structure and dynamics: applications in physical and biophysical chemistry. Annu. Rev. Phys. Chem. 39, 537–588 (1988)

17

McCamant, D. W., Kukura, P. & Mathies, R. A. Femtosecond broadband stimulated Raman: a new approach for high-performance vibrational spectroscopy. Appl. Spectrosc. 57, 1317–1323 (2003)

18

Le Ru, E. C. & Etchegoin, P. G. Single-molecule surface-enhanced Raman spectroscopy. Annu. Rev. Phys. Chem. 63, 65–87 (2012)

19

Albrecht, A. C. & Hutley, M. C. On the dependence of vibrational Raman intensity on the wavelength of incident light. J. Chem. Phys. 55, 4438–4443 (1971)

20

Yamakoshi, H. et al. Alkyne-tag Raman imaging for visualization of mobile small molecules in live cells. J. Am. Chem. Soc. 134, 20681–20689 (2012)

21

Shi, J., Zhang, X.-P. & Neckers, D. C. Xanthenes: flourone derivatives II. Tetrahedron Lett. 34, 6013–6016 (1993)

22

Pastierik, T., Šebej, P., Medalová, J., Štacko, P. & Klán, P. Near-infrared fluorescent 9-phenylethynylpyronin analogues for bioimaging. J. Org. Chem. 79, 3374–3382 (2014)

23

Koide, Y. et al. Development of NIR fluorescent dyes based on Si-rhodamine for in vivo imaging. J. Am. Chem. Soc. 134, 5029–5031 (2012)

24

Chen, Z. et al. Multicolor live-cell chemical imaging by isotopically edited alkyne vibrational palette. J. Am. Chem. Soc. 136, 8027–8033 (2014)

25

Kaushik, S. & Cuervo, A. M. Proteostasis and aging. Nat. Med. 21, 1406–1415 (2015)

26

Jänen, S. B., Chaachouay, H. & Richter-Landsberg, C. Autophagy is activated by proteasomal inhibition and involved in aggresome clearance in cultured astrocytes. Glia 58, 1766–1774 (2010)

27

Goldberg, A. L. Protein degradation and protection against misfolded or damaged proteins. Nature 426, 895–899 (2003)

28

Chen, B., Retzlaff, M., Roos, T. & Frydman, J. Cellular strategies of protein quality control. Cold Spring Harb. Perspect. Biol . 3, a004374 (2011)

29

Shu, X. et al. Mammalian expression of infrared fluorescent proteins engineered from a bacterial phytochrome. Science 324, 804–807 (2009)

30

Liao, C.-S. et al. Spectrometer-free vibrational imaging by retrieving stimulated Raman signal from highly scattered photons. Sci. Adv . 1, e1500738 (2015)

31

Nima, Z. A. et al. Circulating tumor cell identification by functionalized silver-gold nanorods with multicolor, super-enhanced SERS and photothermal resonances. Sci. Rep. 9, 4752 (2014)

32

Silva, W. R., Keller, E. L. & Frontiera, R. R. Determination of resonance Raman cross-sections for use in biological SERS sensing with femtosecond stimulated Raman spectroscopy. Anal. Chem. 86, 7782–7787 (2014)
Acknowledgements
We thank L. Brus and A. McDermott for discussions, M. Jimenez and C. Dupre for suggestions, and L. Shi for technical assistance. W.M. acknowledges support from an NIH Director's New Innovator Award (1DP2EB016573), R01 (EB020892), the US Army Research Office (W911NF-12-1-0594), the Alfred P. Sloan Foundation and the Camille and Henry Dreyfus Foundation. R.Y. is supported by the NEI (EY024503, EY011787) and NIMH (MH101218, MH100561).
Ethics declarations
Competing interests
Columbia University has filed a patent application based on this work.
Additional information
Reviewer Information Nature thanks C. H. Camp Jr and T. Huser for their contribution to the peer review of this work.
Publisher's note: Springer Nature remains neutral with regard to jurisdictional claims in published maps and institutional affiliations.
Extended data figures and tables
A narrow-band pump laser (5–6 ps pulse width) and an intensity-modulated Stokes laser (fixed at 1,064 nm, 6-ps pulse width) are temporally and spatially synchronized before collinearly focused onto cell samples. When the energy difference between the pump photons and the Stokes photons matches the vibrational frequency (ωvib) of the targeted chemical bonds, the chemical bonds are efficiently excited to the vibrational excited state. For each transition, a photon in the pump beam is annihilated (stimulated Raman loss) and a photon in the Stokes beam is created (stimulated Raman gain). A lock-in detection scheme is used to sensitively measure the intensity loss of the pump beam (that is, stimulated Raman loss).
a, Corresponding fluorescence image of ATTO740-labelled 5-ethynyl-2′-deoxyuridine (EdU) for newly synthesized DNA in the same cells as in Fig. 1c. b, Representative epr-SRS images of ATTO740-labelled EdU through continuous 100-frame imaging; frame numbers are indicated (left). Signal intensity curves are shown for imaging through 100 frames (right; data). The average photobleaching constant is determined to be 0.0003 (solid line). c, epr-SRS imaging of ATTO740 immuno-labelled fibrillarin (nucleolar marker) and giantin (Golgi membrane marker) in HeLa cells, α-tubulin and neurofilament (heavy, neuronal marker) in hippocampal neurons, and ATTO740-conjugated wheat-germ agglutinin (WGA), binded to membrane glycoproteins in live HeLa cells. d, epr-SRS imaging of ATTO740 immuno-labelled circulating tumour-cell markers31: epithelial cell adhesion molecule (EpCAM), insulin-like growth factor 1 (IGF1) and CD44. Scale bars, 10 μm.
a, On-resonance epr-SRS imaging of Alexa647-labelled EdU in HeLa cells at 1,606 cm−1 (λpump = 909 nm). b, Off-resonance image at 1,580 cm−1 (λpump = 911 nm) of the HeLa cells in a. c, d, Two-photon fluorescence images of the HeLa cells in a at 810 nm (c) and 812 nm (d) around the two-photon excitation peak of Alexa647. e, Absorption (solid) and emission (dashed) spectra for CF640R (green), Alexa647 (blue), DyLight650 (magenta), Cy5.5 (red), ATTO700 (cyan) and ATTO740 (yellow). Scale bars, 10 μm.
Original images in Fig. 2c. Scale bars, 10 μm.
a, Control fluorescence images for live/dead cell-viability assay for live HeLa cells (calcein-AM, green, as live cell indicator) and fixed cells (EthD-1, red, as dead cell indicator). b, Live/dead cell-viability assay with 4 μM and 80 μM MARS2228-stained live cells did not reveal substantial chemical toxicity or cell death. 4 μM concentration is the same as used for live-cell stains in Fig. 4a; 80 μM with 20× concentration mimics the 20-colour staining conditions. This test would lead to the same results for MARS2200, MARS2176 and MARS2147, owing to the minimum chemical structural changes introduced by isotopic editing. c, Similar live/dead cell-viability assay with 1× and 20× concentration stain by MARS2237. This test would lead to the same results for MARS2209, MARS2183 and MARS2154. d, 12 continuous frames of SRS imaging targeting the vibrational peak of CH3 (2,940 cm−1) with the same laser power and dwell time as used for multiplex live-cell imaging. e, Fluorescence image of the set of pre-imaged cells in d. Live/dead cell-viability assay did not show observable cell death or any cell-viability loss when compared to the surrounding cells without pre-exposure to the SRS laser. Scale bars, 10 μm.
a–d, The photo-bleaching percentage after 100 frames of SRS scans ranges from 4% to below 13%. Scale bars, 10 μm.
a, Three-channel epr-SRS images at 2,159 cm−1, 2,152 cm−1 and 2,145 cm−1 for 100 μM MARS2145, 1,000 μM MARS2152 and 300 μM MARS2159 before unmixing. b, Images after linear unmixing, with average readings of 94 μM, 1,097 μM and 315 μM for MARS2145, MARS2152 and MARS2159, respectively. c, Raw epr-SRS images for a 3-colour cell mix after each was stained with 1 μM MARS2237, 4 μM MARS2228 and 1 μM MARS2209 separately before linear unmixing. d, Images and their composite after linear unmixing.
a, b, Non-overlaid images of hippocampal neuronal cultures treated with MG132 as in Fig. 4d (a) and a control set without MG132 treatment (b). Scale bars, 10 μm.
Supplementary information
This file contains Supplementary Text and Data and additional references. (PDF 711 kb)
About this article
Cite this article
Wei, L., Chen, Z., Shi, L. et al. Super-multiplex vibrational imaging. Nature 544, 465–470 (2017). https://doi.org/10.1038/nature22051
Received:

Accepted:

Published:

Issue Date:
Comments
By submitting a comment you agree to abide by our Terms and Community Guidelines. If you find something abusive or that does not comply with our terms or guidelines please flag it as inappropriate.