Abstract
During epithelial cytokinesis, the remodelling of adhesive cell–cell contacts between the dividing cell and its neighbours has profound implications for the integrity, arrangement and morphogenesis of proliferative tissues1,2,3,4,5,6,7. In both vertebrates and invertebrates, this remodelling requires the activity of non-muscle myosin II (MyoII) in the interphasic cells neighbouring the dividing cell1,3,5. However, the mechanisms that coordinate cytokinesis and MyoII activity in the neighbours are unknown. Here we show that in the Drosophila notum epithelium, each cell division is associated with a mechanosensing and transmission event that controls MyoII dynamics in neighbouring cells. We find that the ring pulling forces promote local junction elongation, which results in local E-cadherin dilution at the ingressing adherens junction. In turn, the reduction in E-cadherin concentration and the contractility of the neighbouring cells promote self-organized actomyosin flows, ultimately leading to accumulation of MyoII at the base of the ingressing junction. Although force transduction has been extensively studied in the context of adherens junction reinforcement to stabilize adhesive cell–cell contacts8, we propose an alternative mechanosensing mechanism that coordinates actomyosin dynamics between epithelial cells and sustains the remodelling of the adherens junction in response to mechanical forces.
Access options
Subscribe to Journal
Get full journal access for 1 year
$199.00
only $3.83 per issue
All prices are NET prices.
VAT will be added later in the checkout.
Rent or Buy article
Get time limited or full article access on ReadCube.
from$8.99
All prices are NET prices.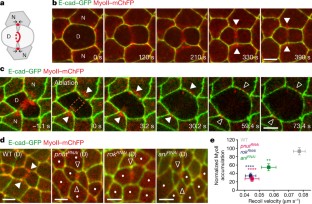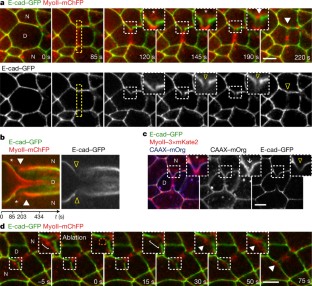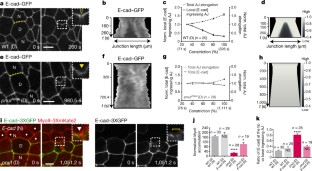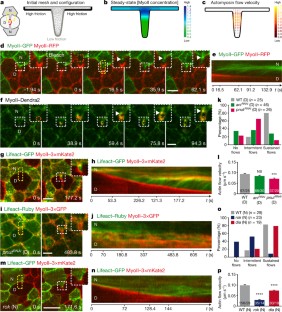 References
1

Herszterg, S., Leibfried, A., Bosveld, F., Martin, C. & Bellaiche, Y. Interplay between the dividing cell and its neighbors regulates adherens junction formation during cytokinesis in epithelial tissue. Dev. Cell 24, 256–270 (2013)

2

Guillot, C. & Lecuit, T. Adhesion disengagement uncouples intrinsic and extrinsic forces to drive cytokinesis in epithelial tissues. Dev. Cell 24, 227–241 (2013)

3

Founounou, N., Loyer, N. & Le Borgne, R. Septins regulate the contractility of the actomyosin ring to enable adherens junction remodeling during cytokinesis of epithelial cells. Dev. Cell 24, 242–255 (2013)

4

Lau, K. et al. Anisotropic stress orients remodelling of mammalian limb bud ectoderm. Nat. Cell Biol. 17, 569–579 (2015)

5

Firmino, J., Rocancourt, D., Saadaoui, M., Moreau, C. & Gros, J. Cell division drives epithelial cell rearrangements during gastrulation in chick. Dev. Cell 36, 249–261 (2016)

6

Morais-de-Sá, E. & Sunkel, C. Adherens junctions determine the apical position of the midbody during follicular epithelial cell division. EMBO Rep. 14, 696–703 (2013)

7

Higashi, T., Arnold, T. R., Stephenson, R. E., Dinshaw, K. M. & Miller, A. L. Maintenance of the epithelial barrier and remodeling of cell-cell junctions during cytokinesis. Curr. Biol. 26, 1829–1842 (2016)

8

Hoffman, B. D. & Yap, A. S. Towards a dynamic understanding of cadherin-based mechanobiology. Trends Cell Biol. 25, 803–814 (2015)

9

Green, R. A., Paluch, E. & Oegema, K. Cytokinesis in animal cells. Annu. Rev. Cell Dev. Biol. 28, 29–58 (2012)

10

Kruse, K., Joanny, J.-F., Jülicher, F., Prost, J. & Sekimoto, K. Generic theory of active polar gels: a paradigm for cytoskeletal dynamics. Eur. Phys. J. E 16, 5–16 (2005)

11

Mayer, M., Depken, M., Bois, J. S., Jülicher, F. & Grill, S. W. Anisotropies in cortical tension reveal the physical basis of polarizing cortical flows. Nature 467, 617–621 (2010)

12

Bergert, M. et al. Force transmission during adhesion-independent migration. Nat. Cell Biol. 17, 524–529 (2015)

13

Ruprecht, V. et al. Cortical contractility triggers a stochastic switch to fast amoeboid cell motility. Cell 160, 673–685 (2015)

14

Recho, P., Putelat, T. & Truskinovsky, L. Contraction-driven cell motility. Phys. Rev. Lett. 111, 108102 (2013)

15

Desai, R. et al. Monomeric α-catenin links cadherin to the actin cytoskeleton. Nat. Cell Biol. 15, 261–273 (2013)

16

Buckley, C. D. et al. Cell adhesion. The minimal cadherin-catenin complex binds to actin filaments under force. Science 346, 1254211 (2014)

17

Levayer, R. & Lecuit, T. Oscillation and polarity of E-cadherin asymmetries control actomyosin flow patterns during morphogenesis. Dev. Cell 26, 162–175 (2013)

18

Yao, M. et al. Force-dependent conformational switch of α-catenin controls vinculin binding. Nat. Commun. 5, 4525 (2014)

19

le Duc, Q. et al. Vinculin potentiates E-cadherin mechanosensing and is recruited to actin-anchored sites within adherens junctions in a myosin II-dependent manner. J. Cell Biol. 189, 1107–1115 (2010)

20

Yonemura, S., Wada, Y., Watanabe, T., Nagafuchi, A. & Shibata, M. alpha-Catenin as a tension transducer that induces adherens junction development. Nat. Cell Biol. 12, 533–542 (2010)

21

Engl, W., Arasi, B., Yap, L. L., Thiery, J. P. & Viasnoff, V. Actin dynamics modulate mechanosensitive immobilization of E-cadherin at adherens junctions. Nat. Cell Biol. 16, 587–594 (2014)

22

Leerberg, J. M. et al. Tension-sensitive actin assembly supports contractility at the epithelial zonula adherens. Curr. Biol. 24, 1689–1699 (2014)

23

Martin, A. C ., Kaschube, M. & Wieschaus, E. F. Pulsed contractions of an actin–myosin network drive apical constriction. Nature 457, 495–499 (2009)

24

Roh-Johnson, M. et al. Triggering a cell shape change by exploiting preexisting actomyosin contractions. Science 335, 1232–1235 (2012)

25

Behrndt, M. et al. Forces driving epithelial spreading in zebrafish gastrulation. Science 338, 257–260 (2012)

26

Bosveld, F. et al. Epithelial tricellular junctions act as interphase cell shape sensors to orient mitosis. Nature 530, 495–498 (2016)

27

Xu, T. & Rubin, G. M. Analysis of genetic mosaics in developing and adult Drosophila tissues. Development 117, 1223–1237 (1993)

28

Lee, T. & Luo, L. Mosaic analysis with a repressible cell marker for studies of gene function in neuronal morphogenesis. Neuron 22, 451–461 (1999)

29

Gratz, S. J. et al. Highly specific and efficient CRISPR/Cas9-catalyzed homology-directed repair in Drosophila. Genetics 196, 961–971 (2014)

30

Ren, X. et al. Optimized gene editing technology for Drosophila melanogaster using germ line-specific Cas9. Proc. Natl Acad. Sci. USA 110, 19012–19017 (2013)

31

Huang, J., Zhou, W., Watson, A. M., Jan, Y. N. & Hong, Y. Efficient ends-out gene targeting in Drosophila. Genetics 180, 703–707 (2008)

32

Baena-Lopez, L. A., Alexandre, C., Mitchell, A., Pasakarnis, L. & Vincent, J. P. Accelerated homologous recombination and subsequent genome modification in Drosophila. Development 140, 4818–4825 (2013)

33

Royou, A., Sullivan, W. & Karess, R. Cortical recruitment of nonmuscle myosin II in early syncytial Drosophila embryos: its role in nuclear axial expansion and its regulation by Cdc2 activity. J. Cell Biol. 158, 127–137 (2002)

34

Ségalen, M. et al. The Fz-Dsh planar cell polarity pathway induces oriented cell division via Mud/NuMA in Drosophila and zebrafish. Dev. Cell 19, 740–752 (2010)

35

Oda, H., Uemura, T., Harada, Y., Iwai, Y. & Takeichi, M. A Drosophila homolog of cadherin associated with armadillo and essential for embryonic cell-cell adhesion. Dev. Biol. 165, 716–726 (1994)

36

Pinheiro, D. & Bellaïche, Y. Studying cytokinesis in Drosophila epithelial tissues. Methods Cell Biol. 137, 73–84 (2016)

37

Guirao, B. et al. Unified quantitative characterization of epithelial tissue development. eLife 4, e08519 (2015)

38

Bardet, P. L. et al. PTEN controls junction lengthening and stability during cell rearrangement in epithelial tissue. Dev.Cell 25, 534–546 (2013)

39

Tabdanov, E., Borghi, N., Brochard-Wyart, F., Dufour, S. & Thiery, J. P. Role of E-cadherin in membrane-cortex interaction probed by nanotube extrusion. Biophys. J. 96, 2457–2465 (2009)

40

Turlier, H., Audoly, B., Prost, J. & Joanny, J. F. Furrow constriction in animal cell cytokinesis. Biophys. J. 106, 114–123 (2014)

41

Prost, J., Jülicher, F. & Joanny, J. F. Active gel physics. Nat. Physics 11, 111–117 (2015)

42

Brochard-Wyart, F. & de Gennes, P. -G. Unbinding of adhesive vesicles. Comptes Rendus Physique 4, 281–287 (2003)

43

Fehon, R. G., McClatchey, A. I. & Bretscher, A. Organizing the cell cortex: the role of ERM proteins. Nat. Rev. Mol. Cell Biol. 11, 276–287 (2010)

44

Grusche, F. A. et al. Sds22, a PP1 phosphatase regulatory subunit, regulates epithelial cell polarity and shape [Sds22 in epithelial morphology]. BMC Dev. Biol. 9, 14 (2009)

45

Lee, A. & Treisman, J. E. Excessive Myosin activity in mbs mutants causes photoreceptor movement out of the Drosophila eye disc epithelium. Mol. Biol. Cell 15, 3285–3295 (2004)

46

Baum, B. & Perrimon, N. Spatial control of the actin cytoskeleton in Drosophila epithelial cells. Nat. Cell Biol. 3, 883–890 (2001)

47

Truebestein, L., Elsner, D. J., Fuchs, E. & Leonard, T. A. A molecular ruler regulates cytoskeletal remodelling by the Rho kinases. Nat. Commun.6, 10029 (2015)

48

Simões, Sde. M., Mainieri, A. & Zallen, J. A. Rho GTPase and Shroom direct planar polarized actomyosin contractility during convergent extension. J. Cell Biol. 204, 575–589 (2014)

49

Munjal, A., Philippe, J. M., Munro, E. & Lecuit, T. A self-organized biomechanical network drives shape changes during tissue morphogenesis. Nature 524, 351–355 (2015)

50

Lammel, U. et al. The Drosophila FHOD1-like formin Knittrig acts through Rok to promote stress fiber formation and directed macrophage migration during the cellular immune response. Development 141, 1366–1380 (2014)
Acknowledgements
We thank M. Affolter, S. Bogdan, M. Fuller, J. Großhans, A. Martin, J. Mihaly, H. Oda, B. Sanson, D. St Johnston, J. Treisman, J. Zallen, VDRC, TRiP, Kyoto and Bloomington Stock Centres and DSHB for reagents; J. Prost, L. Szpiro for inputs; M. Thery, L. Blanchoin, Emilie Barou, H. Ennomanix, K. Cockburn and V. Greco for data and inputs; the Developmental Biology Unit imaging platform; J.-F. Joanny, F. Graner, A. Villedieu and R.-M. Mège for comments; P. Recho for help with simulations; ANR-MaxForce, ERC (TiMoprh, 340784), ARC (SL220130607097), ANR-DEEP (11-LBX-0044, ANR-10-IDEX-0001-02) and PSL grants for funding; FCT (SFRH/BD/51700/2011) and FRM (FDT20150531972) fellowships to D.P. and Wellcome Trust (110326/Z/15/Z), Trinity College and the Bettencourt-Schueller Foundation fellowships to E.H.
Ethics declarations
Competing interests
The authors declare no competing financial interests.
Additional information
Reviewer Information Nature thanks G. Gay, T. Harris and the other anonymous reviewer(s) for their contribution to the peer review of this work.
Publisher's note: Springer Nature remains neutral with regard to jurisdictional claims in published maps and institutional affiliations.
Extended data figures and tables
Supplementary information
About this article
Cite this article
Pinheiro, D., Hannezo, E., Herszterg, S. et al. Transmission of cytokinesis forces via E-cadherin dilution and actomyosin flows. Nature 545, 103–107 (2017) doi:10.1038/nature22041
Received:

Accepted:

Published:

Issue Date:
Comments
By submitting a comment you agree to abide by our Terms and Community Guidelines. If you find something abusive or that does not comply with our terms or guidelines please flag it as inappropriate.