Abstract
Blockade of angiogenesis can retard tumour growth, but may also paradoxically increase metastasis1,2. This paradox may be resolved by vessel normalization3, which involves increased pericyte coverage, improved tumour vessel perfusion, reduced vascular permeability, and consequently mitigated hypoxia3. Although these processes alter tumour progression, their regulation is poorly understood. Here we show that type 1 T helper (TH1) cells play a crucial role in vessel normalization. Bioinformatic analyses revealed that gene expression features related to vessel normalization correlate with immunostimulatory pathways, especially T lymphocyte infiltration or activity. To delineate the causal relationship, we used various mouse models with vessel normalization or T lymphocyte deficiencies. Although disruption of vessel normalization reduced T lymphocyte infiltration as expected4, reciprocal depletion or inactivation of CD4+ T lymphocytes decreased vessel normalization, indicating a mutually regulatory loop. In addition, activation of CD4+ T lymphocytes by immune checkpoint blockade increased vessel normalization. TH1 cells that secrete interferon-γ are a major population of cells associated with vessel normalization. Patient-derived xenograft tumours growing in immunodeficient mice exhibited enhanced hypoxia compared to the original tumours in immunocompetent humans, and hypoxia was reduced by adoptive TH1 transfer. Our findings elucidate an unexpected role of TH1 cells in vasculature and immune reprogramming. TH1 cells may be a marker and a determinant of both immune checkpoint blockade and anti-angiogenesis efficacy.
Access options
Subscribe to Journal
Get full journal access for 1 year
$199.00
only $3.90 per issue
All prices are NET prices.
VAT will be added later in the checkout.
Rent or Buy article
Get time limited or full article access on ReadCube.
from$8.99
All prices are NET prices.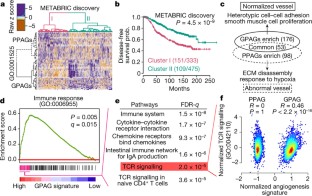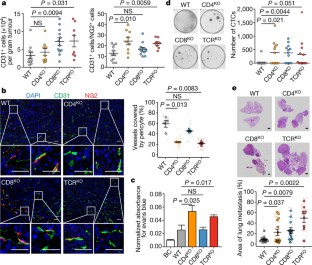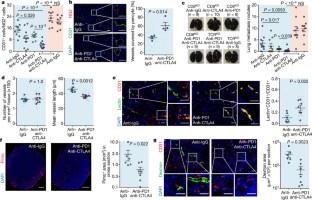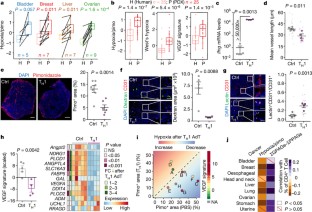 Accession codes
Primary accessions
Gene Expression Omnibus
References
1

Ebos, J. M. L. et al. Accelerated metastasis after short-term treatment with a potent inhibitor of tumor angiogenesis. Cancer Cell 15, 232–239 (2009)

2

Pàez-Ribes, M. et al. Antiangiogenic therapy elicits malignant progression of tumors to increased local invasion and distant metastasis. Cancer Cell 15, 220–231 (2009)

3

Goel, S., Wong, A. H.-K. & Jain, R. K. Vascular normalization as a therapeutic strategy for malignant and nonmalignant disease. Cold Spring Harb. Perspect. Med. 2, a006486 (2012)

4

Hamzah, J. et al. Vascular normalization in Rgs5-deficient tumours promotes immune destruction. Nature 453, 410–414 (2008)

5

Curtis, C. et al. The genomic and transcriptomic architecture of 2,000 breast tumours reveals novel subgroups. Nature 486, 346–352 (2012)

6

Armulik, A., Genové, G. & Betsholtz, C. Pericytes: developmental, physiological, and pathological perspectives, problems, and promises. Dev. Cell 21, 193–215 (2011)

7

Bergers, G. & Benjamin, L. E. Tumorigenesis and the angiogenic switch. Nat. Rev. Cancer 3, 401–410 (2003)

8

Herschkowitz, J. I . et al. Comparative oncogenomics identifies breast tumors enriched in functional tumor-initiating cells. Proc. Natl Acad. Sci. USA 109, 2778–2783 (2012)

9

Arwert, E. N., Hoste, E. & Watt, F. M. Epithelial stem cells, wound healing and cancer. Nat. Rev. Cancer 12, 170–180 (2012)

10

Jain, R. K. Molecular regulation of vessel maturation. Nat. Med. 9, 685–693 (2003)

11

Sharma, P. & Allison, J. P. Immune checkpoint targeting in cancer therapy: toward combination strategies with curative potential. Cell 161, 205–214 (2015)

12

Pober, J. S. & Sessa, W. C. Evolving functions of endothelial cells in inflammation. Nat. Rev. Immunol. 7, 803–815 (2007)

13

Bromley, S. K., Mempel, T. R. & Luster, A. D. Orchestrating the orchestrators: chemokines in control of T cell traffic. Nat. Immunol. 9, 970–980 (2008)

14

Bonacchi, A. et al. Signal transduction by the chemokine receptor CXCR3: activation of Ras/ERK, Src, and phosphatidylinositol 3-kinase/Akt controls cell migration and proliferation in human vascular pericytes. J. Biol. Chem. 276, 9945–9954 (2001)

15

Hu, Z. et al. A compact VEGF signature associated with distant metastases and poor outcomes. BMC Med. 7, 9 (2009)

16

Newman, A. M. et al. Robust enumeration of cell subsets from tissue expression profiles. Nat. Methods 12, 453–457 (2015)

17

Freeman, M. R. et al. Peripheral blood T lymphocytes and lymphocytes infiltrating human cancers express vascular endothelial growth factor: a potential role for T cells in angiogenesis. Cancer Res. 55, 4140–4145 (1995)

18

Qin, Z. & Blankenstein, T. CD4+ T cell-mediated tumor rejection involves inhibition of angiogenesis that is dependent on IFNγ receptor expression by nonhematopoietic cells. Immunity 12, 677–686 (2000)

19

Beatty, G. & Paterson, Y. IFN-γ-dependent inhibition of tumor angiogenesis by tumor-infiltrating CD4+ T cells requires tumor responsiveness to IFN-γ. J. Immunol. 166, 2276–2282 (2001)

20

Gao, J. et al. Loss of IFN-γ pathway genes in tumor cells as a mechanism of resistance to anti-CTLA-4 therapy. Cell 167, 397–404 (2016)

21

Carmeliet, P. & Jain, R. K. Molecular mechanisms and clinical applications of angiogenesis. Nature 473, 298–307 (2011)

22

Zhang, X. et al. A renewable tissue resource of phenotypically stable, biologically and ethnically diverse, patient-derived human breast cancer xenograft models. Cancer Res. 73, 4885–4897 (2013)

23

Xing, Y. & Hogquist, K. A. Isolation, identification, and purification of murine thymic epithelial cells. J. Vis. Exp. 51780, e51780 (2014)

24

Quah, B. J. C. & Parish, C. R. The use of carboxyfluorescein diacetate succinimidyl ester (CFSE) to monitor lymphocyte proliferation. J. Vis. Exp. 44, 2259 (2010)

25

Radu, M. & Chernoff, J. An in vivo assay to test blood vessel permeability. J. Vis. Exp. 50062, e50062 (2013)

26

Garcia, A. N., Vogel, S. M., Komarova, Y. A. & Malik, A. B. Permeability of endothelial barrier: cell culture and in vivo models. Methods Mol. Biol. 763, 333–354 (2011)

27

Sheng, K., Cao, W., Niu, Y., Deng, Q. & Zong, C. Effective detection of variation in single-cell transcriptomes using MATQ-seq. Nat. Methods 14, 267–270 (2017)

28

Dobin, A . et al. STAR: ultrafast universal RNA-seq aligner. Bioinformatics 29, 15–21 (2013)

29

Li, B. & Dewey, C. N. RSEM: accurate transcript quantification from RNA-Seq data with or without a reference genome. BMC Bioinformatics 12, 323 (2011)

30

Love, M. I., Huber, W. & Anders, S. Moderated estimation of fold change and dispersion for RNA-seq data with DESeq2. Genome Biol. 15, 550 (2014)

31

Subramanian, A . et al. Gene set enrichment analysis: a knowledge-based approach for interpreting genome-wide expression profiles. Proc. Natl Acad. Sci. USA 102, 15545–15550 (2005)

32

Xie, C. et al. KOBAS 2.0: a web server for annotation and identification of enriched pathways and diseases. Nucleic Acids Res. 39, W316–W322 (2011)

33

Supek, F., Bošnjak, M., Škunca, N. & Šmuc, T. REVIGO summarizes and visualizes long lists of gene ontology terms. PLoS One 6, e21800 (2011)

34

Barbie, D. A. et al. Systematic RNA interference reveals that oncogenic KRAS-driven cancers require TBK1. Nature 462, 108–112 (2009)

35

Ragnum, H. B. et al. The tumour hypoxia marker pimonidazole reflects a transcriptional programme associated with aggressive prostate cancer. Br. J. Cancer 112, 382–390 (2015)

36

Eustace, A. et al. A 26-gene hypoxia signature predicts benefit from hypoxia-modifying therapy in laryngeal cancer but not bladder cancer. Clin. Cancer Res. 19, 4879–4888 (2013)
Acknowledgements
We thank D. Weiss for critically editing the manuscript, D. Liang for advice on TH1-skewed differentiation of CD4+-TLs; S. Donepudi and F. Jin for their technical support on metabolite profiling. X.H.-F.Z. is supported by Breast Cancer Research Foundation, NCI CA183878, DoD W81XWH-16-1-0073, SGK CCR14298445, and McNair Medical Institute. A.S. and N.P. were supported by the CPRIT Core Facility Support Award RP120092, NCI 2P30CA125123-09. Flow cytometry and cell sorting was performed at the Cytometry and Cell Sorting Core supported by NIH P30 AI036211, P30 CA125123, and S10 RR024574. Mosaic scanning was supported by a grant from the NIH 1S10OD016167.
Ethics declarations
Competing interests
The authors declare no competing financial interests.
Additional information
Reviewer Information Nature thanks G. Dranoff, D. Felsher and the other anonymous reviewer(s) for their contribution to the peer review of this work.
Publisher's note: Springer Nature remains neutral with regard to jurisdictional claims in published maps and institutional affiliations.
Extended data figures and tables
Supplementary information
About this article
Cite this article
Tian, L., Goldstein, A., Wang, H. et al. Mutual regulation of tumour vessel normalization and immunostimulatory reprogramming. Nature 544, 250–254 (2017). https://doi.org/10.1038/nature21724
Received:

Accepted:

Published:

Issue Date:
Comments
By submitting a comment you agree to abide by our Terms and Community Guidelines. If you find something abusive or that does not comply with our terms or guidelines please flag it as inappropriate.