Abstract
Evolution occurs in populations of reproducing individuals. The structure of a population can affect which traits evolve1,2. Understanding evolutionary game dynamics in structured populations remains difficult. Mathematical results are known for special structures in which all individuals have the same number of neighbours3,4,5,6,7,8. The general case, in which the number of neighbours can vary, has remained open. For arbitrary selection intensity, the problem is in a computational complexity class that suggests there is no efficient algorithm9. Whether a simple solution for weak selection exists has remained unanswered. Here we provide a solution for weak selection that applies to any graph or network. Our method relies on calculating the coalescence times10,11 of random walks12. We evaluate large numbers of diverse population structures for their propensity to favour cooperation. We study how small changes in population structure—graph surgery—affect evolutionary outcomes. We find that cooperation flourishes most in societies that are based on strong pairwise ties.
Access options
Access Nature and 54 other Nature Portfolio journals
Get Nature+, our best-value online-access subscription
$29.99 / 30 days
cancel any time
Subscribe to this journal
Receive 51 print issues and online access
$199.00 per year
only $3.90 per issue
Rent or buy this article
Prices vary by article type
from$1.95
to$39.95
Prices may be subject to local taxes which are calculated during checkout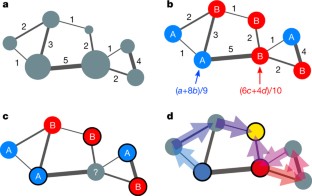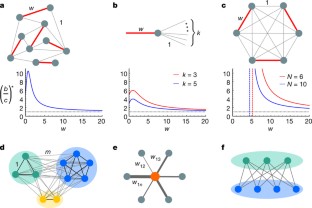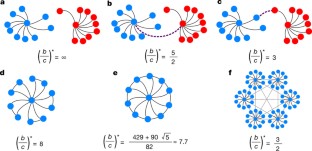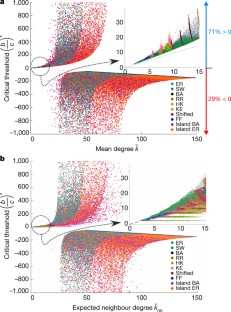 Similar content being viewed by others
References
Lieberman, E., Hauert, C. & Nowak, M. A. Evolutionary dynamics on graphs. Nature 433, 312–316 (2005)

Nowak, M. A., Tarnita, C. E. & Antal, T. Evolutionary dynamics in structured populations. Phil. Trans. R. Soc. B 365, 19–30 (2010)

Ohtsuki, H., Hauert, C., Lieberman, E. & Nowak, M. A. A simple rule for the evolution of cooperation on graphs and social networks. Nature 441, 502–505 (2006)

Taylor, P. D., Day, T. & Wild, G. Evolution of cooperation in a finite homogeneous graph. Nature 447, 469–472 (2007)

Grafen, A. & Archetti, M. Natural selection of altruism in inelastic viscous homogeneous populations. J. Theor. Biol. 252, 694–710 (2008)

Chen, Y.-T. Sharp benefit-to-cost rules for the evolution of cooperation on regular graphs. Ann. Appl. Probab. 23, 637–664 (2013)

Allen, B. & Nowak, M. A. Games on graphs. EMS Surv. Math. Sci. 1, 113–151 (2014)

Débarre, F., Hauert, C. & Doebeli, M. Social evolution in structured populations. Nat. Commun. 5, 3409 (2014)

Ibsen-Jensen, R ., Chatterjee, K . & Nowak, M. A. Computational complexity of ecological and evolutionary spatial dynamics. Proc. Natl Acad. Sci. USA 112, 15636–15641 (2015)

Kingman, J. F. C. The coalescent. Stochastic Process. Appl. 13, 235–248 (1982)

Wakeley, J. Coalescent Theory: an Introduction. (Roberts and Company Publishers, 2009)

Cox, J. T. Coalescing random walks and voter model consensus times on the torus in Zd. Ann. Probab. 17, 1333–1366 (1989)

Durrett, R. & Levin, S. The importance of being discrete (and spatial). Theor. Popul. Biol. 46, 363–394 (1994)

Hassell, M. P., Comins, H. N. & May, R. M. Species coexistence and self-organizing spatial dynamics. Nature 370, 290–292 (1994)

Nowak, M. A. & May, R. M. Evolutionary games and spatial chaos. Nature 359, 826–829 (1992)

Allen, B., Gore, J. & Nowak, M. A. Spatial dilemmas of diffusible public goods. eLife 2, e01169 (2013)

Nowak, M. A ., Michor, F . & Iwasa, Y. The linear process of somatic evolution. Proc. Natl Acad. Sci. USA 100, 14966–14969 (2003)

Santos, F. C., Santos, M. D. & Pacheco, J. M. Social diversity promotes the emergence of cooperation in public goods games. Nature 454, 213–216 (2008)

Rand, D. G ., Nowak, M. A ., Fowler, J. H . & Christakis, N. A. Static network structure can stabilize human cooperation. Proc. Natl Acad. Sci. USA 111, 17093–17098 (2014)

Allen, B. et al. The molecular clock of neutral evolution can be accelerated or slowed by asymmetric spatial structure. PLoS Comput. Biol. 11, e1004108 (2015)

Maynard Smith, J. Evolution and the Theory of Games (Cambridge Univ. Press, 1982)

Hofbauer, J . & Sigmund, K. Evolutionary Games and Replicator Dynamics (Cambridge Univ. Press, 1998)

Broom, M . & Rychtár, J. Game-Theoretical Models in Biology. (Chapman and Hall/CRC, 2013)

Santos, F. C. & Pacheco, J. M. Scale-free networks provide a unifying framework for the emergence of cooperation. Phys. Rev. Lett. 95, 098104 (2005)

Maciejewski, W., Fu, F. & Hauert, C. Evolutionary game dynamics in populations with heterogenous structures. PLOS Comput. Biol. 10, e1003567 (2014)

Konno, T. A condition for cooperation in a game on complex networks. J. Theor. Biol. 269, 224–233 (2011)

Tarnita, C. E., Ohtsuki, H., Antal, T., Fu, F. & Nowak, M. A. Strategy selection in structured populations. J. Theor. Biol. 259, 570–581 (2009)

Hadjichrysanthou, C., Broom, M. & Rychtárˇ, J. Evolutionary games on star graphs under various updating rules. Dyn. Games App. 1, 386–407 (2011)

Ohtsuki, H., Nowak, M. A. & Pacheco, J. M. Breaking the symmetry between interaction and replacement in evolutionary dynamics on graphs. Phys. Rev. Lett. 98, 108106 (2007)

Allen, B., Traulsen, A., Tarnita, C. E. & Nowak, M. A. How mutation affects evolutionary games on graphs. J. Theor. Biol. 299, 97–105 (2012)

Liggett, T. M. Interacting Particle Systems (Springer Science and Business Media, 2006)

Malécot, G. Les Mathématiques de l'Hérédité. (Masson et Cie, 1948)

Slatkin, M. Inbreeding coefficients and coalescence times. Genet. Res. 58, 167–175 (1991)

Erdös, P. & Rényi, A. On random graphs I. Publ. Math. (Debrecen) 6, 290–297 (1959)

Newman, M. E. J. & Watts, D. J. Renormalization group analysis of the small-world network model. Phys. Lett. A 263, 341–346 (1999)

Barabási, A.-L. & Albert, R. Emergence of scaling in random networks. Science 286, 509–512 (1999)

Dorogovtsev, S. N., Goltsev, A. V. & Mendes, J. F. F. Critical phenomena in complex networks. Rev. Mod. Phys. 80, 1275 (2008)

Holme, P. & Kim, B. J. Growing scale-free networks with tunable clustering. Phys. Rev. E 65, 026107 (2002)

Klemm, K. & Eguíluz, V. M. Highly clustered scale-free networks. Phys. Rev. E 65, 036123 (2002)

Krapivsky, P. L. & Redner, S. Organization of growing random networks. Phys. Rev. E 63, 066123 (2001)

Leskovec, J ., Kleinberg, J . & Faloutsos, C. Graphs over time: densification laws, shrinking diameters and possible explanations. In Proc. 11th ACM SIGKDD International Conference on Knowledge Discovery in Data Mining 177–187 (ACM, 2005)

Lozano, S., Arenas, A. & Sánchez, A. Mesoscopic structure conditions the emergence of cooperation on social networks. PLoS One 3, e1892 (2008)

Gore, J., Youk, H. & van Oudenaarden, A. Snowdrift game dynamics and facultative cheating in yeast. Nature 459, 253–256 (2009)

Lusseau, D. et al. The bottlenose dolphin community of Doubtful Sound features a large proportion of long-lasting associations. Behav. Ecol. Sociobiol. 54, 396–405 (2003)

Sade, D. S. Sociometrics of Macaca mulatta. I. Linkages and cliques in grooming matrices. Folia Primatol. (Basel) 18, 196–223 (1972)

Sundaresan, S. R., Fischhoff, I. R., Dushoff, J. & Rubenstein, D. I. Network metrics reveal differences in social organization between two fission–fusion species, Grevy's zebra and onager. Oecologia 151, 140–149 (2007)

Hill, A. L., Rand, D. G., Nowak, M. A. & Christakis, N. A. Infectious disease modeling of social contagion in networks. PLoS Comput. Biol. 6, e1000968 (2010)

Christakis, N. A. & Fowler, J. H. The spread of obesity in a large social network over 32 years. N. Engl. J. Med. 357, 370–379 (2007)

McAuley, J. J. & Leskovec, J. Learning to discover social circles in ego networks. Adv. Neural Inf. Process. Syst. 25, 548–556 (2012)

Leskovec, J., Kleinberg, J. & Faloutsos, C. Graph evolution: densification and shrinking diameters. ACM Trans. Knowl. Discov. Data 1, 2 (2007)

Hauert, C., Michor, F., Nowak, M. A. & Doebeli, M. Synergy and discounting of cooperation in social dilemmas. J. Theor. Biol. 239, 195–202 (2006)

Nowak, M. A. Evolving cooperation. J. Theor. Biol. 299, 1–8 (2012)
Acknowledgements
This work was supported by Office of Naval Research grant N00014-16-1-2914, the John Templeton Foundation, a gift from B. Wu and E. Larson, AFOSR grant FA9550-13-1-0097 (G.L.), the James S. McDonnell Foundation (B.F.), and the Center for Mathematical Sciences and Applications at Harvard University (B.A., Y.-T.C). We are grateful to S. R. Sundaresan and D. I. Rubenstein for providing data on zebra and wild ass networks, and for discussions.
Ethics declarations
Competing interests
The authors declare no competing financial interests.
Additional information
Publisher's note: Springer Nature remains neutral with regard to jurisdictional claims in published maps and institutional affiliations.
Extended data figures and tables
Supplementary information
This file contains Supplementary Text and Data and additional references (see Contents for more details). (PDF 1669 kb)
About this article
Cite this article
Allen, B., Lippner, G., Chen, YT. et al. Evolutionary dynamics on any population structure. Nature 544, 227–230 (2017). https://doi.org/10.1038/nature21723
Received:

Accepted:

Published:

Issue Date:

DOI: https://doi.org/10.1038/nature21723
Comments
By submitting a comment you agree to abide by our Terms and Community Guidelines. If you find something abusive or that does not comply with our terms or guidelines please flag it as inappropriate.