Abstract
Normal differentiation and induced reprogramming require the activation of target cell programs and silencing of donor cell programs1,2. In reprogramming, the same factors are often used to reprogram many different donor cell types3. As most developmental repressors, such as RE1-silencing transcription factor (REST) and Groucho (also known as TLE), are considered lineage-specific repressors4,5, it remains unclear how identical combinations of transcription factors can silence so many different donor programs. Distinct lineage repressors would have to be induced in different donor cell types. Here, by studying the reprogramming of mouse fibroblasts to neurons, we found that the pan neuron-specific transcription factor Myt1-like (Myt1l)6 exerts its pro-neuronal function by direct repression of many different somatic lineage programs except the neuronal program. The repressive function of Myt1l is mediated via recruitment of a complex containing Sin3b by binding to a previously uncharacterized N-terminal domain. In agreement with its repressive function, the genomic binding sites of Myt1l are similar in neurons and fibroblasts and are preferentially in an open chromatin configuration. The Notch signalling pathway is repressed by Myt1l through silencing of several members, including Hes1. Acute knockdown of Myt1l in the developing mouse brain mimicked a Notch gain-of-function phenotype, suggesting that Myt1l allows newborn neurons to escape Notch activation during normal development. Depletion of Myt1l in primary postmitotic neurons de-repressed non-neuronal programs and impaired neuronal gene expression and function, indicating that many somatic lineage programs are actively and persistently repressed by Myt1l to maintain neuronal identity. It is now tempting to speculate that similar 'many-but-one' lineage repressors exist for other cell fates; such repressors, in combination with lineage-specific activators, would be prime candidates for use in reprogramming additional cell types.
Relevant articles
Open Access articles citing this article.
Luke F. Nunnelly

,

Melissa Campbell

…

Edmund Au

Nature Communications Open Access 14 December 2022

Jiayang Chen

,

Allen Yen

…

Joseph D. Dougherty

Translational Psychiatry Open Access 22 July 2022

Ravneet Jaura

,

Ssu-Yu Yeh

…

Ho Sung Rhee

Nature Communications Open Access 18 May 2022
Access options
Subscribe to Nature+
Get immediate online access to Nature and 55 other Nature journal
Subscribe to Journal
Get full journal access for 1 year
$199.00
only $3.90 per issue
All prices are NET prices.
VAT will be added later in the checkout.
Tax calculation will be finalised during checkout.
Buy article
Get time limited or full article access on ReadCube.
$32.00
All prices are NET prices.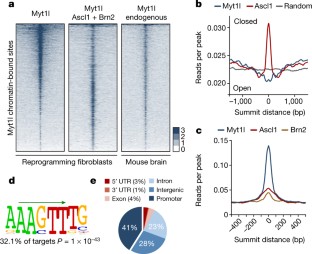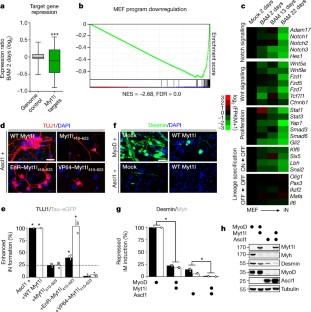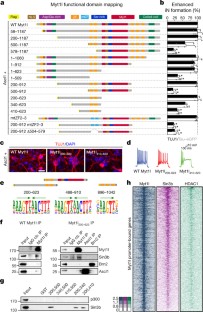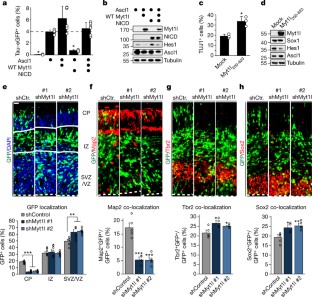 Accession codes
Primary accessions
Gene Expression Omnibus
References
Schäfer, B. W., Blakely, B. T., Darlington, G. J. & Blau, H. M. Effect of cell history on response to helix-loop-helix family of myogenic regulators. Nature 344, 454–458 (1990)

Terranova, R., Pereira, C. F., Du Roure, C., Merkenschlager, M. & Fisher, A. G. Acquisition and extinction of gene expression programs are separable events in heterokaryon reprogramming. J. Cell Sci. 119, 2065–2072 (2006)

Xu, J., Du, Y. & Deng, H. Direct lineage reprogramming: strategies, mechanisms, and applications. Cell Stem Cell 16, 119–134 (2015)

Santisteban, P., Recacha, P., Metzger, D. E. & Zaret, K. S. Dynamic expression of Groucho-related genes Grg1 and Grg3 in foregut endoderm and antagonism of differentiation. Dev. Dyn. 239, 980–986 (2010)

Schoenherr, C. J. & Anderson, D. J. The neuron-restrictive silencer factor (NRSF): a coordinate repressor of multiple neuron-specific genes. Science 267, 1360–1363 (1995)

Matsushita, F., Kameyama, T., Kadokawa, Y. & Marunouchi, T. Spatiotemporal expression pattern of Myt/NZF family zinc finger transcription factors during mouse nervous system development. Dev. Dyn. 243, 588–600 (2014)

Masserdotti, G., Gascón, S. & Götz, M. Direct neuronal reprogramming: learning from and for development. Development 143, 2494–2510 (2016)

Wapinski, O. L. et al. Hierarchical mechanisms for direct reprogramming of fibroblasts to neurons. Cell 155, 621–635 (2013)

Vierbuchen, T. et al. Direct conversion of fibroblasts to functional neurons by defined factors. Nature 463, 1035–1041 (2010)

Chanda, S. et al. Generation of induced neuronal cells by the single reprogramming factor ASCL1. Stem Cell Rep. 3, 282–296 (2014)

Jiang, Y. et al. A novel family of Cys-Cys, His-Cys zinc finger transcription factors expressed in developing nervous system and pituitary gland. J. Biol. Chem. 271, 10723–10730 (1996)

Yee, K. S. & Yu, V. C. Isolation and characterization of a novel member of the neural zinc finger factor/myelin transcription factor family with transcriptional repression activity. J. Biol. Chem . 273, 5366–5374 (1998)

Besold, A. N., Oluyadi, A. A. & Michel, S. L. J. Switching metal ion coordination and DNA recognition in a tandem CCHHC-type zinc finger peptide. Inorg. Chem. 52, 4721–4728 (2013)

Romm, E., Nielsen, J. A., Kim, J. G. & Hudson, L. D. Myt1 family recruits histone deacetylase to regulate neural transcription. J. Neurochem . 93, 1444–1453 (2005)

Spronk, C. A. et al. The Mad1–Sin3B interaction involves a novel helical fold. Nat. Struct. Biol. 7, 1100–1104 (2000)

Grzenda, A., Lomberk, G., Zhang, J.-S. & Urrutia, R. Sin3: master scaffold and transcriptional corepressor. Biochim. Biophys. Acta 1789, 443–450 (2009)

Vasconcelos, F. F. et al. MyT1 counteracts the neural progenitor program to promote vertebrate neurogenesis. Cell Rep. 17, 469–483 (2016)

Bellefroid, E. J. et al. X-MyT1, a Xenopus C2HC-type zinc finger protein with a regulatory function in neuronal differentiation. Cell 87, 1191–1202 (1996)

Kageyama, R., Ohtsuka, T., Shimojo, H. & Imayoshi, I. Dynamic Notch signaling in neural progenitor cells and a revised view of lateral inhibition. Nat. Neurosci. 11, 1247–1251 (2008)

Axelrod, J. D. Delivering the lateral inhibition punchline: it's all about the timing. Sci. Signal . 3, pe38 (2010)

De Rocker, N. et al. Refinement of the critical 2p25.3 deletion region: the role of MYT1L in intellectual disability and obesity. Genet. Med. 17, 460–466 (2015)

De Rubeis, S. et al. Synaptic, transcriptional and chromatin genes disrupted in autism. Nature 515, 209–215 (2014)

Lee, Y. et al. Microduplications disrupting the MYT1L gene (2p25.3) are associated with schizophrenia. Psychiatr. Genet. 22, 206–209 (2012)

Li, W. et al. Association study of myelin transcription factor 1-like polymorphisms with schizophrenia in Han Chinese population. Genes Brain Behav . 11, 87–93 (2012)

Teif, V. B. et al. Genome-wide nucleosome positioning during embryonic stem cell development. Nat. Struct. Mol. Biol. 19, 1185–1192 (2012)

Maximov, A., Pang, Z. P., Tervo, D. G. R. & Südhof, T. C. Monitoring synaptic transmission in primary neuronal cultures using local extracellular stimulation. J. Neurosci. Methods 161, 75–87 (2007)

Springer, M. L., Rando, T. A. & Blau, H. M. Gene delivery to muscle. Curr. Protoc. Hum. Genet . 13, 13.4 (2002)

Dull, T. et al. A third-generation lentivirus vector with a conditional packaging system. J. Virol. 72, 8463–8471 (1998)

Langmead, B. & Salzberg, S. L. Fast gapped-read alignment with Bowtie 2. Nat. Methods 9, 357–359 (2012)

Zhang, Y. et al. Model-based analysis of ChIP-Seq (MACS). Genome Biol. 9, R137 (2008)

Kharchenko, P. V., Tolstorukov, M. Y. & Park, P. J. Design and analysis of ChIP-seq experiments for DNA-binding proteins. Nat. Biotechnol. 26, 1351–1359 (2008)

Heinz, S. et al. Simple combinations of lineage-determining transcription factors prime cis-regulatory elements required for macrophage and B cell identities. Mol. Cell 38, 576–589 (2010)

Mi, H., Muruganujan, A., Casagrande, J. T. & Thomas, P. D. Large-scale gene function analysis with the PANTHER classification system. Nat. Protocols 8, 1551–1566 (2013)

Li, H. et al. The Sequence Alignment/Map format and SAMtools. Bioinformatics 25, 2078–2079 (2009)

Quinlan, A. R. & Hall, I. M. BEDTools: a flexible suite of utilities for comparing genomic features. Bioinformatics 26, 841–842 (2010)

Ross-Innes, C. S. et al. Differential oestrogen receptor binding is associated with clinical outcome in breast cancer. Nature 481, 389–393 (2012)

Langmead, B., Trapnell, C., Pop, M. & Salzberg, S. L. Ultrafast and memory-efficient alignment of short DNA sequences to the human genome. Genome Biol. 10, R25 (2009)

Levin, J. Z. et al. Comprehensive comparative analysis of strand-specific RNA sequencing methods. Nat. Methods 7, 709–715 (2010)

Kim, D. et al. TopHat2: accurate alignment of transcriptomes in the presence of insertions, deletions and gene fusions. Genome Biol. 14, R36 (2013)

Trapnell, C. et al. Differential analysis of gene regulation at transcript resolution with RNA-seq. Nat. Biotechnol. 31, 46–53 (2013)

de Hoon, M. J. L., Imoto, S., Nolan, J. & Miyano, S. Open source clustering software. Bioinformatics 20, 1453–1454 (2004)

Goff, L. A., Trapnell, C. & Kelley, D. CummeRbund: Visualization and Exploration of Cufflinks High-throughput Sequencing Data (R package version 2.8.2., 2014)

Saldanha, A. J. Java Treeview–extensible visualization of microarray data. Bioinformatics 20, 3246–3248 (2004)

Mootha, V. K. et al. PGC-1α-responsive genes involved in oxidative phosphorylation are coordinately downregulated in human diabetes. Nat. Genet. 34, 267–273 (2003)

Subramanian, A. et al. Gene set enrichment analysis: a knowledge-based approach for interpreting genome-wide expression profiles. Proc. Natl Acad. Sci. USA 102, 15545–15550 (2005)

Trapnell, C. et al. Transcript assembly and quantification by RNA-seq reveals unannotated transcripts and isoform switching during cell differentiation. Nat. Biotechnol. 28, 511–515 (2010)

Bao, X. et al. A novel ATAC-seq approach reveals lineage-specific reinforcement of the open chromatin landscape via cooperation between BAF and p63. Genome Biol. 16, 284 (2015)

Huang, L. et al. Partial hepatectomy induced long noncoding RNA inhibits hepatocyte proliferation during liver regeneration. PLoS One 10, e0132798 (2015)

Zhang, Y. et al. An RNA-sequencing transcriptome and splicing database of glia, neurons, and vascular cells of the cerebral cortex. J. Neurosci. 34, 11929–11947 (2014)

Shen, L. GeneOverlap: An R package to test and visualize gene overlaps (2014)

Pfaffl, M. W., Horgan, G. W. & Dempfle, L. Relative expression software tool (REST) for group-wise comparison and statistical analysis of relative expression results in real-time PCR. Nucleic Acids Res . 30, e36 (2002)

Jolma, A. et al. DNA-binding specificities of human transcription factors. Cell 152, 327–339 (2013)

Nitta, K. R. et al. Conservation of transcription factor binding specificities across 600 million years of bilateria evolution. eLife 4, e04837 (2015)
Acknowledgements
We acknowledge N. E. Davey for SID motif discovery, U. Litzenburger for initial in utero experiments and S. Marro and N. Yucel for primary cell preparations. We thank J. E. Johnson, T. Sudo, R. Kageyama, and T. Stearns for antibodies; G. Mantalas, B. Passarelli, M. Miranda and M. Nguyen for sequencing; and A. Stark and Wernig laboratory members for ideas and discussions. Support was provided by the German Research Foundation to M.M., an NCI training grant (#T32 CA09151), the DHHS and the Spectrum Child Health Research Institute to M.S.K, the Swedish Research Council and Swedish Government Initiative for Strategic Research Areas (StemTherapy) to H.A., the National Institutes of Health to L.M.S., T.C.S. and M.W. and the California Institute for Regenerative Medicine to M.W. T.C.S. is a Howard Hughes Medical Institute Investigator. M.W. is a New York Stem Cell Foundation-Robertson Investigator, a Tashia and John Morgridge Faculty Scholar at the Child Health Research Institute at Stanford, and a Howard Hughes Medical Institute Faculty Scholar.
Additional information
Reviewer Information Nature thanks T. Graf and the other anonymous reviewer(s) for their contribution to the peer review of this work.
Publisher's note: Springer Nature remains neutral with regard to jurisdictional claims in published maps and institutional affiliations.
Extended data figures and tables
Supplementary information
About this article
Cite this article
Mall, M., Kareta, M., Chanda, S. et al. Myt1l safeguards neuronal identity by actively repressing many non-neuronal fates. Nature 544, 245–249 (2017). https://doi.org/10.1038/nature21722
Received:

Accepted:

Published:

Issue Date:

DOI: https://doi.org/10.1038/nature21722
Comments
By submitting a comment you agree to abide by our Terms and Community Guidelines. If you find something abusive or that does not comply with our terms or guidelines please flag it as inappropriate.