Abstract
Strengthening of synaptic connections by NMDA (N-methyl-d-aspartate) receptor-dependent long-term potentiation (LTP) shapes neural circuits and mediates learning and memory. During the induction of NMDA-receptor-dependent LTP, Ca2+ influx stimulates recruitment of synaptic AMPA (α-amino-3-hydroxy-5-methyl-4-isoxazole propionic acid) receptors, thereby strengthening synapses. How Ca2+ induces the recruitment of AMPA receptors remains unclear. Here we show that, in the pyramidal neurons of the hippocampal CA1 region in mice, blocking postsynaptic expression of both synaptotagmin-1 (Syt1) and synaptotagmin-7 (Syt7), but not of either alone, abolished LTP. LTP was restored by expression of wild-type Syt7 but not of a Ca2+-binding-deficient mutant Syt7. Blocking postsynaptic expression of Syt1 and Syt7 did not impair basal synaptic transmission, reduce levels of synaptic or extrasynaptic AMPA receptors, or alter other AMPA receptor trafficking events. Moreover, expression of dominant-negative mutant Syt1 which inhibits Ca2+-dependent presynaptic vesicle exocytosis, also blocked Ca2+-dependent postsynaptic AMPA receptor exocytosis, thereby abolishing LTP. Our results suggest that postsynaptic Syt1 and Syt7 act as redundant Ca2+-sensors for Ca2+-dependent exocytosis of AMPA receptors during LTP, and thereby delineate a simple mechanism for the recruitment of AMPA receptors that mediates LTP.
Access options
Subscribe to Journal
Get full journal access for 1 year
$199.00
only $3.90 per issue
All prices are NET prices.
VAT will be added later in the checkout.
Rent or Buy article
Get time limited or full article access on ReadCube.
from$8.99
All prices are NET prices.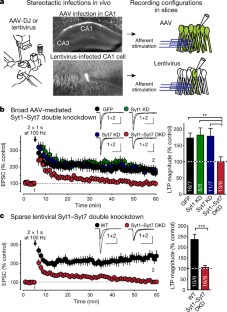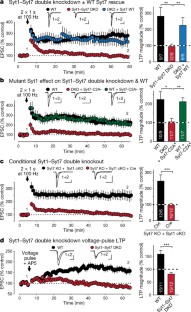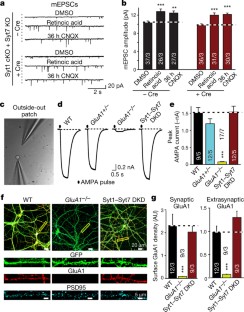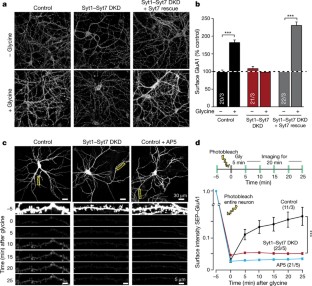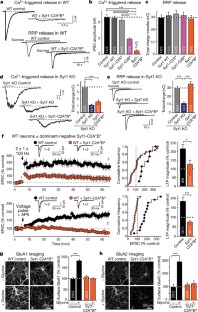 References
1

Bliss, T. V. & Collingridge, G. L. A synaptic model of memory: long-term potentiation in the hippocampus. Nature 361, 31–39 (1993)

2

Malenka, R. C. & Bear, M. F. LTP and LTD: an embarrassment of riches. Neuron 44, 5–21 (2004)

3

Huganir, R. L. & Nicoll, R. A. AMPARs and synaptic plasticity: the last 25 years. Neuron 80, 704–717 (2013)

4

Morris, R. G. NMDA receptors and memory encoding. Neuropharmacology 74, 32–40 (2013)

5

Opazo, P. & Choquet, D. A three-step model for the synaptic recruitment of AMPA receptors. Mol. Cell. Neurosci. 46, 1–8 (2011)

6

Makino, H. & Malinow, R. AMPA receptor incorporation into synapses during LTP: the role of lateral movement and exocytosis. Neuron 64, 381–390 (2009)

7

Granger, A. J., Shi, Y., Lu, W., Cerpas, M. & Nicoll, R. A. LTP requires a reserve pool of glutamate receptors independent of subunit type. Nature 493, 495–500 (2013)

8

Lledo, P. M., Zhang, X., Südhof, T. C., Malenka, R. C. & Nicoll, R. A. Postsynaptic membrane fusion and long-term potentiation. Science 279, 399–403 (1998)

9

Ahmad, M. et al. Postsynaptic complexin controls AMPA receptor exocytosis during LTP. Neuron 73, 260–267 (2012)

10

Jurado, S. et al. LTP requires a unique postsynaptic SNARE fusion machinery. Neuron 77, 542–558 (2013)

11

Südhof, T. C. Neurotransmitter release: the last millisecond in the life of a synaptic vesicle. Neuron 80, 675–690 (2013)

12

Reim, K. et al. Complexins regulate the Ca2+ sensitivity of the synaptic neurotransmitter release machinery. Cell 104, 71–81 (2001)

13

Maximov, A., Tang, J., Yang, X., Pang, Z. P. & Südhof, T. C. Complexin controls the force transfer from SNARE complexes to membranes in fusion. Science 323, 516–521 (2009)

14

Geppert, M. et al. Synaptotagmin I: a major Ca2+ sensor for transmitter release at a central synapse. Cell 79, 717–727 (1994)

15

Wen, H. et al. Distinct roles for two synaptotagmin isoforms in synchronous and asynchronous transmitter release at zebrafish neuromuscular junction. Proc. Natl Acad. Sci. USA 107, 13906–13911 (2010)

16

Bacaj, T. et al. Synaptotagmin-1 and synaptotagmin-7 trigger synchronous and asynchronous phases of neurotransmitter release. Neuron 80, 947–959 (2013)

17

Bacaj, T. et al. Synaptotagmin-1 and -7 are redundantly essential for maintaining the capacity of the readily-releasable pool of synaptic vesicles. PLoS Biol. 13, e1002267 (2015)

18

Schonn, J. S., Maximov, A., Lao, Y., Südhof, T. C. & Sørensen, J. B. Synaptotagmin-1 and -7 are functionally overlapping Ca2+ sensors for exocytosis in adrenal chromaffin cells. Proc. Natl Acad. Sci. USA 105, 3998–4003 (2008)

19

Xu, W. et al. Distinct neuronal coding schemes in memory revealed by selective erasure of fast synchronous synaptic transmission. Neuron 73, 990–1001 (2012)

20

Zhou, Q. et al. Architecture of the synaptotagmin–SNARE machinery for neuronal exocytosis. Nature 525, 62–67 (2015)

21

Wyllie, D. J., Manabe, T. & Nicoll, R. A. A rise in postsynaptic Ca2+ potentiates miniature excitatory postsynaptic currents and AMPA responses in hippocampal neurons. Neuron 12, 127–138 (1994)

22

Kato, H. K., Watabe, A. M. & Manabe, T. Non-Hebbian synaptic plasticity induced by repetitive postsynaptic action potentials. J. Neurosci. 29, 11153–11160 (2009)

23

Kang, H. & Schuman, E. M. Long-lasting neurotrophin-induced enhancement of synaptic transmission in the adult hippocampus. Science 267, 1658–1662 (1995)

24

Harward, S. C. et al. Autocrine BDNF-TrkB signalling within a single dendritic spine. Nature 538, 99–103 (2016)

25

Arendt, K. L. et al. Calcineurin mediates homeostatic synaptic plasticity by regulating retinoic acid synthesis. Proc. Natl Acad. Sci. USA 112, E5744–E5752 (2015)

26

Dudek, S. M. & Bear, M. F. Homosynaptic long-term depression in area CA1 of hippocampus and effects of N-methyl-d-aspartate receptor blockade. Proc. Natl Acad. Sci. USA 89, 4363–4367 (1992)

27

Zamanillo, D. et al. Importance of AMPA receptors for hippocampal synaptic plasticity but not for spatial learning. Science 284, 1805–1811 (1999)

28

Lu, W. et al. Activation of synaptic NMDA receptors induces membrane insertion of new AMPA receptors and LTP in cultured hippocampal neurons. Neuron 29, 243–254 (2001)

29

Passafaro, M., Piëch, V. & Sheng, M. Subunit-specific temporal and spatial patterns of AMPA receptor exocytosis in hippocampal neurons. Nat. Neurosci. 4, 917–926 (2001)

30

Lin, D. T. & Huganir, R. L. PICK1 and phosphorylation of the glutamate receptor 2 (GluR2) AMPA receptor subunit regulates GluR2 recycling after NMDA receptor-induced internalization. J. Neurosci. 27, 13903–13908 (2007)

31

Kwon, O. B., Longart, M., Vullhorst, D., Hoffman, D. A. & Buonanno, A. Neuregulin-1 reverses long-term potentiation at CA1 hippocampal synapses. J. Neurosci. 25, 9378–9383 (2005)

32

Lee, J., Guan, Z., Akbergenova, Y. & Littleton, J. T. Genetic analysis of synaptotagmin C2 domain specificity in regulating spontaneous and evoked neurotransmitter release. J. Neurosci. 33, 187–200 (2013)

33

Rosenmund, C. & Stevens, C. F. Definition of the readily releasable pool of vesicles at hippocampal synapses. Neuron 16, 1197–1207 (1996)

34

Malinow, R., Schulman, H. & Tsien, R. W. Inhibition of postsynaptic PKC or CaMKII blocks induction but not expression of LTP. Science 245, 862–866 (1989)

35

Malenka, R. C. et al. An essential role for postsynaptic calmodulin and protein kinase activity in long-term potentiation. Nature 340, 554–557 (1989)

36

Silva, A. J., Stevens, C. F., Tonegawa, S. & Wang, Y. Deficient hippocampal long-term potentiation in α-calcium-calmodulin kinase II mutant mice. Science 257, 201–206 (1992)

37

Thiagarajan, T. C., Piedras-Renteria, E. S. & Tsien, R. W. α- and βCaMKII. Inverse regulation by neuronal activity and opposing effects on synaptic strength. Neuron 36, 1103–1114 (2002)

38

Pang, Z. P., Cao, P., Xu, W. & Südhof, T. C. Calmodulin controls synaptic strength via presynaptic activation of calmodulin kinase II. J. Neurosci. 30, 4132–4142 (2010)

39

Chetkovich, D. M., Chen, L., Stocker, T. J., Nicoll, R. A. & Bredt, D. S. Phosphorylation of the postsynaptic density-95 (PSD-95)/discs large/zona occludens-1 binding site of stargazin regulates binding to PSD-95 and synaptic targeting of AMPA receptors. J. Neurosci. 22, 5791–5796 (2002)

40

Opazo, P. et al. CaMKII triggers the diffusional trapping of surface AMPARs through phosphorylation of stargazin. Neuron 67, 239–252 (2010)

41

Maximov, A. et al. Genetic analysis of synaptotagmin-7 function in synaptic vesicle exocytosis. Proc. Natl Acad. Sci. USA 105, 3986–3991 (2008)

42

Xu, J., Pang, Z. P., Shin, O. H. & Südhof, T. C. Synaptotagmin-1 functions as a Ca2+ sensor for spontaneous release. Nat. Neurosci. 12, 759–766 (2009)

43

Tang, J. et al. A complexin/synaptotagmin 1 switch controls fast synaptic vesicle exocytosis. Cell 126, 1175–1187 (2006)

44

Maximov, A., Pang, Z. P., Tervo, D. G. & Südhof, T. C. Monitoring synaptic transmission in primary neuronal cultures using local extracellular stimulation. J. Neurosci. Methods 161, 75–87 (2007)

45

Gähwiler, B. H., Capogna, M., Debanne, D., McKinney, R. A. & Thompson, S. M. Organotypic slice cultures: a technique has come of age. Trends Neurosci. 20, 471–477 (1997)

46

Aoto, J., Martinelli, D. C., Malenka, R. C., Tabuchi, K. & Südhof, T. C. Presynaptic neurexin-3 alternative splicing trans-synaptically controls postsynaptic AMPA receptor trafficking. Cell 154, 75–88 (2013)
Acknowledgements
This study was supported by grants from the NIH (P50 MH086403 to R.C.M., T.C.S. and L.C., and F32 MH100752 and K99 MH107618 to D.W.).
Ethics declarations
Competing interests
The authors declare no competing financial interests.
Additional information
Reviewer Information Nature thanks T. Blanpied, D. Choquet and the other anonymous reviewer(s) for their contribution to the peer review of this work.
Publisher's note: Springer Nature remains neutral with regard to jurisdictional claims in published maps and institutional affiliations.
Extended data figures and tables
Supplementary information
This file contains the uncropped blots with size marker indications. (PDF 758 kb)
About this article
Cite this article
Wu, D., Bacaj, T., Morishita, W. et al. Postsynaptic synaptotagmins mediate AMPA receptor exocytosis during LTP. Nature 544, 316–321 (2017). https://doi.org/10.1038/nature21720
Received:

Accepted:

Published:

Issue Date:
Comments
By submitting a comment you agree to abide by our Terms and Community Guidelines. If you find something abusive or that does not comply with our terms or guidelines please flag it as inappropriate.