Abstract
Epithelial tissues (epithelia) remove excess cells through extrusion, preventing the accumulation of unnecessary or pathological cells. The extrusion process can be triggered by apoptotic signalling1, oncogenic transformation2,3 and overcrowding of cells4,5,6. Despite the important linkage of cell extrusion to developmental7, homeostatic5 and pathological processes2,8 such as cancer metastasis, its underlying mechanism and connections to the intrinsic mechanics of the epithelium are largely unexplored. We approach this problem by modelling the epithelium as an active nematic liquid crystal (that has a long range directional order), and comparing numerical simulations to strain rate and stress measurements within monolayers of MDCK (Madin Darby canine kidney) cells. Here we show that apoptotic cell extrusion is provoked by singularities in cell alignments9,10 in the form of comet-shaped topological defects. We find a universal correlation between extrusion sites and positions of nematic defects in the cell orientation field in different epithelium types. The results confirm the active nematic nature of epithelia, and demonstrate that defect-induced isotropic stresses are the primary precursors of mechanotransductive responses in cells, including YAP (Yes-associated protein) transcription factor activity11, caspase-3-mediated cell death, and extrusions. Importantly, the defect-driven extrusion mechanism depends on intercellular junctions, because the weakening of cell–cell interactions in an α-catenin knockdown monolayer reduces the defect size and increases both the number of defects and extrusion rates, as is also predicted by our model. We further demonstrate the ability to control extrusion hotspots by geometrically inducing defects through microcontact printing of patterned monolayers. On the basis of these results, we propose a mechanism for apoptotic cell extrusion: spontaneously formed topological defects in epithelia govern cell fate. This will be important in predicting extrusion hotspots and dynamics in vivo, with potential applications to tissue regeneration and the suppression of metastasis. Moreover, we anticipate that the analogy between the epithelium and active nematic liquid crystals will trigger further investigations of the link between cellular processes and the material properties of epithelia.
Your institute does not have access to this article
Relevant articles
Open Access articles citing this article.
Anton Livshits

,

Liora Garion

…

Erez Braun

Scientific Reports Open Access 03 August 2022

Jayabrata Dhar

,

Anh L. P. Thai

…

Anupam Sengupta

Nature Physics Open Access 04 July 2022

Corey Herr

,

Benjamin Winkler

…

Wolfgang Losert

Communications Physics Open Access 11 May 2022
Access options
Subscribe to Nature+
Get immediate online access to the entire Nature family of 50+ journals
Subscribe to Journal
Get full journal access for 1 year
$199.00
only $3.90 per issue
All prices are NET prices.
VAT will be added later in the checkout.
Tax calculation will be finalised during checkout.
Buy article
Get time limited or full article access on ReadCube.
$32.00
All prices are NET prices.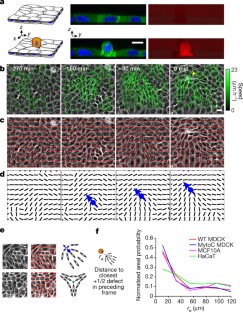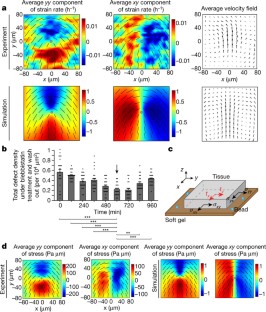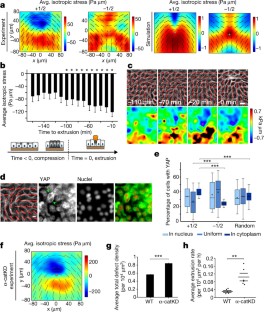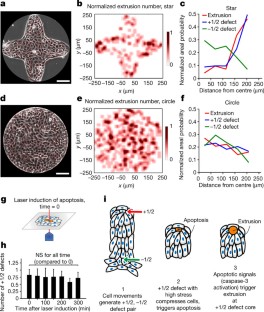 References
Rosenblatt, J., Raff, M. C. & Cramer, L. P. An epithelial cell destined for apoptosis signals its neighbors to extrude it by an actin-and myosin-dependent mechanism. Curr. Biol. 11, 1847–1857 (2001)

Hogan, C. et al. Characterization of the interface between normal and transformed epithelial cells. Nat. Cell Biol. 11, 460–467 (2009)

Wagstaff, L. et al. Mechanical cell competition kills cells via induction of lethal p53 levels. Nat. Commun. 7, 11373 (2016)

Marinari, E. et al. Live-cell delamination counterbalances epithelial growth to limit tissue overcrowding. Nature 484, 542–545 (2012)

Eisenhoffer, G. T. et al. Crowding induces live cell extrusion to maintain homeostatic cell numbers in epithelia. Nature 484, 546–549 (2012)

Levayer, R., Dupont, C. & Moreno, E. Tissue crowding induces caspase-dependent competition for space. Curr. Biol. 26, 670–677 (2016)

Toyama, Y., Peralta, X. G., Wells, A. R., Kiehart, D. P. & Edwards, G. S. Apoptotic force and tissue dynamics during Drosophila embryogenesis. Science 321, 1683–1686 (2008)

Slattum, G. M. & Rosenblatt, J. Tumour cell invasion: an emerging role for basal epithelial cell extrusion. Nat. Rev. Cancer 14, 495–501 (2014)

Kemkemer, R., Teichgräber, V., Schrank-Kaufmann, S., Kaufmann, D. & Gruler, H. Nematic order-disorder state transition in a liquid crystal analogue formed by oriented and migrating amoeboid cells. Eur. Phys. J. E 3, 101–110 (2000)

Duclos, G., Erlenkämper, C., Joanny, J.-F. & Silberzan, P. Topological defects in confined populations of spindle-shaped cells. Nat. Phys. 13, 58–62 (2016)

Dupont, S. et al. Role of YAP/TAZ in mechanotransduction. Nature 474, 179–183 (2011)

de Gennes, P.-G &. Prost, J. The Physics of Liquid Crystals Ch. 4 (Oxford Univ. Press, 1995)

Hirst, L. S. et al. Morphology transition in lipid vesicles due to in-plane order and topological defects. Proc. Natl Acad. Sci. USA 110, 3242–3247 (2013)

Sanchez, T., Chen, D. T., DeCamp, S. J., Heymann, M. & Dogic, Z. Spontaneous motion in hierarchically assembled active matter. Nature 491, 431–434 (2012)

Schaller, V. & Bausch, A. R. Topological defects and density fluctuations in collectively moving systems. Proc. Natl Acad. Sci. USA 110, 4488–4493 (2013)

Doostmohammadi, A., Thampi, S. P. & Yeomans, J. M. Defect-mediated morphologies in growing cell colonies. Phys. Rev. Lett. 117, 048102 (2016)

Vedula, S. R. K. et al. Epithelial bridges maintain tissue integrity during collective cell migration. Nat. Mater. 13, 87–96 (2014)

Vedula, S. R. K. et al. Emerging modes of collective cell migration induced by geometrical constraints. Proc. Natl Acad. Sci. USA 109, 12974–12979 (2012)

Doostmohammadi, A. et al. Celebrating Soft Matter's 10th anniversary: cell division: a source of active stress in cellular monolayers. Soft Matter 11, 7328–7336 (2015)

Drescher, K., Dunkel, J., Cisneros, L. H., Ganguly, S. & Goldstein, R. E. Fluid dynamics and noise in bacterial cell–cell and cell–surface scattering. Proc. Natl Acad. Sci. USA 108, 10940–10945 (2011)

Guasto, J. S., Rusconi, R. & Stocker, R. Fluid mechanics of planktonic microorganisms. Annu. Rev. Fluid Mech. 44, 373–400 (2012)

Rossen, N. S., Tarp, J. M., Mathiesen, J., Jensen, M. H. & Oddershede, L. B. Long-range ordered vorticity patterns in living tissue induced by cell division. Nat. Commun. 5, 5720 (2014)

Prost, J., Jülicher, F. & Joanny, J. Active gel physics. Nat. Phys. 11, 111–117 (2015)

Nier, V. et al. Inference of internal stress in a cell monolayer. Biophys. J. 110, 1625–1635 (2016)

Aragona, M. et al. A mechanical checkpoint controls multicellular growth through YAP/TAZ regulation by actin-processing factors. Cell 154, 1047–1059 (2013)

Dong, J. et al. Elucidation of a universal size-control mechanism in Drosophila and mammals. Cell 130, 1120–1133 (2007)

Chiba, T. et al. MDCK cells expressing constitutively active Yes-associated protein (YAP) undergo apical extrusion depending on neighboring cell status. Sci. Rep. 6, 28383 (2016)

Yonemura, S., Wada, Y., Watanabe, T., Nagafuchi, A. & Shibata, M. α-Catenin as a tension transducer that induces adherens junction development. Nat. Cell Biol. 12, 533–542 (2010)

Doostmohammadi, A., Adamer, M. F., Thampi, S. P. & Yeomans, J. M. Stabilization of active matter by flow-vortex lattices and defect ordering. Nat. Commun. 7, 10557 (2016)

Kuipers, D. et al. Epithelial repair is a two-stage process driven first by dying cells and then by their neighbours. J. Cell Sci. 127, 1229–1241 (2014)

Kocgozlu, L. et al. Epithelial cell packing induces distinct modes of cell extrusions. Curr. Biol. 26(21), 2942–2950 (2016)

Campàs, O. et al. Quantifying cell-generated mechanical forces within living embryonic tissues. Nat. Methods 11, 183–189 (2014); corrigendum 11, 349 (2014)

Tambe, D. T. et al. Monolayer stress microscopy: limitations, artefacts, and accuracy of recovered intercellular stresses. PLoS One 8, e55172 (2013); correction 9, 1 (2014)

Moussus, M. et al. Intracellular stresses in patterned cell assemblies. Soft Matter 10, 2414–2423 (2014); comment 10, 2414 (2014)

Vedula, S. R. K. et al. Microfabricated environments to study collective cell behaviors. Methods Cell Biol. 120, 235–252 (2014)

Brugués, A. et al. Forces driving epithelial wound healing. Nat. Phys. 10, 683–690 (2014)

Martiel, J.-L. et al. Measurement of cell traction forces with ImageJ. Methods Cell Biol. 125, 269–287 (2015)

Rezakhaniha, R. et al. Experimental investigation of collagen waviness and orientation in the arterial adventitia using confocal laser scanning microscopy. Biomech. Model. Mechanobiol. 11, 461–473 (2012)

Huterer, D. & Vachaspati, T. Distribution of singularities in the cosmic microwave background polarization. Phys. Rev. D 72, 043004 (2005)

Chalfoun, J. et al. FogBank: a single cell segmentation across multiple cell lines and image modalities. BMC Bioinformatics 15, 431 (2014)

Thielicke, W. & Stamhuis, E. J. PIVlab–Towards user-friendly, affordable and accurate digital particle image velocimetry in MATLAB. J. Open Res. Softw. 2, e30 (2014)

Blow, M. L., Thampi, S. P. & Yeomans, J. M. Biphasic, lyotropic, active nematics. Phys. Rev. Lett. 113, 248303 (2014)

Giomi, L., Mahadevan, L., Chakraborty, B. & Hagan, M. Excitable patterns in active nematics. Phys. Rev. Lett. 106, 218101 (2011)

Thampi, S. P., Golestanian, R. & Yeomans, J. M. Instabilities and topological defects in active nematics. Europhys. Lett. 105, 18001 (2014)

Marenduzzo, D., Orlandini, E., Cates, M. E. & Yeomans, J. M. Steady-state hydrodynamic instabilities of active liquid crystals: hybrid lattice Boltzmann simulations. Phys. Rev. E 76, 031921 (2007)

Thampi, S. P., Golestanian, R. & Yeomans, J. M. Vorticity, defects and correlations in active turbulence. Phil. Trans. R. Soc. A 372, 20130366 (2014)

Bittig, T., Wartlick, O., Kicheva, A., González-Gaitán, M. & Jülicher, F. Dynamics of anisotropic tissue growth. New J. Phys. 10, 063001 (2008)

Volfson, D., Cookson, S., Hasty, J. & Tsimring, L. S. Biomechanical ordering of dense cell populations. Proc. Natl Acad. Sci. USA 105, 15346–15351 (2008)

Larson, R. G. The Structure and Rheology of Complex Fluids Vol. 33 (Oxford Univ. Press, 1999)

Edwards, S. A. & Yeomans, J. M. Spontaneous flow states in active nematics: a unified picture. Europhys. Lett. 85, 18008 (2009)

Bittig, T., Wartlick, O., González-Gaitán, M. & Jülicher, F. Quantification of growth asymmetries in developing epithelia. Eur. Phys. J. E 30, 93–99 (2009)

Basan, M., Joanny, J.-F., Prost, J. & Risler, T. Undulation instability of epithelial tissues. Phys. Rev. Lett. 106, 158101 (2011)

Delarue, M. et al. Mechanical control of cell flow in multicellular spheroids. Phys. Rev. Lett. 110, 138103 (2013)

Denniston, C., Marenduzzo, D., Orlandini, E. & Yeomans, J. M. Lattice Boltzmann algorithm for three-dimensional liquid–crystal hydrodynamics. Phil. Trans. R. Soc. A 362, 1745–1754 (2004)

Fielding, S., Marenduzzo, D. & Cates, M. E. Nonlinear dynamics and rheology of active fluids: simulations in two dimensions. Phys. Rev. E 83, 041910 (2011)

von Toussaint, U. Bayesian inference in physics. Rev. Mod. Phys. 83, 943–999 (2011)

Kaipio, J. & Somersalo, E. Statistical and Computational Inverse Problems Vol. 160 (Springer Science & Business Media, 2006)

Hansen, P. C. Analysis of discrete ill-posed problems by means of the L-curve. SIAM Rev. 34, 561–580 (1992)

du Roure, O . et al. Force mapping in epithelial cell migration. Proc. Natl Acad. Sci. USA 102, 2390–2395 (2005); correction 102, 14122 (2005)

Cochet-Escartin, O., Ranft, J., Silberzan, P. & Marcq, P. Border forces and friction control epithelial closure dynamics. Biophys. J. 106, 65–73 (2014)

Harris, A. R. et al. Characterizing the mechanics of cultured cell monolayers. Proc. Natl Acad. Sci. USA 109, 16449–16454 (2012)

Jenkins, A. D. & Dysthe, K. B. The effective film viscosity coefficients of a thin floating fluid layer. J. Fluid Mech. 344, 335–337 (1997)

Hecht, F. New development in FreeFem++. J. Numer. Math. 20, 251–266 (2012)
Acknowledgements
We thank G. Peyret, S. Jain, R.-M. Mège and group members from MBI for discussions, as well as I. Yow, A. P. Le, S. Begnaud and A. Kehren for experimental assistance, and S. Begnaud for providing the YAP nucleus-to-cytoplasm ratio quantification algorithm. We also thank the MBI Microfabrication core, the MBI Microscopy core and the MBI Science Communication core for support. W. J. Nelson and M. Sudol are thanked for their gifts of MDCK cell lines and YAP antibody, respectively. This work was supported by the European Research Council under the European Union's Seventh Framework Program (FP7/2007-2013)/ERC grant agreements 617233 (B.L.) and 291234 (J.M.Y.), and by the Mechanobiology Institute. T.B.S. was supported by an NGS scholarship.
Ethics declarations
Competing interests
The authors declare no competing financial interests.
Additional information
Reviewer Information Nature thanks A. Bausch, D. Discher and the other anonymous reviewer(s) for their contribution to the peer review of this work.
Publisher's note: Springer Nature remains neutral with regard to jurisdictional claims in published maps and institutional affiliations.
Extended data figures and tables
Supplementary information
About this article
Cite this article
Saw, T., Doostmohammadi, A., Nier, V. et al. Topological defects in epithelia govern cell death and extrusion. Nature 544, 212–216 (2017). https://doi.org/10.1038/nature21718
Received:

Accepted:

Published:

Issue Date:

DOI: https://doi.org/10.1038/nature21718
Comments
By submitting a comment you agree to abide by our Terms and Community Guidelines. If you find something abusive or that does not comply with our terms or guidelines please flag it as inappropriate.