Abstract
Transposable elements are viewed as 'selfish genetic elements', yet they contribute to gene regulation and genome evolution in diverse ways1. More than half of the human genome consists of transposable elements2. Alu elements belong to the short interspersed nuclear element (SINE) family of repetitive elements, and with over 1 million insertions they make up more than 10% of the human genome2. Despite their abundance and the potential evolutionary advantages they confer, Alu elements can be mutagenic to the host as they can act as splice acceptors, inhibit translation of mRNAs and cause genomic instability3. Alu elements are the main targets of the RNA-editing enzyme ADAR4 and the formation of Alu exons is suppressed by the nuclear ribonucleoprotein HNRNPC5, but the broad effect of massive secondary structures formed by inverted-repeat Alu elements on RNA processing in the nucleus remains unknown. Here we show that DHX9, an abundant6 nuclear RNA helicase7, binds specifically to inverted-repeat Alu elements that are transcribed as parts of genes. Loss of DHX9 leads to an increase in the number of circular-RNA-producing genes and amount of circular RNAs, translational repression of reporters containing inverted-repeat Alu elements, and transcriptional rewiring (the creation of mostly nonsensical novel connections between exons) of susceptible loci. Biochemical purifications of DHX9 identify the interferon-inducible isoform of ADAR (p150), but not the constitutively expressed ADAR isoform (p110), as an RNA-independent interaction partner. Co-depletion of ADAR and DHX9 augments the double-stranded RNA accumulation defects, leading to increased circular RNA production, revealing a functional link between these two enzymes. Our work uncovers an evolutionarily conserved function of DHX9. We propose that it acts as a nuclear RNA resolvase that neutralizes the immediate threat posed by transposon insertions and allows these elements to evolve as tools for the post-transcriptional regulation of gene expression.
Relevant articles
Open Access articles citing this article.
Jingwen Deng

,

Shaoxia Liao

…

Honghe Zhang

Cell Death & Disease Open Access 16 November 2023

Xin-Yi Feng

,

Shun-Xin Zhu

…

Wen-Tao Wang

Experimental Hematology & Oncology Open Access 12 October 2023

Tao Liu

,

Kaijun Long

…

Xixian Ke

Medical Oncology Open Access 11 October 2023
Access options
Access Nature and 54 other Nature Portfolio journals
Get Nature+, our best-value online-access subscription
$29.99 / 30 days
cancel any time
Subscribe to this journal
Receive 51 print issues and online access
$199.00 per year
only $3.90 per issue
Rent or buy this article
Prices vary by article type
from$1.95
to$39.95
Prices may be subject to local taxes which are calculated during checkout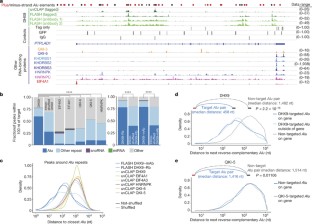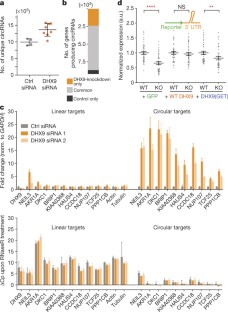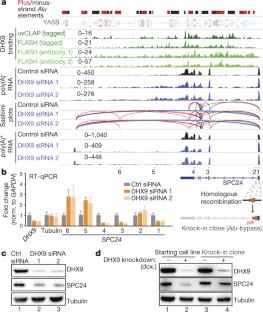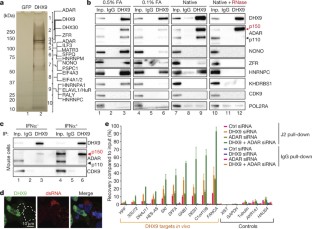 References
Kazazian, H. H., Jr. Mobile elements: drivers of genome evolution. Science 303, 1626–1632 (2004)

de Koning, A. P. J., Gu, W., Castoe, T. A., Batzer, M. A. & Pollock, D. D. Repetitive elements may comprise over two-thirds of the human genome. PLoS Genet. 7, e1002384 (2011)

Elbarbary, R. A., Lucas, B. A. & Maquat, L. E. Retrotransposons as regulators of gene expression. Science 351, aac7247 (2016)

Kim, D. D. Y. et al. Widespread RNA editing of embedded alu elements in the human transcriptome. Genome Res. 14, 1719–1725 (2004)

Zarnack, K. et al. Direct competition between hnRNP C and U2AF65 protects the transcriptome from the exonization of Alu elements. Cell 152, 453–466 (2013)

Hein, M. Y. et al. A human interactome in three quantitative dimensions organized by stoichiometries and abundances. Cell 163, 712–723 (2015)

Koh, H. R., Xing, L., Kleiman, L. & Myong, S. Repetitive RNA unwinding by RNA helicase A facilitates RNA annealing. Nucleic Acids Res. 42, 8556–8564 (2014)

Gantier, M. P. & Williams, B. R. G. The response of mammalian cells to double-stranded RNA. Cytokine Growth Factor Rev. 18, 363–371 (2007)

Lemaire, P. A., Anderson, E., Lary, J. & Cole, J. L. Mechanism of PKR Activation by dsRNA. J. Mol. Biol. 381, 351–360 (2008)

Elbarbary, R. A., Li, W., Tian, B. & Maquat, L. E. STAU1 binding 3′ UTR IRAlus complements nuclear retention to protect cells from PKR-mediated translational shutdown. Genes Dev. 27, 1495–1510 (2013)

Oshiumi, H., Kouwaki, T. & Seya, T. Accessory factors of cytoplasmic viral RNA sensors required for antiviral innate immune response. Front. Immunol. 7, 200 (2016)

Lee, C. G . et al. RNA helicase A is essential for normal gastrulation. Proc. Natl Acad. Sci. USA 95, 13709–13713 (1998)

Wang, T. et al. Identification and characterization of essential genes in the human genome. Science 350, 1096–1101 (2015)

Tagwerker, C. et al. A tandem affinity tag for two-step purification under fully denaturing conditions: application in ubiquitin profiling and protein complex identification combined with in vivocross-linking. Mol. Cell. Proteomics 5, 737–748 (2006)

Batzer, M. A. & Deininger, P. L. Alu repeats and human genomic diversity. Nat. Rev. Genet. 3, 370–379 (2002)

Kim, J., Cantor, A. B., Orkin, S. H. & Wang, J. Use of in vivo biotinylation to study protein-protein and protein-DNA interactions in mouse embryonic stem cells. Nat. Protocols 4, 506–517 (2009)

Kramerov, D. A. & Vassetzky, N. S. Origin and evolution of SINEs in eukaryotic genomes. Heredity 107, 487–495 (2011)

Ilik, I. A. et al. Tandem stem-loops in roX RNAs act together to mediate X chromosome dosage compensation in Drosophila. Mol. Cell 51, 156–173 (2013)

Quinn, J. J. et al. Revealing long noncoding RNA architecture and functions using domain-specific chromatin isolation by RNA purification. Nat. Biotechnol. 32, 933–940 (2014)

Noé, L . & Kucherov, G. YASS: enhancing the sensitivity of DNA similarity search. Nucleic Acids Res. 33, W540–W543 (2005)

Jeck, W. R. et al. Circular RNAs are abundant, conserved, and associated with ALU repeats. RNA 19, 141–157 (2013)

Zhang, X.-O. et al. Complementary sequence-mediated exon circularization. Cell 159, 134–147 (2014)

Memczak, S. et al. Circular RNAs are a large class of animal RNAs with regulatory potency. Nature 495, 333–338 (2013)

Lee, C. G., Chang, K. A., Kuroda, M. I. & Hurwitz, J. The NTPase/helicase activities of Drosophila maleless, an essential factor in dosage compensation. EMBO J. 16, 2671–2681 (1997)

Ricci, E. P. et al. Staufen1 senses overall transcript secondary structure to regulate translation. Nat. Struct. Mol. Biol. 21, 26–35 (2014)

Svensson, M. & Agace, W. W. Role of CCL25/CCR9 in immune homeostasis and disease. Expert Rev. Clin. Immunol. 2, 759–773 (2006)

Neumann, B. et al. Phenotypic profiling of the human genome by time-lapse microscopy reveals cell division genes. Nature 464, 721–727 (2010)

McCleland, M. L. et al. The highly conserved Ndc80 complex is required for kinetochore assembly, chromosome congression, and spindle checkpoint activity. Genes Dev. 17, 101–114 (2003)

UniProt Consortium. UniProt: a hub for protein information. Nucleic Acids Res. 43, D204–D212 (2015)

Shin, Y. J. et al. Nanobody-targeted E3-ubiquitin ligase complex degrades nuclear proteins. Sci. Rep. 5, 14269 (2015)

Ran, F. A. et al. Genome engineering using the CRISPR-Cas9 system. Nat. Protocols 8, 2281–2308 (2013)

Chelmicki, T. et al. MOF-associated complexes ensure stem cell identity and Xist repression. eLife 3, e02024 (2014)

Konig, J. et al. iCLIP--transcriptome-wide mapping of protein-RNA interactions with individual nucleotide resolution. J. Vis. Exp. 50, 2638 (2011)

Faircloth, B. C. & Glenn, T. C. Not all sequence tags are created equal: designing and validating sequence identification tags robust to indels. PLoS One 7, e42543 (2012)

König, J. et al. iCLIP reveals the function of hnRNP particles in splicing at individual nucleotide resolution. Nat. Struct. Mol. Biol. 17, 909–915 (2010)

Dodt, M., Roehr, J. T., Ahmed, R. & Dieterich, C. FLEXBAR—flexible barcode and adapter processing for next-generation sequencing platforms. Biology (Basel) 1, 895–905 (2012)

Langmead, B. & Salzberg, S. L. Fast gapped-read alignment with Bowtie 2. Nat. Methods 9, 357–359 (2012)

Ibrahim, M. M., Lacadie, S. A. & Ohler, U. JAMM: a peak finder for joint analysis of NGS replicates. Bioinformatics 31, 48–55 (2015)

Ramírez, F. et al. deepTools2: a next generation web server for deep-sequencing data analysis. Nucleic Acids Res. 44 (W1), W160–W165 (2016)

Afgan, E. et al. The Galaxy platform for accessible, reproducible and collaborative biomedical analyses: 2016 update. Nucleic Acids Res. 44 (W1), W3–W10 (2016)

Holmqvist, E. et al. Global RNA recognition patterns of post-transcriptional regulators Hfq and CsrA revealed by UV crosslinking in vivo. EMBO J. 35, 991–1011 (2016)

Day, D. et al. Estimating enrichment of repetitive elements from high-throughput sequence data. Genome Biol. 11, R69 (2010)

Novák, P., Neumann, P. & Macas, J. Graph-based clustering and characterization of repetitive sequences in next-generation sequencing data. BMC Bioinformatics 11, 378 (2010)

Novák, P., Neumann, P., Pech, J., Steinhaisl, J. & Macas, J. RepeatExplorer: a Galaxy-based web server for genome-wide characterization of eukaryotic repetitive elements from next-generation sequence reads. Bioinformatics 29, 792–793 (2013)

Kim, D. et al. TopHat2: accurate alignment of transcriptomes in the presence of insertions, deletions and gene fusions. Genome Biol. 14, R36 (2013)

Liao, Y., Smyth, G. K. & Shi, W. featureCounts: an efficient general purpose program for assigning sequence reads to genomic features. Bioinformatics 30, 923–930 (2014)

Robinson, M. D., McCarthy, D. J. & Smyth, G. K. edgeR: a Bioconductor package for differential expression analysis of digital gene expression data. Bioinformatics 26, 139–140 (2010)

Anders, S., Reyes, A. & Huber, W. Detecting differential usage of exons from RNA-seq data. Genome Res. 22, 2008–2017 (2012)

Dobin, A. et al. STAR: ultrafast universal RNA-seq aligner. Bioinformatics 29, 15–21 (2013)

Steigemann, P. et al. Aurora B-mediated abscission checkpoint protects against tetraploidization. Cell 136, 473–484 (2009)

Picardi, E. et al. REDIportal: a comprehensive database of A-to-I RNA editing events in humans. Nucleic Acids Res. 45, D750–D757 (2017)
Acknowledgements
We thank members of the Akhtar laboratory especially B. Sheikh, C. Keller and K. Lam for critical reading of the manuscript and helpful discussions. We also thank N. Iovino and R. Sawarkar for critical reading of the manuscript. We also thank the members of the Deep Sequencing, Imaging, FACS and the Proteomics Facilities for their support. We acknowledge the support of the Freiburg Galaxy Team: B. Grüning and T. Houwaart, Bioinformatics, University of Freiburg. This work was supported by CRC 992/2 2016 awarded to A.A., T.M. and R.B., and CRC 746 and CRC 1140 awarded to A.A. R.B. is also funded by BA2168/11-1, SPP 1738 and CRC TRR 167.
Ethics declarations
Competing interests
T.A., I.A.I. and A.A. have filed a patent application related to this work; the rest of the authors declare no competing financial interests.
Extended data figures and tables
Supplementary information
About this article
Cite this article
Aktaş, T., Avşar Ilık, İ., Maticzka, D. et al. DHX9 suppresses RNA processing defects originating from the Alu invasion of the human genome. Nature 544, 115–119 (2017). https://doi.org/10.1038/nature21715
Received:

Accepted:

Published:

Issue Date:

DOI: https://doi.org/10.1038/nature21715
Comments
By submitting a comment you agree to abide by our Terms and Community Guidelines. If you find something abusive or that does not comply with our terms or guidelines please flag it as inappropriate.