Abstract
During spatial navigation, neural activity in the hippocampus and the medial entorhinal cortex (MEC) is correlated to navigational variables such as location1,2, head direction3, speed4, and proximity to boundaries5. These activity patterns are thought to provide a map-like representation of physical space. However, the hippocampal–entorhinal circuit is involved not only in spatial navigation, but also in a variety of memory-guided behaviours6. The relationship between this general function and the specialized spatial activity patterns is unclear. A conceptual framework reconciling these views is that spatial representation is just one example of a more general mechanism for encoding continuous, task-relevant variables7,8,9,10. Here we tested this idea by recording from hippocampal and entorhinal neurons during a task that required rats to use a joystick to manipulate sound along a continuous frequency axis. We found neural representation of the entire behavioural task, including activity that formed discrete firing fields at particular sound frequencies. Neurons involved in this representation overlapped with the known spatial cell types in the circuit, such as place cells and grid cells. These results suggest that common circuit mechanisms in the hippocampal–entorhinal system are used to represent diverse behavioural tasks, possibly supporting cognitive processes beyond spatial navigation.
Your institute does not have access to this article
Relevant articles
Open Access articles citing this article.
Henry Powell

,

Mathias Winkel

…

Helmut Linde

Scientific Reports Open Access 23 June 2022

Davide Spalla

,

Alessandro Treves

&

Charlotte N. Boccara

Nature Communications Open Access 07 April 2022

Babak Shahbaba

,

Lingge Li

…

Norbert J. Fortin

Nature Communications Open Access 08 February 2022
Access options
Subscribe to Nature+
Get immediate online access to the entire Nature family of 50+ journals
Subscribe to Journal
Get full journal access for 1 year
$199.00
only $3.90 per issue
All prices are NET prices.
VAT will be added later in the checkout.
Tax calculation will be finalised during checkout.
Buy article
Get time limited or full article access on ReadCube.
$32.00
All prices are NET prices.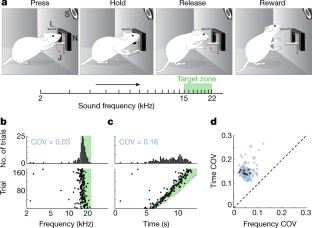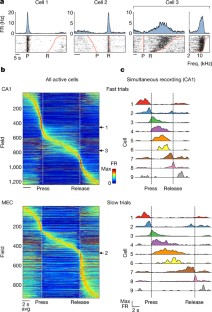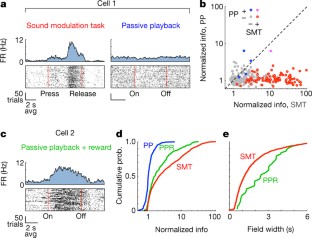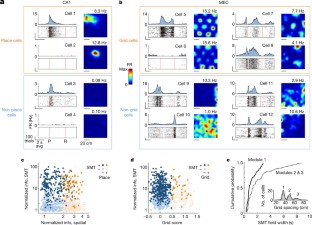 References
O'Keefe, J. & Dostrovsky, J. The hippocampus as a spatial map. Preliminary evidence from unit activity in the freely-moving rat. Brain Res. 34, 171–175 (1971)

Hafting, T., Fyhn, M., Molden, S., Moser, M. B. & Moser, E. I. Microstructure of a spatial map in the entorhinal cortex. Nature 436, 801–806 (2005)

Sargolini, F. et al. Conjunctive representation of position, direction, and velocity in entorhinal cortex. Science 312, 758–762 (2006)

Kropff, E., Carmichael, J. E., Moser, M. B. & Moser, E. I. Speed cells in the medial entorhinal cortex. Nature 523, 419–424 (2015)

Solstad, T., Boccara, C. N., Kropff, E., Moser, M. B. & Moser, E. I. Representation of geometric borders in the entorhinal cortex. Science 322, 1865–1868 (2008)

Squire, L. R. Memory and the hippocampus: a synthesis from findings with rats, monkeys, and humans. Psychol. Rev. 99, 195–231 (1992)

Buzsáki, G. & Moser, E. I. Memory, navigation and theta rhythm in the hippocampal-entorhinal system. Nat. Neurosci. 16, 130–138 (2013)

Schiller, D. et al. Memory and space: towards an understanding of the cognitive map. J. Neurosci. 35, 13904–13911 (2015)

Tavares, R. M. et al. A map for social navigation in the human brain. Neuron 87, 231–243 (2015)

Constantinescu, A. O., O'Reilly, J. X. & Behrens, T. E. Organizing conceptual knowledge in humans with a gridlike code. Science 352, 1464–1468 (2016)

O'Keefe, J. & Nadel, L. The Hippocampus as a Cognitive Map (Clarendon, 1978)

Muller, R. U. & Kubie, J. L. The effects of changes in the environment on the spatial firing of hippocampal complex-spike cells. J. Neurosci. 7, 1951–1968 (1987)

Colgin, L. L., Moser, E. I. & Moser, M. B. Understanding memory through hippocampal remapping. Trends Neurosci. 31, 469–477 (2008)

Sakurai, Y. Coding of auditory temporal and pitch information by hippocampal individual cells and cell assemblies in the rat. Neuroscience 115, 1153–1163 (2002)

Eichenbaum, H., Kuperstein, M., Fagan, A. & Nagode, J. Cue-sampling and goal-approach correlates of hippocampal unit activity in rats performing an odor-discrimination task. J. Neurosci. 7, 716–732 (1987)

Fried, I., MacDonald, K. A. & Wilson, C. L. Single neuron activity in human hippocampus and amygdala during recognition of faces and objects. Neuron 18, 753–765 (1997)

Killian, N. J., Jutras, M. J. & Buffalo, E. A. A map of visual space in the primate entorhinal cortex. Nature 491, 761–764 (2012)

Manns, J. R., Howard, M. W. & Eichenbaum, H. Gradual changes in hippocampal activity support remembering the order of events. Neuron 56, 530–540 (2007)

Pastalkova, E., Itskov, V., Amarasingham, A. & Buzsáki, G. Internally generated cell assembly sequences in the rat hippocampus. Science 321, 1322–1327 (2008)

MacDonald, C. J., Carrow, S., Place, R. & Eichenbaum, H. Distinct hippocampal time cell sequences represent odor memories in immobilized rats. J. Neurosci. 33, 14607–14616 (2013)

Kraus, B. J. et al. During running in place, grid cells integrate elapsed time and distance run. Neuron 88, 578–589 (2015)

Kelly, J. B. & Masterton, B. Auditory sensitivity of the albino rat. J. Comp. Physiol. Psychol. 91, 930–936 (1977)

Langston, R. F. et al. Development of the spatial representation system in the rat. Science 328, 1576–1580 (2010)

Stensola, H. et al. The entorhinal grid map is discretized. Nature 492, 72–78 (2012)

Yoon, K., Lewallen, S., Kinkhabwala, A. A., Tank, D. W. & Fiete, I. R. Grid Cell responses in 1D environments assessed as slices through a 2D lattice. Neuron 89, 1086–1099 (2016)

Hetherington, P. A. & Shapiro, M. L. Hippocampal place fields are altered by the removal of single visual cues in a distance-dependent manner. Behav. Neurosci. 111, 20–34 (1997)

Hardcastle, K., Ganguli, S. & Giocomo, L. M. Environmental boundaries as an error correction mechanism for grid cells. Neuron 86, 827–839 (2015)

Terrazas, A. et al. Self-motion and the hippocampal spatial metric. J. Neurosci. 25, 8085–8096 (2005)

Hopfield, J. J. Neurodynamics of mental exploration. Proc. Natl Acad. Sci. USA 107, 1648–1653 (2010)

Pfeiffer, B. E. & Foster, D. J. Hippocampal place-cell sequences depict future paths to remembered goals. Nature 497, 74–79 (2013)

Aronov, D. & Tank, D. W. Engagement of neural circuits underlying 2D spatial navigation in a rodent virtual reality system. Neuron 84, 442–456 (2014)

Kloosterman, F. et al. Micro-drive array for chronic in vivo recording: drive fabrication. J. Vis. Exp. 26, e1094 (2009)

Mizuseki, K., Diba, K., Pastalkova, E. & Buzsáki, G. Hippocampal CA1 pyramidal cells form functionally distinct sublayers. Nat. Neurosci. 14, 1174–1181 (2011)

Skaggs, W. E., McNaughton, B. L., Gothard, K. M. & Markus, E. J. in Advances in Neural Information Processing Vol. 5 (eds Hanson, S. J., Cowan, J. D. & Giles, C. L. ) 1030–1037 (Morgan Kaufmann, 1993)

Hargreaves, E. L., Rao, G., Lee, I. & Knierim, J. J. Major dissociation between medial and lateral entorhinal input to dorsal hippocampus. Science 308, 1792–1794 (2005)

Krupic, J., Bauza, M., Burton, S., Barry, C. & O'Keefe, J. Grid cell symmetry is shaped by environmental geometry. Nature 518, 232–235 (2015)

Stensola, T., Stensola, H., Moser, M. B. & Moser, E. I. Shearing-induced asymmetry in entorhinal grid cells. Nature 518, 207–212 (2015)

Giocomo, L. M. et al. Topography of head direction cells in medial entorhinal cortex. Curr. Biol. 24, 252–262 (2014)

Jaramillo, S. & Zador, A. M. The auditory cortex mediates the perceptual effects of acoustic temporal expectation. Nat. Neurosci. 14, 246–251 (2011)
Acknowledgements
We thank A. Akrami, C. Constantinople, C. Domnisoru, J. Gauthier, A. Miri, K. Rajan, D. Rich, and B. Scott for suggestions, as well as S. Lowe for assistance with machining. The illustrations in Fig. 1a are by J. Kuhl. This work was supported by the Simons Foundation, NIH Grant 1K99NS093071 (D.A.) and the US Federal Work-Study program (R.N.).
Ethics declarations
Competing interests
The authors declare no competing financial interests.
Additional information
Reviewer Information Nature thanks E. Buffalo, M. Mehta and the other anonymous reviewer(s) for their contribution to the peer review of this work.
Publisher's note: Springer Nature remains neutral with regard to jurisdictional claims in published maps and institutional affiliations.
Extended data figures and tables
About this article
Cite this article
Aronov, D., Nevers, R. & Tank, D. Mapping of a non-spatial dimension by the hippocampal–entorhinal circuit. Nature 543, 719–722 (2017). https://doi.org/10.1038/nature21692
Received:

Accepted:

Published:

Issue Date:

DOI: https://doi.org/10.1038/nature21692
Comments
By submitting a comment you agree to abide by our Terms and Community Guidelines. If you find something abusive or that does not comply with our terms or guidelines please flag it as inappropriate.