Abstract
The vertebrate-conserved RNA-binding protein DND1 is required for the survival of primordial germ cells (PGCs), as well as the suppression of germ cell tumours in mice1,2,3,4,5. Here we show that in mice DND1 binds a UU(A/U) trinucleotide motif predominantly in the 3′ untranslated regions of mRNA, and destabilizes target mRNAs through direct recruitment of the CCR4–NOT deadenylase complex. Transcriptomic analysis reveals that the extent of suppression is dependent on the number of DND1-binding sites. This DND1-dependent mRNA destabilization is required for the survival of mouse PGCs and spermatogonial stem cells by suppressing apoptosis. The spectrum of target RNAs includes positive regulators of apoptosis and inflammation, and modulators of signalling pathways that regulate stem-cell pluripotency, including the TGFβ superfamily, all of which are aberrantly elevated in DND1-deficient PGCs. We propose that the induction of the post-transcriptional suppressor DND1 synergizes with concurrent transcriptional changes to ensure precise developmental transitions during cellular differentiation and maintenance of the germ line.
Access options
Subscribe to Journal
Get full journal access for 1 year
$199.00
only $3.90 per issue
All prices are NET prices.
VAT will be added later in the checkout.
Rent or Buy article
Get time limited or full article access on ReadCube.
from$8.99
All prices are NET prices.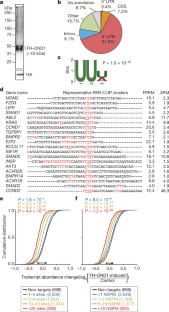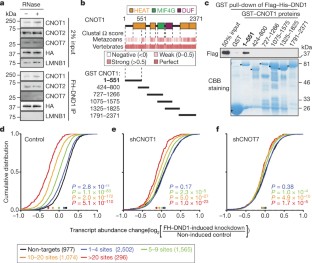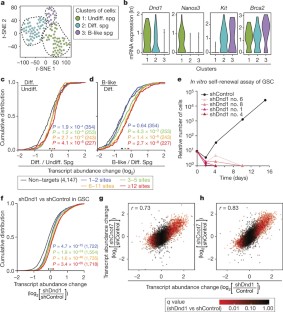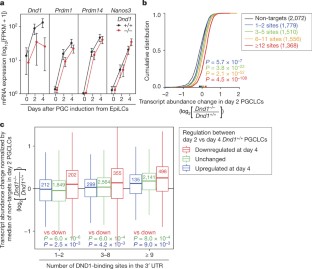 Accession codes
Primary accessions
Sequence Read Archive
References
1

Youngren, K. K. et al. The Ter mutation in the dead end gene causes germ cell loss and testicular germ cell tumours. Nature 435, 360–364 (2005)

2

Northrup, E. et al. The ter mutation in the rat Dnd1 gene initiates gonadal teratomas and infertility in both genders. PLoS One 7, e38001 (2012)

3

Cook, M. S., Coveney, D., Batchvarov, I., Nadeau, J. H. & Capel, B. BAX-mediated cell death affects early germ cell loss and incidence of testicular teratomas in Dnd1Ter/Ter mice. Dev. Biol. 328, 377–383 (2009)

4

Noguchi, T. & Noguchi, M . A recessive mutation (ter) causing germ cell deficiency and a high incidence of congenital testicular teratomas in 129/Sv-ter mice. J. Natl. Cancer Inst. 75, 385–392 (1985)

5

Sakurai, T., Iguchi, T., Moriwaki, K. & Noguchi, M. The ter mutation first causes primordial germ cell deficiency in ter/ter mouse embryos at 8 days of gestation. Dev. Growth Differ. 37, 293–302 (1995)

6

Saitou, M. & Yamaji, M. Primordial germ cells in mice. Cold Spring Harb. Perspect. Biol. 4, a008375 (2012)

7

Yabuta, Y., Kurimoto, K., Ohinata, Y., Seki, Y. & Saitou, M. Gene expression dynamics during germline specification in mice identified by quantitative single-cell gene expression profiling. Biol. Reprod. 75, 705–716 (2006)

8

Kedde, M. et al. RNA-binding protein Dnd1 inhibits microRNA access to target mRNA. Cell 131, 1273–1286 (2007)

9

Suzuki, A. et al. Dead end1 is an essential partner of NANOS2 for selective binding of target RNAs in male germ cell development. EMBO Rep. 17, 37–46 (2016)

10

Kanatsu-Shinohara, M. et al. Long-term proliferation in culture and germline transmission of mouse male germline stem cells. Biol. Reprod. 69, 612–616 (2003)

11

Hafner, M. et al. Transcriptome-wide identification of RNA-binding protein and microRNA target sites by PAR-CLIP. Cell 141, 129–141 (2010)

12

Corcoran, D. L. et al. PARalyzer: definition of RNA binding sites from PAR-CLIP short-read sequence data. Genome Biol. 12, R79 (2011)

13

Barreau, C., Paillard, L. & Osborne, H. B. AU-rich elements and associated factors: are there unifying principles? Nucleic Acids Res. 33, 7138–7150 (2006)

14

Spiller, C. M. et al. Endogenous Nodal signaling regulates germ cell potency during mammalian testis development. Development 139, 4123–4132 (2012)

15

Macosko, E. Z. et al. Highly parallel genome-wide expression profiling of individual cells using nanoliter droplets. Cell 161, 1202–1214 (2015)

16

van der Maaten, L. & Hinton, G. Visualizing data using t-SNE. J. Mach. Learn. Res. 9, 2579–2605 (2008)

17

Kurimoto, K. et al. Quantitative dynamics of chromatin remodeling during germ cell specification from mouse embryonic stem cells. Cell Stem Cell 16, 517–532 (2015)

18

Hayashi, K., Ohta, H., Kurimoto, K., Aramaki, S. & Saitou, M. Reconstitution of the mouse germ cell specification pathway in culture by pluripotent stem cells. Cell 146, 519–532 (2011)

19

Kurimoto, K. et al. Complex genome-wide transcription dynamics orchestrated by Blimp1 for the specification of the germ cell lineage in mice. Genes Dev. 22, 1617–1635 (2008)

20

Ebert, M. S. & Sharp, P. A. Roles for microRNAs in conferring robustness to biological processes. Cell 149, 515–524 (2012)

21

Slanchev, K. et al. Control of dead end localization and activity–implications for the function of the protein in antagonizing miRNA function. Mech. Dev. 126, 270–277 (2009)

22

Roers, A., Hiller, B. & Hornung, V. Recognition of endogenous nucleic acids by the innate immune system. Immunity 44, 739–754 (2016)

23

Korkola, J. E. et al. Down-regulation of stem cell genes, including those in a 200-kb gene cluster at 12p13.31, is associated with in vivo differentiation of human male germ cell tumors. Cancer Res. 66, 820–827 (2006)

24

Gerstberger, S., Hafner, M. & Tuschl, T. A census of human RNA-binding proteins. Nat. Rev. Genet. 15, 829–845 (2014)

25

Zhang, P. et al. MIWI and piRNA-mediated cleavage of messenger RNAs in mouse testes. Cell Res. 25, 193–207 (2015)

26

Reuter, M. et al. Miwi catalysis is required for piRNA amplification-independent LINE1 transposon silencing. Nature 480, 264–267 (2011)

27

Collier, B., Gorgoni, B., Loveridge, C., Cooke, H. J. & Gray, N. K. The DAZL family proteins are PABP-binding proteins that regulate translation in germ cells. EMBO J. 24, 2656–2666 (2005)

28

Suzuki, A ., Igarashi, K ., Aisaki, K ., Kanno, J & Saga, Y. NANOS2 interacts with the CCR4-NOT deadenylation complex and leads to suppression of specific RNAs. Proc. Natl Acad. Sci. USA 107, 3594–3599 (2010)

29

Bhandari, D., Raisch, T., Weichenrieder, O., Jonas, S. & Izaurralde, E. Structural basis for the Nanos-mediated recruitment of the CCR4-NOT complex and translational repression. Genes Dev. 28, 888–901 (2014)

30

Li, C. & Hung Wong, W. Model-based analysis of oligonucleotide arrays: model validation, design issues and standard error application. Genome Biol. 2 RESEARCH0032 (2001)

31

Spitzer, J., Landthaler, M. & Tuschl, T. Rapid creation of stable mammalian cell lines for regulated expression of proteins using the Gateway® recombination cloning technology and Flp-In T-REx® lines. Methods Enzymol. 529, 99–124 (2013)

32

Al-Zoghaibi, F. et al. Bioinformatics and experimental derivation of an efficient hybrid 3′ untranslated region and use in expression active linear DNA with minimum poly(A) region. Gene 391, 130–139 (2007)

33

Wiznerowicz, M. & Trono, D. Conditional suppression of cellular genes: lentivirus vector-mediated drug-inducible RNA interference. J. Virol. 77, 8957–8961 (2003)

34

Moffat, J. et al. A lentiviral RNAi library for human and mouse genes applied to an arrayed viral high-content screen. Cell 124, 1283–1298 (2006)

35

Sarbassov, D. D., Guertin, D. A., Ali, S. M. & Sabatini, D. M. Phosphorylation and regulation of Akt/PKB by the rictor-mTOR complex. Science 307, 1098–1101 (2005)

36

Fabian, M. R. et al. Structural basis for the recruitment of the human CCR4-NOT deadenylase complex by tristetraprolin. Nat. Struct. Mol. Biol. 20, 735–739 (2013)

37

Huang, W., Sherman, B. T. & Lempicki, R. A. Systematic and integrative analysis of large gene lists using DAVID bioinformatics resources. Nat. Protocols 4, 44–57 (2009)

38

Huang, W., Sherman, B. T. & Lempicki, R. A. Bioinformatics enrichment tools: paths toward the comprehensive functional analysis of large gene lists. Nucleic Acids Res. 37, 1–13 (2009)

39

Bailey, T. L. DREME: motif discovery in transcription factor ChIP-seq data. Bioinformatics 27, 1653–1659 (2011)

40

Yamaji, M. et al. PRDM14 ensures naive pluripotency through dual regulation of signaling and epigenetic pathways in mouse embryonic stem cells. Cell Stem Cell 12, 368–382 (2013)

41

Ran, F. A. et al. Genome engineering using the CRISPR-Cas9 system. Nat. Protocols 8, 2281–2308 (2013)

42

Chen, X. et al. Dual sgRNA-directed gene knockout using CRISPR/Cas9 technology in Caenorhabditis elegans. Sci. Rep. 4, 7581 (2014)

43

Bastos, H. et al. Flow cytometric characterization of viable meiotic and postmeiotic cells by Hoechst 33342 in mouse spermatogenesis. Cytometry A 65, 40–49 (2005)

44

Satija, R., Farrell, J. A., Gennert, D., Schier, A. F. & Regev, A. Spatial reconstruction of single-cell gene expression data. Nat. Biotechnol. 33, 495–502 (2015)

45

Rouya, C. et al. Human DDX6 effects miRNA-mediated gene silencing via direct binding to CNOT1. RNA 20, 1398–1409 (2014)

46

Jishage, M. et al. Transcriptional regulation by Pol II(G) involving mediator and competitive interactions of Gdown1 and TFIIF with Pol II. Mol. Cell 45, 51–63 (2012)

47

Goujon, M. et al. A new bioinformatics analysis tools framework at EMBL-EBI. Nucleic Acids Res. 38, W695–W699 (2010)

48

McWilliam, H. et al. Analysis tool web services from the EMBL-EBI. Nucleic Acids Res. 41, W597–W600 (2013)

49

Sievers, F. et al. Fast, scalable generation of high-quality protein multiple sequence alignments using Clustal Omega. Mol. Syst. Biol. 7, 539 (2011)

50

Letunic, I., Doerks, T. & Bork, P. SMART: recent updates, new developments and status in 2015. Nucleic Acids Res. 43, D257–D260 (2015)

51

Petersen, B., Petersen, T. N., Andersen, P., Nielsen, M. & Lundegaard, C. A generic method for assignment of reliability scores applied to solvent accessibility predictions. BMC Struct. Biol. 9, 51 (2009)

52

Handa, N. et al. Structural basis for recognition of the tra mRNA precursor by the Sex-lethal protein. Nature 398, 579–585 (1999)

53

Wang, X. & Tanaka Hall, T. M. Structural basis for recognition of AU-rich element RNA by the HuD protein. Nat. Struct. Biol. 8, 141–145 (2001)

54

Kuwasako, K. et al. Solution structure of the second RNA recognition motif (RRM) domain of murine T cell intracellular antigen-1 (TIA-1) and its RNA recognition mode. Biochemistry 47, 6437–6450 (2008)

55

Mukherjee, N. et al. Integrative regulatory mapping indicates that the RNA-binding protein HuR couples pre-mRNA processing and mRNA stability. Mol. Cell 43, 327–339 (2011)

56

Nakaki, F. et al. Induction of mouse germ-cell fate by transcription factors in vitro. Nature 501, 222–226 (2013)
Acknowledgements
The authors acknowledge expert support by the members of the Rockefeller University resource centers (C. Zhao, genomics; H. Molina, proteomics; S. Mazel, flow cytometry; A. North, bio-imaging; R. Norinsky, chimaera assay) and of the NIAMS Genomics Core (G. Gutierrez-Cruz and S. Dell'Orso). We also thank M. Morita (McGill University, Montréal, Canada) for critical discussions on biochemical analysis, K. Hayashi (Kyusyu University, Japan) and Y. Saito (Rockefeller University) for technical guidance regarding PGCLC induction, and N. Mukherjee (Max-Delbrück Centrum for Molecular Medicine, Berlin, Germany) for bioinformatic tools, E. Macosko, M. Goldman, and S. McCarroll for advice to establish DropSeq, and S. Yamada and S. Keeney (Memorial Sloan Kettering Cancer Center, New York) for technical guidance regarding spermatogenic cell sorting. The GST-CNOT constructs were provided by N. Sonenberg (McGill University, Montréal, Canada). pCMV-PP7 and β-globin-4×PP7-hairpin reporter plasmid were provided by D. R. Larson and M. Palangat (National Cancer Institute/NIH) and J. R. Hogg (National Heart, Lung, and Blood Institute/NIH), respectively. T.T. is an HHMI investigator. The study was supported, in part, by the Starr Cancer Foundation (T.T.), the Starr Foundation (T.T., Ma.Y.: TRI-SCI 2014-036; R.G.R.: TRI-SCI), NCI (R.G.R.), NCATS/NIH/CTSA, the Vilcek Foundation (Ma.Y.; UL1 TR000043), DAAD (C.M.), and NIH TRA (T.T.; R01CA159227). The Intramural Research Program of NIAMS/NIH supports S.M., H.L.M., and M.H. Ma.Y. was a recipient of a JSPS Research Fellowship.
Ethics declarations
Competing interests
CFI statement: T.T. is co-founder of and scientific advisor to Alnylam Pharmaceuticals and Regulus Therapeutics.
Additional information
Publisher's note: Springer Nature remains neutral with regard to jurisdictional claims in published maps and institutional affiliations.
Extended data figures and tables
Supplementary information
About this article
Cite this article
Yamaji, M., Jishage, M., Meyer, C. et al. DND1 maintains germline stem cells via recruitment of the CCR4–NOT complex to target mRNAs. Nature 543, 568–572 (2017) doi:10.1038/nature21690
Received

Accepted

Published

Issue Date
Comments
By submitting a comment you agree to abide by our Terms and Community Guidelines. If you find something abusive or that does not comply with our terms or guidelines please flag it as inappropriate.