Abstract
Understanding and predicting crystal growth is fundamental to the control of functionality in modern materials. Despite investigations for more than one hundred years1,2,3,4,5, it is only recently that the molecular intricacies of these processes have been revealed by scanning probe microscopy6,7,8. To organize and understand this large amount of new information, new rules for crystal growth need to be developed and tested. However, because of the complexity and variety of different crystal systems, attempts to understand crystal growth in detail have so far relied on developing models that are usually applicable to only one system9,10,11. Such models cannot be used to achieve the wide scope of understanding that is required to create a unified model across crystal types and crystal structures. Here we describe a general approach to understanding and, in theory, predicting the growth of a wide range of crystal types, including the incorporation of defect structures, by simultaneous molecular-scale simulation of crystal habit and surface topology using a unified kinetic three-dimensional partition model. This entails dividing the structure into 'natural tiles' or Voronoi polyhedra that are metastable and, consequently, temporally persistent. As such, these units are then suitable for re-construction of the crystal via a Monte Carlo algorithm. We demonstrate our approach by predicting the crystal growth of a diverse set of crystal types, including zeolites, metal–organic frameworks, calcite, urea and l-cystine.
Relevant articles
Open Access articles citing this article.
Koki Muraoka

,

Yuki Sada

…

Tatsuya Okubo

Nature Communications Open Access 01 October 2019
Access options
Access Nature and 54 other Nature Portfolio journals
Get Nature+, our best-value online-access subscription
$29.99 / 30 days
cancel any time
Subscribe to this journal
Receive 51 print issues and online access
$199.00 per year
only $3.90 per issue
Rent or buy this article
Get just this article for as long as you need it
$39.95
Prices may be subject to local taxes which are calculated during checkout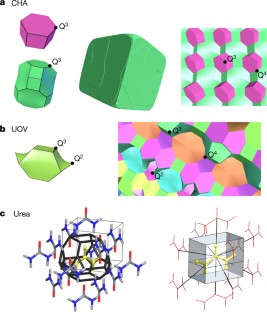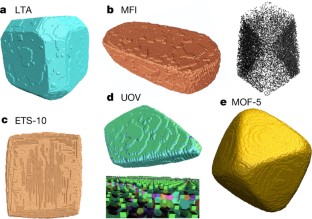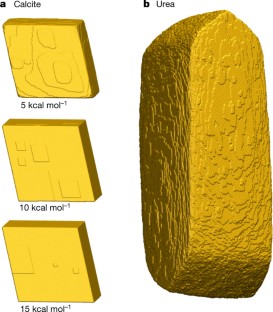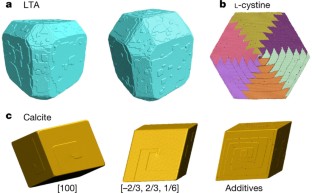 References
Ostwald, W. Studien über die Bildung und Umwandlung fester Körper. Z. Phys. Chem. 22, 289–330 (1897)

Volmer, M. Kinetics of Phase Formation (Kinetik der Phasenbildung) http://www.dtic.mil/cgi-bin/GetTRDoc?Location=U2&doc=GetTRDoc.pdf&AD=ADA800534 (Theodor Steinkopf, 1939)

Stranski, I. N. Zur Theorie des Kristallwachstums. Z. Phys. Chem. 136, 259–278 (1928)

Kossel, W. Zur Theorie des Kristallwachstums. Nachrichten der Gesselschaft der Wissenschaften Göttingen, Mathematisch-Physikalische Klasse 1927, 135–143, (1927)

Burton, W. K., Cabrera, N. & Frank, F. C. The growth of crystals and the equilibrium structure of their surfaces. Phil. Trans. R. Soc. Lond. A 243, 299–358 (1951)

Hillner, P. E., Gratz, A. J., Manne, S. & Hansma, P. K. Atomic-scale imaging of calcite growth in real-time. Geology 20, 359–362 (1992)

Land, T. A., DeYoreo, J. J. & Lee, J. D. An in-situ AFM investigation of canavalin crystallization kinetics. Surf. Sci. 384, 136–155 (1997)

Agger, J. R., Pervaiz, N., Cheetham, A. K. & Anderson, M. W. Crystallization in zeolite A studied by atomic force microscopy. J. Am. Chem. Soc. 120, 10754–10759 (1998)

Cuppen, H. M., van Veenendaal, E., van Suchtelen, J., van Enckevort, W.J.P. & Vlieg, E. A Monte Carlo study of dislocation growth and etching of crystals. J. Cryst. Growth 219, 165–175 (2000)

De Yoreo, J. J. et al. Rethinking classical crystal growth models through molecular scale insights: consequences of kink-limited kinetics. Cryst. Growth Des. 9, 5135–5144 (2009)

Brent, R. et al. Unstitching the nanoscopic mystery of zeolite crystal formation. J. Am. Chem. Soc. 132, 13858–13868 (2010)

Davis, M. E. Ordered porous materials for emerging applications. Nature 417, 813–821 (2002)

Kinrade, S. D. & Swaddle, T. W. 29Si NMR studies of aqueous silicate solutions 2: transverse 29Si relaxation and the kinetics and mechanism of silicate polymerisation. Inorg. Chem. 27, 4259–4264 (1988)

Knight, C. T. G. & Harris, R. K. Silicon-29 nuclear magnetic resonance studies of aqueous silicate solutions 8: spin-lattice relaxation times and mechanisms. Magn. Reson. Chem. 24, 872–874 (1986)

Harris, R. K. & Kimber, B. J. Si NMR as a tool for studying silicones. Appl. Spectrosc. Rev. 10, 117–137 (1975)

Petry, D. P. et al. Connectivity analysis of the clear sol precursor of silicalite: are nanoparticles aggregated oligomers or silica particles? J. Phys. Chem. C 113, 20827–20836 (2009)

Yaghi, O. M. et al. Reticular synthesis and the design of new materials. Nature 423, 705–714 (2003)

Férey, G. Hybrid porous solids: past, present, future. Chem. Soc. Rev. 37, 191–214 (2008)

Kitagawa, S., Kitaura, R. & Noro, S. Functional porous coordination polymers. Angew. Chem. Int. Ed. 43, 2334–2375 (2004)

Boerrigter, S. X. M. et al. MONTY: Monte Carlo crystal growth on any crystal structure in any crystallographic orientation; application to fats. J. Phys. Chem. A 108, 5894–5902 (2004)

Blatov, V. A., Delgado-Friedrichs, O., O'Keeffe, M. & Proserpio, D. M. Three-periodic nets and tilings: natural tilings for nets. Acta Crystallogr. A 63, 418–425 (2007)

Blatov, V. A., Shevchenko, A. P. & Proserpio, D. M. Applied topological analysis of crystal structures with the program package ToposPro. Cryst. Growth Des. 14, 3576–3586 (2014)

Roeffaers, M. B. J. et al. Morphology of large ZSM-5 crystals unraveled by fluorescence microscopy. J. Am. Chem. Soc. 130, 5763–5772 (2008)

Jeong, N. C., Lim, H., Cheong, H. & Yoon, K. B. Distribution pattern of length, length uniformity, and density of TiO32− quantum wires in an ETS-10 crystal revealed by laser-scanning confocal polarized micro-Raman spectroscopy. Angew. Chem. Int. Ed. 50, 8697–8701 (2011)

Shtukenberg, A. G. et al. Dislocation-actuated growth and inhibition of hexagonal l-cystine crystallization at the molecular level. Cryst. Growth Des. 15, 921–934 (2015)

Rimer, J. D. et al. Crystal growth inhibitors for the prevention of l-cystine kidney stones through molecular design. Science 330, 337–341 (2010)

Teng, H. H., Dove, P. M. & DeYoreo, J. J. Reversed calcite morphologies induced by microscopic growth kinetics: insight into biomineralisation. Geochim. Cosmochim. Acta 63, 2507–2512 (1999)

Pokrovski, G. S., Schott, J., Salvi, S., Gout, R. & Kubicki, J. D. Structure and stability of aluminum-silica complexes in neutral to basic solutions. Experimental study and molecular orbital calculations. Min. Mag. 62A, 1194–1195 (1998)

Tagirov, B., Schott, J., Harrichoury, J.-C. & Escalier, J. Experimental study of the stability of aluminate-borate complexes in hydrothermal solutions. Geochim. Cosmochim. Acta 68, 1333–1345 (2004)

Walker, A. M., Slater, B., Gale, J. D. & Wright, K. Predicting the structure of screw dislocations in nanoporous materials. Nat. Mater. 3, 715–720 (2004)

Carta, R. & Tola, G. Solubilities of l-cystine, l-tyrosine, l-leucine, and glycine in aqueous solutions at various pHs and NaCl concentrations. J. Chem. Eng. Data 41, 414–417 (1996)

Klamt, A. & Schüürmann, G. COSMO — a new approach to dielectric screening in solvents with explicit expressions for the screening energy and its gradient. J. Chem. Soc., Perkin Trans. 2 799–805 (1993)

Raiteri, P., Demichelis, R. & Gale, J. D. A thermodynamically consistent force field for molecular dynamics simulations of alkaline-earth carbonates and their aqueous speciation. J. Phys. Chem. C 119, 24447–24458 (2015)
Acknowledgements
V.A.B. is grateful to the Russian Science Foundation (Grant No. 16-13-10158) for support. The Research Council of Norway, through the project Catlife, 'Catalyst transformation and lifetimes by in-situ techniques and modelling', P#233848, is acknowledged for financial support. A.R.H. and J.T.G.-R. are grateful for part funding from EPSRC through CASE awards. J.D.G. thanks the Australian Research Council for support through the Discovery Programme, and the Pawsey Supercomputing Centre and National Computational Infrastructure for provision of computing resources. We also acknowledge the Leverhulme Trust and the Royal Society for financial support.
Ethics declarations
Competing interests
The authors declare no competing financial interests.
Additional information
Reviewer Information Nature thanks M. Deem, M. Tuckerman and the other anonymous reviewer(s) for their contribution to the peer review of this work.
Publisher's note: Springer Nature remains neutral with regard to jurisdictional claims in published maps and institutional affiliations.
Extended data figures and tables
Supplementary information
About this article
Cite this article
Anderson, M., Gebbie-Rayet, J., Hill, A. et al. Predicting crystal growth via a unified kinetic three-dimensional partition model. Nature 544, 456–459 (2017). https://doi.org/10.1038/nature21684
Received:

Accepted:

Published:

Issue Date:

DOI: https://doi.org/10.1038/nature21684
Comments
By submitting a comment you agree to abide by our Terms and Community Guidelines. If you find something abusive or that does not comply with our terms or guidelines please flag it as inappropriate.