Abstract
The brain's ability to associate different stimuli is vital for long-term memory, but how neural ensembles encode associative memories is unknown. Here we studied how cell ensembles in the basal and lateral amygdala encode associations between conditioned and unconditioned stimuli (CS and US, respectively). Using a miniature fluorescence microscope, we tracked the Ca2+ dynamics of ensembles of amygdalar neurons during fear learning and extinction over 6 days in behaving mice. Fear conditioning induced both up- and down-regulation of individual cells' CS-evoked responses. This bi-directional plasticity mainly occurred after conditioning, and reshaped the neural ensemble representation of the CS to become more similar to the US representation. During extinction training with repetitive CS presentations, the CS representation became more distinctive without reverting to its original form. Throughout the experiments, the strength of the ensemble-encoded CS–US association predicted the level of behavioural conditioning in each mouse. These findings support a supervised learning model in which activation of the US representation guides the transformation of the CS representation.
Relevant articles
Open Access articles citing this article.
Lorraine Madur

,

Christian Ineichen

…

Christopher R. Pryce

Communications Biology Open Access 15 April 2023

Shun Hamada

,

Kaori Mikami

…

Ayako M. Watabe

Molecular Brain Open Access 11 March 2023

Anna J. Bowen

,

Y. Waterlily Huang

…

Richard D. Palmiter

Nature Communications Open Access 13 January 2023
Access options
Access Nature and 54 other Nature Portfolio journals
Get Nature+, our best-value online-access subscription
$29.99 / 30 days
cancel any time
Subscribe to this journal
Receive 51 print issues and online access
$199.00 per year
only $3.90 per issue
Rent or buy this article
Get just this article for as long as you need it
$39.95
Prices may be subject to local taxes which are calculated during checkout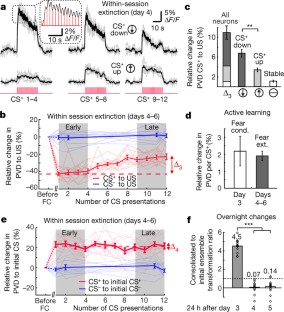 References
Herry, C. et al. Switching on and off fear by distinct neuronal circuits. Nature 454, 600–606 (2008)

Maren, S. & Quirk, G. J. Neuronal signalling of fear memory. Nat. Rev. Neurosci. 5, 844–852 (2004)

Quirk, G. J., Armony, J. L. & LeDoux, J. E. Fear conditioning enhances different temporal components of tone-evoked spike trains in auditory cortex and lateral amygdala. Neuron 19, 613–624 (1997)

Chowdhury, N., Quinn, J. J. & Fanselow, M. S. Dorsal hippocampus involvement in trace fear conditioning with long, but not short, trace intervals in mice. Behav. Neurosci. 119, 1396–1402 (2005)

Quirk, G. J., Repa, C. & LeDoux, J. E. Fear conditioning enhances short-latency auditory responses of lateral amygdala neurons: parallel recordings in the freely behaving rat. Neuron 15, 1029–1039 (1995)

Ghosh, K. K. et al. Miniaturized integration of a fluorescence microscope. Nat. Methods 8, 871–878 (2011)

Ziv, Y. et al. Long-term dynamics of CA1 hippocampal place codes. Nat. Neurosci. 16, 264–266 (2013)

Chen, T. W. et al. Ultrasensitive fluorescent proteins for imaging neuronal activity. Nature 499, 295–300 (2013)

Garner, A. R. et al. Generation of a synthetic memory trace. Science 335, 1513–1516 (2012)

Gore, F. et al. Neural representations of unconditioned stimuli in basolateral amygdala mediate innate and learned responses. Cell 162, 134–145 (2015)

Namburi, P. et al. A circuit mechanism for differentiating positive and negative associations. Nature 520, 675–678 (2015)

Senn, V. et al. Long-range connectivity defines behavioral specificity of amygdala neurons. Neuron 81, 428–437 (2014)

Romanski, L. M., Clugnet, M. C., Bordi, F. & LeDoux, J. E. Somatosensory and auditory convergence in the lateral nucleus of the amygdala. Behav. Neurosci. 107, 444–450 (1993)

Wolff, S. B. et al. Amygdala interneuron subtypes control fear learning through disinhibition. Nature 509, 453–458 (2014)

Blair, H. T. et al. Unilateral storage of fear memories by the amygdala. J. Neurosci. 25, 4198–4205 (2005)

Ciocchi, S. et al. Encoding of conditioned fear in central amygdala inhibitory circuits. Nature 468, 277–282 (2010)

Erlich, J. C., Bush, D. E. & Ledoux, J. E. The role of the lateral amygdala in the retrieval and maintenance of fear-memories formed by repeated probabilistic reinforcement. Front. Behav. Neurosci. 6, 16 (2012)

Kong, E., Monje, F. J., Hirsch, J. & Pollak, D. D. Learning not to fear: neural correlates of learned safety. Neuropsychopharmacology 39, 515–527 (2014)

Mankin, E. A. et al. Neuronal code for extended time in the hippocampus. Proc. Natl Acad. Sci. USA 109, 19462–19467 (2012)

Blair, H. T., Schafe, G. E., Bauer, E. P., Rodrigues, S. M. & LeDoux, J. E. Synaptic plasticity in the lateral amygdala: a cellular hypothesis of fear conditioning. Learn. Mem. 8, 229–242 (2001)

Bishop, C. M. Pattern Recognition and Machine Learning Vol. 1 (Springer, 2007)

Rodrigues, S. M., Schafe, G. E. & LeDoux, J. E. Molecular mechanisms underlying emotional learning and memory in the lateral amygdala. Neuron 44, 75–91 (2004)

Sotres-Bayon, F. & Quirk, G. J. Prefrontal control of fear: more than just extinction. Curr. Opin. Neurobiol. 20, 231–235 (2010)

Goosens, K. A., Hobin, J. A. & Maren, S. Auditory-evoked spike firing in the lateral amygdala and Pavlovian fear conditioning: mnemonic code or fear bias? Neuron 40, 1013–1022 (2003)

Danielson, N. B. et al. Sublayer-specific coding dynamics during spatial navigation and learning in hippocampal area CA1. Neuron 91, 652–665 (2016)

Rubin, A., Geva, N., Sheintuch, L. & Ziv, Y. Hippocampal ensemble dynamics timestamp events in long-term memory. eLife 4, e12247 (2015)

Han, J. H. et al. Neuronal competition and selection during memory formation. Science 316, 457–460 (2007)

Rashid, A. J. et al. Competition between engrams influences fear memory formation and recall. Science 353, 383–387 (2016)

Rogerson, T. et al. Molecular and cellular mechanisms for trapping and activating emotional memories. PLoS One 11, e0161655 (2016)

Paton, J. J., Belova, M. A., Morrison, S. E. & Salzman, C. D. The primate amygdala represents the positive and negative value of visual stimuli during learning. Nature 439, 865–870 (2006)

Belova, M. A., Paton, J. J., Morrison, S. E. & Salzman, C. D. Expectation modulates neural responses to pleasant and aversive stimuli in primate amygdala. Neuron 55, 970–984 (2007)

Rumpel, S., LeDoux, J., Zador, A. & Malinow, R. Postsynaptic receptor trafficking underlying a form of associative learning. Science 308, 83–88 (2005)

Sah, P., Westbrook, R. F. & Lüthi, A. Fear conditioning and long-term potentiation in the amygdala: what really is the connection? Ann. NY Acad. Sci. 1129, 88–95 (2008)

Fadok, J. P., Dickerson, T. M. & Palmiter, R. D. Dopamine is necessary for cue-dependent fear conditioning. J. Neurosci. 29, 11089–11097 (2009)

Johansen, J. P. et al. Hebbian and neuromodulatory mechanisms interact to trigger associative memory formation. Proc. Natl Acad. Sci. USA 111, E5584–E5592 (2014)

Gütig, R. & Sompolinsky, H. The tempotron: a neuron that learns spike timing-based decisions. Nat. Neurosci. 9, 420–428 (2006)

Frémaux, N. & Gerstner, W. Neuromodulated spike-timing-dependent plasticity, and theory of three-factor learning rules. Front. Neural Circuits 9, 85 (2016)

Pawlak, V., Wickens, J. R., Kirkwood, A. & Kerr, J. N. Timing is not everything: neuromodulation opens the STDP gate. Front. Synaptic Neurosci. 2, 146 (2010)

Hinton, G. The ups and downs of Hebb synapses. PsycARTICLES 44, 10–13 (2003)

Johansen, J. P., Tarpley, J. W., LeDoux, J. E. & Blair, H. T. Neural substrates for expectation-modulated fear learning in the amygdala and periaqueductal gray. Nat. Neurosci. 13, 979–986 (2010)

Courtin, J. et al. Prefrontal parvalbumin interneurons shape neuronal activity to drive fear expression. Nature 505, 92–96 (2014)

Raybuck, J. D. & Lattal, K. M. Double dissociation of amygdala and hippocampal contributions to trace and delay fear conditioning. PLoS One 6, e15982 (2011)

Thévenaz, P., Ruttimann, U. E. & Unser, M. A pyramid approach to subpixel registration based on intensity. IEEE Trans. Image Process. 7, 27–41 (1998)

Mukamel, E. A., Nimmerjahn, A. & Schnitzer, M. J. Automated analysis of cellular signals from large-scale calcium imaging data. Neuron 63, 747–760 (2009)

Betley, J. N. et al. Neurons for hunger and thirst transmit a negative-valence teaching signal. Nature 521, 180–185 (2015)

Rigotti, M. et al. The importance of mixed selectivity in complex cognitive tasks. Nature 497, 585–590 (2013)

George Paxinos, K. B. J. F. The Mouse Brain in Stereotaxic Coordinates Vol. 2 (2001)

Singec, I., Knoth, R., Ditter, M., Volk, B. & Frotscher, M. Neurogranin is expressed by principal cells but not interneurons in the rodent and monkey neocortex and hippocampus. J. Comp. Neurol. 479, 30–42 (2004)

Maren, S., Yap, S. A. & Goosens, K. A. The amygdala is essential for the development of neuronal plasticity in the medial geniculate nucleus during auditory fear conditioning in rats. J. Neurosci. 21, RC135 (2001)
Acknowledgements
G. Venkatraman, B. Ahanonu, J. Li, B. Rossi, C. Herry, S. Ciocchi and J. Bacelo provided technical assistance. We appreciate Swiss National Science Foundation (B.F.G.), Swiss National Science Foundation, Ambizione (J.G.), US National Science Foundation (L.J.K.), Stanford University (L.J.K., J.D.M.), Simons Foundation (L.J.K.), and Helen Hay Whitney Foundation (M.C.L.) fellowships. A.L. received support from the Swiss National Science Foundation, Novartis Research Foundation, and an ERC Advanced grant. M.J.S. received support from HHMI and DARPA.
Ethics declarations
Competing interests
M.J.S. is a scientific co-founder of Inscopix, Inc., which produces the miniature fluorescence microscope used in this study.
Additional information
Reviewer Information Nature thanks V. Bolshakov and the other anonymous reviewer(s) for their contribution to the peer review of this work.
Publisher's note: Springer Nature remains neutral with regard to jurisdictional claims in published maps and institutional affiliations.
Extended data figures and tables
Supplementary information
This file contains Supplementary Tables 1-2, a Supplementary Note and Supplementary References. (PDF 376 kb)
About this article
Cite this article
Grewe, B., Gründemann, J., Kitch, L. et al. Neural ensemble dynamics underlying a long-term associative memory. Nature 543, 670–675 (2017). https://doi.org/10.1038/nature21682
Received:

Accepted:

Published:

Issue Date:

DOI: https://doi.org/10.1038/nature21682
Comments
By submitting a comment you agree to abide by our Terms and Community Guidelines. If you find something abusive or that does not comply with our terms or guidelines please flag it as inappropriate.