Abstract
The mechanistic target of rapamycin complex 1 (mTORC1) is a central regulator of cell growth that responds to diverse environmental signals and is deregulated in many human diseases, including cancer and epilepsy1,2,3. Amino acids are a key input to this system, and act through the Rag GTPases to promote the translocation of mTORC1 to the lysosomal surface, its site of activation4. Multiple protein complexes regulate the Rag GTPases in response to amino acids, including GATOR1, a GTPase activating protein for RAGA, and GATOR2, a positive regulator of unknown molecular function. Here we identify a protein complex (KICSTOR) that is composed of four proteins, KPTN, ITFG2, C12orf66 and SZT2, and that is required for amino acid or glucose deprivation to inhibit mTORC1 in cultured human cells. In mice that lack SZT2, mTORC1 signalling is increased in several tissues, including in neurons in the brain. KICSTOR localizes to lysosomes; binds and recruits GATOR1, but not GATOR2, to the lysosomal surface; and is necessary for the interaction of GATOR1 with its substrates, the Rag GTPases, and with GATOR2. Notably, several KICSTOR components are mutated in neurological diseases associated with mutations that lead to hyperactive mTORC1 signalling5,6,7,8,9,10. Thus, KICSTOR is a lysosome-associated negative regulator of mTORC1 signalling, which, like GATOR1, is mutated in human disease11,12.
Relevant articles
Open Access articles citing this article.
Xing Chen

,

Chunyu Yu

…

Yongfeng Shang

Nature Communications Open Access 08 December 2022

Lucas Tafur

,

Kerstin Hinterndorfer

…

Robbie Loewith

Nature Open Access 26 October 2022

Gianluca Figlia

,

Sandra Müller

…

Aurelio A. Teleman

Nature Cell Biology Open Access 12 September 2022
Access options
Access Nature and 54 other Nature Portfolio journals
Get Nature+, our best-value online-access subscription
$29.99 / 30 days
cancel any time
Subscribe to this journal
Receive 51 print issues and online access
$199.00 per year
only $3.90 per issue
Rent or buy this article
Get just this article for as long as you need it
$39.95
Prices may be subject to local taxes which are calculated during checkout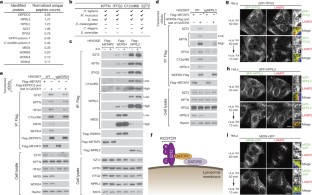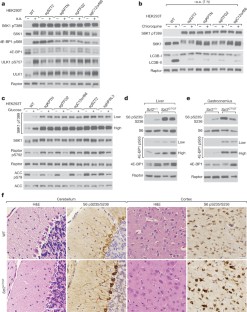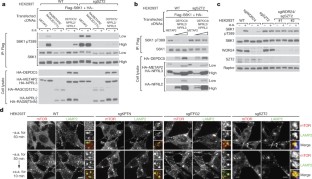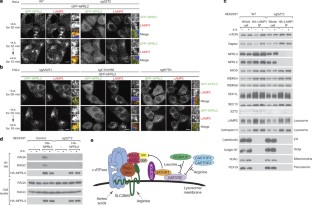 References
Laplante, M. & Sabatini, D. M. mTOR signaling in growth control and disease. Cell 149, 274–293 (2012)

Dibble, C. C. & Manning, B. D. Signal integration by mTORC1 coordinates nutrient input with biosynthetic output. Nat. Cell Biol. 15, 555–564 (2013)

Jewell, J. L., Russell, R. C. & Guan, K.-L. Amino acid signalling upstream of mTOR. Nat. Rev. Mol. Cell Biol. 14, 133–139 (2013)

Sancak, Y. et al. The Rag GTPases bind raptor and mediate amino acid signaling to mTORC1. Science 320, 1496–1501 (2008)

Basel-Vanagaite, L. et al. Biallelic SZT2 mutations cause infantile encephalopathy with epilepsy and dysmorphic corpus callosum. Am. J. Hum. Genet. 93, 524–529 (2013)

Venkatesan, C., Angle, B. & Millichap, J. J. Early-life epileptic encephalopathy secondary to SZT2 pathogenic recessive variants. Epileptic Disord. 18, 195–200 (2016)

Baple, E. L. et al. Mutations in KPTN cause macrocephaly, neurodevelopmental delay, and seizures. Am. J. Hum. Genet. 94, 87–94 (2014)

Pajusalu, S., Reimand, T. & Õunap, K. Novel homozygous mutation in KPTN gene causing a familial intellectual disability-macrocephaly syndrome. Am. J. Med. Genet. A. 167A, 1913–1915 (2015)

Mc Cormack, A. et al. 12q14 microdeletions: additional case series with confirmation of a macrocephaly region. Case Rep. Genet. 2015, 192071 (2015)

Crino, P. B. mTOR: a pathogenic signaling pathway in developmental brain malformations. Trends Mol. Med. 17, 734–742 (2011)

D'Gama, A. M. et al. Mammalian target of rapamycin pathway mutations cause hemimegalencephaly and focal cortical dysplasia. Ann. Neurol. 77, 720–725 (2015)

Baldassari, S., Licchetta, L., Tinuper, P., Bisulli, F. & Pippucci, T. GATOR1 complex: the common genetic actor in focal epilepsies. J. Med. Genet. 53, 503–510 (2016)

Sancak, Y. et al. Ragulator–Rag complex targets mTORC1 to the lysosomal surface and is necessary for its activation by amino acids. Cell 141, 290–303 (2010)

Wei, Y. & Lilly, M. A. The TORC1 inhibitors Nprl2 and Nprl3 mediate an adaptive response to amino-acid starvation in Drosophila . Cell Death Differ. 21, 1460–1468 (2014)

Wei, Y. et al. TORC1 regulators Iml1/GATOR1 and GATOR2 control meiotic entry and oocyte development in Drosophila. Proc. Natl Acad. Sci. USA 111, E5670–E5677 (2014)

Cai, W., Wei, Y., Jarnik, M., Reich, J. & Lilly, M. A. The GATOR2 component Wdr24 regulates TORC1 activity and lysosome function. PLoS Genet. 12, e1006036 (2016)

Bar-Peled, L. et al. A tumor suppressor complex with GAP activity for the Rag GTPases that signal amino acid sufficiency to mTORC1. Science 340, 1100–1106 (2013)

Efeyan, A. et al. Regulation of mTORC1 by the Rag GTPases is necessary for neonatal autophagy and survival. Nature 493, 679–683 (2013)

Kalender, A. et al. Metformin, independent of AMPK, inhibits mTORC1 in a Rag GTPase-dependent manner. Cell Metab. 11, 390–401 (2010)

Frankel, W. N., Yang, Y., Mahaffey, C. L., Beyer, B. J. & O'Brien, T. P. Szt2, a novel gene for seizure threshold in mice. Genes Brain Behav. 8, 568–576 (2009)

Baulac, S. mTOR signaling pathway genes in focal epilepsies. Prog. Brain Res. 226, 61–79 (2016)

Kim, D. H. et al. mTOR interacts with raptor to form a nutrient-sensitive complex that signals to the cell growth machinery. Cell 110, 163–175 (2002)

Boussif, O. et al. A versatile vector for gene and oligonucleotide transfer into cells in culture and in vivo: polyethylenimine. Proc. Natl Acad. Sci. USA 92, 7297–7301 (1995)

Tsun, Z.-Y. et al. The folliculin tumor suppressor is a GAP for the RagC/D GTPases that signal amino acid levels to mTORC1. Mol. Cell 52, 495–505 (2013)

Zoncu, R. et al. mTORC1 senses lysosomal amino acids through an inside-out mechanism that requires the vacuolar H+-ATPase. Science 334, 678–683 (2011)

Petit, C. S., Roczniak-Ferguson, A. & Ferguson, S. M. Recruitment of folliculin to lysosomes supports the amino acid-dependent activation of Rag GTPases. J. Cell Biol. 202, 1107–1122 (2013)

Schindelin, J. et al. Fiji: an open-source platform for biological-image analysis. Nat. Methods 9, 676–682 (2012)

Yilmaz, Ö. H. et al. mTORC1 in the Paneth cell niche couples intestinal stem-cell function to calorie intake. Nature 486, 490–495 (2012)
Acknowledgements
We thank all members of the Sabatini Laboratory for helpful insights. We thank K. McKinley and I. Cheeseman for providing the retroviral GFP constructs used in this work, C. Mahaffey for technical support with the mouse experiments and J. Xie from Cell Signaling Technology Inc. for providing the DEPDC5, MIOS, NPRL2, WDR24, WDR59, C12orf66, SEH1L and SZT2 antibodies. This work was supported by grants from the NIH to D.M.S. (R01 CA103866 and R37 AI47389) and W.N.F. (R37 NS031348), Department of Defense (W81XWH-07-0448) to D.M.S. and fellowship support from the NIH to R.L.W. (T32 GM007753 and F30 CA189333), L.C. (F31 CA180271) and J.M.O. (T32 GM007753 and F30 CA210373), from NSF to K.J.C. (2016197106), from the National Defense Science & Engineering Graduate Fellowship (NDSEG) Program to G.A.W., from the Life Sciences Research Foundation to K.S. (Pfizer fellow), from the EMBO Long-Term Fellowship to M.A.-R. and from the Paul Gray UROP Fund to S.M.S. (3143900). D.M.S. is an investigator of the Howard Hughes Medical Institute.
Ethics declarations
Competing interests
D.M.S. is a founder, consultant and shareholder of Navitor Pharmaceuticals Inc., which is targeting the amino acid sensing pathway for therapeutic benefit. R.L.W., L.C. and J.M.O. are shareholders of Navitor Pharmaceuticals. R.L.W., L.C., J.M.O., D.M.S. and the Whitehead Institute have filed two provisional patents that relate to amino acid sensing by the mTOR pathway.
Extended data figures and tables
Supplementary information
This file contains Supplementary Figure, the uncropped blots and Supplementary Figure 2, a list of the Addgene ID numbers. (PDF 30907 kb)
About this article
Cite this article
Wolfson, R., Chantranupong, L., Wyant, G. et al. KICSTOR recruits GATOR1 to the lysosome and is necessary for nutrients to regulate mTORC1. Nature 543, 438–442 (2017). https://doi.org/10.1038/nature21423
Received:

Accepted:

Published:

Issue Date:

DOI: https://doi.org/10.1038/nature21423
Comments
By submitting a comment you agree to abide by our Terms and Community Guidelines. If you find something abusive or that does not comply with our terms or guidelines please flag it as inappropriate.