Abstract
A zeolite with structure type MFI1,2 is an aluminosilicate or silicate material that has a three-dimensionally connected pore network, which enables molecular recognition in the size range 0.5–0.6 nm. These micropore dimensions are relevant for many valuable chemical intermediates, and therefore MFI-type zeolites are widely used in the chemical industry as selective catalysts or adsorbents3,4,5. As with all zeolites, strategies to tailor them for specific applications include controlling their crystal size and shape5,6,7,8. Nanometre-thick MFI crystals (nanosheets) have been introduced in pillared9 and self-pillared (intergrown)10 architectures, offering improved mass-transfer characteristics for certain adsorption and catalysis applications11,12,13,14. Moreover, single (non-intergrown and non-layered) nanosheets have been used to prepare thin membranes15,16 that could be used to improve the energy efficiency of separation processes17. However, until now, single MFI nanosheets have been prepared using a multi-step approach based on the exfoliation of layered MFI9,15, followed by centrifugation to remove non-exfoliated particles18. This top-down method is time-consuming, costly and low-yield and it produces fragmented nanosheets with submicrometre lateral dimensions. Alternatively, direct (bottom-up) synthesis could produce high-aspect-ratio zeolite nanosheets, with improved yield and at lower cost. Here we use a nanocrystal-seeded growth method triggered by a single rotational intergrowth to synthesize high-aspect-ratio MFI nanosheets with a thickness of 5 nanometres (2.5 unit cells). These high-aspect-ratio nanosheets allow the fabrication of thin and defect-free coatings that effectively cover porous substrates. These coatings can be intergrown to produce high-flux and ultra-selective MFI membranes that compare favourably with other MFI membranes prepared from existing MFI materials (such as exfoliated nanosheets or nanocrystals).
Access options
Subscribe to Journal
Get full journal access for 1 year
$199.00
only $3.90 per issue
All prices are NET prices.
VAT will be added later in the checkout.
Rent or Buy article
Get time limited or full article access on ReadCube.
from$8.99
All prices are NET prices.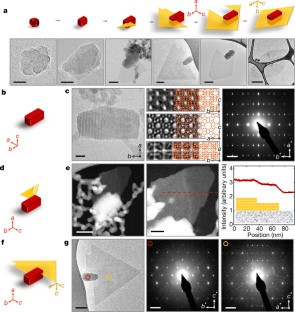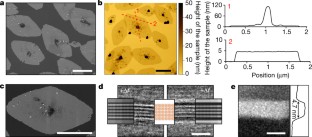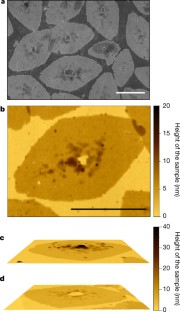 References
1

Flanigen, E. M. et al. Silicalite, a new hydrophobic crystalline silica molecular sieve. Nature 271, 512–516 (1978)

2

Kokotailo, G. T., Lawton, S. L., Olson, D. H. & Meier, W. M. Structure of synthetic zeolite ZSM-5. Nature 272, 437–438 (1978)

3

Corma, A. Inorganic solid acids and their use in acid-catalyzed hydrocarbon reactions. Chem. Rev. 95, 559–614 (1995)

4

Davis, M. E. Ordered porous materials for emerging applications. Nature 417, 813–821 (2002)

5

Cundy, C. S. & Cox, P. A. The hydrothermal synthesis of zeolites: history and development from the earliest days to the present time. Chem. Rev. 103, 663–702 (2003)

6

Bonilla, G. et al. Zeolite (MFI) crystal morphology control using organic structure-directing agents. Chem. Mater. 16, 5697–5705 (2004)

7

Cundy, C. S. & Cox, P. A. The hydrothermal synthesis of zeolites: precursors, intermediates and reaction mechanism. Microporous Mesoporous Mater. 82, 1–78 (2005)

8

Mintova, S., Gilson, J.-P. & Valtchev, V. Advances in nanosized zeolites. Nanoscale 5, 6693–6703 (2013)

9

Choi, M. et al. Stable single-unit-cell nanosheets of zeolite MFI as active and long-lived catalysts. Nature 461, 246–249 (2009)

10

Zhang, X. et al. Synthesis of self-pillared zeolite nanosheets by repetitive branching. Science 336, 1684–1687 (2012)

11

Mitchell, S. et al. Structural analysis of hierarchically organized zeolites. Nat. Commun. 6, 8633 (2015)

12

Roth, W. J., Nachtigall, P., Morris, R. E. & Cˇ ejka, J. Two-dimensional zeolites: current status and perspectives. Chem. Rev. 114, 4807–4837 (2014)

13

Díaz, U. & Corma, A. Layered zeolitic materials: an approach to designing versatile functional solids. Dalton Trans. 43, 10292–10316 (2014)

14

Ramos, F. S. O., de Pietre, M. K. & Pastore, H. O. Lamellar zeolites: an oxymoron? RSC Advances 3, 2084–2111 (2013)

15

Varoon, K. et al. Dispersible exfoliated zeolite nanosheets and their application as a selective membrane. Science 334, 72–75 (2011)

16

Zhang, H. et al. Open-pore two-dimensional MFI zeolite nanosheets for the fabrication of hydrocarbon-isomer-selective membranes on porous polymer supports. Angew. Chem. Int. Ed. 55, 7184–7187 (2016)

17

Rangnekar, N., Mittal, N., Elyassi, B., Caro, J. & Tsapatsis, M. Zeolite membranes—a review and comparison with MOFs. Chem. Soc. Rev. 44, 7128–7154 (2015)

18

Agrawal, K. V. et al. Solution-processable exfoliated zeolite nanosheets purified by density gradient centrifugation. AIChE J. 59, 3458–3467 (2013)

19

de Vos Burchart, E., Jansen, J . C., van de Graaf, B. & van Bekkum, H. Molecular mechanics studies on MFI-type zeolites: Part 4. Energetics of crystal growth directing agents. Zeolites 13, 216–221 (1993)

20

Chaikittisilp, W. et al. Formation of hierarchically organized zeolites by sequential intergrowth. Angew. Chem. Int. Ed. 52, 3355–3359 (2013)

21

Lai, Z. & Tsapatsis, M. Gas and organic vapor permeation through b-oriented MFI membranes. Ind. Eng. Chem. Res. 43, 3000–3007 (2004)

22

Khaleel, M., Wagner, A. J., Mkhoyan, K. A. & Tsapatsis, M. On the rotational intergrowth of hierarchical FAU/EMT zeolites. Angew. Chem. Int. Ed. 53, 9456–9461 (2014)

23

Ohsuna, T., Terasaki, O., Nakagawa, Y., Zones, S. I. & Hiraga, K. Electron microscopic study of intergrowth of MFI and MEL: crystal faults in B-MEL. J. Phys. Chem. B 101, 9881–9885 (1997)

24

Agger, J. R. et al. Silicalite crystal growth investigated by atomic force microscopy. J. Am. Chem. Soc. 125, 830–839 (2003)

25

Fan, W. et al. Hierarchical nanofabrication of microporous crystals with ordered mesoporosity. Nat. Mater. 7, 984–991 (2008)

26

Lee, P. S. et al. Sub-40 nm zeolite suspensions via disassembly of three-dimensionally ordered mesoporous-imprinted silicalite-1. J. Am. Chem. Soc. 133, 493–502 (2011)

27

Pham, T. C. T., Nguyen, T. H. & Yoon, K. B. Gel-free secondary growth of uniformly oriented silica MFI zeolite films and application for xylene separation. Angew. Chem. Int. Ed. 52, 8693–8698 (2013)

28

Agrawal, K. V. et al. Oriented MFI membranes by gel-less secondary growth of sub-100 nm MFI-nanosheet seed layers. Adv. Mater. 27, 3243–3249 (2015)

29

Yoo, W. C., Stoeger, J. A., Lee, P. S., Tsapatsis, M. & Stein, A. High-performance randomly oriented zeolite membranes using brittle seeds and rapid thermal processing. Angew. Chem. Int. Ed. 49, 8699–8703 (2010)

30

Sholl, D. S. & Lively, R. P. Seven chemical separations to change the world. Nature 532, 435–437 (2016)

31

Toda, J. et al. Influence of force fields on the selective diffusion of para-xylene over ortho-xylene in 10-ring zeolites. Mol. Simul. 41, 1438–1448 (2015)

32

Xomeritakis, G., Nair, S. & Tsapatsis, M. Transport properties of alumina-supported MFI membranes made by secondary (seeded) growth. Microporous Mesoporous Mater. 38, 61–73 (2000)

33

Shete, M. et al. Nanoscale control of homoepitaxial growth on a two-dimensional zeolite. Angew. Chem. Int. Ed. 56, 535–539 (2017)

34

Li, Q., Creaser, D. & Sterte, J. The nucleation period for TPA-silicalite-1 crystallization determined by a two-stage varying-temperature synthesis. Microporous Mesoporous Mater. 31, 141–150 (1999)

35

de Moor, P.-P. E. A., Beelen, T. P. M. & van Santen, R. A. In situ observation of nucleation and crystal growth in zeolite synthesis. A small-angle X-ray scattering investigation on Si-TPA-MFI. J. Phys. Chem. B 103, 1639–1650 (1999)

36

Cheng, C. H. & Shantz, D. F. Silicalite-1 growth from clear solution: effect of alcohol identity and content on growth kinetics. J. Phys. Chem. B 109, 19116–19125 (2005)

37

Rangnekar, N. et al. 2D zeolite coatings: Langmuir-Schaefer deposition of 3 nm thick MFI zeolite nanosheets. Angew. Chem. Int. Ed. 54, 6571–6575 (2015)

38

Toby, B. H. & Von Dreele, R. B. GSAS-II: The genesis of a modern open-source all purpose crystallography software package. J. Appl. Cryst. 46, 544–549 (2013)

39

Kresse, G. & Joubert, D. From ultrasoft pseudopotentials to the projector augmented-wave method. Phys. Rev. B 59, 1758–1775 (1999)

40

Perdew, J. P., Burke, K. & Ernzerhof, M. Generalized gradient approximation made simple. Phys. Rev. Lett. 77, 3865–3868 (1996); erratum Phys. Rev. Lett. 78, 1396 (1997)

41

Grimme, S. Semiempirical GGA-type density functional constructed with a long-range dispersion correction. J. Comput. Chem. 27, 1787–1799 (2006)

42

Hutter, J., Iannuzzi, M., Schiffmann, F. & VandeVondele, J. cp2k: atomistic simulations of condensed matter systems. Wiley Interdiscip. Rev. Comput. Mol. Sci. 4, 15–25 (2014)

43

Van Der Spoel, D. et al. GROMACS: fast, flexible, and free. J. Comput. Chem. 26, 1701–18 (2005)

44

Grossfield, A. WHAM: The weighted histogram analysis method. Version 2.0.9. http://membrane.urmc.rochester.edu/content/wham (2013)

45

Grimme, S., Antony, J., Ehrlich, S. & Krieg, H. A consistent and accurate ab initio parametrization of density functional dispersion correction (DFT-D) for the 94 elements H-Pu. J. Chem. Phys. 132, 154104 (2010)

46

Vlugt, T. J. H. & Schenk, M. Influence of framework flexibility on the adsorption properties of hydrocarbons in the zeolite silicalite. J. Phys. Chem. B 106, 12757–12763 (2002)

47

Choi, J., Ghosh, S., King, L. & Tsapatsis, M. MFI zeolite membranes from a- and randomly oriented monolayers. Adsorption 12, 339–360 (2006)

48

Elyassi, B. et al. Ethanol/water mixture pervaporation performance of b-oriented silicalite-1 membranes made by gel-free secondary growth. AIChE J. 62, 556–563 (2016)

49

Keizer, K., Burggraaf, A. J., Vroon, Z. A. E. P. & Verweij, H. Two component permeation through thin zeolite MFI membranes. J. Membr. Sci. 147, 159–172 (1998)

50

Xomeritakis, G., Lai, Z. & Tsapatsis, M. Separation of xylene isomer vapors with oriented MFI membranes made by seeded growth. Ind. Eng. Chem. Res. 40, 544–552 (2001)

51

Hedlund, J. et al. High-flux MFI membranes. Microporous Mesoporous Mater. 52, 179–189 (2002)

52

Lai, Z. et al. Microstructural optimization of a zeolite membrane for organic vapor separation. Science 300, 456–460 (2003)

53

Choi, J. et al. Grain boundary defect elimination in a zeolite membrane by rapid thermal processing. Science 325, 590–593 (2009)
Acknowledgements
This work was supported by the ARPA-E programme of the US Department of Energy under Award DE-AR0000338 (0670-3240) for MFI nanosheet synthesis and characterization; by the Center for Gas Separations Relevant to Clean Energy Technologies, an Energy Frontier Research Center funded by the US Department of Energy, Office of Science, Basic Energy Sciences under Award DE-SC0001015 for membrane fabrication and permeation testing; by the US Department of Energy, Office of Basic Energy Sciences, Division of Chemical Sciences, Geosciences and Biosciences under Award DEFG02-12ER16362 for the theoretical calculations; and by the Deanship of Scientific Research at the King Abdulaziz University D-003/433 for zeolite and membrane microstructure characterization. Parts of this work were carried out in the Characterization Facility, University of Minnesota, which receives partial support from the NSF through the MRSEC programme. SEM measurements were partially performed on a Hitachi 8230 provided by NSF MRI DMR-1229263. This research used the resources of the Advanced Photon Source, a US Department of Energy (DOE) Office of Science User Facility operated for the DOE Office of Science by Argonne National Laboratory under contract number DE-AC02-06CH11357. For the theoretical calculations we used the resources of the Minnesota Supercomputing Institute and of the Argonne Leadership Computing Facility (ALCF) at Argonne National Laboratory, which is supported by the Office of Science of the Department of Energy under contract DE-AC02-06CH11357.
Ethics declarations
Competing interests
The authors declare no competing financial interests.
Additional information
Reviewer Information Nature thanks J. Hedlund, J. Lin and the other anonymous reviewer(s) for their contribution to the peer review of this work.
Publisher's note: Springer Nature remains neutral with regard to jurisdictional claims in published maps and institutional affiliations.
Extended data figures and tables
Supplementary information
This file contains Supplementary Tables 1-2 and Supplementary Figures 1-5. (PDF 762 kb)
About this article
Cite this article
Jeon, M., Kim, D., Kumar, P. et al. Ultra-selective high-flux membranes from directly synthesized zeolite nanosheets. Nature 543, 690–694 (2017). https://doi.org/10.1038/nature21421
Received:

Accepted:

Published:

Issue Date:
Comments
By submitting a comment you agree to abide by our Terms and Community Guidelines. If you find something abusive or that does not comply with our terms or guidelines please flag it as inappropriate.