Abstract
Post-mitotic, differentiated cells exhibit a variety of characteristics that contrast with those of actively growing neoplastic cells, such as the expression of cell-cycle inhibitors and differentiation factors. We hypothesized that the gene expression profiles of these differentiated cells could reveal the identities of genes that may function as tumour suppressors. Here we show, using in vitro and in vivo studies in mice and humans, that the mitochondrial protein LACTB potently inhibits the proliferation of breast cancer cells. Its mechanism of action involves alteration of mitochondrial lipid metabolism and differentiation of breast cancer cells. This is achieved, at least in part, through reduction of the levels of mitochondrial phosphatidylserine decarboxylase, which is involved in the synthesis of mitochondrial phosphatidylethanolamine. These observations uncover a novel mitochondrial tumour suppressor and demonstrate a connection between mitochondrial lipid metabolism and the differentiation program of breast cancer cells, thereby revealing a previously undescribed mechanism of tumour suppression.
Relevant articles
Open Access articles citing this article.
Juan M. Gonzalez-Morena

,

Sara Escudeiro-Lopes

…

Zuzana Keckesova

Apoptosis Open Access 25 October 2022

Lipids in Health and Disease Open Access 13 May 2022

Yanying Wang

,

Jing Wang

…

Zusen Fan

Nature Communications Open Access 02 November 2021
Access options
Subscribe to Nature+
Get immediate online access to Nature and 55 other Nature journal
Subscribe to Journal
Get full journal access for 1 year
$199.00
only $3.90 per issue
All prices are NET prices.
VAT will be added later in the checkout.
Tax calculation will be finalised during checkout.
Buy article
Get time limited or full article access on ReadCube.
$32.00
All prices are NET prices.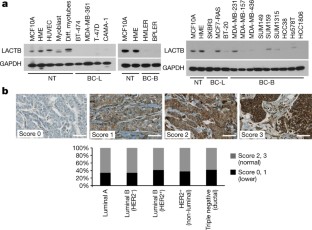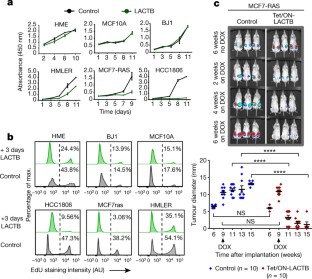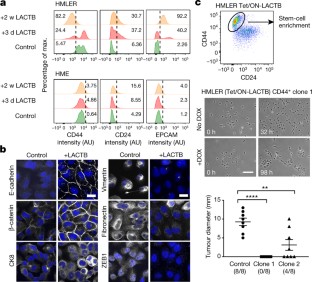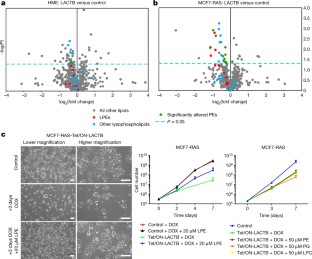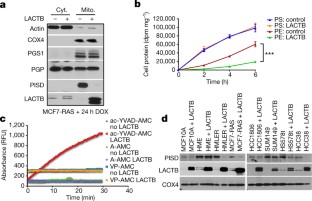 Accession codes
Primary accessions
Gene Expression Omnibus
References
Seely, S. Possible reasons for the high resistance of muscle to cancer. Med. Hypotheses 6, 133–137 (1980)

Walsh, K. & Perlman, H. Cell cycle exit upon myogenic differentiation. Curr. Opin. Genet. Dev . 7, 597–602 (1997)

Lassar, A. B., Skapek, S. X. & Novitch, B. Regulatory mechanisms that coordinate skeletal muscle differentiation and cell cycle withdrawal. Curr. Opin. Cell Biol . 6, 788–794 (1994)

Kasid, A., Lippman, M. E., Papageorge, A. G., Lowy, D. R. & Gelmann, E. P. Transfection of v-rasH DNA into MCF-7 human breast cancer cells bypasses dependence on estrogen for tumorigenicity. Science 228, 725–728 (1985)

Smith, T. S. et al. Identification, genomic organization, and mRNA expression of LACTB, encoding a serine β-lactamase-like protein with an amino-terminal transmembrane domain. Genomics 78, 12–14 (2001)

Peitsaro, N. et al. Evolution of a family of metazoan active-site-serine enzymes from penicillin-binding proteins: a novel facet of the bacterial legacy. BMC Evol. Biol . 8, 26 (2008)

Mootha, V. K. et al. Integrated analysis of protein composition, tissue diversity, and gene regulation in mouse mitochondria. Cell 115, 629–640 (2003)

Polianskyte, Z. et al. LACTB is a filament-forming protein localized in mitochondria. Proc. Natl Acad. Sci. USA 106, 18960–18965 (2009)

Pagliarini, D. J. et al. A mitochondrial protein compendium elucidates complex I disease biology. Cell 134, 112–123 (2008)

Chen, Y. et al. Variations in DNA elucidate molecular networks that cause disease. Nature 452, 429–435 (2008)

Yang, X. et al. Validation of candidate causal genes for obesity that affect shared metabolic pathways and networks. Nat. Genet . 41, 415–423 (2009)

Kim, S. C. et al. Substrate and functional diversity of lysine acetylation revealed by a proteomics survey. Mol. Cell 23, 607–618 (2006)

Lee, J. et al. Mitochondrial phosphoproteome revealed by an improved IMAC method and MS/MS/MS. Mol. Cell. Proteomics 6, 669–676 (2007)

Bogert van den, C ., Holtrop, M ., Melis, T. E ., Roefsema, P. R. & Kroon, A. M. Different effects of oxytetracycline and doxycycline on mitochondrial protein synthesis in rat liver after long-term treatment. Biochem. Pharmacol . 36, 1555–1559 (1987)

Ahler, E. et al. Doxycycline alters metabolism and proliferation of human cell lines. PLoS One 8, e64561 (2013)

Moullan, N. et al. Tetracyclines disturb mitochondrial function across eukaryotic models: a call for caution in biomedical research. Cell Rep. 15, 180–181 (2015)

Hahn, W. C. et al. Creation of human tumour cells with defined genetic elements. Nature 400, 464–468 (1999)

DuPage, M., Dooley, A. L. & Jacks, T. Conditional mouse lung cancer models using adenoviral or lentiviral delivery of Cre recombinase. Nat. Protoc. 4, 1064–1072 (2009)

Feldser, D. M. et al. Stage-specific sensitivity to p53 restoration during lung cancer progression. Nature 468, 572–575 (2010)

McFadden, D. G. et al. p53 constrains progression to anaplastic thyroid carcinoma in a Braf-mutant mouse model of papillary thyroid cancer. Proc. Natl Acad. Sci. USA 111, E1600–E1609 (2014)

Wellner, U. et al. The EMT-activator ZEB1 promotes tumorigenicity by repressing stemness-inhibiting microRNAs. Nat. Cell Biol . 11, 1487–1495 (2009)

Chaffer, C. L. et al. Poised chromatin at the ZEB1 promoter enables breast cancer cell plasticity and enhances tumorigenicity. Cell 154, 61–74 (2013)

Riekhof, W. R. & Voelker, D. R. Uptake and utilization of lyso-phosphatidylethanolamine by Saccharomyces cerevisiae . J. Biol. Chem. 281, 36588–36596 (2006)

Riekhof, W. R., Wu, J., Jones, J. L. & Voelker, D. R. Identification and characterization of the major lysophosphatidylethanolamine acyltransferase in Saccharomyces cerevisiae . J. Biol. Chem. 282, 28344–28352 (2007)

Tasseva, G. et al. Phosphatidylethanolamine deficiency in mammalian mitochondria impairs oxidative phosphorylation and alters mitochondrial morphology. J. Biol. Chem. 288, 4158–4173 (2013)

Vance, J. E. & Tasseva, G. Formation and function of phosphatidylserine and phosphatidylethanolamine in mammalian cells. Biochim. Biophys. Acta 1831, 543–554 (2013)

Bachovchin, D. A. et al. A high-throughput, multiplexed assay for superfamily-wide profiling of enzyme activity. Nat. Chem. Biol . 10, 656–663 (2014)

Fotheringham, J. et al. Lysophosphatidylethanolamine acyltransferase activity is elevated during cardiac cell differentiation. Biochim. Biophys. Acta 1485, 1–10 (2000)

Nishina, A. et al. Lysophosphatidylethanolamine in Grifola frondosa as a neurotrophic activator via activation of MAPK. J. Lipid Res . 47, 1434–1443 (2006)

Ryu, S. B., Karlsson, B. H., Ozgen, M. & Palta, J. P. Inhibition of phospholipase D by lysophosphatidylethanolamine, a lipid-derived senescence retardant. Proc. Natl Acad. Sci. USA 94, 12717–12721 (1997)

Komati, H. et al. Phospholipase D is involved in myogenic differentiation through remodeling of actin cytoskeleton. Mol. Biol. Cell 16, 1232–1244 (2005)

Jaafar, R. et al. Phospholipase D regulates myogenic differentiation through the activation of both mTORC1 and mTORC2 complexes. J. Biol. Chem. 286, 22609–22621 (2011)

Rubin, J. B. et al. A small-molecule antagonist of CXCR4 inhibits intracranial growth of primary brain tumors. Proc. Natl Acad. Sci. USA 100, 13513–13518 (2003)

Theurillat, J. P. et al. NY-ESO-1 protein expression in primary breast carcinoma and metastases: correlation with CD8+ T-cell and CD79a+ plasmacytic/B-cell infiltration. Int. J. Cancer 120, 2411–2417 (2007)

Goldhirsch, A. et al. Strategies for subtypes—dealing with the diversity of breast cancer: highlights of the St. Gallen international expert consensus on the primary therapy of early breast cancer 2011. Ann. Oncol . 22, 1736–1747 (2011)

Cifone, M. A. & Fidler, I. J. Correlation of patterns of anchorage-independent growth with in vivo behavior of cells from a murine fibrosarcoma. Proc. Natl Acad. Sci. USA 77, 1039–1043 (1980)

Hu, C. et al. RPLC-ion-trap-FTMS method for lipid profiling of plasma: method validation and application to p53 mutant mouse model. J. Proteome Res . 7, 4982–4991 (2008)

Bird, S. S., Marur, V. R., Sniatynski, M. J., Greenberg, H. K. & Kristal, B. S. Serum lipidomics profiling using LC-MS and high-energy collisional dissociation fragmentation: focus on triglyceride detection and characterization. Anal. Chem . 83, 6648–6657 (2011)

Ruzicka, J., McHale, K. J. & Peake, D. A. Data acquisition parameters optimization of quadrupole orbitrap for global lipidomics on LC–MS/MS time frame. Am. Soc. Mass Spectrom . (2014)

Park, K. S. et al. Lysophosphatidylethanolamine stimulates chemotactic migration and cellular invasion in SK-OV3 human ovarian cancer cells: involvement of pertussis toxin-sensitive G-protein coupled receptor. FEBS Lett . 581, 4411–4416 (2007)

Nishijima, M., Kuge, O. & Akamatsu, Y. Phosphatidylserine biosynthesis in cultured Chinese hamster ovary cells. I. Inhibition of de novo phosphatidylserine biosynthesis by exogenous phosphatidylserine and its efficient incorporation. J. Biol. Chem. 261, 5784–5789 (1986)

Kuge, O., Hasegawa, K., Saito, K. & Nishijima, M. Control of phosphatidylserine biosynthesis through phosphatidylserine-mediated inhibition of phosphatidylserine synthase I in Chinese hamster ovary cells. Proc. Natl Acad. Sci. USA 95, 4199–4203 (1998)
Acknowledgements
We thank K.-J. Kah for the FUW–LPT2 plasmid, T. DiCesare for graphical assistance with Extended Data Fig. 10h, R. Bronson for histopathology analysis, B. Yuan for statistical analysis, N. Watson for electron microscopy analysis, G. Daum, M. Spinazzi, A. Jourdain for discussions, members of the Weinberg laboratory for comments, the Whitehead Institute Flow Cytometry and Keck Imaging Facilities, MIT Koch Institute Histology and Animal Imaging Facilities and Ludwig Center for Molecular Oncology at MIT. This work was supported by grants from NIH R01 CA078461, Samuel Waxman Cancer Research Foundation, Josie Robertson Foundation and the MSKCC Core Grant (P30 CA008748) (D.A.B.). R.A.W. is an American Cancer Society research professor and a Daniel K. Ludwig Foundation cancer research professor.
Ethics declarations
Competing interests
The authors declare no competing financial interests.
Additional information
Reviewer Information Nature thanks J. Chipuk and the other anonymous reviewer(s) for their contribution to the peer review of this work.
Extended data figures and tables
Supplementary information
About this article
Cite this article
Keckesova, Z., Donaher, J., De Cock, J. et al. LACTB is a tumour suppressor that modulates lipid metabolism and cell state. Nature 543, 681–686 (2017). https://doi.org/10.1038/nature21408
Received:

Accepted:

Published:

Issue Date:

DOI: https://doi.org/10.1038/nature21408
Comments
By submitting a comment you agree to abide by our Terms and Community Guidelines. If you find something abusive or that does not comply with our terms or guidelines please flag it as inappropriate.