Abstract
Activation-induced cytidine deaminase (AID) is a B-cell-specific enzyme that targets immunoglobulin genes to initiate class switch recombination and somatic hypermutation1. In addition, through off-target activity, AID has a much broader effect on genomic instability by initiating oncogenic chromosomal translocations and mutations involved in the development and progression of lymphoma2. AID expression is tightly regulated in B cells and its overexpression leads to enhanced genomic instability and lymphoma formation3. The phosphatidylinositol 3-kinase δ (PI3Kδ) pathway regulates AID by suppressing its expression in B cells4. Drugs for leukaemia or lymphoma therapy such as idelalisib, duvelisib and ibrutinib block PI3Kδ activity directly or indirectly5,6,7,8, potentially affecting AID expression and, consequently, genomic stability in B cells. Here we show that treatment of primary mouse B cells with idelalisib or duvelisib, and to a lesser extent ibrutinib, enhanced the expression of AID and increased somatic hypermutation and chromosomal translocation frequency to the Igh locus and to several AID off-target sites. Both of these effects were completely abrogated in AID-deficient B cells. PI3Kδ inhibitors or ibrutinib increased the formation of AID-dependent tumours in pristane-treated mice. Consistently, PI3Kδ inhibitors enhanced AID expression and translocation frequency to IGH and AID off-target sites in human chronic lymphocytic leukaemia and mantle cell lymphoma cell lines, and patients treated with idelalisib, but not ibrutinib, showed increased somatic hypermutation in AID off-targets. In summary, we show that PI3Kδ or Bruton's tyrosine kinase inhibitors increase genomic instability in normal and neoplastic B cells by an AID-dependent mechanism. This effect should be carefully considered, as such inhibitors can be administered to patients for years.
Relevant articles
Open Access articles citing this article.
Jake June-Koo Lee

,

Youngsook Lucy Jung

…

Peter J. Park

Nature Open Access 17 May 2023

Jianli Tao

,

Daniel E. Bauer

&

Roberto Chiarle

Nature Communications Open Access 13 January 2023

Jianli Tao

,

Qi Wang

…

Roberto Chiarle

Nature Communications Open Access 27 June 2022
Access options
Access Nature and 54 other Nature Portfolio journals
Get Nature+, our best-value online-access subscription
$29.99 / 30 days
cancel any time
Subscribe to this journal
Receive 51 print issues and online access
$199.00 per year
only $3.90 per issue
Rent or buy this article
Prices vary by article type
from$1.95
to$39.95
Prices may be subject to local taxes which are calculated during checkout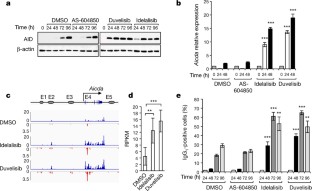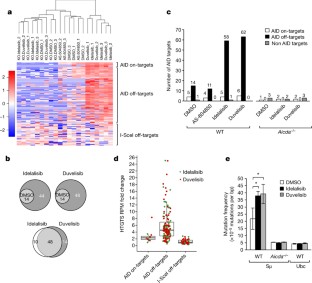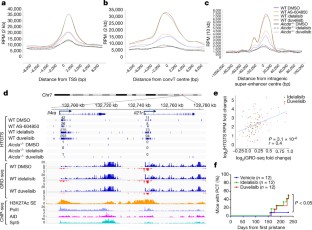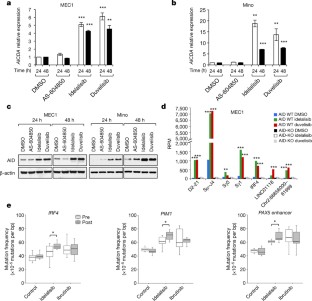 Accession codes
Primary accessions
Gene Expression Omnibus
References
Alt, F. W., Zhang, Y., Meng, F. L., Guo, C. & Schwer, B. Mechanisms of programmed DNA lesions and genomic instability in the immune system. Cell 152, 417–429 (2013)

Nussenzweig, A. & Nussenzweig, M. C. Origin of chromosomal translocations in lymphoid cancer. Cell 141, 27–38 (2010)

Robbiani, D. F. et al. AID produces DNA double-strand breaks in non-Ig genes and mature B cell lymphomas with reciprocal chromosome translocations. Mol. Cell 36, 631–641 (2009)

Omori, S. A. et al. Regulation of class-switch recombination and plasma cell differentiation by phosphatidylinositol 3-kinase signaling. Immunity 25, 545–557 (2006)

Byrd, J. C. et al. Targeting BTK with ibrutinib in relapsed chronic lymphocytic leukemia. N. Engl. J. Med. 369, 32–42 (2013)

Gopal, A. K. et al. PI3Kδ inhibition by idelalisib in patients with relapsed indolent lymphoma. N. Engl. J. Med. 370, 1008–1018 (2014)

Brown, J. R. et al. Idelalisib, an inhibitor of phosphatidylinositol 3-kinase p110δ, for relapsed/refractory chronic lymphocytic leukemia. Blood 123, 3390–3397 (2014)

Dong, S. et al. IPI-145 antagonizes intrinsic and extrinsic survival signals in chronic lymphocytic leukemia cells. Blood 124, 3583–3586 (2014)

Chiarle, R. et al. Genome-wide translocation sequencing reveals mechanisms of chromosome breaks and rearrangements in B cells. Cell 147, 107–119 (2011)

Meng, F. L. et al. Convergent transcription at intragenic super-enhancers targets AID-initiated genomic instability. Cell 159, 1538–1548 (2014)

Advani, R. H. et al. Bruton tyrosine kinase inhibitor ibrutinib (PCI-32765) has significant activity in patients with relapsed/refractory B-cell malignancies. J. Clin. Oncol. 31, 88–94 (2013)

Rush, J. S., Liu, M., Odegard, V. H., Unniraman, S. & Schatz, D. G. Expression of activation-induced cytidine deaminase is regulated by cell division, providing a mechanistic basis for division-linked class switch recombination. Proc. Natl Acad. Sci. USA 102, 13242–13247 (2005)

Angulo, I. et al. Phosphoinositide 3-kinase δ gene mutation predisposes to respiratory infection and airway damage. Science 342, 866–871 (2013)

Lucas, C. L. et al. Dominant-activating germline mutations in the gene encoding the PI(3)K catalytic subunit p110δ result in T cell senescence and human immunodeficiency. Nat. Immunol. 15, 88–97 (2014)

Klein, I. A. et al. Translocation-capture sequencing reveals the extent and nature of chromosomal rearrangements in B lymphocytes. Cell 147, 95–106 (2011)

Hu, J., Tepsuporn, S., Meyers, R. M., Gostissa, M. & Alt, F. W. Developmental propagation of V(D)J recombination-associated DNA breaks and translocations in mature B cells via dicentric chromosomes. Proc. Natl Acad. Sci. USA 111, 10269–10274 (2014)

Yamane, A. et al. Deep-sequencing identification of the genomic targets of the cytidine deaminase AID and its cofactor RPA in B lymphocytes. Nat. Immunol. 12, 62–69 (2011)

Qian, J. et al. B cell super-enhancers and regulatory clusters recruit AID tumorigenic activity. Cell 159, 1524–1537 (2014)

Yeap, L. S. et al. Sequence-Intrinsic Mechanisms that Target AID Mutational Outcomes on Antibody Genes. Cell 163, 1124–1137 (2015)

Pavri, R. et al. Activation-induced cytidine deaminase targets DNA at sites of RNA polymerase II stalling by interaction with Spt5. Cell 143, 122–133 (2010)

Pefanis, E. et al. Noncoding RNA transcription targets AID to divergently transcribed loci in B cells. Nature 514, 389–393 (2014)

Potter, M. Neoplastic development in plasma cells. Immunol. Rev. 194, 177–195 (2003)

Pasqualucci, L. et al. Hypermutation of multiple proto-oncogenes in B-cell diffuse large-cell lymphomas. Nature 412, 341–346 (2001)

Puente, X. S. et al. Non-coding recurrent mutations in chronic lymphocytic leukaemia. Nature 526, 519–524 (2015)

Landau, D. A. et al. Mutations driving CLL and their evolution in progression and relapse. Nature 526, 525–530 (2015)

Wang, M. L. et al. Targeting BTK with ibrutinib in relapsed or refractory mantle-cell lymphoma. N. Engl. J. Med. 369, 507–516 (2013)

Burger, J. A. & Chiorazzi, N. B cell receptor signaling in chronic lymphocytic leukemia. Trends Immunol. 34, 592–601 (2013)

Kasar, S. et al. Whole-genome sequencing reveals activation-induced cytidine eaminase signatures during indolent chronic lymphocytic leukaemia evolution. Nat. Commun. 6, 8866 (2015)

Palacios, F. et al. High expression of AID and active class switch recombination might account for a more aggressive disease in unmutated CLL patients: link with an activated microenvironment in CLL disease. Blood 115, 4488–4496 (2010)

Klemm, L. et al. The B cell mutator AID promotes B lymphoid blast crisis and drug resistance in chronic myeloid leukemia. Cancer Cell 16, 232–245 (2009)

Muramatsu, M. et al. Class switch recombination and hypermutation require activation-induced cytidine deaminase (AID), a potential RNA editing enzyme. Cell 102, 553–563 (2000)

Cato, M. H., Yau, I. W. & Rickert, R. C. Magnetic-based purification of ntouched mouse germinal center B cells for ex vivo manipulation and biochemical analysis. Nat. Protocols 6, 953–960 (2011)

Kovalchuk, A. L., Müller, J. R. & Janz, S. Deletional remodeling of c-myc-deregulating chromosomal translocations. Oncogene 15, 2369–2377 (1997)

Ramiro, A. R. et al. AID is required for c-myc/IgH chromosome translocations in vivo. Cell 118, 431–438 (2004)

Schmieder, R. & Edwards, R. Quality control and preprocessing of metagenomic datasets. Bioinformatics 27, 863–864 (2011)

Zang, C. et al. A clustering approach for identification of enriched domains from histone modification ChIP–seq data. Bioinformatics 25, 1952–1958 (2009)

Camps, J. et al. Genomic imbalances and patterns of karyotypic variability in mantle-cell lymphoma cell lines. Leuk. Res. 30, 923–934 (2006)

Krzywinski, M. et al. Circos: an information aesthetic for comparative genomics. Genome Res. 19, 1639–1645 (2009)

Robinson, J. T. et al. Integrative genomics viewer. Nat. Biotechnol. 29, 24–26 (2011)

Langmead, B. & Salzberg, S. L. Fast gapped-read alignment with Bowtie 2. Nat. Methods 9, 357–359 (2012)

Heinz, S. et al. Simple combinations of lineage-determining transcription factors prime cis-regulatory elements required for macrophage and B cell identities. Mol. Cell 38, 576–589 (2010)

Love, M. I., Huber, W. & Anders, S. Moderated estimation of fold change and dispersion for RNA-seq data with DESeq2. Genome Biol. 15, 550 (2014)

Liu, M. et al. Two levels of protection for the B cell genome during somatic hypermutation. Nature 451, 841–845 (2008)
Acknowledgements
We thank K. Okkenhaug and F. Garcon for providing wild-type and mutated PI3Kδ constructs, F. Zhang for providing CRISPR/Cas9 plasmids. We thank M. Fleming and M. M. Awad for critically reading the manuscript. This work was supported by NIH grants R01 CA196703-01 to R.C.; 1U10CA180861-01 to C.J.W., R01AI077595 to F.W.A; Associazione Italiana per la Ricerca sul Cancro grant IG-12023 to R.C. and MFAG 10708 to M.C.; Worldwide Cancer Research grant 12-0216 to R.C.; Compagnia di San Paolo-Comitato Gigi Ghirotti to M.C.; American Cancer Society Grant RSG-13-002-01-CCE to J.R.B.; T.C.C. is supported by a National Research Foundation of Korea(NRF) fellowship; L.S.Y. was a Cancer Research Institute postdoctoral fellow; F.M. was a Lymphoma Research Foundation postdoctoral fellow; J.S. is a recipient of a PhRMA Foundation Research Fellowship; C.J.W. is Scholar of the Leukemia and Lymphoma Society; F.W.A. is an investigator of the Howard Hughes Medical Institute. A. W. is supported by the intramural program of NHLBI, NIH.
Ethics declarations
Competing interests
A. W. declares support for Pharmacyclics
Additional information
Reviewer Information Nature thanks D. Fruman and the other anonymous reviewer(s) for their contribution to the peer review of this work.
Extended data figures and tables
Supplementary information
About this article
Cite this article
Compagno, M., Wang, Q., Pighi, C. et al. Phosphatidylinositol 3-kinase δ blockade increases genomic instability in B cells. Nature 542, 489–493 (2017). https://doi.org/10.1038/nature21406
Received:

Accepted:

Published:

Issue Date:

DOI: https://doi.org/10.1038/nature21406
Comments
By submitting a comment you agree to abide by our Terms and Community Guidelines. If you find something abusive or that does not comply with our terms or guidelines please flag it as inappropriate.