Abstract
Chimeric antigen receptors (CARs) are synthetic receptors that redirect and reprogram T cells to mediate tumour rejection1. The most successful CARs used to date are those targeting CD19 (ref. 2), which offer the prospect of complete remission in patients with chemorefractory or relapsed B-cell malignancies3. CARs are typically transduced into the T cells of a patient using γ-retroviral4 vectors or other randomly integrating vectors5, which may result in clonal expansion, oncogenic transformation, variegated transgene expression and transcriptional silencing6,7,8. Recent advances in genome editing enable efficient sequence-specific interventions in human cells9,10, including targeted gene delivery to the CCR5 and AAVS1 loci11,12. Here we show that directing a CD19-specific CAR to the T-cell receptor α constant (TRAC) locus not only results in uniform CAR expression in human peripheral blood T cells, but also enhances T-cell potency, with edited cells vastly outperforming conventionally generated CAR T cells in a mouse model of acute lymphoblastic leukaemia. We further demonstrate that targeting the CAR to the TRAC locus averts tonic CAR signalling and establishes effective internalization and re-expression of the CAR following single or repeated exposure to antigen, delaying effector T-cell differentiation and exhaustion. These findings uncover facets of CAR immunobiology and underscore the potential of CRISPR/Cas9 genome editing to advance immunotherapies.
Relevant articles
Open Access articles citing this article.
Jian Chen

,

Shizhen Qiu

…

Haopeng Wang

Cell Research Open Access 08 March 2023

Zaoqu Liu

,

Meixin Shi

…

Xinwei Han

Molecular Cancer Open Access 16 February 2023

Meagan R. Rollins

,

Jackson F. Raynor

…

Ingunn M. Stromnes

Nature Communications Open Access 01 February 2023
Access options
Access Nature and 54 other Nature Portfolio journals
Get Nature+, our best-value online-access subscription
$29.99 per month
cancel any time
Subscribe to this journal
Receive 51 print issues and online access
$199.00 per year
only $3.90 per issue
Rent or buy this article
Get just this article for as long as you need it
$39.95
Prices may be subject to local taxes which are calculated during checkout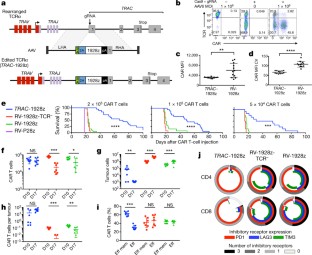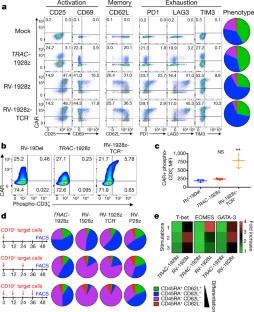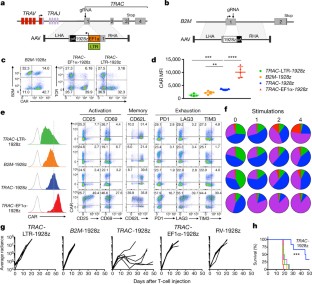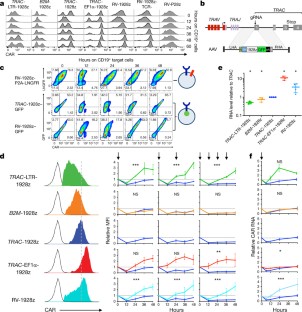 References
Jensen, M. C. & Riddell, S. R. Designing chimeric antigen receptors to effectively and safely target tumors. Curr. Opin. Immunol . 33, 9–15 (2015)

Brentjens, R. J. et al. Eradication of systemic B-cell tumors by genetically targeted human T lymphocytes co-stimulated by CD80 and interleukin-15. Nat. Med . 9, 279–286 (2003)

Sadelain, M. CAR therapy: the CD19 paradigm. J. Clin. Invest . 125, 3392–3400 (2015)

Sadelain, M. & Mulligan, R. C. Efficient retroviral-mediated gene transfer into murine primary lymphocytes. Ninth International Immunology Congress, Budapest. 88:34. (1992)

Wang, X. & Rivière, I. Clinical manufacturing of CAR T cells: foundation of a promising therapy. Mol. Ther. Oncolytics . 3, 16015 (2016)

Ellis, J. Silencing and variegation of gammaretrovirus and lentivirus vectors. Hum. Gene Ther . 16, 1241–1246 (2005)

Rivière, I., Dunbar, C. E. & Sadelain, M. Hematopoietic stem cell engineering at a crossroads. Blood 119, 1107–1116 (2012)

von Kalle, C., Deichmann, A. & Schmidt, M. Vector integration and tumorigenesis. Hum. Gene Ther . 25, 475–481 (2014)

Wright, A. V., Nuñez, J. K. & Doudna, J. A. Biology and applications of CRISPR systems: harnessing nature's toolbox for genome engineering. Cell 164, 29–44 (2016)

Tsai, S. Q. & Joung, J. K. Defining and improving the genome-wide specificities of CRISPR-Cas9 nucleases. Nat. Rev. Genet . 17, 300–312 (2016)

Lombardo, A. et al. Site-specific integration and tailoring of cassette design for sustainable gene transfer. Nat. Methods 8, 861–869 (2011)

Sather, B. D. et al. Efficient modification of CCR5 in primary human hematopoietic cells using a megaTAL nuclease and AAV donor template. Sci. Transl. Med. 7, 307ra156 (2015)

Brentjens, R. J. et al. CD19-targeted T cells rapidly induce molecular remissions in adults with chemotherapy-refractory acute lymphoblastic leukemia. Sci. Transl. Med. 5, 177ra38 (2013)

Wang, J. et al. Highly efficient homology-driven genome editing in human T cells by combining zinc-finger nuclease mRNA and AAV6 donor delivery. Nucleic Acids Res . 44, e30 (2016)

Hubbard, N. et al. Targeted gene editing restores regulated CD40L function in X-linked hyper-IgM syndrome. Blood 127, 2513–2522 (2016)

Corthay, A., Nandakumar, K. S. & Holmdahl, R. Evaluation of the percentage of peripheral T cells with two different T cell receptor alpha-chains and of their potential role in autoimmunity. J. Autoimmun . 16, 423–429 (2001)

de Vree, P. J. et al. Targeted sequencing by proximity ligation for comprehensive variant detection and local haplotyping. Nat. Biotechnol . 32, 1019–1025 (2014)

Zhao, Z. et al. Structural design of engineered costimulation determines tumor rejection kinetics and persistence of CAR T cells. Cancer Cell 28, 415–428 (2015)

Blackburn, S. D. et al. Coregulation of CD8+ T cell exhaustion by multiple inhibitory receptors during chronic viral infection. Nat. Immunol . 10, 29–37 (2009)

Gattinoni, L. et al. A human memory T cell subset with stem cell-like properties. Nat. Med . 17, 1290–1297 (2011)

Gallardo, H. F., Tan, C. & Sadelain, M. The internal ribosomal entry site of the encephalomyocarditis virus enables reliable coexpression of two transgenes in human primary T lymphocytes. Gene Ther . 4, 1115–1119 (1997)

Long, A. H. et al. 4-1BB costimulation ameliorates T cell exhaustion induced by tonic signaling of chimeric antigen receptors. Nat. Med . 21, 581–590 (2015)

Sommermeyer, D. et al. Chimeric antigen receptor-modified T cells derived from defined CD8+ and CD4+ subsets confer superior antitumor reactivity in vivo. Leukemia 30, 492–500 (2016)

Frigault, M. J. et al. Identification of chimeric antigen receptors that mediate constitutive or inducible proliferation of T cells. Cancer Immunol. Res . 3, 356–367 (2015)

Schrum, A. G., Turka, L. A. & Palmer, E. Surface T-cell antigen receptor expression and availability for long-term antigenic signaling. Immunol. Rev . 196, 7–24 (2003)

Liu, H., Rhodes, M., Wiest, D. L. & Vignali, D. A. On the dynamics of TCR:CD3 complex cell surface expression and downmodulation. Immunity 13, 665–675 (2000)

Call, M. E. & Wucherpfennig, K. W. The T cell receptor: critical role of the membrane environment in receptor assembly and function. Annu. Rev. Immunol . 23, 101–125 (2005)

Allison, K. A. et al. Affinity and dose of TCR engagement yield proportional enhancer and gene activity in CD4+ T cells. eLife 5, e10134 (2016)

Schietinger, A. & Greenberg, P. D. Tolerance and exhaustion: defining mechanisms of T cell dysfunction. Trends Immunol . 35, 51–60 (2014)

Wherry, E. J. & Kurachi, M. Molecular and cellular insights into T cell exhaustion. Nat. Rev. Immunol . 15, 486–499 (2015)

Rivière, I., Brose, K. & Mulligan, R. C. Effects of retroviral vector design on expression of human adenosine deaminase in murine bone marrow transplant recipients engrafted with genetically modified cells. Proc. Natl Acad. Sci. USA 92, 6733–6737 (1995)

Maher, J., Brentjens, R. J., Gunset, G., Rivière, I. & Sadelain, M. Human T-lymphocyte cytotoxicity and proliferation directed by a single chimeric TCRζ/CD28 receptor. Nat. Biotechnol . 20, 70–75 (2002)

Gong, M. C. et al. Cancer patient T cells genetically targeted to prostate-specific membrane antigen specifically lyse prostate cancer cells and release cytokines in response to prostate-specific membrane antigen. Neoplasia 1, 123–127 (1999)

Gade, T. P. et al. Targeted elimination of prostate cancer by genetically directed human T lymphocytes. Cancer Res . 65, 9080–9088 (2005)
Acknowledgements
We thank I. Rivière (MSKCC) for helpful discussion and for reviewing the manuscript. We thank the SKI Flow Cytometry core facility and animal facility for excellent support. This work was in part supported by the Lake Road Foundation, the Mr. William H. and Mrs. Alice Goodwin and the Commonwealth Foundation for Cancer Research, Stand Up To Cancer/American Association for Cancer Research (a program of the Entertainment Industry Foundation administered by the American Association for Cancer Research), the Lymphoma and Leukemia Society, NYSTEM, NYSCF and the MSK Cancer Center Support Grant/Core Grant (P30 CA008748).
Ethics declarations
Competing interests
M.S. is a cofounder of and consultant for Juno Therapeutics.
Additional information
Reviewer Information Nature thanks M. Maus, E. J. Wherry and the other anonymous reviewer(s) for their contribution to the peer review of this work.
Extended data figures and tables
Supplementary information
This file contains Supplementary Figure 1 showing the statistical analysis of difference in slopes for the CAR MFI during multiple stimulations. (PDF 166 kb)
About this article
Cite this article
Eyquem, J., Mansilla-Soto, J., Giavridis, T. et al. Targeting a CAR to the TRAC locus with CRISPR/Cas9 enhances tumour rejection. Nature 543, 113–117 (2017). https://doi.org/10.1038/nature21405
Received:

Accepted:

Published:

Issue Date:

DOI: https://doi.org/10.1038/nature21405
Comments
By submitting a comment you agree to abide by our Terms and Community Guidelines. If you find something abusive or that does not comply with our terms or guidelines please flag it as inappropriate.