Abstract
Elasmobranch fishes, including sharks, rays, and skates, use specialized electrosensory organs called ampullae of Lorenzini to detect extremely small changes in environmental electric fields. Electrosensory cells within these ampullae can discriminate and respond to minute changes in environmental voltage gradients through an unknown mechanism. Here we show that the voltage-gated calcium channel CaV1.3 and the big conductance calcium-activated potassium (BK) channel are preferentially expressed by electrosensory cells in little skate (Leucoraja erinacea) and functionally couple to mediate electrosensory cell membrane voltage oscillations, which are important for the detection of specific, weak electrical signals. Both channels exhibit unique properties compared with their mammalian orthologues that support electrosensory functions: structural adaptations in CaV1.3 mediate a low-voltage threshold for activation, and alterations in BK support specifically tuned voltage oscillations. These findings reveal a molecular basis of electroreception and demonstrate how discrete evolutionary changes in ion channel structure facilitate sensory adaptation.
Access options
Subscribe to Journal
Get full journal access for 1 year
$199.00
only $3.90 per issue
All prices are NET prices.
VAT will be added later in the checkout.
Tax calculation will be finalised during checkout.
Rent or Buy article
Get time limited or full article access on ReadCube.
from$8.99
All prices are NET prices.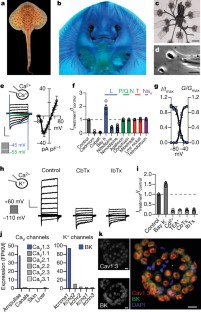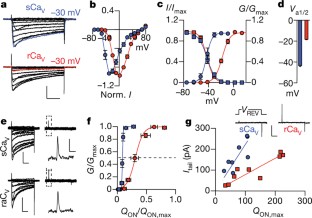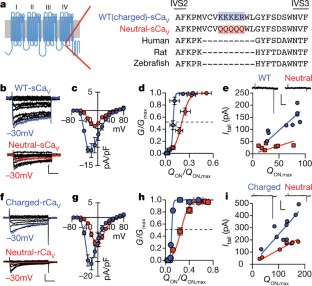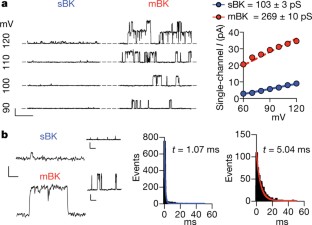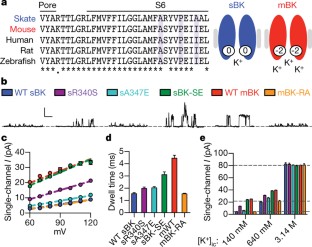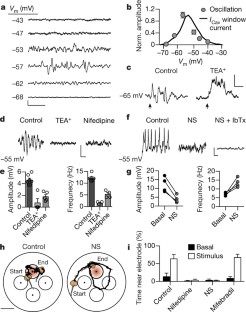 References
1

Kalmijn, A. J. The electric sense of sharks and rays. J. Exp. Biol. 55, 371–383 (1971)

2

Kalmijn, A. J. Electric and magnetic field detection in elasmobranch fishes. Science 218, 916–918 (1982)

3

Lissmann, H. W. & Machin, K. E. The mechanism of object location in Gymnarchus niloticus and similar fish. J. Exp. Biol. 35, 451–486 (1958)

4

Munz, H., Claas, B. & Fritzsch, B. Electroreceptive and mechanoreceptive units in the lateral line of the axolotl Ambystoma mexicanum . J. Comp. Physiol. 154, 33–44 (1984)

5

Scheich, H., Langner, G., Tidemann, C., Coles, R. B. & Guppy, A. Electroreception and electrolocation in platypus. Nature 319, 401–402 (1986)

6

Bullock, T. H. Electroreception. Annu. Rev. Neurosci. 5, 121–170 (1982)

7

Clusin, W. T. & Bennett, M. V. The ionic basis of oscillatory responses of skate electroreceptors. J. Gen. Physiol. 73, 703–723 (1979)

8

Clusin, W. T. & Bennett, M. V. The oscillatory responses of skate electroreceptors to small voltage stimuli. J. Gen. Physiol. 73, 685–702 (1979)

9

Peters, R. C., Zwart, R., Loos, W. J. G. & Bretschneider, F. Transduction at electroreceptor cells manipulated by exposure of apical membranes to ionic channel blockers. Comp Biochem Phys C 94, 663–669 (1989)

10

Araneda, R. C. & Bennett, M. Electrical properties of electroreceptor cells isolated from skate ampulla of Lorenzini. Biol. Bull. 185, 310–311 (1993)

11

Lu, J. & Fishman, H. M. Ion channels and transporters in the electroreceptive ampullary epithelium from skates. Biophys. J. 69, 2467–2475 (1995)

12

Sisneros, J. A., Tricas, T. C. & Luer, C. A. Response properties and biological function of the skate electrosensory system during ontogeny. J. Comp. Physiol. A 183, 87–99 (1998)

13

Tricas, T. C., Michael, S. W. & Sisneros, J. A. Electrosensory optimization to conspecific phasic signals for mating. Neurosci. Lett. 202, 129–132 (1995)

14

Baker, C. A., Huck, K. R. & Carlson, B. A. Peripheral sensory coding through oscillatory synchrony in weakly electric fish. eLife 4, e08163 (2015)

15

Catterall, W. A., Perez-Reyes, E., Snutch, T. P. & Striessnig, J. International Union of Pharmacology. XLVIII. Nomenclature and structure-function relationships of voltage-gated calcium channels. Pharmacol. Rev. 57, 411–425 (2005)

16

Platzer, J. et al. Congenital deafness and sinoatrial node dysfunction in mice lacking class D L-type Ca2+ channels. Cell 102, 89–97 (2000)

17

Koschak, A. et al. a1D (Cav1.3) subunits can form L-type Ca2+ channels activating at negative voltages. J. Biol. Chem. 276, 22100–22106 (2001)

18

Xu, W. & Lipscombe, D. Neuronal CaV1.3α1 L-type channels activate at relatively hyperpolarized membrane potentials and are incompletely inhibited by dihydropyridines. J. Neurosci. 21, 5944–5951 (2001)

19

Brandt, A., Striessnig, J. & Moser, T. CaV1.3 channels are essential for development and presynaptic activity of cochlear inner hair cells. J. Neurosci. 23, 10832–10840 (2003)

20

Modrell, M. S., Bemis, W. E., Northcutt, R. G., Davis, M. C. & Baker, C. V. H. Electrosensory ampullary organs are derived from lateral line placodes in bony fishes. Nat. Commun. 2, 496 (2011)

21

Hulme, J. T., Yarov-Yarovoy, V., Lin, T. W., Scheuer, T. & Catterall, W. A. Autoinhibitory control of the CaV1.2 channel by its proteolytically processed distal C-terminal domain. J. Physiol. (Lond.) 576, 87–102 (2006)

22

Wu, J. et al. Structure of the voltage-gated calcium channel CaV1.1 complex. Science 350, aad2395 (2015)

23

Cole, K. S. & Moore, J. W. Potassium ion current in the squid giant axon: dynamic characteristic. Biophys. J. 1, 1–14 (1960)

24

Fodor, A. A. & Aldrich, R. W. Convergent evolution of alternative splices at domain boundaries of the BK channel. Annu. Rev. Physiol. 71, 19–36 (2009)

25

Soom, M., Gessner, G., Heuer, H., Hoshi, T. & Heinemann, S. H. A mutually exclusive alternative exon of slo1 codes for a neuronal BK channel with altered function. Channels 2, 278–282 (2008)

26

King, B. L., Shi, L. F., Kao, P. & Clusin, W. T. Calcium activated K+ channels in the electroreceptor of the skate confirmed by cloning. Details of subunits and splicing. Gene 578, 63–73 (2016)

27

Brelidze, T. I., Niu, X. & Magleby, K. L. A ring of eight conserved negatively charged amino acids doubles the conductance of BK channels and prevents inward rectification. Proc. Natl Acad. Sci. USA 100, 9017–9022 (2003)

28

Nimigean, C. M., Chappie, J. S. & Miller, C. Electrostatic tuning of ion conductance in potassium channels. Biochemistry 42, 9263–9268 (2003)

29

Teeter, J. H. & Bennett, M. V. L. Synaptic transmission in the ampullary electroreceptor of the transparent catfish, Kryptopterus . J. Comp. Physiol. 142, 371–377 (1981)

30

Bentzen, B. H. et al. The small molecule NS11021 is a potent and specific activator of Ca2+-activated big-conductance K+ channels. Mol. Pharmacol. 72, 1033–1044 (2007)

31

Schwaller, B. et al. Prolonged contraction-relaxation cycle of fast-twitch muscles in parvalbumin knockout mice. Am. J. Physiol. 276, C395–C403 (1999)

32

Sejnowski, T. J. & Yodlowski, M. L. A freeze-fracture study of the skate electroreceptor. J. Neurocytol. 11, 897–912 (1982)

33

Zanazzi, G. & Matthews, G. The molecular architecture of ribbon presynaptic terminals. Mol. Neurobiol. 39, 130–148 (2009)

34

Lewis, R. S. & Hudspeth, A. J. Voltage- and ion-dependent conductances in solitary vertebrate hair cells. Nature 304, 538–541 (1983)

35

Hudspeth, A. J. & Lewis, R. S. A model for electrical resonance and frequency tuning in saccular hair cells of the bull-frog, Rana catesbeiana . J. Physiol. (Lond.) 400, 275–297 (1988)

36

Miranda-Rottmann, S., Kozlov, A. S. & Hudspeth, A. J. Highly specific alternative splicing of transcripts encoding BK channels in the chicken's cochlea is a minor determinant of the tonotopic gradient. Mol. Cell. Biol. 30, 3646–3660 (2010)

37

Rosenblatt, K. P., Sun, Z. P., Heller, S. & Hudspeth, A. J. Distribution of Ca2+-activated K+ channel isoforms along the tonotopic gradient of the chicken's cochlea. Neuron 19, 1061–1075 (1997)

38

Fettiplace, R. & Fuchs, P. A. Mechanisms of hair cell tuning. Annu. Rev. Physiol. 61, 809–834 (1999)

39

Ramakrishnan, N. A. et al. Voltage-gated Ca2+ channel CaV1.3 subunit expressed in the hair cell epithelium of the sacculus of the trout Oncorhynchus mykiss: cloning and comparison across vertebrate classes. Brain Res. Mol. Brain Res. 109, 63–83 (2002)

40

Senatore, A., Boone, A. N. & Spafford, J. D. Optimized transfection strategy for expression and electrophysiological recording of recombinant voltage-gated ion channels in HEK-293T cells. J. Vis. Exp. 47, 2314 (2011)

41

Gillis, J. A., Dahn, R. D. & Shubin, N. H. Chondrogenesis and homology of the visceral skeleton in the little skate, Leucoraja erinacea (Chondrichthyes: Batoidea). J. Morphol. 270, 628–643 (2009)

42

Ishii, T., Omura, M. & Mombaerts, P. Protocols for two- and three-color fluorescent RNA in situ hybridization of the main and accessory olfactory epithelia in mouse. J. Neurocytol. 33, 657–669 (2004)
Acknowledgements
We thank R. Araneda, Y. Kirichok, F. Fieni, N. Ingolia, V. Yorgan, and members of the Julius laboratory for discussions and technical assistance, R. Nicoll for critical reading of the manuscript, and S. Bennett at the Marine Biological Laboratory for help with skates. This work was supported by an NIH Institutional Research Service Award to the UCSF CVRI (T32HL007731 to N.W.B.), a Howard Hughes Medical Institute Fellowship of the Life Sciences Research Foundation (N.W.B.), a Simons Foundation Postdoctoral Fellowship to the Jane Coffin Childs Memorial Fund (D.B.L.), and grants from the NIH (NS081115 and NS055299 to D.J.).
Ethics declarations
Competing interests
The authors declare no competing financial interests.
Extended data figures and tables
About this article
Cite this article
Bellono, N., Leitch, D. & Julius, D. Molecular basis of ancestral vertebrate electroreception. Nature 543, 391–396 (2017). https://doi.org/10.1038/nature21401
Received:

Accepted:

Published:

Issue Date:
Comments
By submitting a comment you agree to abide by our Terms and Community Guidelines. If you find something abusive or that does not comply with our terms or guidelines please flag it as inappropriate.