Abstract
In mitosis, for each daughter cell to inherit an accurate copy of the genome from the mother cell, sister chromatids in the mother cell must attach to microtubules emanating from opposite poles of the mitotic spindle, a process known as bi-orientation. A surveillance mechanism, termed the spindle assembly checkpoint (SAC), monitors the microtubule attachment process and can temporarily halt the separation of sister chromatids and the completion of mitosis until bi-orientation is complete1. SAC failure results in abnormal chromosome numbers, termed aneuploidy, in the daughter cells, a hallmark of many tumours. The HORMA-domain-containing protein mitotic arrest deficient 2 (MAD2) is a subunit of the SAC effector mitotic checkpoint complex (MCC). Structural conversion from the open to the closed conformation of MAD2 is required for MAD2 to be incorporated into the MCC1. In vitro, MAD2 conversion and MCC assembly take several hours2,3,4, but in cells the SAC response is established in a few minutes5,6,7. Here, to address this discrepancy, we reconstituted a near-complete SAC signalling system with purified components and monitored assembly of the MCC in real time. A marked acceleration in MAD2 conversion and MCC assembly was observed when monopolar spindle 1 (MPS1) kinase phosphorylated the MAD1–MAD2 complex, triggering it to act as the template for MAD2 conversion and therefore contributing to the establishment of a physical platform for MCC assembly. Thus, catalytic activation of the SAC depends on regulated protein–protein interactions that accelerate the spontaneous but rate-limiting conversion of MAD2 required for MCC assembly.
Relevant articles
Open Access articles citing this article.
Vivek Susvirkar

&

Alex C. Faesen

Communications Biology Open Access 08 April 2023

Chu Chen

,

Valentina Piano

…

Ajit P. Joglekar

Nature Communications Open Access 18 March 2023

Elyse S. Fischer

,

Conny W. H. Yu

…

David Barford

Nature Communications Open Access 26 October 2022
Access options
Access Nature and 54 other Nature Portfolio journals
Get Nature+, our best-value online-access subscription
$29.99 / 30 days
cancel any time
Subscribe to this journal
Receive 51 print issues and online access
$199.00 per year
only $3.90 per issue
Rent or buy this article
Get just this article for as long as you need it
$39.95
Prices may be subject to local taxes which are calculated during checkout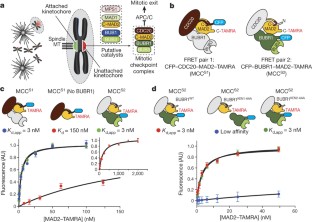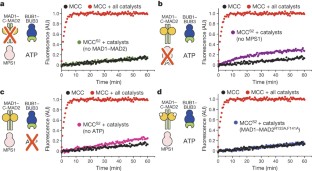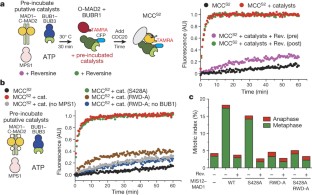 References
Musacchio, A. The molecular biology of spindle assembly checkpoint signaling dynamics. Curr. Biol. 25, R1002–R1018 (2015)

Luo, X. et al. The Mad2 spindle checkpoint protein has two distinct natively folded states. Nat. Struct. Mol. Biol. 11, 338–345 (2004)

Simonetta, M. et al. The influence of catalysis on Mad2 activation dynamics. PLoS Biol. 7, e10 (2009)

Kulukian, A., Han, J. S. & Cleveland, D. W. Unattached kinetochores catalyze production of an anaphase inhibitor that requires a Mad2 template to prime Cdc20 for BubR1 binding. Dev. Cell 16, 105–117 (2009)

Dick, A. E. & Gerlich, D. W. Kinetic framework of spindle assembly checkpoint signalling. Nat. Cell Biol. 15, 1370–1377 (2013)

Hagting, A. et al. Human securin proteolysis is controlled by the spindle checkpoint and reveals when the APC/C switches from activation by Cdc20 to Cdh1. J. Cell Biol. 157, 1125–1137 (2002)

Clute, P. & Pines, J. Temporal and spatial control of cyclin B1 destruction in metaphase. Nat. Cell Biol. 1, 82–87 (1999)

Fraschini, R. et al. Bub3 interaction with Mad2, Mad3 and Cdc20 is mediated by WD40 repeats and does not require intact kinetochores. EMBO J. 20, 6648–6659 (2001)

Sudakin, V., Chan, G. K. & Yen, T. J. Checkpoint inhibition of the APC/C in HeLa cells is mediated by a complex of BUBR1, BUB3, CDC20, and MAD2. J. Cell Biol. 154, 925–936 (2001)

Hardwick, K. G., Johnston, R. C., Smith, D. L. & Murray, A. W. MAD3 encodes a novel component of the spindle checkpoint which interacts with Bub3p, Cdc20p, and Mad2p. J. Cell Biol. 148, 871–882 (2000)

Chao, W. C., Kulkarni, K., Zhang, Z., Kong, E. H. & Barford, D. Structure of the mitotic checkpoint complex. Nature 484, 208–213 (2012)

Izawa, D. & Pines, J. The mitotic checkpoint complex binds a second CDC20 to inhibit active APC/C. Nature 517, 631–634 (2015)

Alfieri, C. et al. Molecular basis of APC/C regulation by the spindle assembly checkpoint. Nature 536, 431–436 (2016)

Yamaguchi, M. et al. Cryo-EM of mitotic checkpoint complex-bound APC/C reveals reciprocal and conformational regulation of ubiquitin ligation. Mol. Cell 63, 593–607 (2016)

Luo, X., Tang, Z., Rizo, J. & Yu, H. The Mad2 spindle checkpoint protein undergoes similar major conformational changes upon binding to either Mad1 or Cdc20. Mol. Cell 9, 59–71 (2002)

Sironi, L. et al. Crystal structure of the tetrameric Mad1–Mad2 core complex: implications of a 'safety belt' binding mechanism for the spindle checkpoint. EMBO J. 21, 2496–2506 (2002)

De Antoni, A. et al. The Mad1/Mad2 complex as a template for Mad2 activation in the spindle assembly checkpoint. Curr. Biol. 15, 214–225 (2005)

Mapelli, M., Massimiliano, L., Santaguida, S. & Musacchio, A. The Mad2 conformational dimer: structure and implications for the spindle assembly checkpoint. Cell 131, 730–743 (2007)

Sironi, L. et al. Mad2 binding to Mad1 and Cdc20, rather than oligomerization, is required for the spindle checkpoint. EMBO J. 20, 6371–6382 (2001)

Santaguida, S., Tighe, A., D'Alise, A. M., Taylor, S. S. & Musacchio, A. Dissecting the role of MPS1 in chromosome biorientation and the spindle checkpoint through the small molecule inhibitor reversine. J. Cell Biol. 190, 73–87 (2010)

Baron, A. P. et al. Probing the catalytic functions of Bub1 kinase using the small molecule inhibitors BAY-320 and BAY-524. eLife 5, e12187 (2016)

Kim, S., Sun, H., Tomchick, D. R., Yu, H. & Luo, X. Structure of human Mad1 C-terminal domain reveals its involvement in kinetochore targeting. Proc. Natl Acad. Sci. USA 109, 6549–6554 (2012)

Maldonado, M. & Kapoor, T. M. Constitutive Mad1 targeting to kinetochores uncouples checkpoint signalling from chromosome biorientation. Nat. Cell Biol. 13, 475–482 (2011)

Overlack, K. et al. A molecular basis for the differential roles of Bub1 and BubR1 in the spindle assembly checkpoint. eLife 4, e05269 (2015)

Di Fiore, B. et al. The ABBA motif binds APC/C activators and is shared by APC/C substrates and regulators. Dev. Cell 32, 358–372 (2015)

Diaz-Martinez, L. A. et al. The Cdc20-binding Phe box of the spindle checkpoint protein BubR1 maintains the mitotic checkpoint complex during mitosis. J. Biol. Chem. 290, 2431–2443 (2015)

Vleugel, M. et al. Dissecting the roles of human BUB1 in the spindle assembly checkpoint. J. Cell Sci. 128, 2975–2982 (2015)

London, N. & Biggins, S. Mad1 kinetochore recruitment by Mps1-mediated phosphorylation of Bub1 signals the spindle checkpoint. Genes Dev. 28, 140–152 (2014)

Brady, D. M. & Hardwick, K. G. Complex formation between Mad1p, Bub1p and Bub3p is crucial for spindle checkpoint function. Curr. Biol. 10, 675–678 (2000)

Moyle, M. W. et al. A Bub1–Mad1 interaction targets the Mad1–Mad2 complex to unattached kinetochores to initiate the spindle checkpoint. J. Cell Biol. 204, 647–657 (2014)

Han, J. S. et al. Catalytic assembly of the mitotic checkpoint inhibitor BubR1–Cdc20 by a Mad2-induced functional switch in Cdc20. Mol. Cell 51, 92–104 (2013)

Musacchio, A. & Ciliberto, A. The spindle-assembly checkpoint and the beauty of self-destruction. Nat. Struct. Mol. Biol. 19, 1059–1061 (2012)

Mapelli, M. et al. Determinants of conformational dimerization of Mad2 and its inhibition by p31comet. EMBO J. 25, 1273–1284 (2006)

Rieder, C. L., Cole, R. W., Khodjakov, A. & Sluder, G. The checkpoint delaying anaphase in response to chromosome monoorientation is mediated by an inhibitory signal produced by unattached kinetochores. J. Cell Biol. 130, 941–948 (1995)

Collin, P., Nashchekina, O., Walker, R. & Pines, J. The spindle assembly checkpoint works like a rheostat rather than a toggle switch. Nat. Cell Biol. 15, 1378–1385 (2013)

Goedhart, J. et al. Structure-guided evolution of cyan fluorescent proteins towards a quantum yield of 93%. Nat. Commun. 3, 751 (2012)

Popp, M. W. & Ploegh, H. L. Making and breaking peptide bonds: protein engineering using sortase. Angew. Chem. Int. Edn Engl. 50, 5024–5032 (2011)

Rappsilber, J., Mann, M. & Ishihama, Y. Protocol for micro-purification, enrichment, pre-fractionation and storage of peptides for proteomics using StageTips. Nat. Protocols 2, 1896–1906 (2007)

Michalski, A. et al. Mass spectrometry-based proteomics using Q Exactive, a high-performance benchtop quadrupole Orbitrap mass spectrometer. Mol. Cell. Proteomics 10, M111.011015 (2011)

Olsen, J. V. et al. Higher-energy C-trap dissociation for peptide modification analysis. Nat. Methods 4, 709–712 (2007)

Cox, J. & Mann, M. MaxQuant enables high peptide identification rates, individualized p.p.b.-range mass accuracies and proteome-wide protein quantification. Nat. Biotechnol. 26, 1367–1372 (2008)

Vassilev, L. T. et al. Selective small-molecule inhibitor reveals critical mitotic functions of human CDK1. Proc. Natl Acad. Sci. USA 103, 10660–10665 (2006)
Acknowledgements
We thank T. Kapoor and G. Siemeister for sharing reagents; the J.-M. Peters laboratory for the CDC20 expression vector; H. Ploegh for the Sortase expression vector; Y. Wu for help with construction of FRET probes; O. Durczak for technical assistance; A. Ciliberto for suggestions and comments; and G. Vader and the A.M. laboratory for discussions and reading of the manuscript. A.C.F. acknowledges support by an EMBO long-term fellowship (ALTF 1096-2012) and a Marie Curie Intra-European Fellowship (IEF). A.M. acknowledges funding by the Framework Program 7 Integrated Project MitoSys, the Horizon 2020 ERC agreement RECEPIANCE, and the DFG's Collaborative Research Centre (CRC) 1093.
Ethics declarations
Competing interests
The authors declare no competing financial interests.
Additional information
Reviewer Information
Nature thanks T. Kapoor, J. Pines and the other anonymous reviewer(s) for their contribution to the peer review of this work.
Extended data figures and tables
Supplementary information
This file contains a Supplementary Discussion, Supplementary References and the uncropped gels for Extended Data Figures 2, 7 and 8. (PDF 2357 kb)
About this article
Cite this article
Faesen, A., Thanasoula, M., Maffini, S. et al. Basis of catalytic assembly of the mitotic checkpoint complex. Nature 542, 498–502 (2017). https://doi.org/10.1038/nature21384
Received:

Accepted:

Published:

Issue Date:

DOI: https://doi.org/10.1038/nature21384
Comments
By submitting a comment you agree to abide by our Terms and Community Guidelines. If you find something abusive or that does not comply with our terms or guidelines please flag it as inappropriate.