Abstract
Mechanistic target of rapamycin complex 1 (TORC1) integrates nutrient signals to control cell growth and organismal homeostasis across eukaryotes1,2,3,4. The evolutionarily conserved GATOR complex regulates mTORC1 signalling through Rag GTPases, and GATOR1 displays GTPase activating protein (GAP) activity for RAGA and RAGB (RAGA/B) and GATOR2 has been proposed to be an inhibitor of GATOR15,6. Furthermore, the metazoan-specific SESN proteins function as guanine nucleotide dissociation inhibitors (GDIs) for RAGA/B, and interact with GATOR2 with unknown effects7,8,9. Here we show that SZT2 (seizure threshold 2), a metazoan-specific protein mutated in epilepsy10,11,12,13, recruits a fraction of mammalian GATOR1 and GATOR2 to form a SZT2-orchestrated GATOR (SOG) complex with an essential role in GATOR- and SESN-dependent nutrient sensing and mTORC1 regulation. The interaction of SZT2 with GATOR1 and GATOR2 was synergistic, and an intact SOG complex was required for its localization at the lysosome. SZT2 deficiency resulted in constitutive mTORC1 signalling in cells under nutrient-deprived conditions and neonatal lethality in mice, which was associated with failure to inactivate mTORC1 during fasting. Hyperactivation of mTORC1 in SZT2-deficient cells could be partially corrected by overexpression of the GATOR1 component DEPDC5, and by the lysosome-targeted GATOR2 component WDR59 or lysosome-targeted SESN2. These findings demonstrate that SZT2 has a central role in dictating GATOR-dependent nutrient sensing by promoting lysosomal localization of SOG, and reveal an unexpected function of lysosome-located GATOR2 in suppressing mTORC1 signalling through SESN recruitment.
Access options
Subscribe to Journal
Get full journal access for 1 year
$199.00
only $3.90 per issue
All prices are NET prices.
VAT will be added later in the checkout.
Tax calculation will be finalised during checkout.
Rent or Buy article
Get time limited or full article access on ReadCube.
from$8.99
All prices are NET prices.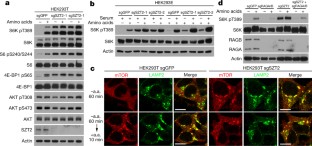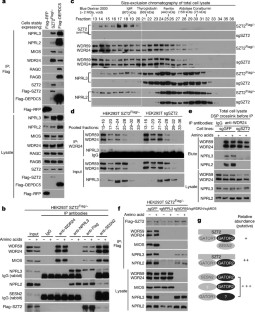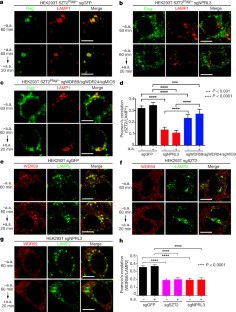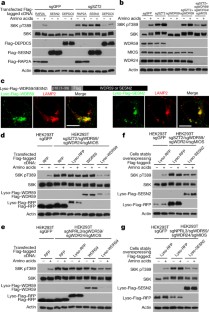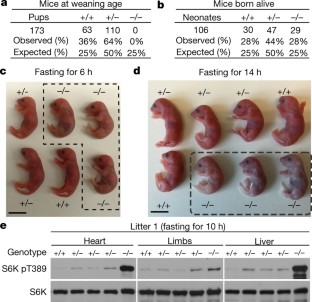 References
1

Laplante, M. & Sabatini, D. M. mTOR signaling in growth control and disease. Cell 149, 274–293 (2012)

2

Jewell, J. L. & Guan, K. L. Nutrient signaling to mTOR and cell growth. Trends Biochem. Sci. 38, 233–242 (2013)

3

Shimobayashi, M. & Hall, M. N. Making new contacts: the mTOR network in metabolism and signalling crosstalk. Nat. Rev. Mol. Cell Biol. 15, 155–162 (2014)

4

Kim, S. G., Buel, G. R. & Blenis, J. Nutrient regulation of the mTOR complex 1 signaling pathway. Mol. Cells 35, 463–473 (2013)

5

Bar-Peled, L. et al. A tumor suppressor complex with GAP activity for the Rag GTPases that signal amino acid sufficiency to mTORC1. Science 340, 1100–1106 (2013)

6

Panchaud, N., Péli-Gulli, M. P. & De Virgilio, C. Amino acid deprivation inhibits TORC1 through a GTPase-activating protein complex for the Rag family GTPase Gtr1. Sci. Signal. 6, ra42 (2013)

7

Peng, M., Yin, N. & Li, M. O. Sestrins function as guanine nucleotide dissociation inhibitors for Rag GTPases to control mTORC1 signaling. Cell 159, 122–133 (2014)

8

Chantranupong, L. et al. The Sestrins interact with GATOR2 to negatively regulate the amino-acid-sensing pathway upstream of mTORC1. Cell Reports 9, 1–8 (2014)

9

Parmigiani, A. et al. Sestrins inhibit mTORC1 kinase activation through the GATOR complex. Cell Reports 9, 1281–1291 (2014)

10

Frankel, W. N., Yang, Y., Mahaffey, C. L., Beyer, B. J. & O'Brien, T. P. Szt2, a novel gene for seizure threshold in mice. Genes Brain Behav. 8, 568–576 (2009)

11

Falcone, M. et al. An amino acid deletion in SZT2 in a family with non-syndromic intellectual disability. PLoS One 8, e82810 (2013)

12

Basel-Vanagaite, L. et al. Biallelic SZT2 mutations cause infantile encephalopathy with epilepsy and dysmorphic corpus callosum. Am. J. Hum. Genet. 93, 524–529 (2013)

13

Venkatesan, C., Angle, B. & Millichap, J. J. Early-life epileptic encephalopathy secondary to SZT2 pathogenic recessive variants. Epileptic Disord. 18, 195–200 (2016)

14

Saito, K., Araki, Y., Kontani, K., Nishina, H. & Katada, T. Novel role of the small GTPase Rheb: its implication in endocytic pathway independent of the activation of mammalian target of rapamycin. J. Biochem. 137, 423–430 (2005)

15

Sancak, Y. et al. Ragulator–Rag complex targets mTORC1 to the lysosomal surface and is necessary for its activation by amino acids. Cell 141, 290–303 (2010)

16

Betz, C. & Hall, M. N. Where is mTOR and what is it doing there? J. Cell Biol. 203, 563–574 (2013)

17

Sekiguchi, T., Hirose, E., Nakashima, N., Ii, M. & Nishimoto, T. Novel G proteins, Rag C and Rag D, interact with GTP-binding proteins, Rag A and Rag B. J. Biol. Chem. 276, 7246–7257 (2001)

18

Sancak, Y. et al. The Rag GTPases bind raptor and mediate amino acid signaling to mTORC1. Science 320, 1496–1501 (2008)

19

Kim, E., Goraksha-Hicks, P., Li, L., Neufeld, T. P. & Guan, K. L. Regulation of TORC1 by Rag GTPases in nutrient response. Nat. Cell Biol. 10, 935–945 (2008)

20

Wolfson, R. L. et al. Sestrin2 is a leucine sensor for the mTORC1 pathway. Science 351, 43–48 (2016)

21

Panchaud, N., Péli-Gulli, M. P. & De Virgilio, C. SEACing the GAP that nEGOCiates TORC1 activation: evolutionary conservation of Rag GTPase regulation. Cell Cycle 12, 2948–2952 (2013)

22

Algret, R. et al. Molecular architecture and function of the SEA complex, a modulator of the TORC1 pathway. Mol. Cell. Proteomics 13, 2855–2870 (2014)

23

Dokudovskaya, S. & Rout, M. P. SEA you later alli-GATOR—a dynamic regulator of the TORC1 stress response pathway. J. Cell Sci. 128, 2219–2228 (2015)

24

Dokudovskaya, S. et al. A conserved coatomer-related complex containing Sec13 and Seh1 dynamically associates with the vacuole in Saccharomyces cerevisiae . Mol. Cell. Proteomics 10, M110.006478 (2011)

25

Wong, M. A critical review of mTOR inhibitors and epilepsy: from basic science to clinical trials. Expert Rev. Neurother. 13, 657–669 (2013)

26

Toutzaris, D. et al. A novel giant peroxisomal superoxide dismutase motif-containing protein. Free Radic. Biol. Med. 48, 811–820 (2010)

27

Efeyan, A. et al. Regulation of mTORC1 by the Rag GTPases is necessary for neonatal autophagy and survival. Nature 493, 679–683 (2013)

28

Menon, S. et al. Spatial control of the TSC complex integrates insulin and nutrient regulation of mTORC1 at the lysosome. Cell 156, 771–785 (2014)
Acknowledgements
We thank H. Erdjument-Bromage at the Microchemistry and Proteomics Core for help with the mass spectrometry experiments, and J. Xie for the WDR59 antibody. This work was supported by a Leukemia & Lymphoma Society Scholar Award (M.O.L.), a Functional Genomics Initiative Grant from Memorial Sloan Kettering Cancer Center (M.O.L.), a Faculty Scholar grant from the Howard Hughes Medical Institute (M.O.L.), and the Memorial Sloan Kettering Cancer Center Support Grant/Core Grant (P30 CA008748).
Ethics declarations
Competing interests
The authors declare no competing financial interests.
Extended data figures and tables
Supplementary information
About this article
Cite this article
Peng, M., Yin, N. & Li, M. SZT2 dictates GATOR control of mTORC1 signalling. Nature 543, 433–437 (2017). https://doi.org/10.1038/nature21378
Received:

Accepted:

Published:

Issue Date:
Comments
By submitting a comment you agree to abide by our Terms and Community Guidelines. If you find something abusive or that does not comply with our terms or guidelines please flag it as inappropriate.