Abstract
Peroxisomes function together with mitochondria in a number of essential biochemical pathways, from bile acid synthesis to fatty acid oxidation1. Peroxisomes grow and divide from pre-existing organelles2, but can also emerge de novo in the cell3. The physiological regulation of de novo peroxisome biogenesis remains unclear, and it is thought that peroxisomes emerge from the endoplasmic reticulum in both mammalian and yeast cells4. However, in contrast to the yeast system5,6,7,8, a number of integral peroxisomal membrane proteins are imported into mitochondria in mammalian cells in the absence of peroxisomes, including Pex3, Pex12, Pex13, Pex14, Pex26, PMP34 and ALDP9,10,11,12,13,14,15. Overall, the mitochondrial localization of peroxisomal membrane proteins in mammalian cells has largely been considered a mis-targeting artefact in which de novo biogenesis occurs exclusively from endoplasmic reticulum-targeted peroxins16. Here, in following the generation of new peroxisomes within human patient fibroblasts lacking peroxisomes, we show that the essential import receptors Pex3 and Pex14 target mitochondria, where they are selectively released into vesicular pre-peroxisomal structures. Maturation of pre-peroxisomes containing Pex3 and Pex14 requires fusion with endoplasmic reticulum-derived vesicles carrying Pex16, thereby providing full import competence. These findings demonstrate the hybrid nature of newly born peroxisomes, expanding their functional links to mitochondria.
Relevant articles
Open Access articles citing this article.
Sakdithep Chaiyarit

&

Visith Thongboonkerd

Journal of Translational Medicine Open Access 02 May 2023

Steven E. Cala

,

Nicholas J. Carruthers

…

Xuequn Chen

Molecular and Cellular Biochemistry Open Access 10 April 2023

Feng Chen

,

Yeke Wang

…

Ping Xie

BMC Genomics Open Access 04 April 2023
Access options
Access Nature and 54 other Nature Portfolio journals
Get Nature+, our best-value online-access subscription
$29.99 / 30 days
cancel any time
Subscribe to this journal
Receive 51 print issues and online access
$199.00 per year
only $3.90 per issue
Rent or buy this article
Prices vary by article type
from$1.95
to$39.95
Prices may be subject to local taxes which are calculated during checkout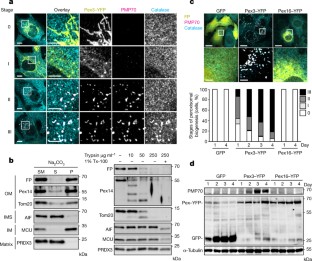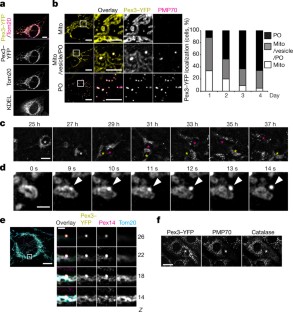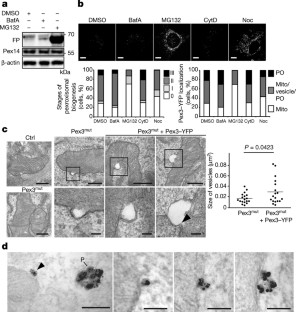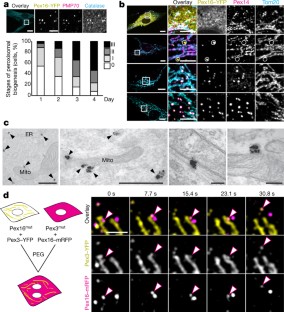 References
Mohanty, A. & McBride, H. M. Emerging roles of mitochondria in the evolution, biogenesis, and function of peroxisomes. Front. Physiol . 4, 268 (2013)

Lazarow, P. B. & Fujiki, Y. Biogenesis of peroxisomes. Annu. Rev. Cell Biol . 1, 489–530 (1985)

Agrawal, G. & Subramani, S. De novo peroxisome biogenesis: Evolving concepts and conundrums. Biochim. Biophys. Acta 1863, 892–901 (2016)

Smith, J. J. & Aitchison, J. D. Peroxisomes take shape. Nat. Rev. Mol. Cell Biol . 14, 803–817 (2013)

Titorenko, V. I., Chan, H. & Rachubinski, R. A. Fusion of small peroxisomal vesicles in vitro reconstructs an early step in the in vivo multistep peroxisome assembly pathway of Yarrowia lipolytica. J. Cell Biol . 148, 29–44 (2000)

van der Zand, A., Braakman, I. & Tabak, H. F. Peroxisomal membrane proteins insert into the endoplasmic reticulum. Mol. Biol. Cell 21, 2057–2065 (2010)

Lam, S. K., Yoda, N. & Schekman, R. A vesicle carrier that mediates peroxisome protein traffic from the endoplasmic reticulum. Proc. Natl Acad. Sci. USA 107, 21523–21528 (2010)

Agrawal, G., Joshi, S. & Subramani, S. Cell-free sorting of peroxisomal membrane proteins from the endoplasmic reticulum. Proc. Natl Acad. Sci. USA 108, 9113–9118 (2011)

Sacksteder, K. A. et al. PEX19 binds multiple peroxisomal membrane proteins, is predominantly cytoplasmic, and is required for peroxisome membrane synthesis. J. Cell Biol . 148, 931–944 (2000)

South, S. T., Sacksteder, K. A., Li, X., Liu, Y. & Gould, S. J. Inhibitors of COPI and COPII do not block PEX3-mediated peroxisome synthesis. J. Cell Biol . 149, 1345–1360 (2000)

Muntau, A. C., Mayerhofer, P. U., Paton, B. C., Kammerer, S. & Roscher, A. A. Defective peroxisome membrane synthesis due to mutations in human PEX3 causes Zellweger syndrome, complementation group G. Am. J. Hum. Genet. 67, 967–975 (2000)

Kim, P. K., Mullen, R. T., Schumann, U. & Lippincott-Schwartz, J. The origin and maintenance of mammalian peroxisomes involves a de novo PEX16-dependent pathway from the ER. J. Cell Biol . 173, 521–532 (2006)

Halbach, A. et al. Targeting of the tail-anchored peroxisomal membrane proteins PEX26 and PEX15 occurs through C-terminal PEX19-binding sites. J. Cell Sci . 119, 2508–2517 (2006)

Toro, A. A. et al. Pex3p-dependent peroxisomal biogenesis initiates in the endoplasmic reticulum of human fibroblasts. J. Cell. Biochem. 107, 1083–1096 (2009)

Aranovich, A., Hua, R., Rutenberg, A. D. & Kim, P. K. PEX16 contributes to peroxisome maintenance by constantly trafficking PEX3 via the ER. J. Cell Sci . 127, 3675–3686 (2014)

Kim, P. K. & Hettema, E. H. Multiple pathways for protein transport to peroxisomes. J. Mol. Biol. 427 (6 Pt A), 1176–1190 (2015)

Schmidt, F. et al. The role of conserved PEX3 regions in PEX19-binding and peroxisome biogenesis. Traffic 13, 1244–1260 (2012)

Mayerhofer, P. U., Bano-Polo, M., Mingarro, I. & Johnson, A. E. Human peroxin PEX3 is co-translationally integrated into the ER and exits the ER in budding vesicles. Traffic 17, 117–130 (2016)

Yamashita, S., Abe, K., Tatemichi, Y. & Fujiki, Y. The membrane peroxin PEX3 induces peroxisome-ubiquitination-linked pexophagy. Autophagy 10, 1549–1564 (2014)

Soubannier, V. et al. A vesicular transport pathway shuttles cargo from mitochondria to lysosomes. Curr. Biol . 22, 135–141 (2012)

Chang, Y. C., Nalbant, P., Birkenfeld, J., Chang, Z. F. & Bokoch, G. M. GEF-H1 couples nocodazole-induced microtubule disassembly to cell contractility via RhoA. Mol. Biol. Cell 19, 2147–2153 (2008)

Schrader, M., Bonekamp, N. A. & Islinger, M. Fission and proliferation of peroxisomes. Biochim. Biophys. Acta 1822, 1343–1357 (2012)

Braschi, E. et al. Vps35 mediates vesicle transport between the mitochondria and peroxisomes. Curr. Biol . 20, 1310–1315 (2010)

Fang, Y., Morrell, J. C., Jones, J. M. & Gould, S. J. PEX3 functions as a PEX19 docking factor in the import of class I peroxisomal membrane proteins. J. Cell Biol . 164, 863–875 (2004)

Matsuzaki, T. & Fujiki, Y. The peroxisomal membrane protein import receptor Pex3p is directly transported to peroxisomes by a novel Pex19p- and Pex16p-dependent pathway. J. Cell Biol . 183, 1275–1286 (2008)

Neufeld, C. et al. Structural basis for competitive interactions of Pex14 with the import receptors Pex5 and Pex19. EMBO J . 28, 745–754 (2009)

South, S. T. & Gould, S. J. Peroxisome synthesis in the absence of preexisting peroxisomes. J. Cell Biol . 144, 255–266 (1999)

Bolte, K., Rensing, S. A. & Maier, U. G. The evolution of eukaryotic cells from the perspective of peroxisomes: phylogenetic analyses of peroxisomal beta-oxidation enzymes support mitochondria-first models of eukaryotic cell evolution. BioEssays 37, 195–203 (2015)

Gould, S. B., Garg, S. G. & Martin, W. F. Bacterial vesicle secretion and the evolutionary origin of the eukaryotic endomembrane system. Trends Microbiol . 24, 525–534 (2016)

Jeyaraju, D. V. et al. Phosphorylation and cleavage of presenilin-associated rhomboid-like protein (PARL) promotes changes in mitochondrial morphology. Proc. Natl Acad. Sci. USA 103, 18562–18567 (2006)

Yao, J. & Shoubridge, E. A. Expression and functional analysis of SURF1 in Leigh syndrome patients with cytochrome c oxidase deficiency. Hum. Mol. Genet . 8, 2541–2549 (1999)

Neuspiel, M., Zunino, R., Gangaraju, S., Rippstein, P. & McBride, H. Activated mitofusin 2 signals mitochondrial fusion, interferes with Bax activation, and reduces susceptibility to radical induced depolarization. J. Biol. Chem. 280, 25060–25070 (2005)

Neuspiel, M. et al. Cargo-selected transport from the mitochondria to peroxisomes is mediated by vesicular carriers. Curr. Biol . 18, 102–108 (2008)

McBride, H. M., Millar, D. G., Li, J. M. & Shore, G. C. A signal-anchor sequence selective for the mitochondrial outer membrane. J. Cell Biol . 119, 1451–1457 (1992)

Walter, P. & Blobel, G. Preparation of microsomal membranes for cotranslational protein translocation. Methods Enzymol . 96, 84–93 (1983)

Nguyen, M., Millar, D. G., Yong, V. W., Korsmeyer, S. J. & Shore, G. C. Targeting of Bcl-2 to the mitochondrial outer membrane by a COOH-terminal signal anchor sequence. J. Biol. Chem. 268, 25265–25268 (1993)

McBride, H. M., Goping, I. S. & Shore, G. C. The human mitochondrial import receptor, hTom20p, prevents a cryptic matrix targeting sequence from gaining access to the protein translocation machinery. J. Cell Biol . 134, 307–313 (1996)

Sugiura, A., McLelland, G. L., Fon, E. A. & McBride, H. M. A new pathway for mitochondrial quality control: mitochondrial-derived vesicles. EMBO J . 33, 2142–2156 (2014). 10.15252/embj.201488104
Acknowledgements
This work was supported by CIHR grant MOP#133549 and a Canada Research Chair to H.M.M. A.S. was supported by a JSPS Postdoctoral Fellowship for Research Abroad, S.M. through a Quebec FRQS Studentship, and J.P. by a CIHR Postdoctoral Fellowship (MFE-140925). The authors thank P. Kim for critical reagents and advice, and M. Nguyen for help with import assays.
Ethics declarations
Competing interests
The authors declare no competing financial interests.
Extended data figures and tables
Supplementary information
About this article
Cite this article
Sugiura, A., Mattie, S., Prudent, J. et al. Newly born peroxisomes are a hybrid of mitochondrial and ER-derived pre-peroxisomes. Nature 542, 251–254 (2017). https://doi.org/10.1038/nature21375
Received:

Accepted:

Published:

Issue Date:

DOI: https://doi.org/10.1038/nature21375
Comments
By submitting a comment you agree to abide by our Terms and Community Guidelines. If you find something abusive or that does not comply with our terms or guidelines please flag it as inappropriate.