Abstract
Lanthanide-doped glasses and crystals are attractive for laser applications because the metastable energy levels of the trivalent lanthanide ions facilitate the establishment of population inversion and amplified stimulated emission at relatively low pump power1,2,3. At the nanometre scale, lanthanide-doped upconversion nanoparticles (UCNPs) can now be made with precisely controlled phase, dimension and doping level4,5. When excited in the near-infrared, these UCNPs emit stable, bright visible luminescence at a variety of selectable wavelengths6,7,8,9, with single-nanoparticle sensitivity10,11,12,13, which makes them suitable for advanced luminescence microscopy applications. Here we show that UCNPs doped with high concentrations of thulium ions (Tm3+), excited at a wavelength of 980 nanometres, can readily establish a population inversion on their intermediate metastable 3H4 level: the reduced inter-emitter distance at high Tm3+ doping concentration leads to intense cross-relaxation, inducing a photon-avalanche-like effect that rapidly populates the metastable 3H4 level, resulting in population inversion relative to the 3H6 ground level within a single nanoparticle. As a result, illumination by a laser at 808 nanometres, matching the upconversion band of the 3H4 → 3H6 transition, can trigger amplified stimulated emission to discharge the 3H4 intermediate level, so that the upconversion pathway to generate blue luminescence can be optically inhibited. We harness these properties to realize low-power super-resolution stimulated emission depletion (STED) microscopy and achieve nanometre-scale optical resolution (nanoscopy), imaging single UCNPs; the resolution is 28 nanometres, that is, 1/36th of the wavelength. These engineered nanocrystals offer saturation intensity two orders of magnitude lower than those of fluorescent probes currently employed in stimulated emission depletion microscopy, suggesting a new way of alleviating the square-root law that typically limits the resolution that can be practically achieved by such techniques.
Your institute does not have access to this article
Relevant articles
Open Access articles citing this article.
Pengfei Qi

,

Yuchen Dai

…

Zheyu Fang

Light: Science & Applications Open Access 10 June 2022

Light: Science & Applications Open Access 06 June 2022

Xin Guo

,

Rui Pu

…

Qiuqiang Zhan

Nature Communications Open Access 23 May 2022
Access options
Subscribe to Nature+
Get immediate online access to the entire Nature family of 50+ journals
Subscribe to Journal
Get full journal access for 1 year
$199.00
only $3.90 per issue
All prices are NET prices.
VAT will be added later in the checkout.
Tax calculation will be finalised during checkout.
Buy article
Get time limited or full article access on ReadCube.
$32.00
All prices are NET prices.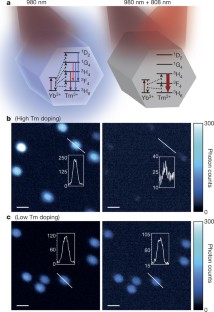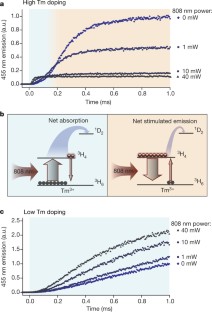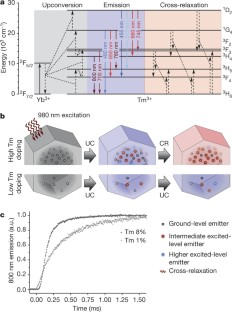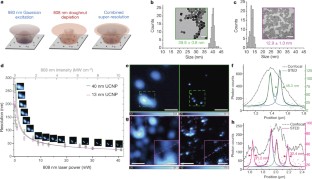 References
Urquhart, P. Review of rare-earth doped fiber lasers and amplifiers. IEE Proc. J. Optoelectron. 135, 385–402 (1988)

Stoneman, R. C. & Esterowitz, L. Efficient, broadly tunable, laser-pumped Tm-YAG and Tm-YSGG CW lasers. Opt. Lett. 15, 486–488 (1990)

Jackson, S. D. Towards high-power mid-infrared emission from a fibre laser. Nat. Photon. 6, 423–431 (2012)

Wang, F. et al. Simultaneous phase and size control of upconversion nanocrystals through lanthanide doping. Nature 463, 1061–1065 (2010)

Liu, D. et al. Three-dimensional controlled growth of monodisperse sub-50 nm heterogeneous nanocrystals. Nat. Commun. 7, 10254 (2016)

Mai, H.-X., Zhang, Y.-W., Sun, L.-D. & Yan, C.-H. Highly efficient multicolor up-conversion emissions and their mechanisms of monodisperse NaYF4: Yb,Er core and core/shell-structured nanocrystals. J. Phys. Chem. C 111, 13721–13729 (2007)

Chen, G., Ohulchanskyy, T. Y., Kumar, R., Agren, H. & Prasad, P. N. Ultrasmall monodisperse NaYF4:Yb3+/Tm3+ nanocrystals with enhanced near-infrared to near-infrared upconversion photoluminescence. ACS Nano 4, 3163–3168 (2010)

Wang, F. et al. Tuning upconversion through energy migration in core-shell nanoparticles. Nat. Mater. 10, 968–973 (2011)

Lu, Y. et al. Tunable lifetime multiplexing using luminescent nanocrystals. Nat. Photon. 8, 33–37 (2014)

Wu, S. et al. Non-blinking and photostable upconverted luminescence from single lanthanide-doped nanocrystals. Proc. Natl Acad. Sci. USA 106, 10917–10921 (2009)

Park, Y. I. et al. Nonblinking and nonbleaching upconverting nanoparticles as an optical imaging nanoprobe and T1 magnetic resonance imaging contrast agent. Adv. Mater. 21, 4467–4471 (2009)

Zhao, J. et al. Single-nanocrystal sensitivity achieved by enhanced upconversion luminescence. Nat. Nanotechnol. 8, 729–734 (2013)

Gargas, D. J. et al. Engineering bright sub-10-nm upconverting nanocrystals for single-molecule imaging. Nat. Nanotechnol. 9, 300–305 (2014)

Joubert, M. F., Guy, S. & Jacquier, B. Model of the photon-avalanche effect. Phys. Rev. B 48, 10031–10037 (1993)

Collings, B. C. & Silversmith, A. J. Avalanche up-conversion in LaF3Tm3+ . J. Lumin. 62, 271–279 (1994)

Auzel, F. & Chen, Y. Photon avalanche luminescence of Er3+ ions in LiYF4 crystal. J. Lumin. 65, 45–56 (1995)

Scheps, R. Upconversion laser processes. Prog. Quantum Electron. 20, 271–358 (1996)

Selvin, P. R. The renaissance of fluorescence resonance energy transfer. Nat. Struct. Biol. 7, 730–734 (2000)

Rabouw, F. T., den Hartog, S. A., Senden, T. & Meijerink, A. Photonic effects on the Forster resonance energy transfer efficiency. Nat. Commun. 5, 3610 (2014)

Auzel, F. Upconversion and anti-Stokes processes with f and d ions in solids. Chem. Rev. 104, 139–174 (2004)

Willig, K. I., Harke, B., Medda, R. & Hell, S. W. STED microscopy with continuous wave beams. Nat. Methods 4, 915–918 (2007)

Leutenegger, M., Eggeling, C. & Hell, S. W. Analytical description of STED microscopy performance. Opt. Express 18, 26417–26429 (2010)

Donnert, G. et al. Macromolecular-scale resolution in biological fluorescence microscopy. Proc. Natl Acad. Sci. USA 103, 11440–11445 (2006)

Kolesov, R. et al. Super-resolution upconversion microscopy of praseodymium-doped yttrium aluminum garnet nanoparticles. Phys. Rev. B 84, 153413 (2011)

Han, K. Y. et al. Three-dimensional stimulated emission depletion microscopy of nitrogen-vacancy centers in diamond using continuous-wave light. Nano Lett. 9, 3323–3329 (2009)

Hanne, J. et al. STED nanoscopy with fluorescent quantum dots. Nat. Commun. 6, 7127 (2015)

Harke, B. et al. Resolution scaling in STED microscopy. Opt. Express 16, 4154–4162 (2008)

Wu, R. et al. Optical depletion mechanism of upconverting luminescence and its potential for multi-photon STED-like microscopy. Opt. Express 23, 32401–32412 (2015)

Chmyrov, A. et al. Nanoscopy with more than 100,000 'doughnuts'. Nat. Methods 10, 737–740 (2013)

Sedlmeier, A. & Gorris, H. H. Surface modification and characterization of photon-upconverting nanoparticles for bioanalytical applications. Chem. Soc. Rev. 44, 1526–1560 (2015)

He, L., Ozdemir, S. K., Zhu, J., Kim, W. & Yang, L. Detecting single viruses and nanoparticles using whispering gallery microlasers. Nat. Nanotechnol. 6, 428–432 (2011)

Koenderink, A. F., Alù, A. & Polman, A. Nanophotonics: shrinking light-based technology. Science 348, 516–521 (2015)

Buchegger, B. et al. Stimulated emission depletion lithography with mercapto-functional polymers. ACS Nano 10, 1954–1959 (2016)

Chivian, J. S., Case, W. E. & Eden, D. D. The photon avalanche: a new phenomenon in Pr3+-based infrared quantum counters. Appl. Phys. Lett. 35, 124–125 (1979)

Joubert, M. F. Photon avalanche upconversion in rare earth laser materials. Opt. Mater. 11, 181–203 (1999)

Goldner, P. & Pelle, F. Photon avalanche fluorescence and lasers. Opt. Mater. 5, 239–249 (1996)
Acknowledgements
This project was primarily supported by the Australian Research Council (ARC) Future Fellowship Scheme (D.J., FT 130100517), the ARC Centre of Excellence for Nanoscale BioPhotonics (CE140100003), the Natural Science Foundation of China (61428501, 31327901, 61475010), and the National Instrumentation Project of China (2013YQ03065102). Y. Lu acknowledges support from a Macquarie University Research Fellowship.
Ethics declarations
Competing interests
The authors declare no competing financial interests.
Additional information
Reviewer Information Nature thanks Y. D. Suh and the other anonymous reviewer(s) for their contribution to the peer review of this work.
Extended data figures and tables
About this article
Cite this article
Liu, Y., Lu, Y., Yang, X. et al. Amplified stimulated emission in upconversion nanoparticles for super-resolution nanoscopy. Nature 543, 229–233 (2017). https://doi.org/10.1038/nature21366
Received:

Accepted:

Published:

Issue Date:

DOI: https://doi.org/10.1038/nature21366
Comments
By submitting a comment you agree to abide by our Terms and Community Guidelines. If you find something abusive or that does not comply with our terms or guidelines please flag it as inappropriate.