Abstract
P53-binding protein 1 (53BP1) is a multi-functional double-strand break repair protein that is essential for class switch recombination in B lymphocytes and for sensitizing BRCA1-deficient tumours to poly-ADP-ribose polymerase-1 (PARP) inhibitors. Central to all 53BP1 activities is its recruitment to double-strand breaks via the interaction of the tandem Tudor domain with dimethylated lysine 20 of histone H4 (H4K20me2). Here we identify an uncharacterized protein, Tudor interacting repair regulator (TIRR), that directly binds the tandem Tudor domain and masks its H4K20me2 binding motif. Upon DNA damage, the protein kinase ataxia-telangiectasia mutated (ATM) phosphorylates 53BP1 and recruits RAP1-interacting factor 1 (RIF1) to dissociate the 53BP1–TIRR complex. However, overexpression of TIRR impedes 53BP1 function by blocking its localization to double-strand breaks. Depletion of TIRR destabilizes 53BP1 in the nuclear-soluble fraction and alters the double-strand break-induced protein complex centring 53BP1. These findings identify TIRR as a new factor that influences double-strand break repair using a unique mechanism of masking the histone methyl-lysine binding function of 53BP1.
Relevant articles
Open Access articles citing this article.
Jian Ma

,

Yingke Zhou

…

Lei Li

Nature Communications Open Access 31 March 2023

Felicity E. Stubbs

,

Benjamin P. Flynn

…

Becky L. Conway-Campbell

Oncogene Open Access 07 November 2022

Lourdes González-Bermúdez

,

Anna Genescà

…

Marta Martín

Biogerontology Open Access 18 July 2022
Access options
Access Nature and 54 other Nature Portfolio journals
Get Nature+, our best-value online-access subscription
$29.99 / 30 days
cancel any time
Subscribe to this journal
Receive 51 print issues and online access
$199.00 per year
only $3.90 per issue
Rent or buy this article
Prices vary by article type
from$1.95
to$39.95
Prices may be subject to local taxes which are calculated during checkout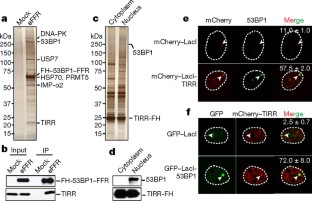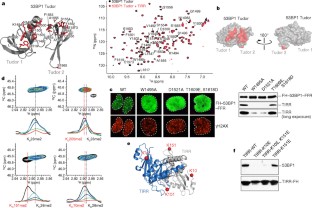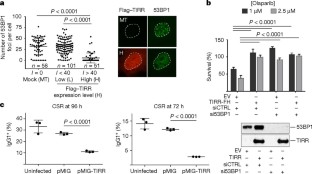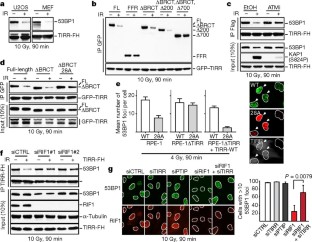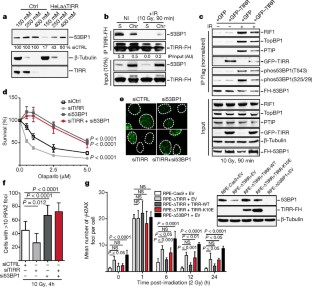 References
Panier, S. & Boulton, S. J. Double-strand break repair: 53BP1 comes into focus. Nature Rev. Mol. Cell Biol. 15, 7–18 (2014)

Zimmermann, M. & de Lange, T. 53BP1: pro choice in DNA repair. Trends Cell Biol. 24, 108–117 (2014)

Bothmer, A. et al. Mechanism of DNA resection during intrachromosomal recombination and immunoglobulin class switching. J. Exp. Med. 210, 115–123 (2011)

Dong, J. et al. Orientation-specific joining of AID-initiated DNA breaks promotes antibody class switching. Nature 525, 134–139 (2015)

Ward, I. M. et al. 53BP1 is required for class switch recombination. J. Cell Biol. 165, 459–464 (2004)

Manis, J. P. et al. 53BP1 links DNA damage-response pathways to immunoglobulin heavy chain class-switch recombination. Nature Immunol. 5, 481–487 (2004)

Farmer, H. et al. Targeting the DNA repair defect in BRCA mutant cells as a therapeutic strategy. Nature 434, 917–921 (2005)

Bryant, H. E. et al. Specific killing of BRCA2-deficient tumours with inhibitors of poly(ADP-ribose) polymerase. Nature 434, 913–917 (2005)

Bunting, S. F. et al. 53BP1 inhibits homologous recombination in Brca1-deficient cells by blocking resection of DNA breaks. Cell 141, 243–254 (2010)

Bouwman, P. et al. 53BP1 loss rescues BRCA1 deficiency and is associated with triple-negative and BRCA-mutated breast cancers. Nature Struct. Mol. Biol. 17, 688–695 (2010)

Chapman, J. R., Sossick, A. J., Boulton, S. J. & Jackson, S. P. BRCA1-associated exclusion of 53BP1 from DNA damage sites underlies temporal control of DNA repair. J. Cell Sci. 125, 3529–3534 (2012)

Charier, G. et al. The Tudor tandem of 53BP1: a new structural motif involved in DNA and RG-rich peptide binding. Structure 12, 1551–1562 (2004)

Iwabuchi, K. et al. Potential role for 53BP1 in DNA end-joining repair through direct interaction with DNA. J. Biol. Chem. 278, 36487–36495 (2003)

Fradet-Turcotte, A. et al. 53BP1 is a reader of the DNA-damage-induced H2A Lys 15 ubiquitin mark. Nature 499, 50–54 (2013)

Botuyan, M. V. et al. Structural basis for the methylation state-specific recognition of histone H4-K20 by 53BP1 and Crb2 in DNA repair. Cell 127, 1361–1373 (2006)

Jowsey, P. et al. Characterisation of the sites of DNA damage-induced 53BP1 phosphorylation catalysed by ATM and ATR. DNA Repair 6, 1536–1544 (2007)

Ward, I. M., Minn, K., Jorda, K. G. & Chen, J. Accumulation of checkpoint protein 53BP1 at DNA breaks involves its binding to phosphorylated histone H2AX. J. Biol. Chem. 278, 19579–19582 (2003)

Stewart, G. S. et al. The RIDDLE syndrome protein mediates a ubiquitin-dependent signaling cascade at sites of DNA damage. Cell 136, 420–434 (2009)

Doil, C. et al. RNF168 binds and amplifies ubiquitin conjugates on damaged chromosomes to allow accumulation of repair proteins. Cell 136, 435–446 (2009)

Baciu, P. C. et al. Syndesmos, a protein that interacts with the cytoplasmic domain of syndecan-4, mediates cell spreading and actin cytoskeletal organization. J. Cell Sci. 113, 315–324 (2000)

Denhez, F. et al. Syndesmos, a syndecan-4 cytoplasmic domain interactor, binds to the focal adhesion adaptor proteins paxillin and Hic-5. J. Biol. Chem. 277, 12270–12274 (2002)

Taylor, M. J. & Peculis, B. A. Evolutionary conservation supports ancient origin for Nudt16, a nuclear-localized, RNA-binding, RNA-decapping enzyme. Nucleic Acids Res. 36, 6021–6034 (2008)

Kim, H. et al. Crystal structure of syndesmos and its interaction with Syndecan-4 proteoglycan. Biochem. Biophys. Res. Commun. 463, 762–767 (2015)

Lemaître, C. et al. The nucleoporin 153, a novel factor in double-strand break repair and DNA damage response. Oncogene 31, 4803–4809 (2012)

Orthwein, A. et al. Mitosis inhibits DNA double-strand break repair to guard against telomere fusions. Science 344, 189–193 (2014)

Lee, D. H. et al. Dephosphorylation enables the recruitment of 53BP1 to double-strand DNA breaks. Mol. Cell 54, 512–525 (2014)

Hartlerode, A. J. et al. Impact of histone H4 lysine 20 methylation on 53BP1 responses to chromosomal double strand breaks. PLoS ONE 7, e49211 (2012)

Mertins, P. et al. Integrated proteomic analysis of post-translational modifications by serial enrichment. Nature Methods 10, 634–637 (2013)

Chapman, J. R. et al. RIF1 is essential for 53BP1-dependent nonhomologous end joining and suppression of DNA double-strand break resection. Mol. Cell 49, 858–871 (2013)

Di Virgilio, M. et al. Rif1 prevents resection of DNA breaks and promotes immunoglobulin class switching. Science 339, 711–715 (2013)

Escribano-Diaz, C. et al. A cell cycle-dependent regulatory circuit composed of 53BP1–RIF1 and BRCA1-CtIP controls DNA repair pathway choice. Mol. Cell 49, 872–883 (2013)

Zimmermann, M., Lottersberger, F., Buonomo, S. B., Sfeir, A. & de Lange, T. 53BP1 regulates DSB repair using Rif1 to control 5′ end resection. Science 339, 700–704 (2013)

Feng, L., Fong, K. W., Wang, J., Wang, W. & Chen, J. RIF1 counteracts BRCA1-mediated end resection during DNA repair. J. Biol. Chem. 288, 11135–11143 (2013)

Callen, E. et al. 53BP1 mediates productive and mutagenic DNA repair through distinct phosphoprotein interactions. Cell 153, 1266–1280 (2013)

Zong, D. et al. Ectopic expression of RNF168 and 53BP1 increases mutagenic but not physiological non-homologous end joining. Nucleic Acids Res. 43, 4950–4961 (2015)

Acs, K. et al. The AAA-ATPase VCP/p97 promotes 53BP1 recruitment by removing L3MBTL1 from DNA double-strand breaks. Nature Struct. Mol. Biol. 18, 1345–1350 (2011)

Mallette, F. A. et al. RNF8- and RNF168-dependent degradation of KDM4A/JMJD2A triggers 53BP1 recruitment to DNA damage sites. EMBO J. 31, 1865–1878 (2012)

Tang, J. et al. Acetylation limits 53BP1 association with damaged chromatin to promote homologous recombination. Nature Struct. Mol. Biol. 20, 317–325 (2013)

Gudjonsson, T. et al. TRIP12 and UBR5 suppress spreading of chromatin ubiquitylation at damaged chromosomes. Cell 150, 697–709 (2012)

Lu, R. & Wang, G. G. Tudor: a versatile family of histone methylation 'readers'. Trends Biochem. Sci. 38, 546–555 (2013)

Wagner, T., Robaa, D., Sippl, W. & Jung, M. Mind the methyl: methyllysine binding proteins in epigenetic regulation. ChemMedChem 9, 466–483 (2014)

Sandhu, S. K., Yap, T. A. & de Bono, J. S. The emerging role of poly(ADP-Ribose) polymerase inhibitors in cancer treatment. Curr. Drug Targets 12, 2034–2044 (2011)

Yap, T. A., Sandhu, S. K., Carden, C. P. & de Bono, J. S. Poly(ADP-ribose) polymerase (PARP) inhibitors: exploiting a synthetic lethal strategy in the clinic. CA Cancer J. Clin. 61, 31–49 (2011)

Lord, C. J. & Ashworth, A. Mechanisms of resistance to therapies targeting BRCA-mutant cancers. Nature Med. 19, 1381–1388 (2013)

Drané, P., Ouararhni, K., Depaux, A., Shuaib, M. & Hamiche, A. The death-associated protein DAXX is a novel histone chaperone involved in the replication-independent deposition of H3.3. Genes Dev. 24, 1253–1265 (2010)

Macnaughtan, M. A., Kane, A. M. & Prestegard, J. H. Mass spectrometry assisted assignment of NMR resonances in reductively 13C-methylated proteins. J. Am. Chem. Soc. 127, 17626–17627 (2005)

Cui, G., Botuyan, M. V. & Mer, G. Preparation of recombinant peptides with site- and degree-specific lysine 13C-methylation. Biochemistry 48, 3798–3800 (2009)

Simon, M. D. et al. The site-specific installation of methyl-lysine analogs into recombinant histones. Cell 128, 1003–1012 (2007)

Delaglio, F. et al. NMRPipe: a multidimensional spectral processing system based on UNIX pipes. J. Biomol. NMR 6, 277–293 (1995)

Johnson, B. A. & Blevins, R. A. NMR View: a computer program for the visualization and analysis of NMR data. J. Biomol. NMR 4, 603–614 (1994)

MacLean, B. et al. Skyline: an open source document editor for creating and analyzing targeted proteomics experiments. Bioinformatics 26, 966–968 (2010)
Acknowledgements
We are grateful to L. Xu for RIF1 antibody and S. Boulton for RIF1−/− MEFs. D.C. is supported by R01 AI101897-01 (National Institute of Allergy and Infectious Diseases) and R01CA142698-07 (National Cancer Institute), a Leukemia and Lymphoma Society Scholar Grant, the Claudia Adams Barr Program for Innovative Cancer Research, a Department of Defense Ovarian Cancer Award, a Breast SPORE Pilot Award, and a Robert and Deborah First Fund Award. G.M. is supported by National Institutes of Health grants R01 CA132878 and R01 GM116829, and a Mayo Clinic Brain Cancer SPORE Program Pilot Award (P50 CA108961). J.W.H. is supported by AG011085. J.C. is supported by National Institutes of Health/National Institute of Allergy and Infectious Disease grants (1RO1AI072194 and 1RO1AI124186) and a National Cancer Institute Cancer Center Support grant (P30CA008748). W.T.Y. is supported by a training grant from the National Cancer Institute (4T32CA009149-40).
Ethics declarations
Competing interests
The authors declare no competing financial interests.
Additional information
Reviewer Information Nature thanks D. Durocher, J. Jonkers and the other anonymous reviewer(s) for their contribution to the peer review of this work.
Extended data figures and tables
Supplementary information
About this article
Cite this article
Drané, P., Brault, ME., Cui, G. et al. TIRR regulates 53BP1 by masking its histone methyl-lysine binding function. Nature 543, 211–216 (2017). https://doi.org/10.1038/nature21358
Received:

Accepted:

Published:

Issue Date:

DOI: https://doi.org/10.1038/nature21358
Comments
By submitting a comment you agree to abide by our Terms and Community Guidelines. If you find something abusive or that does not comply with our terms or guidelines please flag it as inappropriate.