Abstract
Human cells have twenty-three pairs of chromosomes. In cancer, however, genes can be amplified in chromosomes or in circular extrachromosomal DNA (ecDNA), although the frequency and functional importance of ecDNA are not understood1,2,3,4. We performed whole-genome sequencing, structural modelling and cytogenetic analyses of 17 different cancer types, including analysis of the structure and function of chromosomes during metaphase of 2,572 dividing cells, and developed a software package called ECdetect to conduct unbiased, integrated ecDNA detection and analysis. Here we show that ecDNA was found in nearly half of human cancers; its frequency varied by tumour type, but it was almost never found in normal cells. Driver oncogenes were amplified most commonly in ecDNA, thereby increasing transcript level. Mathematical modelling predicted that ecDNA amplification would increase oncogene copy number and intratumoural heterogeneity more effectively than chromosomal amplification. We validated these predictions by quantitative analyses of cancer samples. The results presented here suggest that ecDNA contributes to accelerated evolution in cancer.
Access options
Subscribe to Journal
Get full journal access for 1 year
$199.00
only $3.90 per issue
All prices are NET prices.
VAT will be added later in the checkout.
Rent or Buy article
Get time limited or full article access on ReadCube.
from$8.99
All prices are NET prices.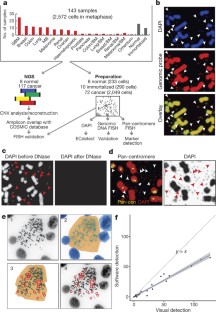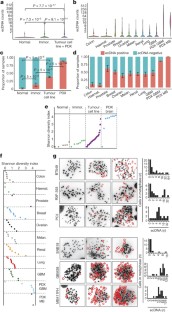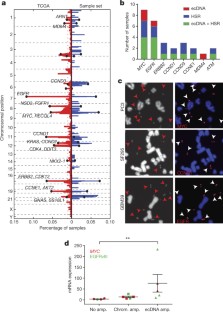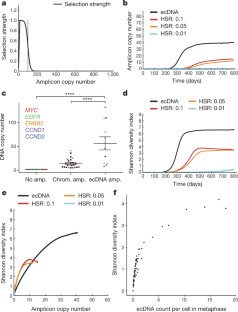 References
1

Vogelstein, B. et al. Cancer genome landscapes. Science 339, 1546–1558 (2013)

2

Stark, G. R., Debatisse, M., Giulotto, E. & Wahl, G. M. Recent progress in understanding mechanisms of mammalian DNA amplification. Cell 57, 901–908 (1989)

3

Schimke, R. T. Gene amplification in cultured animal cells. Cell 37, 705–713 (1984)

4

Fan, Y. et al. Frequency of double minute chromosomes and combined cytogenetic abnormalities and their characteristics. J. Appl. Genet. 52, 53–59 (2011)

5

Nowell, P. C. The clonal evolution of tumor cell populations. Science 194, 23–28 (1976)

6

McGranahan, N. & Swanton, C. Biological and therapeutic impact of intratumor heterogeneity in cancer evolution. Cancer Cell 27, 15–26 (2015)

7

Marusyk, A., Almendro, V. & Polyak, K. Intra-tumour heterogeneity: a looking glass for cancer? Nat. Rev. Cancer 12, 323–334 (2012)

8

Yates, L. R. & Campbell, P. J. Evolution of the cancer genome. Nat. Rev. Genet. 13, 795–806 (2012)

9

Greaves, M. & Maley, C. C. Clonal evolution in cancer. Nature 481, 306–313 (2012)

10

Andor, N. et al. Pan-cancer analysis of the extent and consequences of intratumor heterogeneity. Nat. Med. 22, 105–113 (2016)

11

Gillies, R. J., Verduzco, D. & Gatenby, R. A. Evolutionary dynamics of carcinogenesis and why targeted therapy does not work. Nat. Rev. Cancer 12, 487–493 (2012)

12

Von Hoff, D. D., Needham-VanDevanter, D. R., Yucel, J., Windle, B. E. & Wahl, G. M. Amplified human MYC oncogenes localized to replicating submicroscopic circular DNA molecules. Proc. Natl Acad. Sci. USA 85, 4804–4808 (1988)

13

Garsed, D. W. et al. The architecture and evolution of cancer neochromosomes. Cancer Cell 26, 653–667 (2014)

14

Carroll, S. M. et al. Double minute chromosomes can be produced from precursors derived from a chromosomal deletion. Mol. Cell. Biol. 8, 1525–1533 (1988)

15

Windle, B., Draper, B. W., Yin, Y. X., O'Gorman, S. & Wahl, G. M. A central role for chromosome breakage in gene amplification, deletion formation, and amplicon integration. Genes Dev. 5, 160–174 (1991)

16

Kanda, T., Otter, M. & Wahl, G. M. Mitotic segregation of viral and cellular acentric extrachromosomal molecules by chromosome tethering. J. Cell Sci. 114, 49–58 (2001)

17

Mitelman, F., Johansson, B. & Mertens, F. Mitelman Database of Chromosome Aberrations and Gene Fusions in Cancer. http://cgap.nci.nih.gov/Chromosomes/Mitelman (2016)

18

Sanborn, J. Z. et al. Double minute chromosomes in glioblastoma multiforme are revealed by precise reconstruction of oncogenic amplicons. Cancer Res. 73, 6036–6045 (2013)

19

Almendro, V. et al. Inference of tumor evolution during chemotherapy by computational modeling and in situ analysis of genetic and phenotypic cellular diversity. Cell Reports 6, 514–527 (2014)

20

Zack, T. I. et al. Pan-cancer patterns of somatic copy number alteration. Nat. Genet. 45, 1134–1140 (2013)

21

Nathanson, D. A. et al. Targeted therapy resistance mediated by dynamic regulation of extrachromosomal mutant EGFR DNA. Science 343, 72–76 (2014)

22

Storlazzi, C. T. et al. Gene amplification as double minutes or homogeneously staining regions in solid tumors: origin and structure. Genome Res. 20, 1198–1206 (2010)

23

Bozic, I. et al. Accumulation of driver and passenger mutations during tumor progression. Proc. Natl Acad. Sci. USA 107, 18545–18550 (2010)

24

Li, X. et al. Temporal and spatial evolution of somatic chromosomal alterations: a case-cohort study of Barrett's esophagus. Cancer Prev. Res. 7, 114–127 (2014)

25

Mishra, S. & Whetstine, J. R. Different facets of copy number changes: permanent, transient, and adaptive. Mol. Cell. Biol. 36, 1050–1063 (2016)

26

Schimke, R. T., Kaufman, R. J., Alt, F. W. & Kellems, R. F. Gene amplification and drug resistance in cultured murine cells. Science 202, 1051–1055 (1978)

27

Nikolaev, S. et al. Extrachromosomal driver mutations in glioblastoma and low-grade glioma. Nat. Commun. 5, 5690 (2014)

28

Biedler, J. L., Schrecker, A. W. & Hutchison, D. J. Selection of chromosomal variant in amethopterin-resistant sublines of leukemia L1210 with increased levels of dihydrofolate reductase. J. Natl. Cancer Inst. 31, 575–601 (1963)

29

Lee, P. M. Bayesian statistics: an introduction. 4th edn (John Wiley & Sons, 2012)

30

Motl, J. Bradley local image thresholding. https://www.mathworks.com/matlabcentral/fileexchange/40854 (2015)

31

Bradley, D. & Roth, G. Adaptive thresholding using the integral image. J. Graphics Tools 12, 13–21 (2007)

32

Lander, E. S. et al. Initial sequencing and analysis of the human genome. Nature 409, 860–921 (2001)

33

Kent, W. J. et al. The human genome browser at UCSC. Genome Res 12, 996–1006 (2002)

34

Li, H. & Durbin, R. Fast and accurate short read alignment with Burrows-Wheeler transform. Bioinformatics 25, 1754–1760 (2009)

35

Miller, C. A., Hampton, O., Coarfa, C. & Milosavljevic, A. ReadDepth: a parallel R package for detecting copy number alterations from short sequencing reads. PLoS One 6, e16327 (2011)

36

Pavlova, N. N. & Thompson, C. B. The emerging hallmarks of cancer metabolism. Cell Metab. 23, 27–47 (2016)
Acknowledgements
We thank R. Kolodner, W. Mischel, D. Geschwind, members of the Mischel laboratory, A. Akbari, A. Iranmehr and A. Patel for helpful comments. This work was supported by the Ludwig Institute for Cancer Research (P.S.M., B.R., K.A., W.K.C., F.B.F.), Defeat GBM Program of the National Brain Tumor Society (P.S.M., F.B.F.), The Ben and Catherine Ivy Foundation (P.S.M.), generous donations from the Ziering Family Foundation in memory of Sigi Ziering (P.S.M.); The Susan G. Komen Foundation (SAC110036), The Leona M. and Harry B. Helmsley Charitable Trust (2012-PG-MED002) and The Breast Cancer Research Foundation (BCRF) to G.M.W.; CureSearch for Children's Cancer and a Leadership Award from the California Institute for Regenerative Medicine to R.W.R. This work was also supported by the following NIH grants: NS73831 (P.S.M.), GM114362 (V.B., V.D., D.B.), NS80939 (F.B.F.), CA014195 and CA159859 (G.M.W.) and CA151819 (D.A.N.) and T32CA121938 (K.M.T.) and NSF grants: NSF-IIS-1318386 and NSF-DBI-1458557 (V.B., V.D., D.B.).
Ethics declarations
Competing interests
V.B. is a co-founder, has an equity interest and receives income from Digital Proteomics, LLC. The terms of this arrangement have been reviewed and approved by the University of California, San Diego in accordance with its conflict of interest policies. Digital Proteomics was not involved in the research presented here.
Additional information
Reviewer Information: Nature thanks C. Maley, A. Papenfuss and the other anonymous reviewer(s) for their contribution to the peer review of this work.
Extended data figures and tables
Related audio
Reporter Noah Baker looks at the role of free-floating DNA in cancer
Supplementary information
This file contains Supplementary sections 1-4 comprising: Section 1 ECDNA count and presence statistics; Section 2 ECdetect - Software for detection of extrachromosomal DNA from DAPI staining metaphase images; Section 3 AmpliconArchitect: Sequence analysis for identification and reconstruction of focal amplifications; Section 4 A theoretical model of extrachromosomal and intrachromosomal duplication and Supplementary References. (PDF 14810 kb)
About this article
Cite this article
Turner, K., Deshpande, V., Beyter, D. et al. Extrachromosomal oncogene amplification drives tumour evolution and genetic heterogeneity. Nature 543, 122–125 (2017). https://doi.org/10.1038/nature21356
Received:

Accepted:

Published:

Issue Date:
Comments
By submitting a comment you agree to abide by our Terms and Community Guidelines. If you find something abusive or that does not comply with our terms or guidelines please flag it as inappropriate.