Faced with ever-changing products, consumers can benefit from trying new items. But data collected over almost five years show that, the longer shoppers have been buying a favourite product, the more likely they are to stick with it.
Access options
Subscribe to Journal
Get full journal access for 1 year
$199.00
only $3.90 per issue
All prices are NET prices.
VAT will be added later in the checkout.
Tax calculation will be finalised during checkout.
Rent or Buy article
Get time limited or full article access on ReadCube.
from$8.99
All prices are NET prices.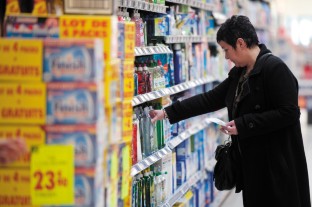 References
1

Knox, W. B., Otto, A. R., Stone, P. & Love, B. C. Front. Psychol. 2, 398 (2012).

2

Riefer, P. S., Prior, R., Blair, N., Pavey, G. & Love, B. C. Nature Hum. Behav. http://dx.doi.org/10.1038/s41562-016-0017 (2017).

3

Ariely, D. & Norton, M. I. Trends Cogn. Sci. 12, 13–16 (2008).

4

Rozin, P. & Schiller, D. Motiv. Emot. 4, 77–101 (1980).

5

Wardle, J., Herrera, M.-L., Cooke, L. & Gibson, E. L. Eur. J. Clin. Nutr. 57, 341–348 (2003).

6

Rozin, P. & Todd, P. M. in The Handbook of Evolutionary Psychology Vol. 1, 2nd edn (ed. Buss, D. M.) 183–205 (Wiley, 2015).

7

Iwasa, Y., Higashi, M. & Yamamura, N. Am. Nat. 117, 710–723 (1981).

8

Todd, P. M., Hills, T. T. & Robbins, T. W. (eds) Cognitive Search: Evolution, Algorithms, and the Brain (MIT Press, 2012).

9

Tan, H. S. G., Fischer, A. R. H., van Trijp, H. C. M. & Stieger, M. Food Qual. Prefer. 48, 293–302 (2016).
About this article
Cite this article
Todd, P. Shoppers like what they know. Nature 541, 294–295 (2017). https://doi.org/10.1038/nature21114